Yes, The Daily Bird is moving into the former Fuel Cafe. But that news is an even bigger milestone than you think.
Last April, Dan Zwart launched The Daily Bird, a pop-up coffee shop at Cafe Centro, 808 E. Center St., in Riverwest.
The business was named as a tribute to Zwart's daughters, Dayle and Birdie. It was built as an homage to his adopted home in the Riverwest Neighborhood, and it was intended to create community, celebrate life and function as a reminder that every day is a new day, filled with possibilities.
The shop has done all of those things. In just eight months time, the sidewalk cafe has built a following of community-minded patrons who stop by daily for their daily caffeine buzz, affirmations and neighborly conversation.
And Zwart hopes to keep that momentum going as The Daily Bird makes its debut later this month as a brick and mortar coffee shop in the former home of Fuel Cafe, 818 E. Center St.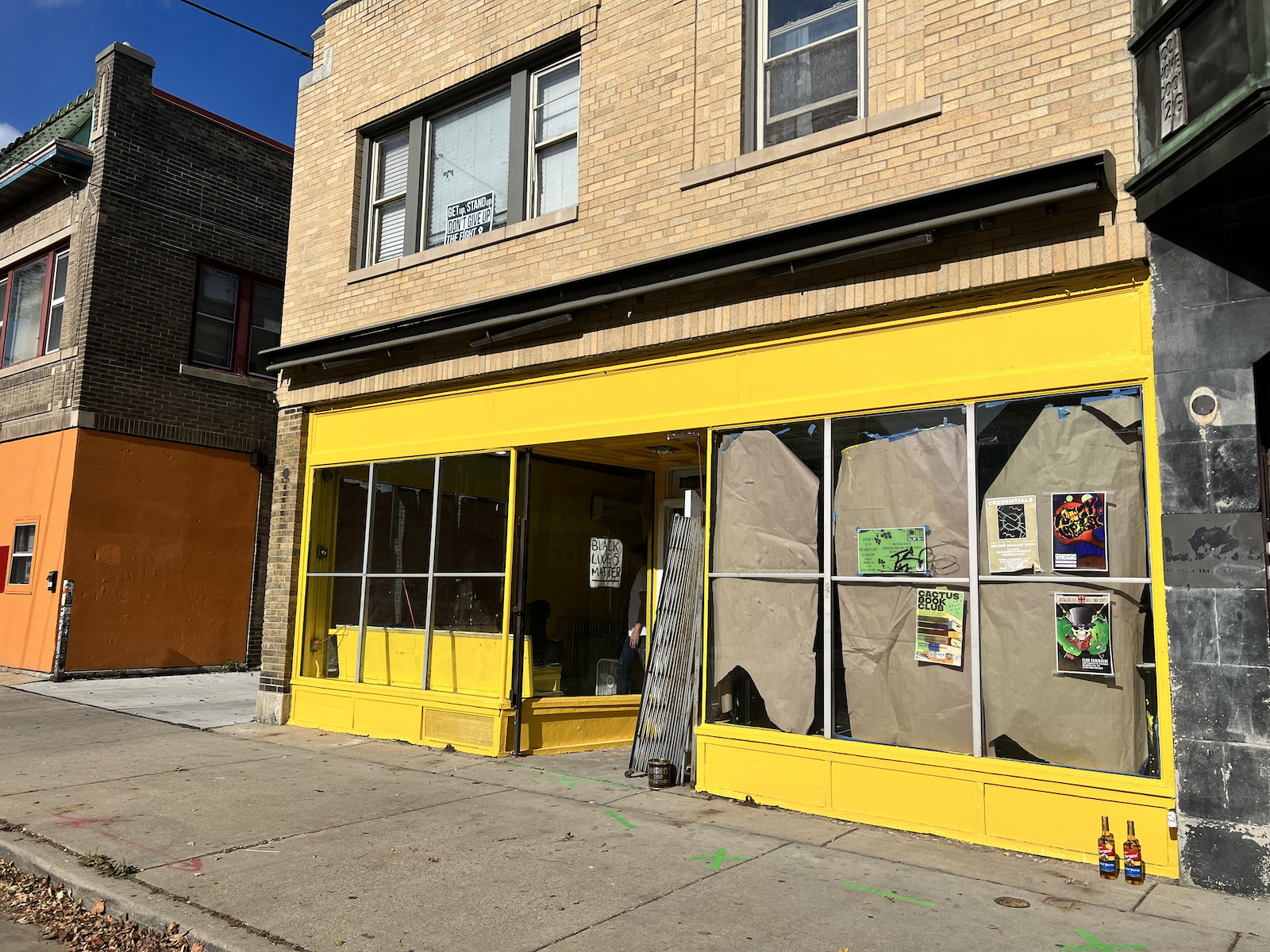 It was all yellow
The new cafe will be tough to miss. Much like the pop-up's pick-up window, the cafe will boast a bright yellow exterior and plenty of positive messaging, including affirmations like "You got this." and "Stay rad."
Guests will also find an entirely transformed interior with freshly painted walls (yes, they're yellow), a new service counter and a newly configured seating area comprised of retro yellow formica tables and chairs recycled from Brewed Cafe on Brady Street.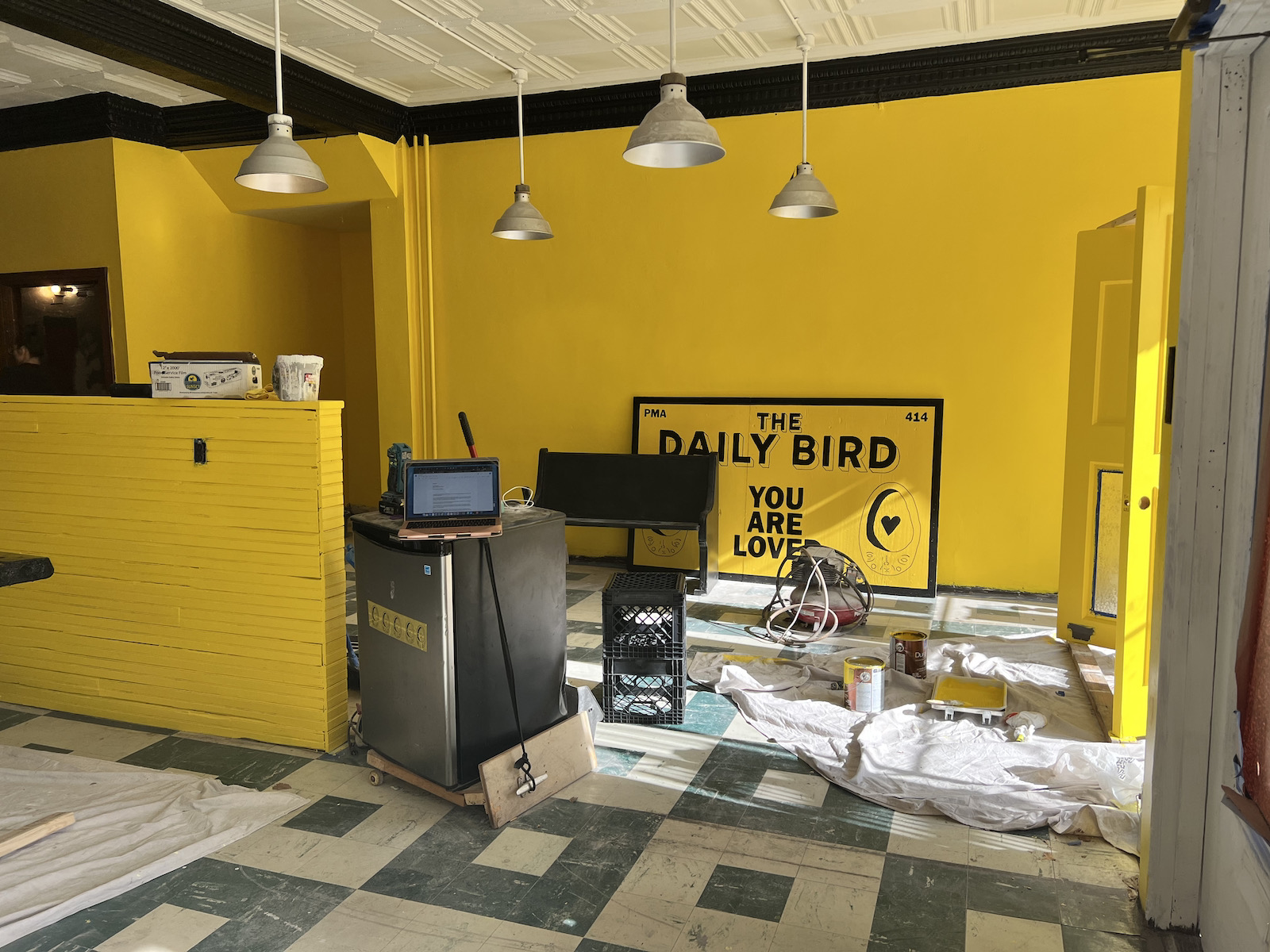 The menu will include a full complement of coffee drinks made with Anodyne Coffee, plus tea offerings from Rishi Tea and an expanded food program headed up by Elena Laurant of HoneyBear Baked Goods.
Laurant says the menu will evolve with the seasons, using local products as much as possible. The inaugural menu will include an expanded menu of vegan bakery items including seasonal muffins, biscuits and items like banana bread, bagels and at least one gluten-free offering. A breakfast burrito will also be among the inaugural offerings.
Moving forward, the menu will be expanded to include more breakfast items and eventually lunch options, including things like grab-and-go sandwiches. An ice cream case will also be added in the months ahead, which will be filled with selections from Scratch Ice Cream.
The new cafe is a big milestone for the pop-up business, which was started by Zwart, but which over the course of eight months grew into a neighborhood destination thanks to support from friends, neighbors and the community.
But the brick and mortar cafe is also a full circle moment for Zwart, who visited the former Fuel Cafe just a few years ago and left a memorable hand-written sentiment on the frame of the mirror in the grunge-era coffee shop's graffiti-covered bathroom.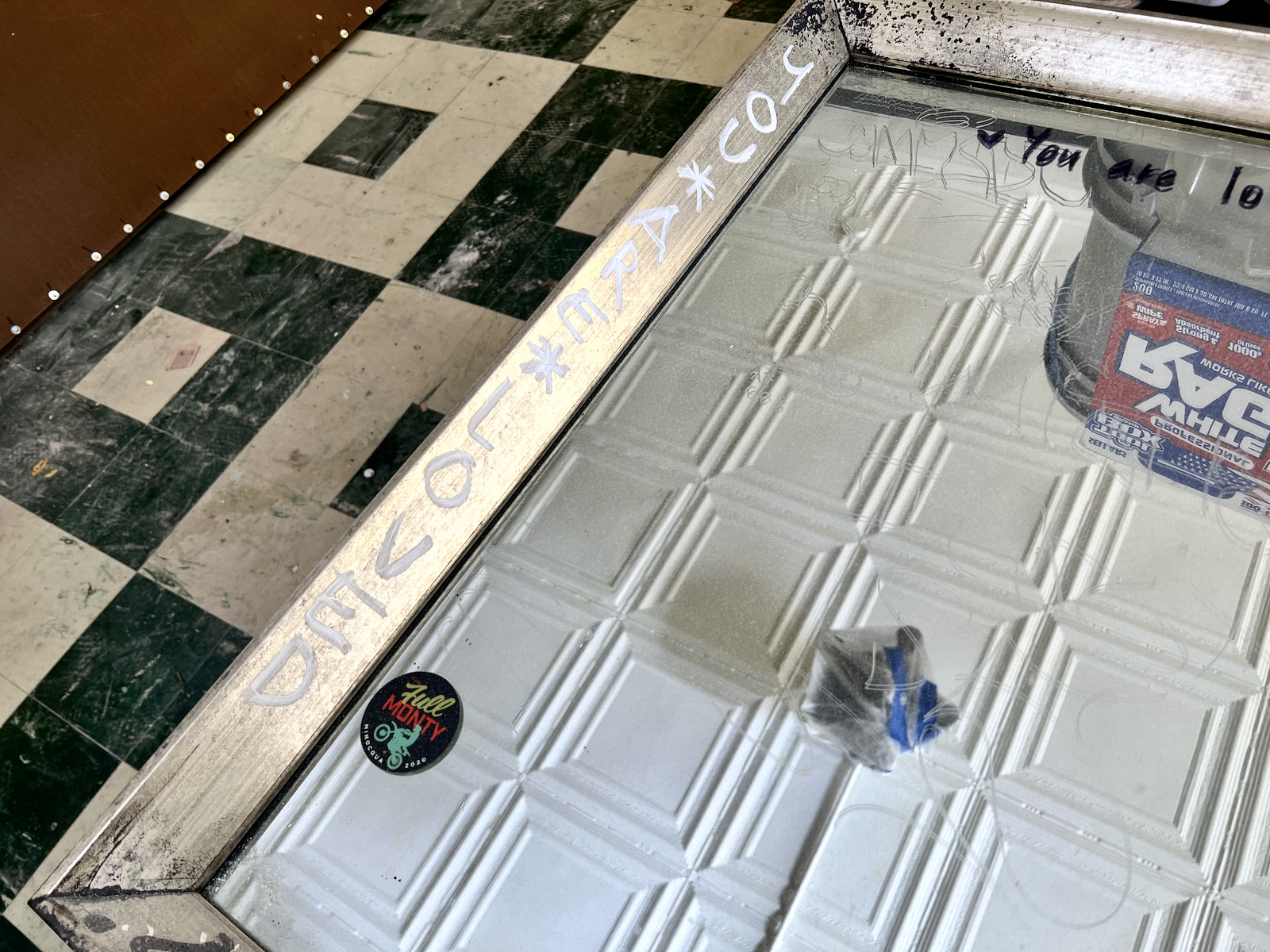 The message consisted of just three simple words: "You are loved." But those words held a deeper meaning for Zwart, who was in recovery after 20 years struggling with addiction.
"For a while I was going to start an art project," says Zwart, "It was going to be made up of unsolicited positive affirmations that I just posted all over the city. Instead, I started a coffee shop."
But The Daily Bird was never just a coffee shop for Zwart. It was a daily reminder to show up, stay focused and remain sober. And the new cafe represents a huge milestone on his journey to embrace life, face his fears and help others to do the same.
"I didn't know how to live"
Zwart's struggle with drugs and alcohol began in high school.
"I was never a good student," he says. "And eventually I just dropped out. The years that followed were filled with homelessness and crashing with friends. Even my attempt at a GED program was more of the same. All of us in the program were troubled dudes, and we just fed off of one another."
Zwart says he did earn his GED. But his high school diploma didn't exactly function to open the doors of opportunity for the troubled teen, who moved with his family from California to Colorado.
"I got into a lot of trouble," he recalls. "I was in and out of jail for years… not for any serious crimes, but for things like being drunk in public and driving while intoxicated. Eventually I got my ankle monitor cut off and I jumped a bus to Virginia. I had a friend who lived there, and it's where I spent most of my 20s."
Over the course of a decade, Zwart flitted from job to job, lying his way into a job driving heavy equipment and working as a server in a local restaurant.
"On the side, I started helping out at a print shop that was filled with trouble maker artists," he says. "And those years were filled with a lot of art and a lot of partying. It was fun, but it was also a really messed up time."
But the party wouldn't last.
"At the end of 2009, my brother died of an overdose," Zwart says, his voice breaking up with emotion. "At that point, I didn't even realize that I had a problem. I thought I was just having fun. But I decided to chill out for a while… and when I did, I went through some pretty major alcohol withdrawal."
Before he knew it, he was pulled back into the cycle of addiction.
"What I realize now is that, at that time, I was clueless. I didn't know how to interact with people. I didn't know how to deal with my feelings. I didn't know how to live in the world. And there I was, in the mountains of Virginia. Some guys brought over some moonshine, and I started drinking... again."
Here and there, Zwart says his natural talents came to the surface.
"I've always been able to build stuff and I'm artsy, so at some point I hooked up with some folks and got into helping them make movies," he says. "I was working on a movie in New York when I met my ex-wife. We got married pretty quickly, and she got pregnant."
Nine months later, Zwart's younger brother overdosed.
"He died a few weeks before Birdie was born…" Zwart pauses, and his eyes well up with tears. "So, we went to Colorado to be with my family, and we ended up staying there. I worked in plumbing with my dad for a while, and I started a flower farm. We were there long enough that our second daughter Dayle was born. Again, I took a break from alcohol and drugs…and then we moved to Wisconsin. The cost of living was lower and my ex-wifes family lived in the area."
Zwart pauses and bows his head before looking out across the cafe.
"And then I hit the point where I went completely off the rails," he says. "I woke up one morning... I was still really fucked up from the night before. But somehow, I knew I had a choice to make. I either had to figure out a way to stop or I needed to kill myself. That was my moment."
Zwart says he chose to live. But, he says it wasn't an easy decision. After all, he really didn't know what that meant.
"Everything I was… who I was... was tied up with drugs and alcohol. I didn't know who I was without it. And that was really scary. So, I started going to meetings. I met other people in recovery. At the time, they were really the only other people I knew here, and that was really good. I didn't have contact with any of my old friends. I was just working and recovering and figuring out how to be in the world."
Part of that recovery has entailed dealing with his grief.
"I've lost so many people," Zwart says shakily. "And I know I'm not the only one. So many people our age have lost so many fucking people. I lost my brothers. And even now, every single month it seems that someone I know dies. And that's only gotten worse during the pandemic. It's made me realize that life is super precious. And it's too easy to get caught up with nonsense… with bullshit. It's too easy to blame other people for your problems instead of standing up and taking responsibility."
As he gained footing, Zwart says he tackled a number of difficult tasks, including getting divorced from his wife. But he also got more involved in the neighborhood, taking on odd jobs and helping Centro Cafe owners Peg Karpfinger and Patrick Moore out with projects at the restaurant.
"You get to a point where you realize that you can navigate the world without getting fucked up. You can be sad without getting fucked up. You can be happy without being fucked up. You can get through. I realized I could go through scary situations where I didn't know what was going to happen and I'd be OK."
One of those situations was opening up The Daily Bird, an undertaking for which he needed to develop an entirely new skill set.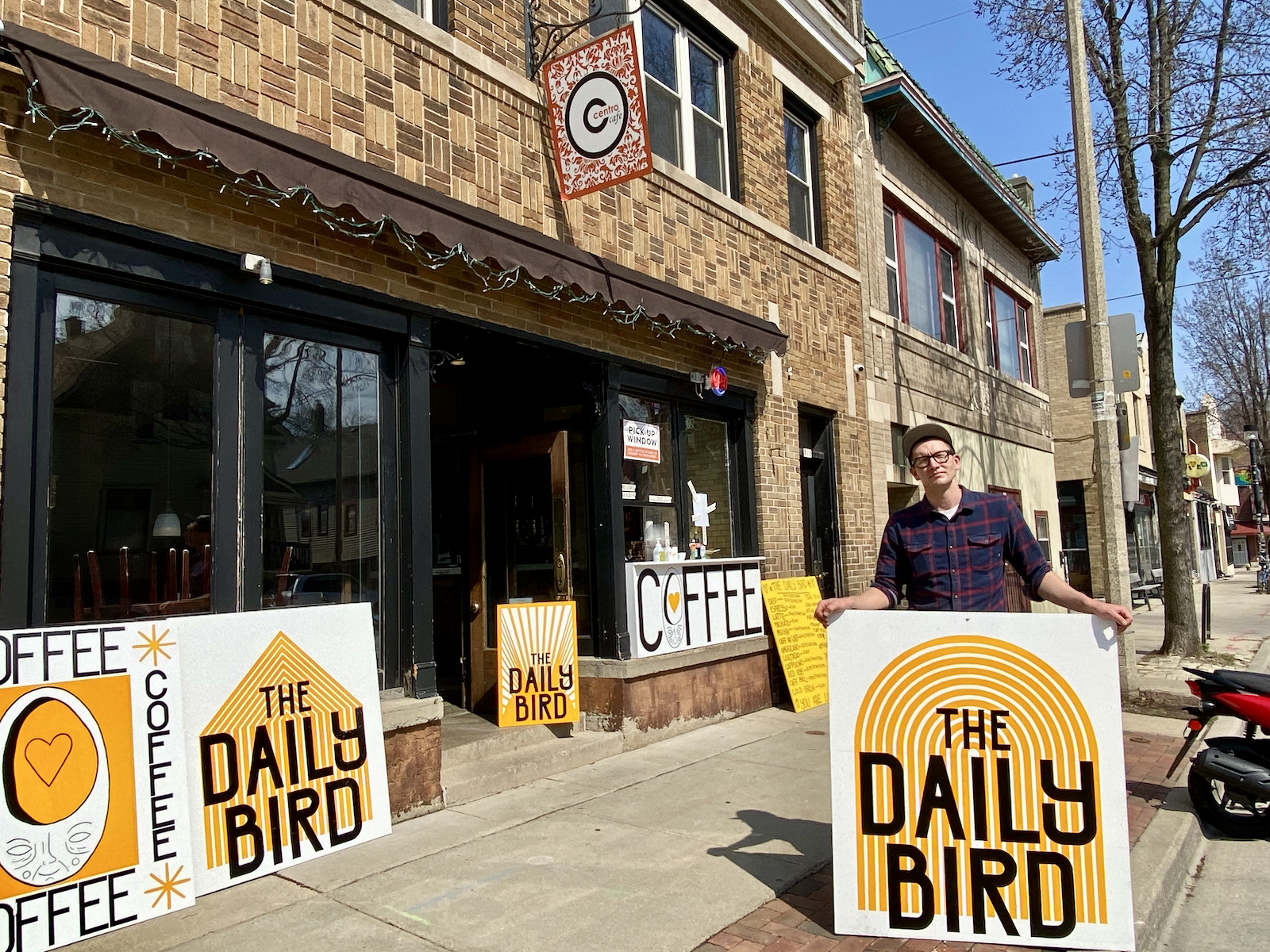 "I can make signs, but I knew absolutely nothing about running a coffee shop," he says. "But then a voice in my head said: 'Why can't I start a coffee shop? Other people start coffee shops… they just know shit that I don't know yet.'
"So, I did it. I bought an espresso machine and I put in all these hours practicing making espresso before we opened. I'd never been a barista before; my first day as a barista was on day one of The Daily Bird. In many ways, running a business continues to be a trial by fire. But I love it."
Zwart says that starting The Daily Bird has kept him on track. It's what gets him up every day and keeps him moving forward.
"It's hard. But waking up each day and actually doing it is fucking awesome. It's awesome showing up every day even when you don't want to. It's easy to give up, but it feels better to show up. And I wouldn't have been able to stay focused and show up every day without it."
Lori is an avid cook whose accrual of condiments and spices is rivaled only by her cookbook collection. Her passion for the culinary industry was birthed while balancing A&W root beer mugs as a teenage carhop, fed by insatiable curiosity and fueled by the people whose stories entwine with each and every dish. She's had the privilege of chronicling these tales via numerous media, including OnMilwaukee and in her book "Milwaukee Food." Her work has garnered journalism awards from entities including the Milwaukee Press Club.
When she's not eating, photographing food, writing or recording the FoodCrush podcast, you'll find Lori seeking out adventures with her husband Paul, traveling, cooking, reading, learning, snuggling with her cats and looking for ways to make a difference.