If you've been on Twitter, Facebook or Instagram this week, you may have seen the trending hashtag #GayUnclesDay. Yes, it's most definitely a thing: Sunday, Aug. 14 is the first-ever Gay Uncles Day.
"Virtually every family had that relative, often an uncle, who spent his life as a 'confirmed bachelor.' "'Oh, uncle Johnny will settle down when he finds the right girl," said Australian bobsledder Simon Dunn, founder of Gay Uncles Day.
"My goal in promoting this day of celebration is to normalize the role of the gay uncle, cousin, brother … whatever, in the family and in society. The more visible we are, and the more forthright we and our loved ones are of our very existence, the less uncomfortable society will be with us."
My own gay uncle, Chuck Hancock, lived in a separate world that I was too young to be part of and passed away before I had the chance to learn anything about his life experience. Unfortunately, this is a common experience in many families.
Kim Schultz's experience was quite different. As the niece of Jim Dorn, founder of Your Place (1965-94) at 813 S. 1st St., Kim grew up in a world of fabulous bachelor uncles who introduced her to Shirley Temples, high-end holiday brunches, disco 45s and light-up dance floors. Through her close relationship with Uncle Jim and his friends, Kim learned lifelong lessons about kindness, generosity, compassion and love that have guided her ever since.
When Kim reached out to the Wisconsin LGBT History Project via the Facebook group, she inspired many with her memories, photos and stories. In honor of Jim Dorn, and gay uncles everywhere, we'd like to share her story with you.
OnMilwaukee: What's your first memory of your uncle Jim?
Kim Schultz: My Uncle Jim and his partner, Uncle Jerry, bought a Schnauzer puppy that they named Schatzie (German for sweetheart) and brought him to Christmas at my grandparent's home in West Allis in about 1966. I was 5 years old and my sister, Jill, would soon be 3. The puppy had been paper-trained and would lift his leg on each piece of Christmas wrapping paper as it hit the floor.
What can you tell us about Jim's early years?
Jim Dorn was the son of an immigrant. His father, my grandfather, John Dorn, arrived from Hungary in October 1910. John and Lorraine Dorn were honest, hard-working people who adored their children and provided every opportunity for Jim's musical education. In 1948, when he was 18 years old, Jim joined the Navy. He wrote eloquent letters home to his family describing the magical experience of listening to all the men's voices joined together in song.
Jim in the Navy
Jim's VA records indicate he was discharged from the Navy in 1953. My understanding is that this was a dishonorable discharge, resulting from their discovery that he was a homosexual.
While we were sharing cocktails at Your Place one night in 1986, Jim told me the story of coming out to his mother after returning home from the Navy. Lorraine was easier for him to talk to, and he begged her to please tell his father, so he would not have to. The next afternoon, he arrived home from work and walked into the house where his father greeted him as usual. He walked into the kitchen and asked his mother why she had not told his dad. She said that she had already told him, and it didn't matter, because Mom and Dad still loved him. Life went on as if nothing had changed!

Jim Dorn and his mother, Lorraine.
When Your Place opened in 1965, it was the first gay bar south of National Avenue. It's also remembered for creating an upscale experience at a time when most gay spaces were still underground "bust-outs." What inspired your family to open a gay bar?
I was a toddler when my family purchased the building. John and Lorraine worked side by side with "the boys" to make the bar something special. They loved and respected Jim, his partner Jerry and the many men they became acquainted with throughout the years.
For many years, Your Place operated without a sign out front. It was only recognized by the blue light bulbs next to the entrance door. The name "Your Place" was deliberately chosen so that men could openly make social plans without anyone knowing they were going to a gay bar. I don't remember any backlash from the neighborhood. For a time, the next-door neighbor would complain about noise. So when the building came up for sale, my grandparents bought it!
Your Place was really ahead of its time. It was the first gay bar in Milwaukee with a light-up dance floor. It was also the first gay bar in Milwaukee to have a landscaped back patio, with live entertainment, tropical gardens, sculptures and barbecue grills. Guests were invited to bring their own food and grill out. If they didn't have any food, the bar would make sure they got fed. It was really a close-knit, caring community.

(PHOTO: Wisconsin LGBT History Project)
Jim Dorn was a very generous man. He would give a young man the shirt off his back and never expect anything in return. A few of the men may have taken advantage of him, but most of them honored his kindness and respected him for his generosity. Many men referred to him as "Mother Dorn." He was that and so much more to anyone who needed what he had to share.
He was motivated by love. It sounds a bit silly and over simplified, but he was a good man who had everything he needed and believed others deserved the same. As a child, I met dozens of men each year, men who joined our family for Christmas dinner or arrived with flowers for my grandmother on Mother's Day. As an adult, I realized these were mostly young men who had nowhere else to go. Their own families did not welcome them, but my family, especially my grandparents, John and Lorraine, were delighted to see them and welcomed them with open arms.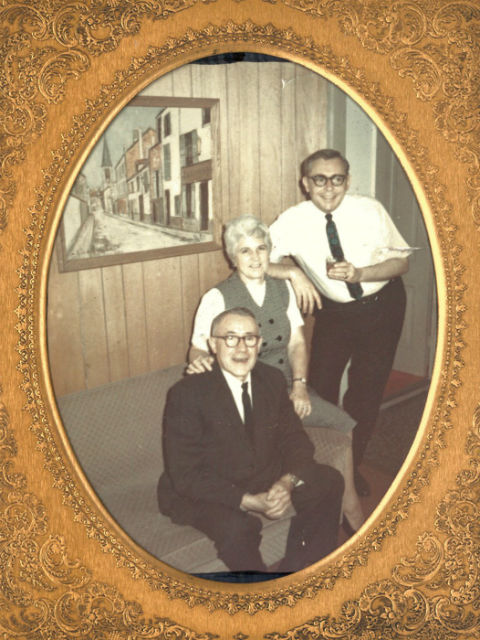 John, Lorraine and Jim Dorn.
Jim and Jerry offered many young men a safe clean place to sleep when needed, new clothes, food to eat, perhaps a job at the bar, occasionally a car. He enjoyed a celebration but was satisfied most by another man's happiness. He liked to dress well and look good, but he wanted those around him to have what he had and to share his pleasure. I was still very young but remember hearing about bartenders who were giving away too many free drinks and recall my uncle was always very understanding.
Your Place was a reflection of the respect my grandparents had for others and the respect they taught their son to value. He respected his patrons, and they became his friends and extended family. They showed kindness and respect to me and my parents, and I knew nothing less.
When my Grandpa died in May 1972, I was surprised how many grown men walked into the funeral home and broke down crying when they approached his casket. He loved them all, without judgment or condition, and they loved him in return.
What do you remember about visiting your uncles?
Jim and Jerry lived above the bar. They were a regular presence at my grandparent's house for holiday celebrations. I saw them on Mother's and Father's Day, Thanksgiving, Christmas and birthdays. Every year, we went to Jim and Jerry's on Easter where they visited with my parents and grandparents while my sister and I watched Charlie Chan on television. Then they would take us to brunch or an early dinner at a fine restaurant in Downtown Milwaukee. We were never surprised when "bachelor" friends of our uncles joined us for holiday dinners since they had no wives or children of their own to celebrate with.
The apartment was up a flight of stairs that had shag carpeting on the walls. Many accessories in their home were exotic and looked expensive. I remember the bedroom had twin beds just like Rob and Laura Petrie on "The Dick Van Dyke Show." Down the hall was another room with a locked door that contained their "office."
I remember helping my grandparents prepare for events at the bar, but I was never there during business hours. Usually, we would arrive early in the day and work in the kitchen before going downstairs. Uncle Jerry would make me a Shirley Temple, let me choose the music on the jukebox and dance on the dance floor. My sister and I were very lucky – we always received the 45s when they were removed from the jukebox!
Most of my memories of Jim and Jerry are from my grandparents' home. Jim had a hair salon, so he was often changing his own and Jerry's hair color, and this was usually discussed when they arrived. Jerry loved cameras and photography, so I remember lots of fancy modern camera equipment.
We called them our "rich" uncles, and this had a lot to do with their nice clothes and fancy cars. I vividly recall Uncle Jim arriving once in a brand new Buick Convertible, and my dad saying it must have cost more than $10,000. This was in the 1970s! Dad was impressed (and probably a little jealous!)
As a child, what was your understanding of the word "gay?"
To be perfectly honest, I had no concept of sexual orientation until I was at least 12 years old. Having two uncles who gave us extravagant gifts at Christmas was a wonderful novelty, but we didn't identify them in terms of sexual orientation. We called them our bachelor uncles, but it now seems obvious to me that bachelor was just a word my parents considered acceptable.
Neither of my parents ever expressed support or criticism for Jim's lifestyle that I recall. We loved him and prayed for him and Jerry every night along with all of our other extended family members. You know, "Now I lay me down to sleep … God bless Mommy and Daddy and Grandma and Grandpa and all our aunts and uncles."

Kim Schultz (nee Tutaj) and her sister Jill (left) 1967.
When I was about 14, my mom and I went to dinner at the Ground Round in West Allis. We sat down at a table, and she told me that Uncle Jim was a homosexual and asked if I knew what that meant. I said yes, and that I already knew my uncle was gay. The relief on her face was obvious. But I still wonder, how would she have explained it all to me if I had said no?
How did your relationship with your uncle change as you grew up?
While I was in high school, Jim moved down to Florida. I visited him there in 1982. I believe Your Place changed hands while he was away.
In 1985, I decided to attend UWM, and my grandmother offered to help me financially. She was willing to pay my tuition or provide me with free housing in the lower flat next door to Your Place. I jumped at the opportunity for free housing and renovations started on New Year's Day, Jan. 1, 1986.
I recall watching the drag queens leaving the bar, early that morning, while I renovated my future bedroom. Every one of those girls was more beautiful than I have ever been, even after 12 hours of heavy drinking and revelry. I was smitten!
I lived there from 1986 until 1993. At first I lived downstairs, and Uncle Jim lived above me. Later, we traded spaces when my grandmother came to live with him.
Jim was an early evening drinker. He would always leave while he could still safely walk the 40 feet to his front door in daylight. After I moved in, I learned his routine and would often join him for a cocktail at the bar. Although he was no longer running the business, he was always treated with the utmost respect. Uncle Jim and I had our own code: I didn't tell my grandmother about his drinking, and he didn't tell anyone about my overnight guests. We both knew how to be discreet.
Jim proudly introduced me to others. In the late 1980s, my best friend was a young man named Tony Behrendt. I noticed the bartenders paid more attention when I was there with Tony, but I never felt unwelcome. My former home, in the flat next door, sold in 1994 under land contract. I still regret not buying it.
Uncle Jim owned the Your Place building until his death in August of 1995. His funeral was, sadly, the last contact I had with most of the gay men from my uncle's generation, with one exception (Roy Rolstad).
My mother inherited the 1st Street properties. She owned them until Solid Gold Gentlemen's Club opened in 1996. Uncle Jim had a very "live and let live" mindset, so I think he'd probably be open-minded about Solid Gold and the gentlemen's club that continues to operate there today.
After all these years, what inspired you to reach out to the Wisconsin LGBT History Project?
I am a lifelong student of history. Nothing brings history alive as effectively as well-written narrative and photographs. Our history defines who we are and how we got to the place where we are now.
LGBT history is as valuable as ethnic and family history. It is as important as learning about wars and tragedies to direct decisions that shape our future. I would like to personally encourage families who lose family members that identified with the LGBT community to recognize the value in sharing photos and memorabilia with that community. Reach out as I have done and let this important history be preserved.
What would you say to a parent who doesn't want gay family members around their children?
Hate is a strong word, but it is a real issue in the world we share, and it does not come naturally to children. Children know what they live and feel safest in situations that are familiar. The more diversity they experience when they are young, the less likely they are to be afraid of diversity when they are adults.
I believe fear is the cause of hate. I would encourage young parents to include gay, lesbian and transgender family members in their children's lives without pointing out the difference in their lifestyle. Let them choose for themselves what they think and how they feel.
LGBTQ people have come a long, long way since 1965. What would Uncle Jim think of the progress we've made locally and nationally since Your Place opened?
It is nearly impossible to answer this question without shedding a few tears. My uncle, Jim, and also my best friend, Tony, dreamed of a world where they could find the love of their life and marry, declaring their unique and special love without fear. With every victory for equality, I celebrate for them and because of them. Because they were such an important part of my life, I understand these issues and continue to fight for them.
Recently, I learned that the U.S. Navy will be naming a ship for Harvey Milk. It felt like they were finally apologizing to my uncle for his dishonorable discharge back in 1953.
Jim Dorn would be pleased. He would feel the love.
The Wisconsin LGBT History Project welcomes any additional information about Your Place. Do you have stories, photos or memorabilia to share? Please join our Facebook group or contact us at info@milwaukeepride.org.
Explore hidden history! LGBT Milwaukee, a new book from Arcadia Publishing, is the first comprehensive social history of local LGBTQ lives from the 1930s to today. Your purchase directly benefits Milwaukee Pride's ongoing efforts to document, preserve and celebrate local LGBTQ history.
Growing up in a time of great Downtown reinvention, Michail Takach became fascinated with Milwaukee's urban culture, landmarks and neighborhoods at a young age. He's been chasing ghosts ever since. Michail, a lifelong Milwaukeean, dreaGrowing up in a time of great Downtown reinvention, Michail Takach became fascinated with Milwaukee's urban culture, landmarks and neighborhoods at a young age. He's been chasing ghosts ever since. Michail, a lifelong Milwaukeean, dreams of the day when time travel will be possible as he's always felt born too late. Fearlessly exploring forbidden spaces and obsessively recording shameless stories, Michail brings local color to the often colorless topic of local history. As an author, archivist and communications professional, Michail works with community organizations (including Milwaukee Pride and Historic Milwaukee) to broaden the scope of historical appreciation beyond the "same old, same old."