There is almost nothing in life that matches the opportunity to sit by and watch artists create their art, as the process moves ahead.
It can be a tortured journey, full of steps forward and backward and sideways, always in search of the heart of the art, the moment when it all comes together.
The three choreographers in Milwaukee for the approaching Genesis competition, sponsored by the Milwaukee Ballet, are fully immersed in their creative process, working with the outstanding company of dancers and preparing for the opening night of the show, now just a little more than a week away.
I had a chance to sit with the three and talk about their programs, their work with the Milwaukee dancers and their impressions of the city. All three are experienced and successful choreographers and recognize that this opportunity is a rare one in their development.
Marina Oliveira is Brazilian-born and now lives in New York, where she founded the Union Project Dance Company.
"My piece is called 'Pagliacci,' and it's based on the opera. It's about the story of a man descending into madness," she said. "I think the goal of the piece is to reveal the humanity behind the artist's mask. It's inspired by the Commedia dell'Arte, where you have Port, Columbine and Harlequin. I'm using Charlie Chaplin's music from 'The Circus.'
"One of the things that inspired me to create this program was the movie itself. It was a time in his life when his mother died, he was going through a divorce and the set of the movie burned down. It's what we do as artists. We go through challenges and break through the barriers and succeed in the end."
Oliveira is a careful and determined choreographer. During a glimpse at her rehearsal, she worked with Isaac Sharratt and Annia Hidalgo on a passage in which they both clown around on their way to a chaste kiss. Oliveira has a marvelous clarity as she explains, and shows, how she wants a lift done. They do it over and over, each time coming closer to the mark, and it's fascinating to watch three artists in pursuit of the same goal.
"One of the things about my dancers is that they have such a high level of artistry," she said. "You can teach the dance, but you can't teach the art. That is something that comes from the heart and develops over years. I am touched by the artistry of these dancers, how they connect to the character in the story we are telling."
Enrico Morelli (above, wearing glasses in background) is Italian and a winner of the Silver Medal of the President of the Italian Republic.
"My piece is called 'The Noise of Whispers,' and it's about our society. It's such a fast-moving society, and you need to go fast to keep apace. To live in this society, you have to shout all the time," he said. "For me, it's good if we can slow down this kind of life, and so my piece will be two parts. The first part is more violent and shouted. The second part will be more intimate and whispered. I see this as a contrast in life.
"I have that contrast in my music. The first part is by Adrien Casalis, a young French musician who composes electronic music. The second is the second movement from Chopin's 1st Piano Concerto. That's the music that inspired my program."
Morelli is a choreographer who places a high value on the collaboration between dancers and his own vision.
"I am lucky because I am amazed at the dancers here," he said. "They help me, and we make something together. I give them something, and they give me something. When I go back to my hotel, I have a lot to think about from what my dancers have given me. "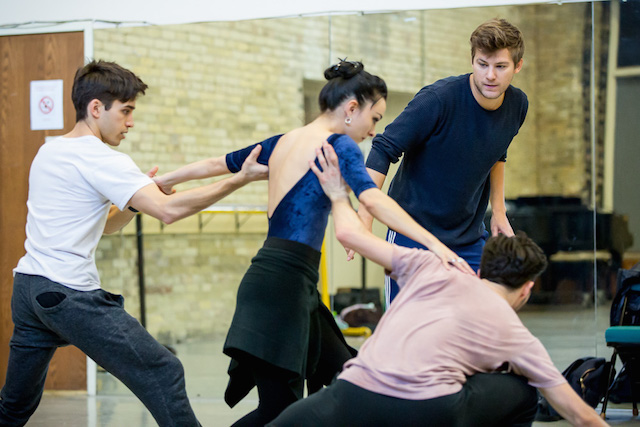 George Williamson (above, dark shirt) is from the United Kingdom and has created works for the English National Ballet, where Michael Pink danced for a decade. He is using a Sibelius violin concerto and a choral work from Rachmaninoff's "Vespers."
"I came here not sure of what my program was going to be. I needed to see what my dancers were like," Williamson said. "The idea behind it is a sort of pilgrimage or journey from an ethereal and spiritual place to something more real. There is no strong narrative for the audience to follow. The finale is a celebration of being in that place, getting to that place. It's a journey to get to a higher plane.
"Mine is more about the dance. Just using the dancers to create something that has a lot of texture. It's a plot-less piece, but I want to include some meaning. I wanted to explore the dancers, to see what they could do. I didn't know what I was going to get. I was almost surprised at how creative and flexible they are."
Williamson continued, "You can give them notes and they experiment, and then we get to what we both want. Because of them this piece is a little more contemporary than my normal work. It's a really great thing for me to work with them because they push me to experiment and grow my dance vocabulary."
All three choreographers have enjoyed their brief time in Milwaukee, calling the city "diverse" and "multicultural."
Said Oliveira, "The city is both cold and warm. We were all nervous when we got there, but we felt a lot of warmth from everybody. The weather is cold, but the people are so warm. We felt welcomed into the family right away. "
Information on showtimes and tickets for Genesis is available here.
With a history in Milwaukee stretching back decades, Dave tries to bring a unique perspective to his writing, whether it's sports, politics, theater or any other issue.
He's seen Milwaukee grow, suffer pangs of growth, strive for success and has been involved in many efforts to both shape and re-shape the city. He's a happy man, now that he's quit playing golf, and enjoys music, his children and grandchildren and the myriad of sports in this state. He loves great food and hates bullies and people who think they are smarter than everyone else.
This whole Internet thing continues to baffle him, but he's willing to play the game as long as OnMilwaukee.com keeps lending him a helping hand. He is constantly amazed that just a few dedicated people can provide so much news and information to a hungry public.
Despite some opinions to the contrary, Dave likes most stuff. But he is a skeptic who constantly wonders about the world around him. So many questions, so few answers.