This story originally ran in 2019. Adore that old school restaurant? That quirky bar? "Get Your Ass In Here" is a series highlighting original and extraordinary local businesses that are thriving, but to ensure continued success, need our asses there on a regular basis. Love it or lose it, Milwaukee.
If you're a fan of family businesses, thin crust pizzas, excessive holiday decorations, vintage signs and religious paint-by-number art collections, Maria's Pizza, 5025 W. Forest Home Ave., is the place. (Conversely, if you're a fan of paying for meals with credit cards or drinking alcohol at mealtime, Maria's is not the place. The pizzeria only accepts cash and does not have a liquor license.)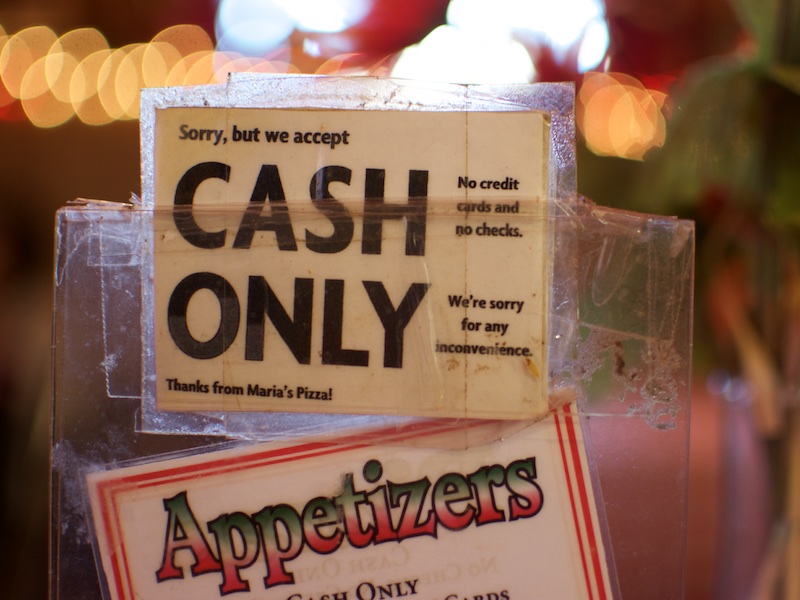 In 1957, Maria Traxel opened the first location on 7th and Greenfield with her three children which remained open until she passed away in 1993. Traxel, who was 100 percent Italian, originally wanted to open a spaghetti restaurant, but her customers preferred the pizza.
In 1971, she opened a second – the current – location on Forest Home Avenue. Today, her daughter, Bonnie Crivello, co-owns the restaurant and works regularly as a server. Only Crivello and one other family member remain among a younger, but not any more spry, crew.
Crivello, a platinum blonde always decked out in a red dress and heels, is as popular with customers as the pizza. Kind and personable, Crivello remembers customers old and new – as well as their orders. (During our recent visit, we noticed most of the diners did not need menus.)
"I've been here over 50 years. We have a lot of fun here," says Crivello, wiping her hand on her red dress, leaving a swatch of white flour on her hip.
The menu features appetizers – the breaded mushrooms are our usual go-to – along with salads, fried chicken, pasta dishes and, of course, pizza. Anyone who claims to like pizza (which is everyone?) should try Maria's pizza, not only because it's good, but also because it's unlike any other pie in the city.
The pizzas come in two sizes: a 14-inch circle or an 18-inch rectangle. Toppings are simple and include sausage, pepperoni, onions, mushrooms, black olives and green peppers. The pizzas are served on baking sheets and the edges of the pizza hang over the sides.
The thin crust starts off crispy but becomes softer and softer as the grease from the cheese and toppings soak into it. Often the pizzas are only partially cut, so diners tear off pieces of pizza and fold it over or even roll it up (if the crust is soft enough) and eat it burrito style.
Soda is served by the plastic cup or the pitcher and for decades the house beverage was Black Bear's blue raspberry lemonade soda. However, the local soda company closed last month and so Two Brothers Beverage Co., located in Riverwest, took the blue pop top spot.
Maria's decor includes red-checkered tablecloths, strands of lights, paintings and paint-by-numbers of Jesus and Mary along with framed newspaper stories about the restaurant (longtime Milwaukeeans will appreciate the Art Muscle Magazine with Crivello on the cover.) Around Halloween, Christmas, Valentine's Day, Easter and Fourth of July, Maria's dons a plethora of holiday decorations, including a talking Santa in December.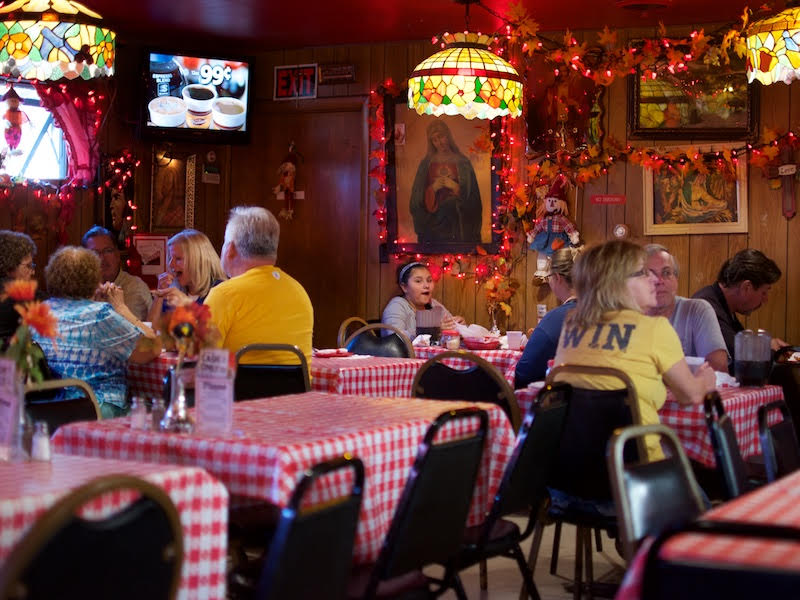 Maria's Pizza is 60 years old this year and not losing steam. It's almost always busy inside the restaurant, especially around "supper time," and the take-out business is impressive. There were at least six people coming in for a pizza or a stack of pizzas during our 45-minute visit on a Wednesday night.
Although chain restaurants took this concept and expanded it, Maria's is an original. The real deal. A slice of sincerity.

Molly Snyder started writing and publishing her work at the age 10, when her community newspaper printed her poem, "The Unicorn." Since then, she's expanded beyond the subject of mythical creatures and written in many different mediums but, nearest and dearest to her heart, thousands of articles for OnMilwaukee.

Molly is a regular contributor to FOX6 News and numerous radio stations as well as the co-host of "Dandelions: A Podcast For Women." She's received five Milwaukee Press Club Awards, served as the Pfister Narrator and is the Wisconsin State Fair's Celebrity Cream Puff Eating Champion of 2019.