One of this season's go-to accessories is also super practical for most people: glasses. For years, so many people would avoid having to wear glasses in fear that they would kill the look they were going for. Now glasses are chic, styling and the best accessory to add to any outfit.
We have partnered with Wisconsin Vision, where you can find a huge selection of frames at a fraction of the price, to show you how to style the biggest trends in the eyeglasses this season.
These clear plastic frames are the biggest trend coming into fall. These give the structure of plastic frames without drawing attention away from your face. Pair these with some mixed patterns for an all-around chic look. The embroidery on the jeans with the striping in the top mesh well together because neither are competing with each other to be the statement of the outfit. Accessorize with some red mules and bag to pull the whole look together.
These are a classic! Some call them "nerd" glasses, some call them "hipster" glasses, but to me, these are just essential for everyone's glasses wardrobe. These are the ones that have the most edgy vibe to them, which is ironic because they are the ones that literally would go with everything. I styled them with some black skinny jeans, a vintage band shirt and a boyfriend blazer. Pair them with some fun accent colored accessories, like these mustard velvet mules and patchwork bag, to give this look a little more edge.
Wire frames are the most minimal frames to have. They are lightweight, classic and super on trend right now. My fave way to rock this trend is to mix it up with different metals like these amazing rose gold frames. I styled these with some statement ruffle hem denim and a sweater while tying it in with rose gold platform loafers and bag. Make the outfit the statement and your glasses take a backseat with wire frames.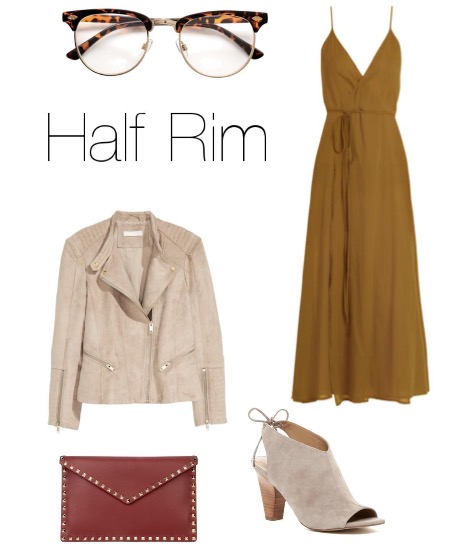 Half rim glasses are the best of both worlds. You get the heavy plastic and the slim sleek wire frames all in one. Style these glasses for fall with a chic A-line dress and suede moto jacket. The femininity of the dress and the edgy vibe of the jacket and suede booties are the perfect combination, much like the wire and plastic in the frames.
This one is going to be the trendiest of all. Since they will not go with every outfit that you wear, you are going to want to have for a second pair of frames. The red looks good on practically every skin tone and go so well with a rose-embellished suede button-up skirt, white top and some over-the-knee boots. This look is perfect for all!
Pamela Kieck is a Milwaukee based fashionista and is the founder of the fashion, beauty and lifestyle website itspamelakieck.com Pamela has always found herself with an intense interest in style,body positivity, and empowering women to live their best life all while looking fabulous!

Pamela has recently been named an Influencer by Vogue magazine, and is a Social Media Influencer for Cosmopolitan magazine. She enjoys a recurring gig on Milwaukee's Fox 6 Real Milwaukee as a Style/ Beauty expert.

Pamela is bold, outspoken and doesn't take herself too seriously. She is a dog mom to 2 puppies, Cooper and Winston. She can't live without mascara, oversized sunglasses and a lavender latte from Stone Creek Coffee.

Instagram: @pamelakieck
Twitter: @itspamelakieck
Pinterest: @pamelakieck
Facebook: Pamela kieck
Website: itspamelakieck.com