Believe it or not, cocktails can do more than just quench your thirst. They can actually help people give back to a community that needs your support as well.
That's the case at Glassnote Candle Bar, located at 524 S. 2nd St. in Walker's Point, which has opened its doors to walk-ins all month long. Pop in Tuesday through Thursday from 5-8 p.m. any week this month to enjoy a low-alcohol cocktail or two at the bar, and your good drinks will go toward a good cause: 100 percent of the profits from one of their three military-themed cocktails will go toward the Veteran's Community Project.
When Glassnote Candle Bar first opened in the fall of 2020, they were strictly a candle company; it wasn't until later that someone suggested that they add alcoholic beverages to their concept.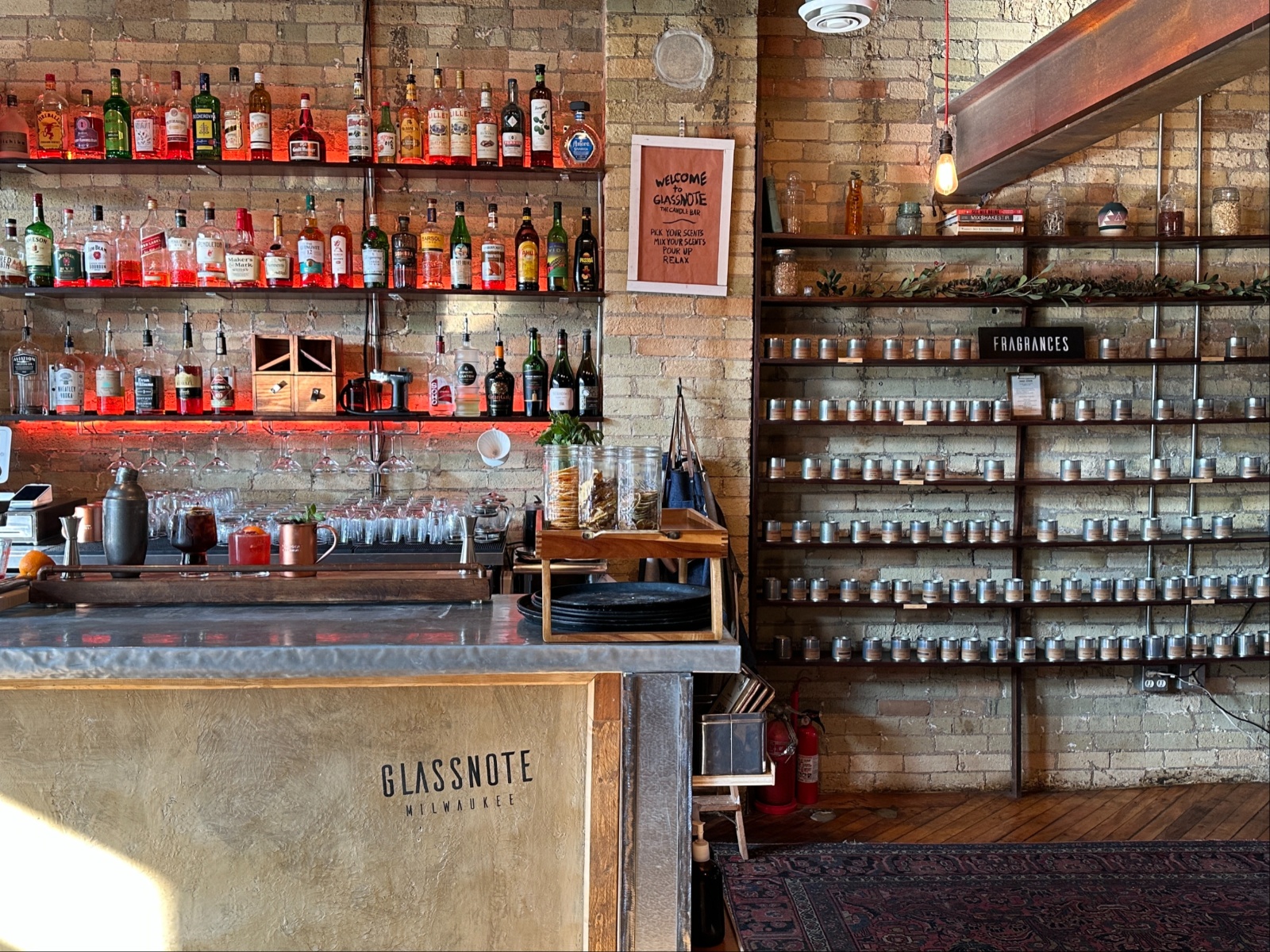 After going through some alterations over the years, you now know Glassnote Candle Bar for how it is today: a candle company with craft cocktails that'll give you a unique sensory experience, art and alcohol, that'll leave a lasting impression on you.
"So we've done things like revamping behind our bar and just getting it ready. We just used to be a candle place and then people were like, 'Oh it could be nice if you had drinks,'" said manager and chief mixologist Ronnie Jean. "So, we were like, 'Okay, we will bring some wine in and some kombucha.'"
Jean puts forth her passion into each and every cocktail behind the bar, with the mission to serve customers cocktails with strong flavor profiles full of delicious fresh ingredients.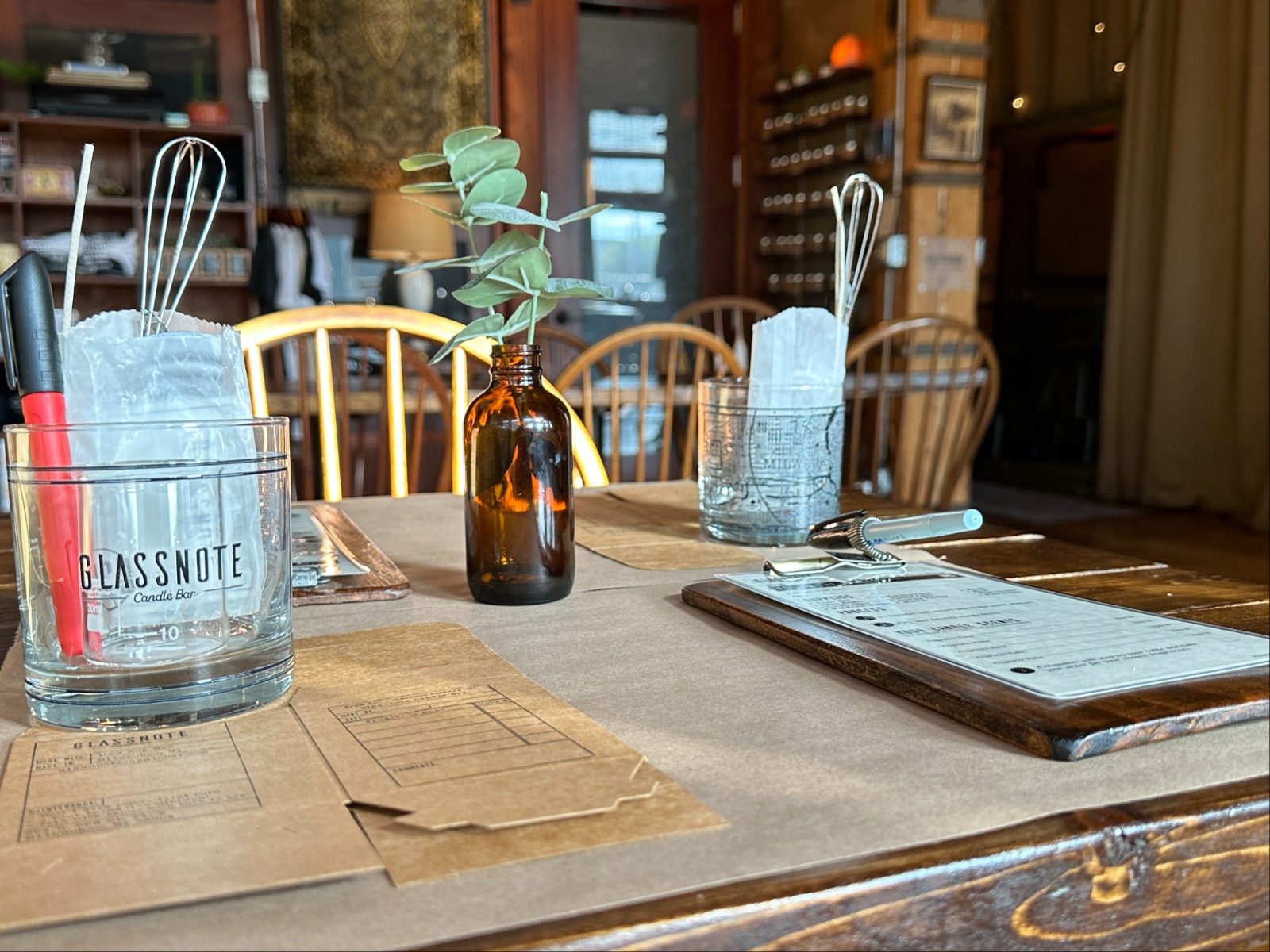 "This is something I'm really passionate about now; I'm an active cocktailer," said Jean. "I'm learning that I want to find a balance between my social life and my love for cocktails."
This month, Jean decided to take a different approach to their usual cocktail menu by focusing on low-alcohol cocktails. Low-alcohol cocktails, like Glassnote's gin and tonic, feature a lower alcohol-by-volume than regular strong-spirit cocktails that have a higher alcohol-by-volume like a negroni. Unfortunately, you can't mix spirits with higher volume cocktails like you could with a low-alcohol cocktail, giving you the chance to expand your cocktail flavor profile.
"You can have a low ABV cocktail like a vodka tonic and that's going to average around 40, which is a bit low," said Jean. "But if you're doing a double, then that's going to double your ABV – those are strong spirit-forward ones you can't really have a mix of spirits. But you can have a mix of liqueurs and it would be a low ABV cocktail, which is important."
Jean brought up the low-alcohol cocktail "movement" sweeping the U.S. right now, and she didn't want to miss out on the opportunity to feature equally tasty low-alcohol cocktails.
"I still want the experience of drinking a cocktail or multiple cocktails, just seeing how different things paired together instead of having a single gin and tonic, low alcohol that way," said Jean. "I would like different alternatives. There are a couple of bars that are doing that, and I want to be a part of that movement across the U.S. and have low-alcohol cocktails on the menu."
Plus, this gives people a chance to step away from the typical cocktail options to explore different flavor combinations without the usual aftereffect.
"Just fun things and introducing new liqueurs that people have never heard about before or pair with different things, slowly introducing it to become more of a long-lasting lifestyle thing where you can go out with your friends and have four cocktails and still be able to wake or function the next day," said Jean.
Jean isn't just a manager/mixologist for Glassnote Candle Bar – she's also a veteran herself.
"I was in Afghanistan in 2013, so this is something I've been trying to get more into and giving back to the veteran community and being more in touch with them," said Jean.
As a part of that goal, Jean felt it was necessary to create a military-inspired cocktail menu that features three of the branches.
"They're all named after military songs," Jean explained. "The Army song is 'The Army Goes Rolling Along' so one of our cocktails is Rolling Along. Then we have an Air Force one called Wild Blue Yonder and then the Navy one is called Anchors Aweigh. Still keeping that veteran's spirit there and alive – that's very close to my heart."
For instance, Glassnote's Navy-inspired Anchors Aweigh gives you Campari married with Aperol and fresh blood orange juice, topped with tonic and garnished with blood orange wheel. One sip and it'll be "Anchors Aweigh" for your tastebuds.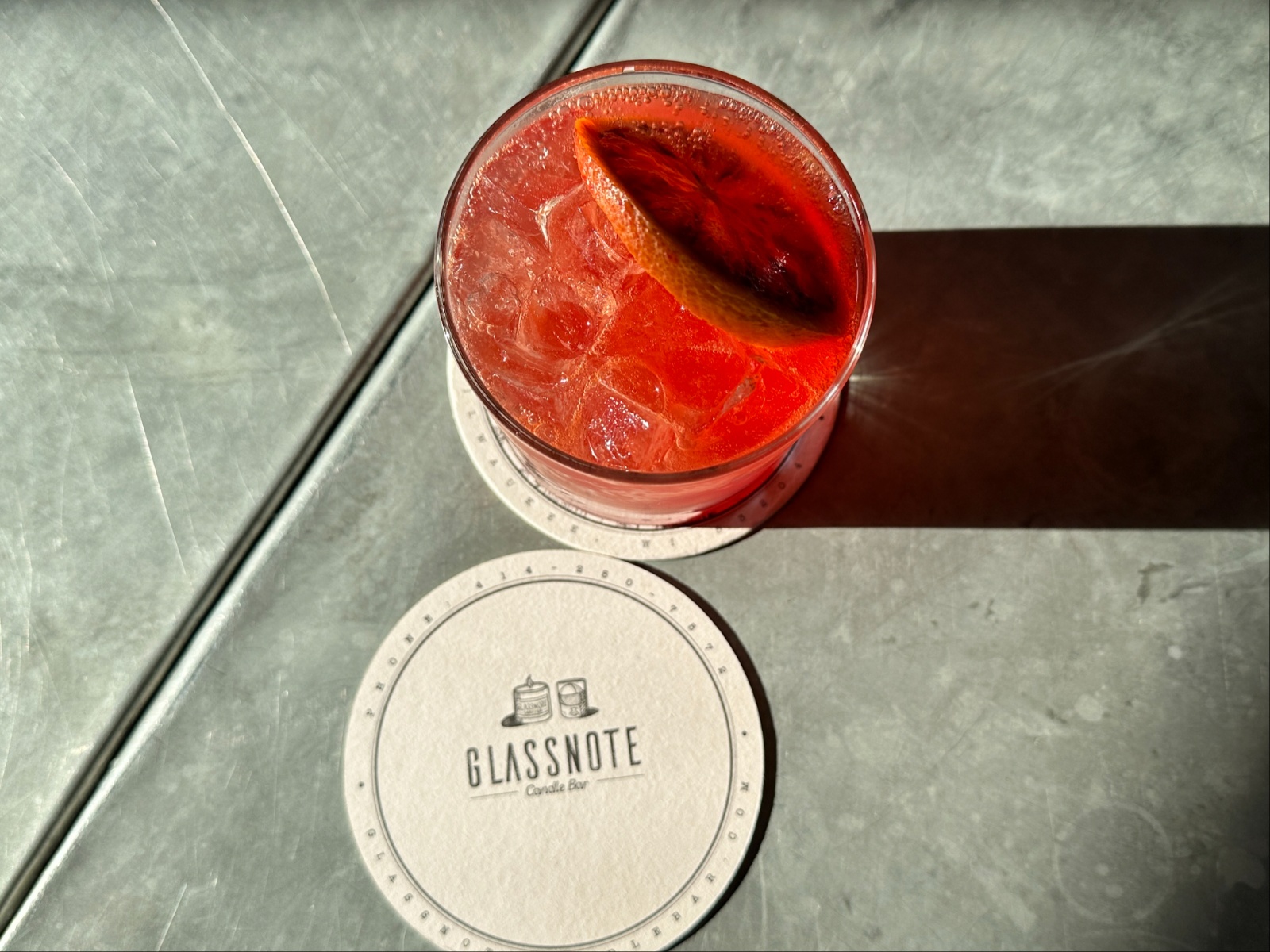 On the other hand, there's also Glassnote's Army-inspired cocktail, served in a copper mug that features creme de cassis, amaro averna and fresh lime juice, topped with ginger beer and garnished with a mint bouquet and a single blackberry. You can taste how each element in Rolling Along comes together and works collectively to give you an experience to remember.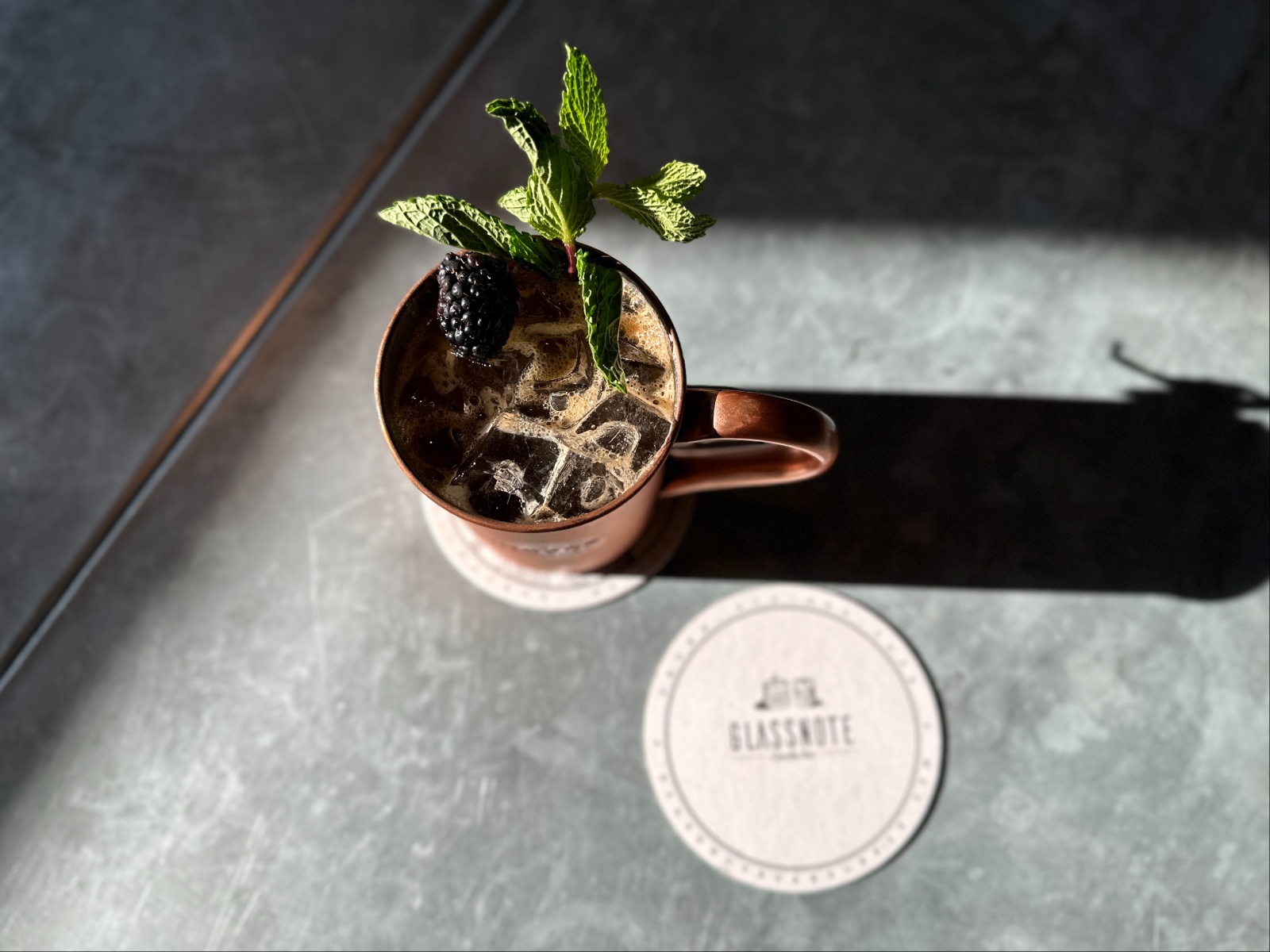 Last but not least, there's the Wild Blue Yonder, Glassnote's Air Force-inspired cocktail. Luxardo maraschino cherry liqueur mixes beautifully with cynar liqueur and orange bitters, topped with Sprecher Root Beer and finished off with a brandied cherry and fresh orange peel.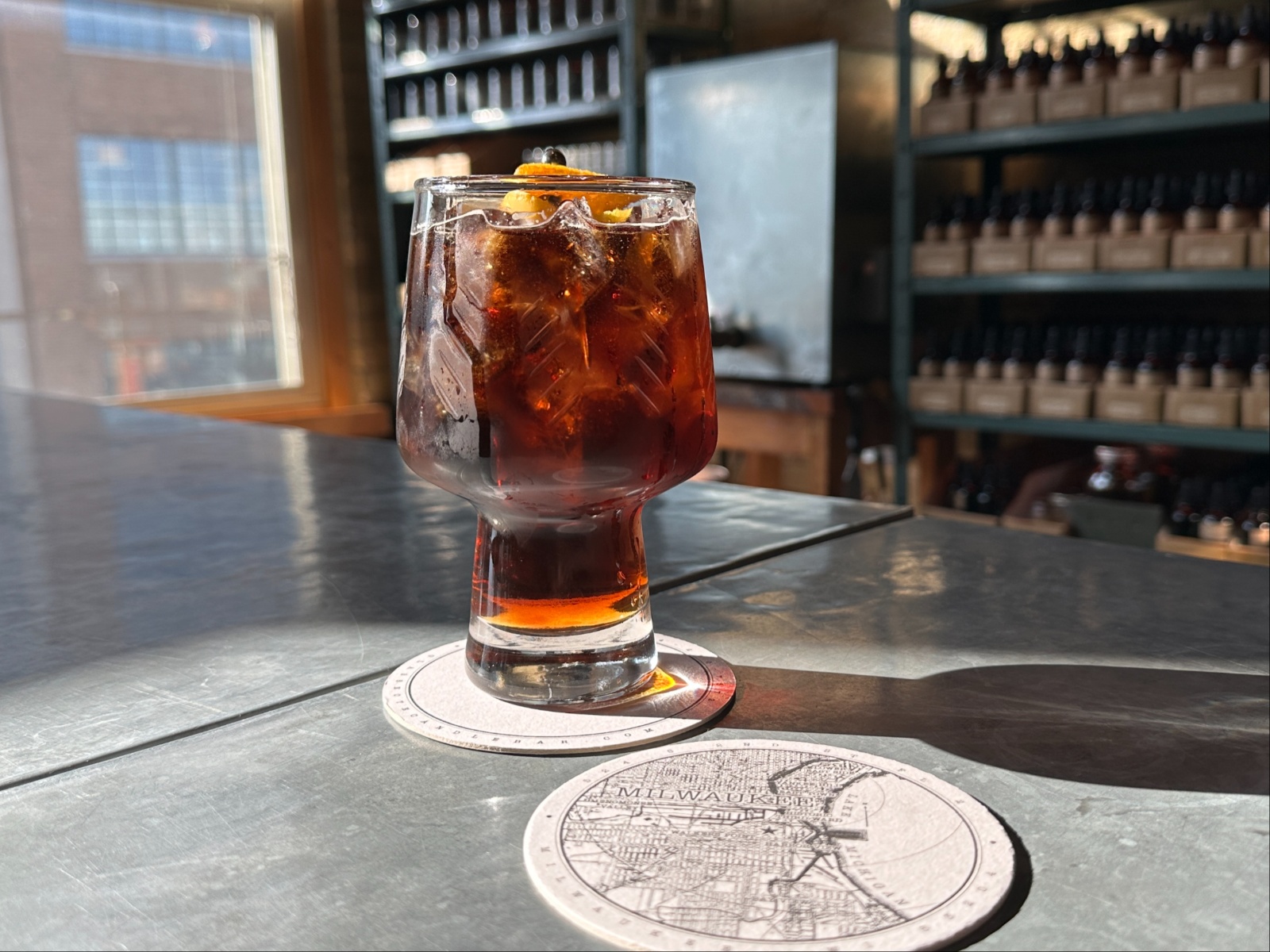 You'll be able to indulge in Glassnote's new low-ABV cocktail menu all fall and winter long. Plus, 100 percent of the proceeds from the military-themed cocktail Rolling Along will go toward the Veteran's Community Project - the total will be announced on Veteran's Day on Friday, Nov. 10.
"Our low-alcohol cocktails names, we want to keep that veteran connection throughout the menu even after the donation period is over," Jean noted.
The Veteran's Community Project's mission is to give veterans the opportunity to have access to housing in Milwaukee rather than facing homelessness.
"The Veteran's Community Project is over from the Veterans of Wisconsin – they were going to build their first tiny home village in Milwaukee," Jean explained. "This is going to be able to provide homeless veterans in Wisconsin with everything they would need and succeed.
"Plus, they are also offering resources that are going to help them with therapy, counseling, reaching out to jobs and that whole transition period coming back. Having a tiny home village in Milwaukee would be amazing, and they've already done that veteran community project in different states."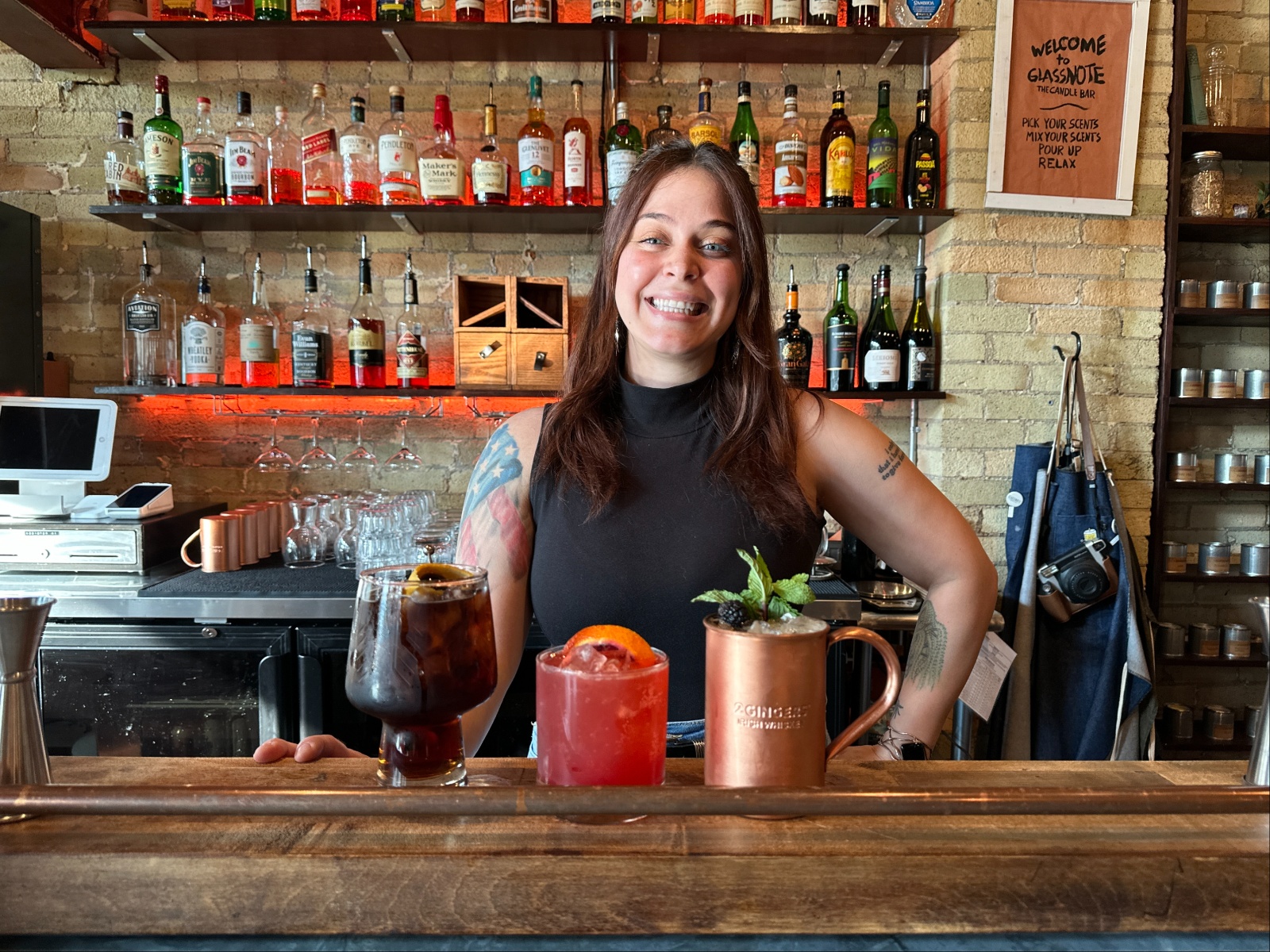 Visit Glassnote Candle Bar to try these low-alcohol cocktails with a good cause for yourself today. Unfortunately, weekends are not available for walk-ins since Friday through Sunday is their busiest time of the week, and reservations are required for a candle and cocktail experience. Click here for more information – and read more about Glassnote Candle Bar here.
Courtney Bondar is an adventurous Multimedia Journalist at OnMilwaukee, covering all things Milwaukee. Born and raised in Greendale, WI, Courtney has a deep-rooted connection to her hometown and a strong desire to explore and showcase the vibrant city of Milwaukee.
You can often find Courtney all over Milwaukee, attending exciting events - documenting her experiences on her Instagram stories. Her genuine enthusiasm for her work shines through in her posts - as she strives to capture the beauty of the city and shares it with her followers.
Courtney's passion for writing is evident in her engaging and heartfelt articles. While she covers a wide range of topics, she particularly enjoys delving into the intricacies of dating culture and the art of mixology. Her insightful and thought-provoking pieces offer a unique perspective on these subjects, captivating readers with her authenticity and wit.
After dedicating herself as an intern at OnMilwaukee, Courtney's hard work and dedication paid off when she earned her well-deserved diploma. Now, as OnMilwaukee's first full-time multimedia journalist, she is fully committed to continuing her journey - bringing her distinctive voice and storytelling skills to the forefront.