As beautiful as Milwaukee's historic churches are, visiting them can sometimes be disheartening. That's because so many are threatened due to failing -- or even entirely failed -- finances as churches in the heart of the city have fallen victim to suburbanization and other pressures.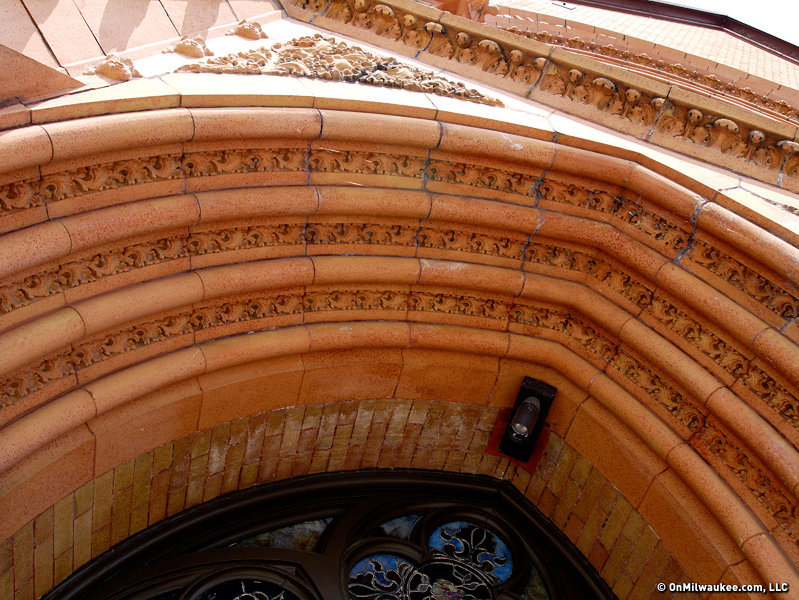 This is true for some, but definitely not all churches, as I was reminded recently on a visit to Grace Lutheran Church, 1209 N. Broadway, which occupies a 1900 Gothic building designed by Armand Koch, son and partner of Henry C. Koch.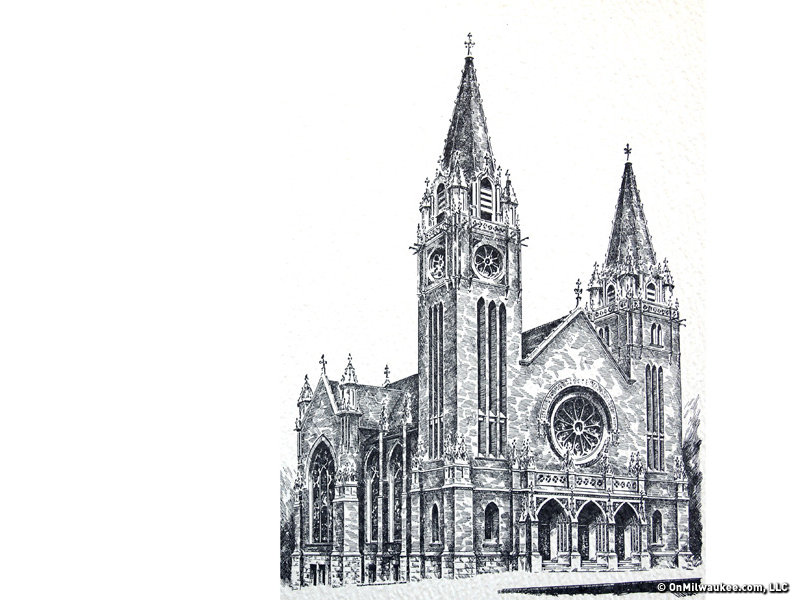 Though the tops of the church's two towers were altered more than a half century ago, the church – both building and congregation – is in tip-top shape these days. In fact that's been true for most of the congregation's 165-year history.
Organized west of the river as the city's fourth Lutheran congregation in 1849, Grace built its first church – a small brick house of worship on the corner of Broadway and Juneau in 1851, when German-born pastor Johannes Muehlhaeuser led the congregation.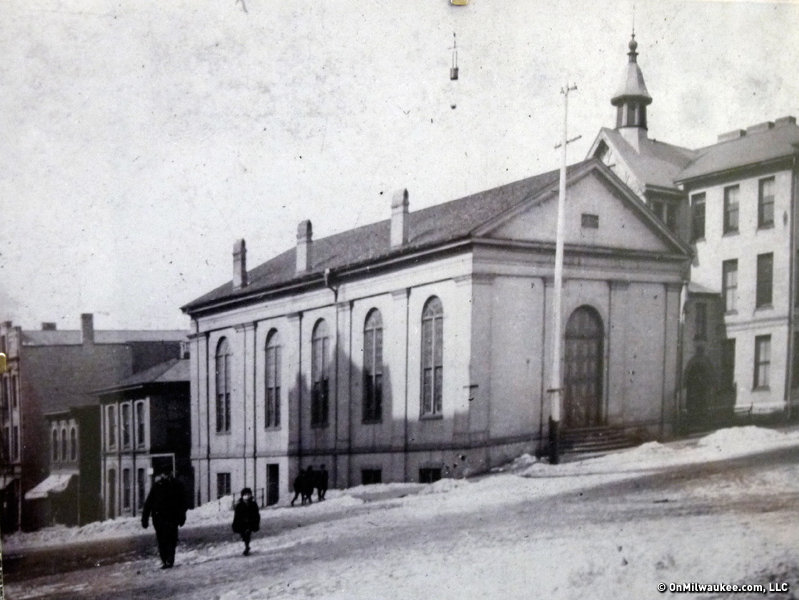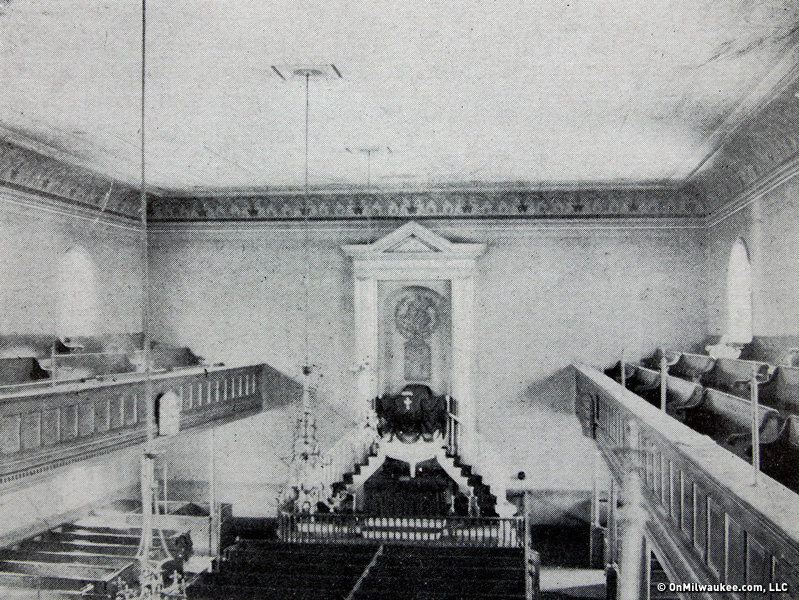 "There were already three Lutheran churches on the west side of the river: Trinity, St. John and St. Paul's," says Pastor James Huebner, who has been at Grace since 1982 (coincidentally, his uncle also led the congregation there from 1951 until 1961). "Those guys said, 'You should start your own church on the East Side.' So this was the first Lutheran church on the East Side.
"He bought this land for 700 bucks, this corner I should say, and then right away built a church. It was a beautiful brick church, smaller, but Romanesque style. The interior was quite gorgeous. They had a very interesting altar design with the pulpit over the altar so the pastor can come up through the side of the altar."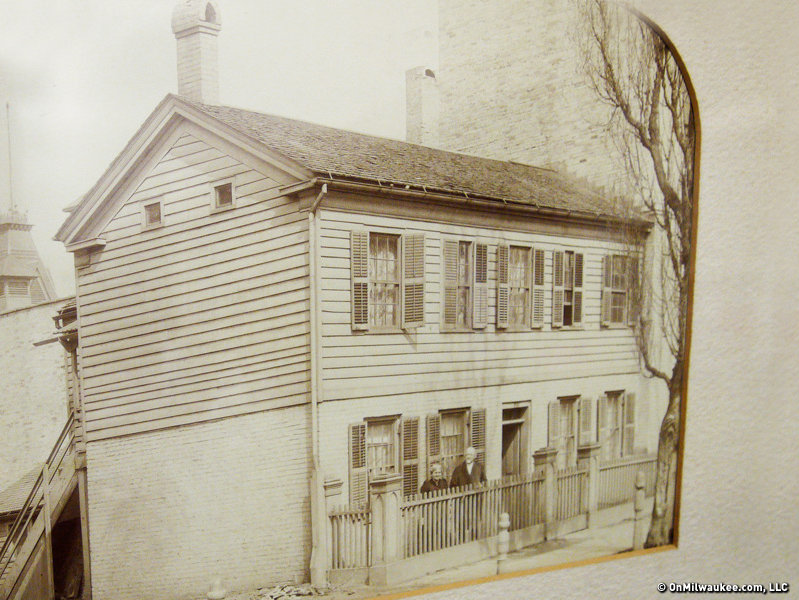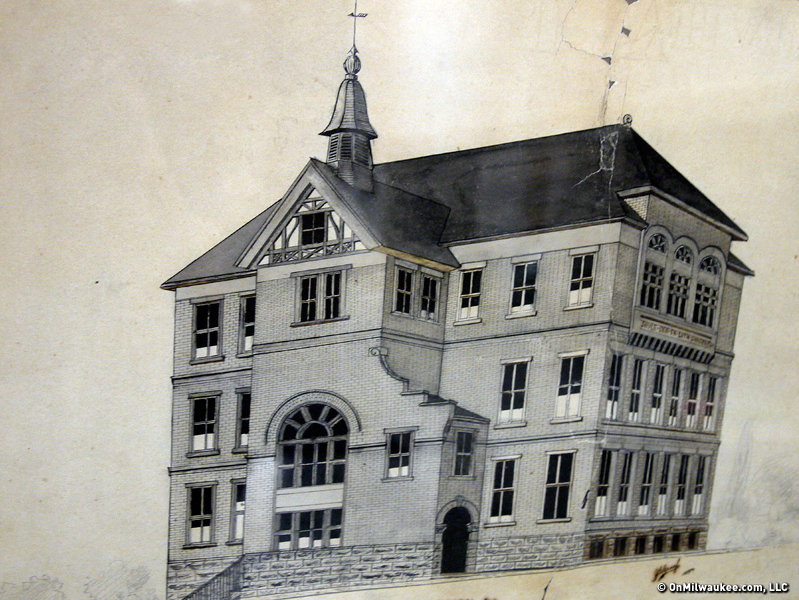 Next door, a parsonage was built and a school (above) was erected there toward the end of the century. All the time, the congregation was growing and the original church was no longer capable of handling the number of faithful that turned up for services. A new brick parsonage was built on the corner across Broadway, where it still stands, currently owned by MSOE.
Koch's 700-seat church was dedicated in the summer of 1901 and it was a beaut.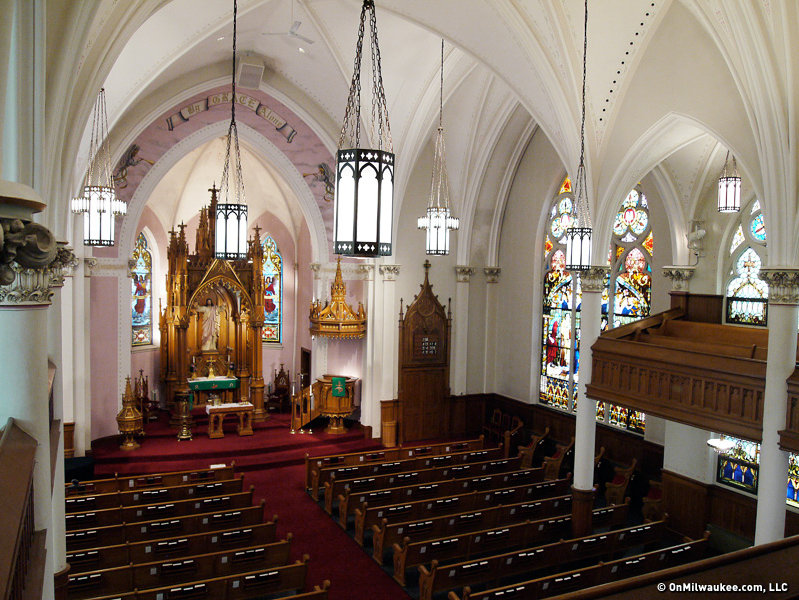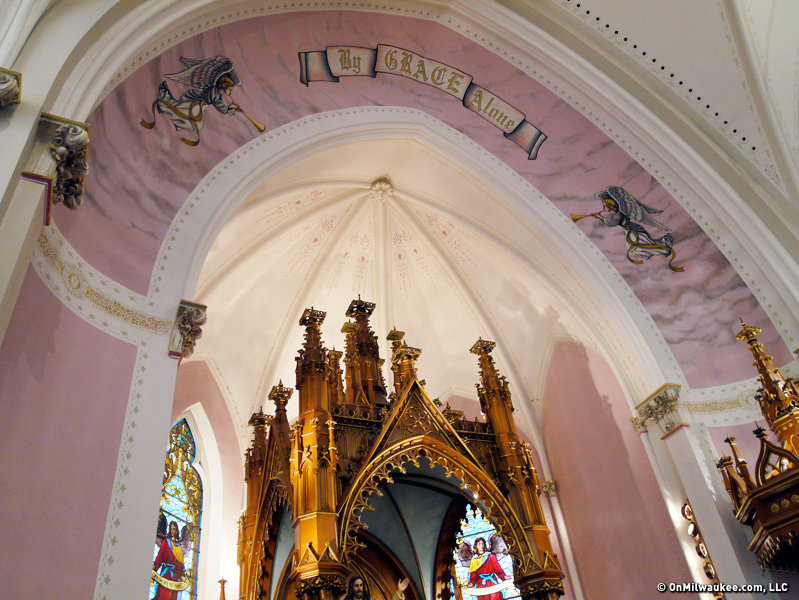 Because the church sits atop a bit of a rise it feels even more soaring than it is, with two towers, the south tower being a bit taller than its counterpart. What's most striking is the orange pressed brick, which is heavily decorated with a wide variety of terra cotta motifs in a matching color. The three-portal porch is especially heavily adorned.
On the facade is a rose window and each of the side aisles is adorned with original stained glass windows, many bearing inscriptions in German.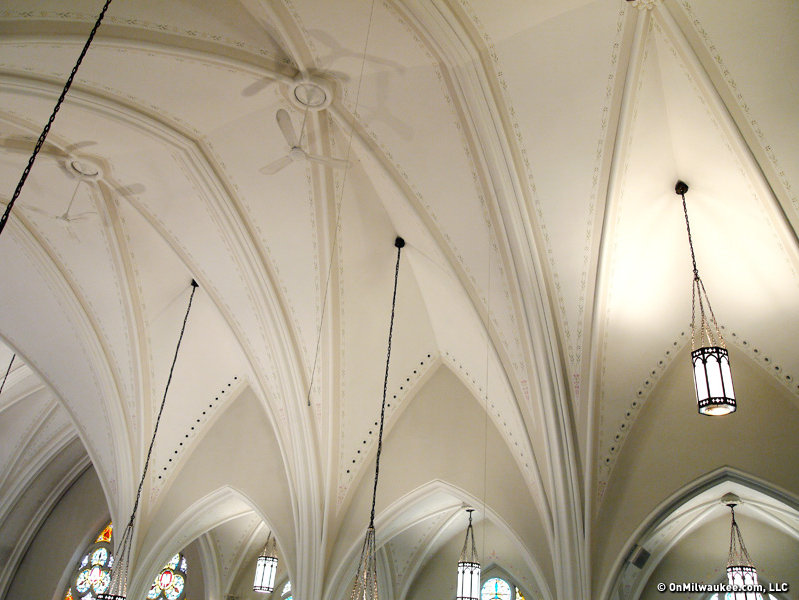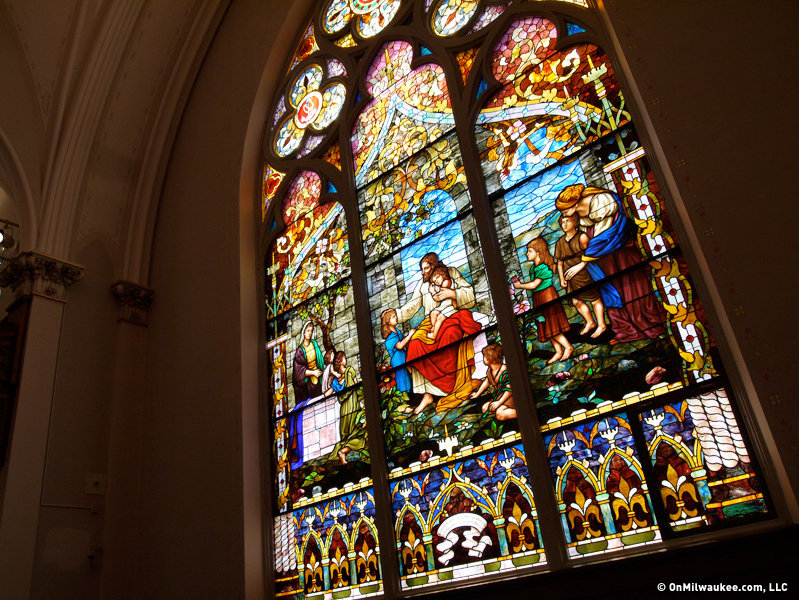 "This whole thing – windows, woodwork, everything you can see – was all done for 70,000 bucks," says Huebner, adding that six congregation members wrote checks to cover half the required amount within the space of a week.
Though the exterior of the church appears to be in fine condition, the tops of the towers were altered in 1953, and their Gothic detail diminished. This was a result of deterioration of the towers' wood frames, which survive – one can see some rotting beams inside the tower – but were bolstered by a steel frame that now carries the weight.
Huebner has overseen the restoration and preservation of the building. A lot of energy and money has been expended on this lengthy process.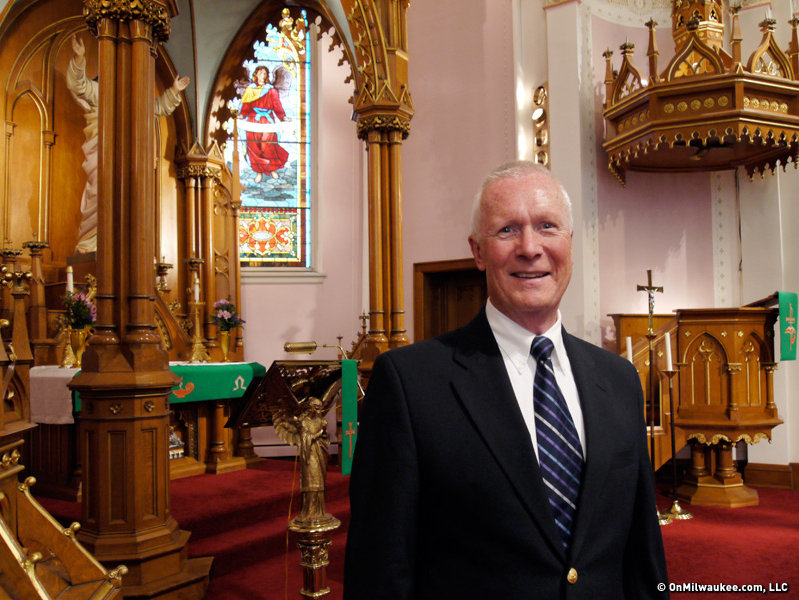 "It hadn't been painted here for 40 years so it needed it. When we did that, the whole church was decked at the second level, at the level of the balcony, so they had staging with another floor up there and they went and painted down and entered the staging down and painted the rest," he recalls.
"But when we're up there, you know, climbing up the scaffolding that was rolling on top of this deck, we got up by the windows and we found out that they were bowing and sagging after that many years."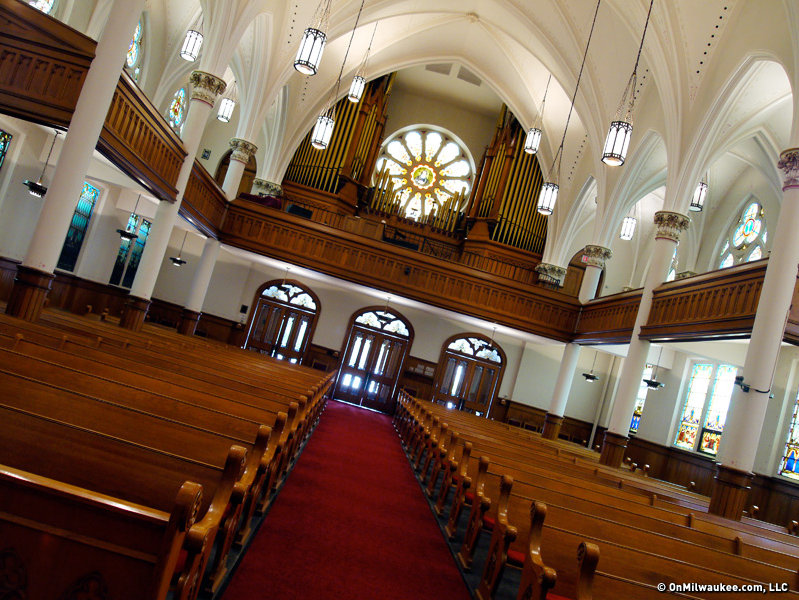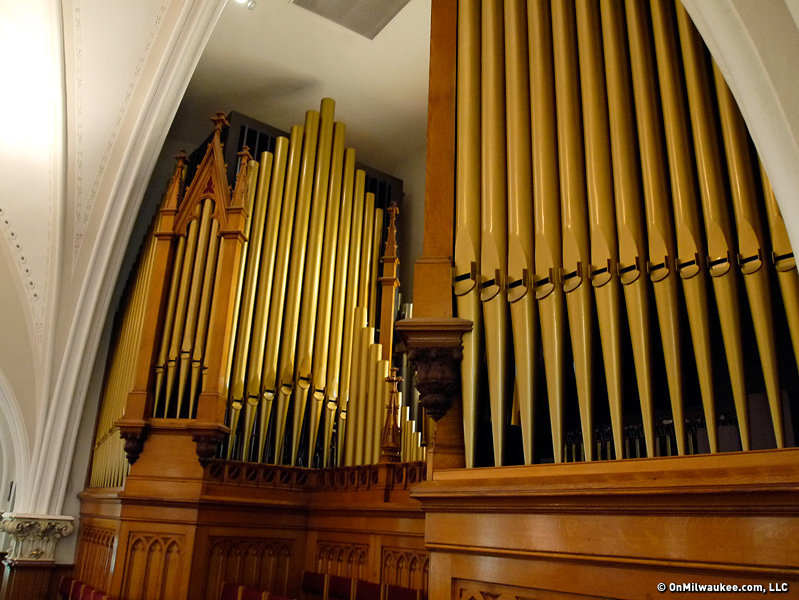 The result is that the enormous window depicting Jesus on the south wall was entirely restored by Conrad Schmitt. A complementary window directly across, on the north wall, has been reinforced but awaits restoration.
The plexiglass added to the exteriors of all the windows for protection in 1979 has been removed. Two windows depicting angels on the altar that had been plastered over have been re-opened.
But the biggest problems that Grace faced had nothing to do with windows.
"By '86, we had already known that the building itself was starting to slide down the hill," says Huebner, as we stand in the southwest corner of the sanctuary, to the left of the altar. "This is all rock, but it does go down to the river and our church, just like the Blatz south of us here, is all rock, except for this corner, (which) was starting to sink."
Huebner says there were tell-tale cracks in the stairwell, a crack running up the left side of the altar wall and some beams in the attic were starting to come apart.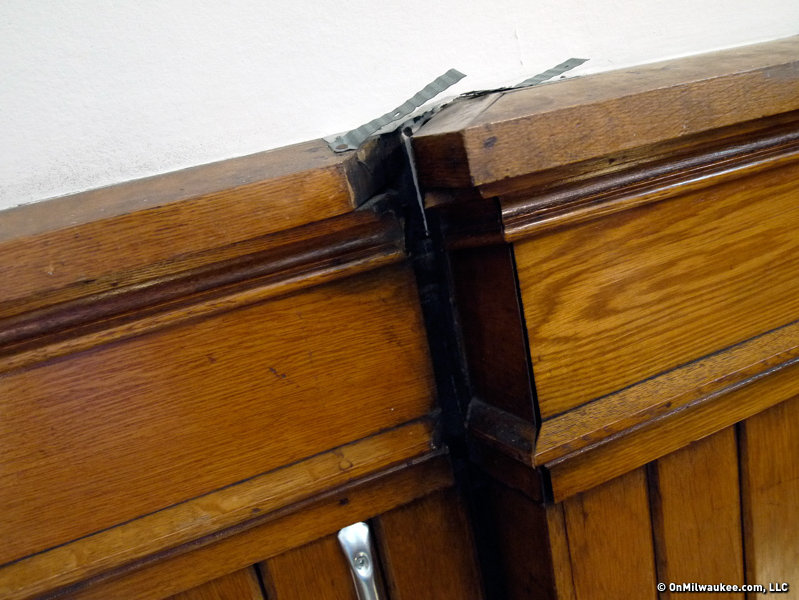 "So when you're standing here, you can sort of feel that you're leaning forward. This chancel area here is probably four of five inches lower than when the church was built. So, now what do you do?"
Luckily for Grace, a parishioner owned a construction company and he wasn't afraid to start pulling apart the foundation of a 86-year-old church.
"He was sort of a tough guy who wore a three-piece suit every day and owned this company," says Huebner. "Elmer Orne was his name. He was just awesome. He got in here with his crew and they pulled up the stairwell and guess what they find? All of the construction rubble from 1900 when this building was being built. Instead of hauling it away with horses and wagons, they just dumped it in (as fill)."
So, Orne and his crew began to dig out 40 tons of rubble, by hand, and carry it out of the sub-basement in five-gallon pails. They were looking for the bottom of the column that holds up the corner of the church.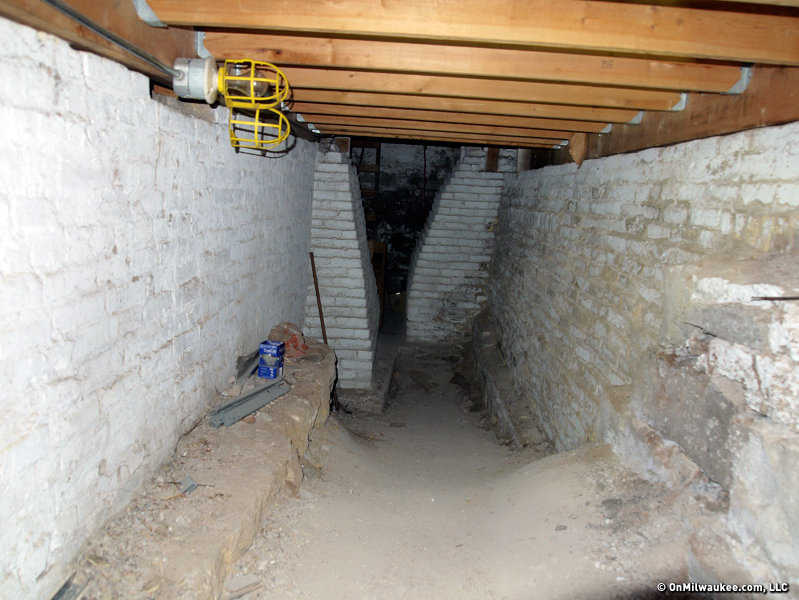 "They got down 19 feet and they found a two-foot thick square slab," says Huebner. "This is sitting on a cement slab. And then they had to go down another few feet and they looked and it's sitting on two inches of air. We have no idea how the building is standing. So Elmer gets in with his crew and goes down six more feet and they finally hit rock."
Orne and his crew built a reinforced concrete structure between the rock and the bottom of the column to shore up that corner of the church.
"We're all stable," says Huebner. "So we are leaning a little, but we are now as firm physically as we are theologically. That's my favorite line."
In case you haven't noticed, Huebner's affable and quick with a quip. He knows his Milwaukee history and he gives a great tour of the church. He takes me up to the attic, though he declines to climb through the narrow opening that leads above the sanctuary where you can see the cranks for raising and lowering the chandeliers in the church below.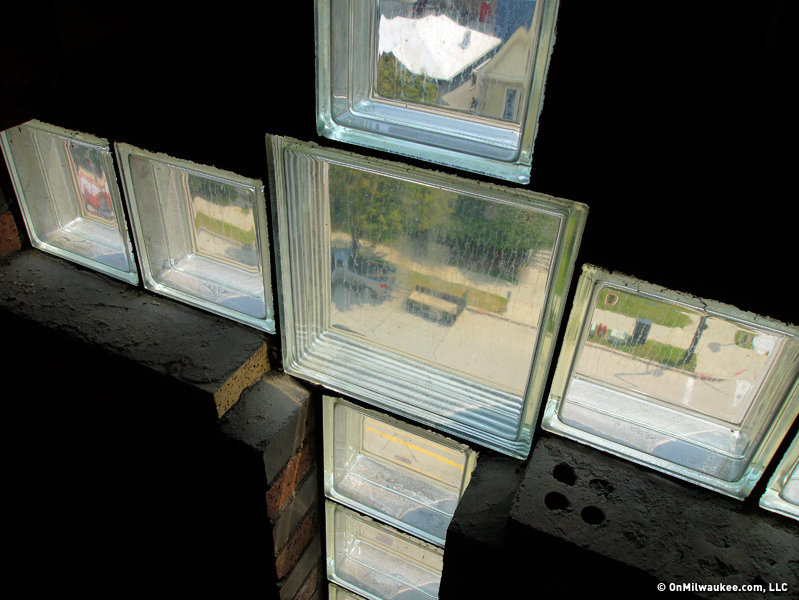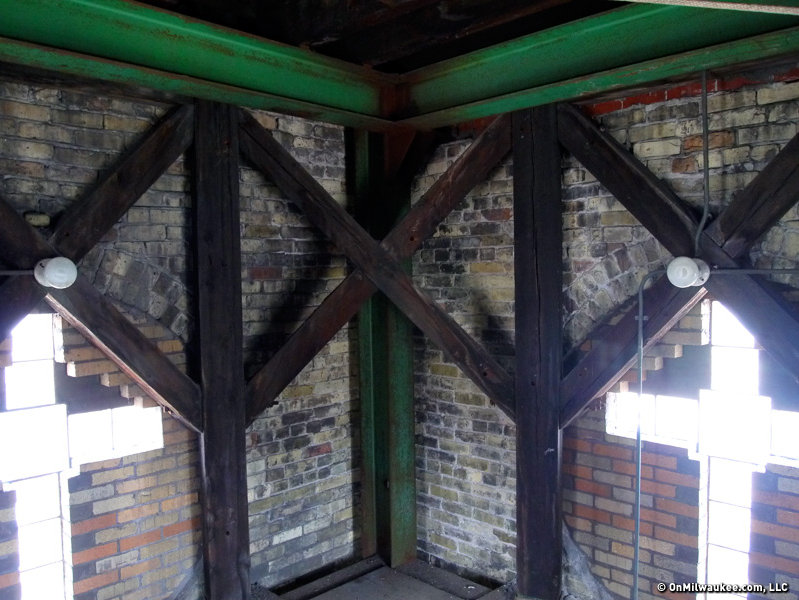 However, despite his suit and tie, he doesn't hesitate to climb the ladders with me all the way up to the top of the south tower, where we collaborate on ringing the three bells -- installed in 1906 -- and we look at the old rotting wood frame that led to the tower alterations and the steel frame that replaced it.
Again, Elmer Orne was the one who discovered the trouble and fixed it, during the 1950s renovations that began with work to repair a roof leak and water damage, altered the altar -- which is unusual for a Lutheran church in that it has a baldacchin, or canopy -- changed chandeliers and did some other work, too.
How that transpired explains a bit about the state of the congregation at Grace by the 1950s.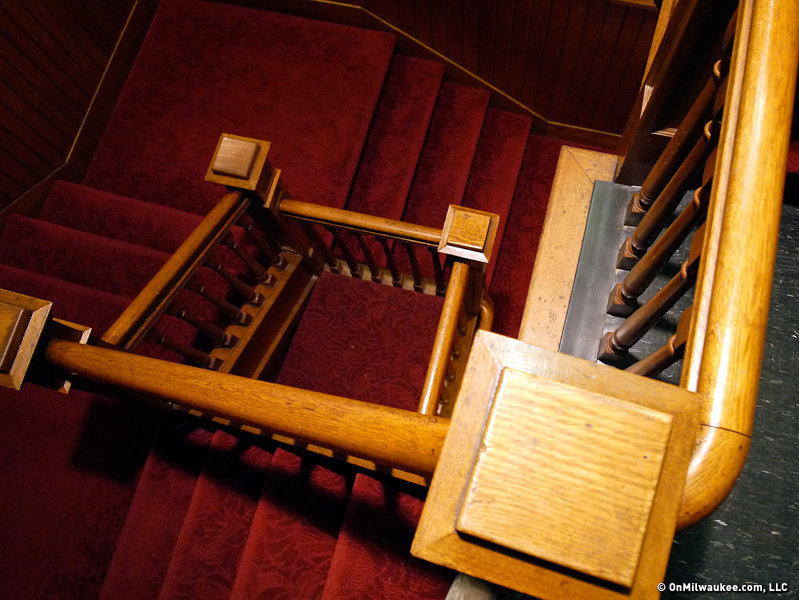 "They did not have $3,000 to fix a leaky roof in 1952," says Huebner. "By 1955, and many of the very wealthy families that had been members of our church back in the turn of the century (including Brumders and Pritzlaffs, for example), the previous century, they were dead and gone, so their descendants have moved on … they weren't members. So, we had a lot of blue-collar people but the membership had been shrinking, shrinking, shrinking, shrinking and shrinking.
"So here you are, in the mid-1950s, with a deteriorating neighborhood. It looks like a war zone around here. All of our members had all moved away. A few faithful people are still driving in."
Huebner's uncle took a stand.
"'Are we going to relocate and build a new church in the suburbs?'," Huebner says his uncle asked. "Many churches were doing that. 'Or do we close our doors, board it up and say to our members to go to some Lutheran church in their neighborhood where you're living. What do we do?' The third option was to keep it going. They decided to keep it going."
By 1956 the church had carried out a $150,000 renovation.
Some of the "improvements" have since been undone, helping to restore the original look of the sanctuary, but that work helped shore up the building for the future.
And it has paid off in terms of membership, too. When Huebner arrived at Grace in 1982, nearly half the 400-member congregation was 70 years or older. There were many funerals, but almost no weddings or baptisms at Grace.
Now, that's all changed. These days, the congregation boasts more than 1,250 members. There's typically a funeral a year, but 25 weddings and 40 baptisms.
"I'm the old guy," jokes Huebner. "Everything's young kids. Our problem is that we're running out of room. We went to three services on Sunday, one on Monday night, we're going to have to add Saturday nights, Sunday night, because we do 650-700 people in one weekend in worship. We can only put so many in here."
Our last stop – not counting the recent church building, which includes offices, meeting rooms and a public coffee shop, erected to the west a few years ago – is the basement.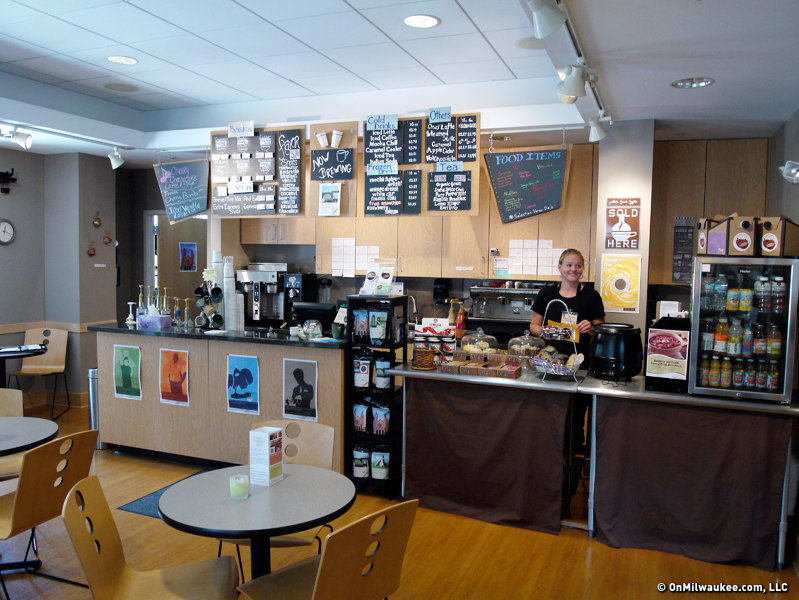 In the southwest corner, Huebner opens up what appears to be a closet door and he instructs me to lift up a plywood board on the floor, revealing a ladder down into the sub-basement, where Elmer Orne and his crew did their work, back in '86.
Crouched, we navigate a series of tunnels that leads us to the spot where Orne fixed the sagging church.
I ask Huebner why, when St. John's has almost no members and Bethlehem has closed its doors, is Grace's membership exploding?
"Several factors," says Huebner. "The No. 1 would be Milwaukee changed and the Downtown was revitalizing. People. Location is huge. When new people started to find their way slowly, they made a connection, they were very welcomed. Then we determined as a congregation to zero in on five things and work our tails off.
"We worked really, really hard at worship. What I mean by that is that we put a lot of time and effort into planning so that the structure of the service, the music of the service, the things that are used instrumentally and chorally, and the preaching presiding is excellent.
"Then we planned really, really much that everybody joining our church is going to get involved in growing outside of the worship experience and bible study and making Sunday more of a two-hour experience. We had a commitment to reach our neighborhood and that we're here to welcome guests and bring your friends."
Born in Brooklyn, N.Y., where he lived until he was 17, Bobby received his BA-Mass Communications from UWM in 1989 and has lived in Walker's Point, Bay View, Enderis Park, South Milwaukee and on the East Side.
He has published three non-fiction books in Italy – including one about an event in Milwaukee history, which was published in the U.S. in autumn 2010. Four more books, all about Milwaukee, have been published by The History Press.
With his most recent band, The Yell Leaders, Bobby released four LPs and had a songs featured in episodes of TV's "Party of Five" and "Dawson's Creek," and films in Japan, South America and the U.S. The Yell Leaders were named the best unsigned band in their region by VH-1 as part of its Rock Across America 1998 Tour. Most recently, the band contributed tracks to a UK vinyl/CD tribute to the Redskins and collaborated on a track with Italian novelist Enrico Remmert.
He's produced three installments of the "OMCD" series of local music compilations for OnMilwaukee.com and in 2007 produced a CD of Italian music and poetry.
In 2005, he was awarded the City of Asti's (Italy) Journalism Prize for his work focusing on that area. He has also won awards from the Milwaukee Press Club.
He can be heard weekly on 88Nine Radio Milwaukee talking about his "Urban Spelunking" series of stories.