It's a sunny Tuesday afternoon and five autograph collectors are clustered on the corner of Wisconsin and Jefferson, holding binders and pens, waiting. And waiting and waiting and waiting.
They will stand there for three hours or more, hoping – that particular day – for the St. Louis Cardinals to roll up in a bus and maybe, just maybe, a couple of them will agree to sign their baseball cards.
Even though they're lurking on the corner, the group of graphers – which is what they are referred to in the field – don't look suspicious. They appear confident and comfortable and a little bored, probably because they have done this many times before. Even though they are asked to move along – or sometimes even reported to the police – that corner is like a second home to them.
Graphers are a weird, fascinating and often misunderstood group. They are not the same as "groupies" because they do not want to spend time or party with the famous folks; they aren't hoping to have sex with them and they aren't even angling to snap a selfie with a star. They simply want five seconds of their time and one handwritten name. And yet, this can be a challenge and a competitive experience with, occasionally, a spat or two.
There are five or six local diehards who sell the autographs for money, but others, like Julie Thorsen, do it solely for fun.
"It's an underground," says Thorsen, who has collected musicians', actors' and baseball players' autographs for 20 years. "I see the same people every time I go out."
Thorsen, a petite blond, is the only woman in the local group of hardcore graphers. Some of the others, who did not want to be identified, are hobbyists, one is a police officer and others are autograph dealers who rely on autographs for their livelihood.
"I don't know how they can live off it," says Thorsen. "Most of the autographs are worth less than the cost of shipping it to a buyer."
Because some of the graphers are attempting to profit from the signatures, they can be competitive and aggressive.
"Especially when people from Chicago come up for the big stars," says Thorsen. "They're mean."
There is definitely a dark side to the graphing world. Thorsen says it's usually social and easygoing, but it can "get rough" among the collectors who will sometimes elbow, shove or mouth off to one another.
"I've never been in a physical fight with anyone, but I've definitely said stuff," says Thorsen. "I told a woman once, 'if you push me one more time I'm going to cut you and I am a chef and I have really good knife skills.' Of course I would never really do that, but she left me alone forever."
Thorsen, who works as the pastry chef for performers at The Pabst/Riverside/Turner Hall, has "thousands and thousands" of autographs in her Wauwatosa home. Although she comes in contact with a lot of celebrities through her job, she never asks for autographs while she's working.
Most of her autographs are on baseball cards but some are on baseballs, playbills from shows and scraps of paper. Almost all of the signatures are scrawled with Thorsen's writing tool of choice: the blue Sharpie.
"Except balls, those are signed with a blue ballpoint," says Thorsen.
Thorsen says she usually prefers the up-and-coming players to the big names because they are often nicer and more willing to sign. Even though she's been graphing for 20 years, Thorsen still doesn't like to get shot down.
"Sometimes you get a big star who's also very nice, like Robin Yount," she says. "He's a classy guy."
Thorsen's approach to asking players for their autograph is assertive – which it has to be because there's little time and she wants them to hear her. Graphers cannot be shy.
"I've yelled across the field at spring training at a player to come over to me for an autograph and he came over but to tell me I have an annoying voice," says Thorsen.
One of her favorite autographs is from Hank Aaron, but it's hard to pick a favorite because she has so many 'graphs she's sometimes surprised to see one while flipping through her many signed-baseball-card books.
"Recently I was like, 'oh yeah, there's Barry Bonds,'" she says.
So how do the players feel about autograph collectors? It varies, of course, from person to person, but because many more players say no than yes to an autograph, it might be an indication that the graphers are viewed as a nuisance.
The hotels are also not fans of graphers because they go to great measure to ensure the players' privacy and personal space during their stay.
"The Pfister hates us," says Thorsen.
Thorsen says the greedy graphers ruin it for everyone and give the kinder, less intrusive hobbyists a bad name.
Prior to working as a professional chef, Thorsen was an engineer for WE Energies for 15 years. After she was downsized, Thorsen took her severance package and spent it on tuition to attend Le Cordon Bleu in London, which not only turned out to be good for her cooking skills but also for her autograph collection because she had access to so many actors and musicians.
One night, Thorsen went to a show starring Vanessa Redgrave and before the performance she approached Redgrave who was standing next to a familiar-looking man. Thorsen asked Redgrave for her autograph and then looked at the man and said, "I know you from somewhere. Did we go to engineering school together at UWM?"
The man said no, gave her a dirty look and walked away. During the performance, Thorsen finally remembered who the man was.
"It was Timothy Dalton, who was the new James Bond at the time," she says. "Definitely not someone from my UWM class."
Although some of the the graphers will track the planes of famous people and go out at 3 a.m. to collect John Hancocks, Thorsen is not that obsessed. In fact, she claims to have lightened up lately and is more chill about the hobby than she was when she started collecting.
"Years ago, I would get upset over not getting an autograph and my aunt would say, 'what are we going to do? Hollow your carcass out and bury you with your cards?'" she says.
That said, Thorsen really, really hopes to get Cal Ripkin Jr.'s autograph someday.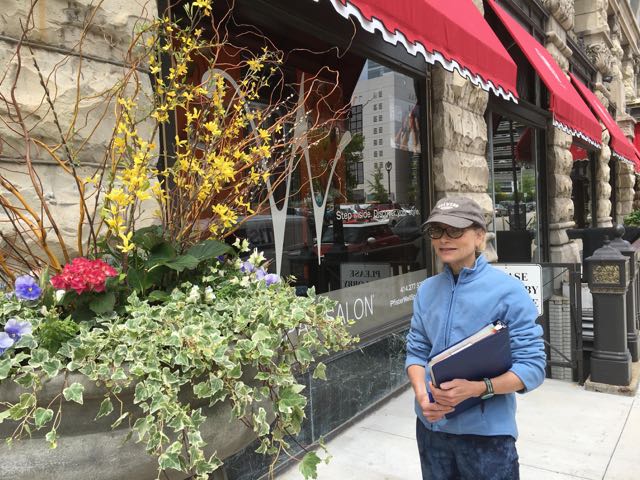 Molly Snyder started writing and publishing her work at the age 10, when her community newspaper printed her poem, "The Unicorn." Since then, she's expanded beyond the subject of mythical creatures and written in many different mediums but, nearest and dearest to her heart, thousands of articles for OnMilwaukee.

Molly is a regular contributor to FOX6 News and numerous radio stations as well as the co-host of "Dandelions: A Podcast For Women." She's received five Milwaukee Press Club Awards, served as the Pfister Narrator and is the Wisconsin State Fair's Celebrity Cream Puff Eating Champion of 2019.