Kent and Shannon Knapp have owned and operated Milwaukee Blacksmith for over a decade. It's the epitome of a family business with four of their six children employed. As a team, The Knapps create custom iron work for homes and businesses and they have restored much of Milwaukee's historic ironwork adorning beloved Downtown buildings.
"We operate on a shoestring budget," says Shannon. "Everyone in the family pitches in."
Like most small businesses, the pandemic has taken a toll on Milwaukee Blacksmith. A large portion of their income came from their School of Iron, which taught the basics of the blacksmithing craft to the public. "Having to close down classes has been devastating to our bottom line," says Shannon. "But luckily, we can still work on commissions because we all live and work together and have quarantined together for eight months."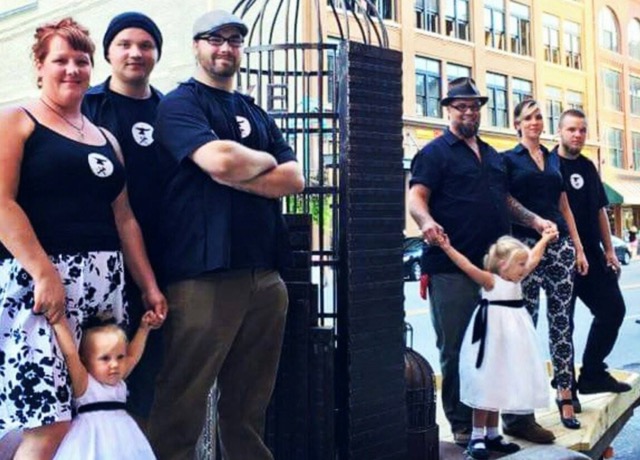 Needless to say, when a customer recently ordered an 800-pound, custom Star Wars Death Star fire pit for $12,500, the season finally felt joyful.
This will be Milwaukee Blacksmith's second Death Star fire pit. The first was created for a customer in West Allis and was featured in "Milwaukee Balcksmith," a reality TV show that profiled the family – who refer to themselves as "The Knappkins" – on the History Channel in 2016.
It will take about a month to build a steel rendition of the massive space station, but the big question is how will they transport it to Maryland, 800 miles from Milwaukee?
"We are still deciding if we will haul it ourselves or ship it. We will have to weigh all the options and costs," says Shannon.
But the Death Star Fire Pit purchase represents something greater to the Knapps than much-needed funds. For one, it will keep their family business – which is deeply intertwined with their values and daily lives – open through the New Year.
"As we watch so many small businesses around us close, we live in fear," says Shannon. "This sale was a breath of relief to keeping our shop open another month.These are the customers family businesses need right now."
And the timing of the commission strikes an even deeper chord for the resilient, resourceful and incredibly talented family.
"There have been times we lost everything and times that last minute play saved things," says Shannon. "I have no other choice than to believe it is trust. Every time we panicked, things didn't work out. Every time we just chose to carry each other in trusting, it all works how it should. Things blossomed."
Molly Snyder grew up on Milwaukee's East Side and today, she lives in the Walker's Point neighborhood with her partner and two sons.
As a full time senior writer, editorial manager and self-described experience junkie, Molly has written thousands of articles about Milwaukee (and a few about New Orleans, Detroit, Indianapolis, Boston and various vacation spots in Wisconsin) that range in subject from where to get the best cup of coffee to an in-depth profile on the survivors of the iconic Norman apartment building that burned down in the '90s.
She also once got a colonic just to report on it, but that's enough on that.
Always told she had a "radio voice," Molly found herself as a regular contributor on FM102, 97WMYX and 1130WISN with her childhood radio favorite, Gene Mueller.
Molly's poetry, essays and articles appeared in many publications including USA Today, The Writer, The Sun Magazine and more. She has a collection of poetry, "Topless," and is slowly writing a memoir.
In 2009, Molly won a Milwaukee Press Club Award. She served as the Narrator / writer-in-residence at the Pfister Hotel from 2013-2014. She is also a story slam-winning storyteller who has performed with The Moth, Ex Fabula and Risk!
When she's not writing, interviewing or mom-ing, Molly teaches tarot card classes, gardens, sits in bars drinking Miller products and dreams of being in a punk band again.