The season of imbibing is upon us.
Sure, you could bring a bottle of wine or a six-pack of beer to your aunt or uncle's house – but why not bring a growler of fresh draft instead?
A growler is typically 64 ounces of beer in a cider-like jug and, if filled correctly, should stay delicious in the fridge for about a week. Once opened, however, it is best consumed within a few days (within 24 hours is best) though times vary based on the growler, pour and more.
Most places will also sell the growler container to you (average $10 to $15) to have – of course – refilled in the future. If you do purchase one, simply rinse it out with water when done -- no soap should be used. When you bring it back in for a refill your growler keep will sterilize it and give you a clean one.
Bring one to a party, bring one as a gift, or maybe even keep it for yourself – they are economical and good for the planet!
With the explosion of craft breweries here – as well as the amazing ones we already had – there are now plenty of options around Milwaukee to get a growler filled.
Here are seven:
The Riverwest Filling Station is a gastropub located on the north side of Milwaukee's Riverwest neighborhood at 701 E. Keefe Ave. Offers retail growlers of 30 draft beers until 9 p.m.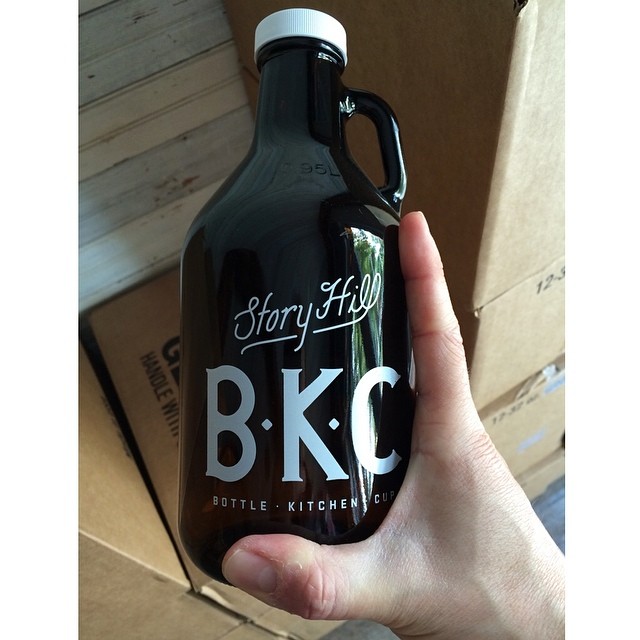 Story Hill BKC at 5100 W. Bluemound Rd. offers up both 32-ounce and 64-ounce growlers for you to enjoy. Many local favorites are currently on the pour list, including Karben 4, New Glarus or even Point Whole Hog's Valentine Coffee Espresso Stout.
Ray's Growler Gallery brings some of the best, freshest and most creative beers direct from the tap to your home. Drafts on tap are typically a beer made exclusively for the Gallery, a rare brewery-only release, or a special selection that will not be available anywhere in bottle. Plus they are also offered in both 32- or 64-ounce options at the gallery, 8930 W. North Ave.
Initially backed by a Kickstarter campaign, Draft & Vessel is a new option at 4417 N. Oakland Ave. in Shorewood that serves up craft beers, refillable growlers, locally made snacks and beer themed gifts. It has 16 rotating lines of craft beer to enjoy in the tap room or in refillable growlers to go (until 9 p.m.) in both 32- and 64-ounce options.
Brenner Brewing Company, 206 S. 5th St., in Walker's Point, crafts world-class ales and lagers that nurture a sense of community by bringing people together. Brenner's is a combination of brewery and an art gallery experience – plus you can get a growler filled!
Groppi's at 1441 E. Russell Ave. in Bay View has always been a favorite among locals and it can add the availability of growlers to the reasons why. It serves up 64-ounce growlers from eight taps that rotate based on season in Louie's Coop bar.
Located at 130 W. Ryan Rd., this South Side staple serves up growlers of 32 taps in a 64-ounce growler. It currently has Big Eddy Cherry Doppelschwarz on tap, which I got to try fresh a few weeks ago and it was delicious.
This list is just a few of those who offer up growler options. Have fun exploring!
Carolynn Buser is one of Milwaukee's loudest and most adamant cheerleaders (don't dare try to disagree). She's the primary voice behind much of OnMilwaukee's social media and content direction, and apologizes in advance if she can be too sarcastic at times.
What else? She's a wine lover, closet trashy novel reader, beauty supplies addict and devourer of cheese (shocker for a Wisconsin born and bred girl, right?). She's also a bit of a foodie, which is a word most of you hate, we know. She works as hard as she plays - and that includes in the gym! So, you've probably seen her at one of the area's newest restaurant openings (and yes, she will share her opinions good or bad) or enjoying a cold one at a local pub.
All in all, Carolynn's a believer in positive thinking and will do her best to smack down your negative ones while writing about her city, her loves, quests and more.