On Nov. 9, 2017, during an OnMilwaukee editorial meeting, pop culture editor Matt Mueller brought up the craze of Hallmark Christmas movies. It was a decision he would come to immediately regret, as he was quickly forced assigned to watch a new Hallmark movie a week during the holiday season and write about his discoveries and loss of dignity.
These are the chronicles of Matt's Hallmark holiday hell.
"A Christmas Prince"
What if the most popular Hallmark holiday movie of the Christmas season ... wasn't on the Hallmark Channel? Thanks to a snarky tweet from Netflix, "A Christmas Prince" became weirdly one of the most viral titles to pop up on the streaming service this season.
To the 53 people who've watched A Christmas Prince every day for the past 18 days: Who hurt you? — Netflix US (@netflix) December 11, 2017
But is it worth the hype? Can Netflix beat Hallmark at its own game? And what is the deal with those 53 people?
Mad Libs plot summary
A big-city and/or corporate fledgling journalist arrives in a small town in the hopes of breaking a big story on the playboy prince of Aldovia. In the process, she stumbles into a handsome prince she's supposed to be covering who's fallen out of love with the holidays thanks to his dad, the king, died and being a royal is a bummer. Will she break the story, while also thawing his frozen, Grinch-like heart? And will they find the greatest Christmas gift of all ... love?
Hot chocolate, chirpy relationship commentary from a best friend character and adoring looks from his little sister ensue.
Who stars?
How much do you think Netflix is kicking themselves for not casting Meghan Markle for this? Instead, our intrepid reporter Amber is played by Rose McIver, the star of The CW's popular zombie crime dramedy "iZombie" and Lindsey Salmon from Peter Jackson's insane "The Lovely Bones" film adaptation.
Meanwhile, the namesake Christmas prince is played by Ben Lamb. He's randomly appeared in forgotten blockbusters like "Now You See Me 2" (fun fact: that movie makes literally no sense) and "Divergent." Remember when they split the final book of that series into two movies, but then never made the second one because "Allegiant" flopped so hard? Fun times. Anyways, if Hollywood ever gets around to making a prequel about Buffalo Bill from "Silence of the Lambs," I've got your guy!
The cast rounds out with Alice Krige, aka the Borg Queen from "Star Trek: First Contact," so all in all, a pretty strong cast for Netflix's breakthrough Christmas original, all under the guidance of ... oh no ...
Alex Zamm?! The auteur behind "Tooth Fairy 2," "Jingle All the Way 2" and "Beverly Hills Chihuahua 2"!? AGAIN!? But hey, "Christmas at Evergreen" wasn't all that bad! And let's see what his latest project looks like:
Oh boy, that was a mistake.
Holly jolly or holy hell?
Considering they've created three seasons of success out of "Fuller House," it makes sense that Netflix would get into the Christmas cornball market. What makes less sense is literally any of "A Christmas Prince," an idiotic fluff ball of a movie that'll have you deleting your Netflix account and disconnecting your Wi-Fi – just to be safe.
OK, maybe it's not THAT bad, but it did make me yearn for the days of "Joan Cusack: Train Creep" and Santa School. It's the difference between a charming ugly Christmas sweater and a sweater that's just actually ugly – and also it hasn't been washed.
"A Christmas Prince" starts on thin ice with its basic plot: Aspiring journalist Amber is sent to the very fictitious country of Aldovia (they don't even get the fake country right; Aldova sounds infinitely more like a real place, while Aldovia sounds like sleep medication) to cover their playboy prince Richard, who may decide to abdicate the throne on Christmas. Why a copy editor at a tabloid would be sent to cover the biggest story of the year is somehow one of this movie's lesser logical faux pas. This is a world where a publication has the money to not only hire copy editors, but also fly them across the globe to cover what ends up being a press conference.
Anyways, she shows up for the event, but the prince doesn't, so it's an un-newsworthy dud. But Amber manages to sneak her way into the castle – because apparently the guards also forgot to show up as well – and convince the royal family that she is a tutor for Princess Emily. She also manages to break a priceless 15th century Ming Dynasty vase. Either this all is a cutting jab about the idiocy of monarchy or "A Christmas Prince" is just not a good movie. Unfortunately, it's the latter.
Of course, as Amber infiltrates the total family, she gets to know who they are actually – especially the prince, who isn't actually an absent-minded playboy but a very boring and bland whiner who just wants to shoot arrows at targets from ten feet away and play with orphans instead of showing up at big charity events in support of said orphans. They begin to fall in love, because he can plink basic Christmas carols on the piano and she accidentally fires an arrow into a priceless paining. Unfortunately, she's still lying to him while on the clock to find a scoop for her tabloid – and while she would rather write a story about how the prince is such a great, nice, orphan-loving guy, she's also stumbled upon evidence of an Aldovian birther controversy that shows the prince was adopted. Let's check her notes!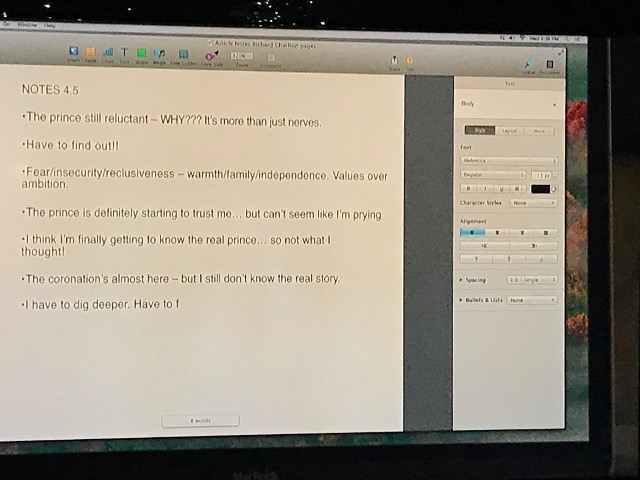 "The Post," this is not.
Never mind that a possible lineage debate is OBVIOUSLY a much better story than "Exclusive: Prince Can Play 'Silent Night' On Piano," or that all of Amber's plan so remarkably unethical that even Project Veritas would pull the plug, this whole "How to Lose a Guy in 10 Days"-esque plot is terrible. Anytime you create a love story based around somebody lying about who they are, it not only makes it hard to root for our deceptive romantic lead to come out on top but it's just boringly predictable, as the audience just sits around waiting for the truth to tediously come out ... and then be immediately forgiven after a nice speech or two. To top it all off, the script tosses in one of my dearly despised "I walked in at just the wrong moment" conflicts. YOU'RE PICKING UP HALLMARK'S BAD HABITS, NETFLIX!
Hey, but you know what they say about relationships based on distrust and dishonesty: They die slow, painful deaths. I look forward to the sequel, "A Christmas Prince 2: Royal Divorce."
And hey, Netflix: When you do make your "A Christmas Prince" sequel – and you will; while most offices have bowls of candy or mints on their front desks, you offer everyone a free second season – can you make it not look like dirty trash? Whereas most Christmas movies look warm and cozy, most of "Christmas Prince" looks like it was actually filmed in an impoverished Eastern European country ruled by an ambivalent monarchy. Supposedly sweet scenes of fun or bonding are covered in cold shadows, the tabloid office looks like it was built in a concrete parking structure and the cafe Amber's dad owns looks like it might've been home of one of Jigsaw's death traps. I understand not everything has to look like Hallmark's brand of short-focus saccharine gauziness, but even if you like the story being told, there's a frosty chill emanating from Zamm's visuals that make "A Christmas Prince" hard to warm up to.
It's a grey, drab look that happens to match the grey, drab sensation I had watching "A Christmas Prince." That tweet that made "A Christmas Prince" infamous ends up being the perfect reflection of the movie itself: a cold, soulless and thoughtless attempt to be "cute" and "warm." And maybe don't insult the viewers watching your product, Netflix – especially when the product is insulting enough.
Verdict: Holy hell
Drinking game drunken-ness score
Not that I needed any more excuses to drink heavily while watching Hallmark holiday movies, but thanks to Wide Open Eats, I found this Hallmark drinking game created last winter by human saint Brittany Graves and posted on Facebook. So let's go through the checklist and see how crushed we can get off Christmas cliches!

(PHOTO: Brittany Graves Facebook)
Reference to a dead relative? Richard's father, aka the king, thankfully died before he had to appear in this movie. FIRE A 21-DRINK SALUTE!
Christmas-y main character name? Rookie mistake, Netflix, as none of the main characters have anything resembling holiday names. I guess Amber's dad is named Rudy ... which is kind of like Rudolph? That's a stretch. STOP DRINKING!
Fake Christmas tree disses? I've now watched several corny Christmas movies across two different channels ... AND NOT A SINGLE FAKE TREE INSULT! I guess I'm just going to have to write an entire Hallmark movie script exclusively so a fake Christmas tree diss makes it to air. DRINK EGGNOG WITH NOTHING IN IT!
Newcomer in old-timey tradition? Traditions don't get much more old-timey than monarchy! DRINK SOME CROWN ROYAL!
Hot chocolate? They drink plenty of champagne and even eat some jellied meats ... but no hot cocoa. Come on, Netflix, focus. HO HO SOBRIETY!
Near-miss kiss? Not one, but two – the second one coming after Richard saves Amber from an evil wolf after she gets lost in the woods. Wait, what!? Why did this suddenly turn into "The Revenant"? DOUBLE DRINK!
Product placement? No actual products placed – unless you call this all a big ad for the upcoming royal wedding coverage – but "A Christmas Prince" serves as a terrible ad for journalism, as well as a great commercial for ACTUAL Hallmark movies. PA RUM PUM PUM PARCHED!
Snowball fight or ice skating? At first I thought I'd have to rely on some stock footage of people skating in Rockefeller Center, but thankfully a snowball fight breaks out between our two lovebirds and poor little Emily, who's been knocked to the ground and can't get up. Rude. There's also a part where Richard plays with orphans, but it's less of a snowball fight and more of a literal public execution via snowballs. Putting someone to death, how fun! Also fun: DRINKING!
Ugly sweater or tie? We get a brief reference to an article published by Amber's tabloid rag about "ugly Christmas sweaters of the stars," but we never get to see it. A shame; a photo of the Kardashians and Chip and Joanna Gaines in embarrassing clothes would've upgraded this to must-see territory. Also a shame: NO DRINKING!
Big city person in small town? Does a literal kingdom count as a small town? I'm disappointingly sober watching this, so I say yes. DRANK AGAIN!
Caroling, tree farming or cookie baking? Two for three, with a brief smattering of carolers and a cookie baking scene so drably lit that it seriously looks like a deleted scene from "Sweeney Todd." THE WORST PIES IN LONDON, THE BEST WHISKEY IN ALDOVIA!
Mistletoe? None of the sets look particularly well decorated, so it shouldn't come as a surprise that there's no mistletoe to be found. There is a very plot-important acorn, though! MISTLE-NO DRINKING!
Magic deal with Santa/angel? No magic here, unless you believe in the magic of terrible journalism! Are we even sure they believe in Santa in far-off Aldovia? Maybe they're more of a Krampus people. KRAM-PASS ON YOUR GLASS OF WINE!
Anytime time you hear "Jingle Bells"? There's a brief bit of "Jingle Bells" near the beginning, but seriously, give me more traditional Aldovian carols. Where is the world-building, Alex Zamm!? DRINK THROUGH YOUR DISAPPOINTMENT!
Snowed in? While there is that brief moment of "Man vs. Wild" with Amber lost in the woods, unfortunately nature behaves itself in "A Christmas Prince" – which means that you have to behave yourself too when it comes to your liquor cabinet. MERRY CHRISTMAS TO YOUR LIVER, NO BOOZE!
Lacey Chabert and Candace Cameron Bure are unfortunately Hallmark property, while there's no real Christmas cynic to be won over, and I'm not even sure if anybody properly celebrates Christmas here. In fact, the big final kiss lands on New Year's Eve. It's not called "A New Year's Eve Prince," Netflix!
In general, if you're going to watch a Hallmark movie, you might as well watch an actual Hallmark movie. "A Christmas Prince" is all of the dopey predictable plotting and bland performances with none of the holiday warmth – whether from the movie or from the big glass of bourbon helping drown it down.
Verdict: Abstaining in Aldovia
As much as it is a gigantic cliché to say that one has always had a passion for film, Matt Mueller has always had a passion for film. Whether it was bringing in the latest movie reviews for his first grade show-and-tell or writing film reviews for the St. Norbert College Times as a high school student, Matt is way too obsessed with movies for his own good.
When he's not writing about the latest blockbuster or talking much too glowingly about "Piranha 3D," Matt can probably be found watching literally any sport (minus cricket) or working at - get this - a local movie theater. Or watching a movie. Yeah, he's probably watching a movie.