"Bar Month" at OnMilwaukee is back! For the entire month of March, we're serving up fun articles on bars, clubs and beverages – including guides, the latest trends, bar reviews, the results of our Best of Bars poll and more. Follow along with the #DrinkOnMke hashtag too. Grab a designated driver and dive in!
"For a business steeped in tradition and history, whiskey has forgotten its better half. Women have always been a part of whiskey history; they've just never received credit," wrote the famous chronicler of whiskey (and erstwhile East Sider) Fred Minnick in his book "Whiskey Women: The Untold Story of How Women Saved Bourbon, Scotch and Irish Whiskey."
"Women were as important to whiskey as men were in every facet of the business. We can no longer ignore a woman's place in this spirit category's history. It's time to celebrate women."
As Minnick also noted, women today are involved at every level of the whiskey business, from administration to master distiller to blender to taster and beyond.
In the Milwaukee area, one need only look to Cedarburg's Handen Distillery, W62 N590, Washington Ave., to find some whiskey women.
Founded by longtime friends Mary-Kay Bourbulas and Lisa Tank, Handen Distillery opened in late 2018 with former Like Minds brewmaster John Lavelle running the hybrid pot still. The name, they say, means "hands," in German, reflecting the hands-on craft approach to distilling a range of whiskeys, gin and liqueurs.
"We already had the space and then had Lisa and I are longterm friends and we worked together over 30 years ago (in the investment business) and we were talking about it and decided that it would be something fun to do," says Bourbulas. "It would be a chance for us to work together again."
The women were drawn in by their love of cocktails, their desire to create something special and the fact that Cedarburg didn't yet have a distillery.
"It wasn't here," Bourbulas confirms. "And it was complimentary to Cedarburg, which is kind of important. We love this town, we love the vibe on the street."
So, they decided to open in a 1920s building owned by Bourbulas. It's a former Ford automotive and tractor dealership that Bourbulas says was remodeled into, "a colonial looking building."
"All the high ceilings were gone, but from the back of the building you could see that it had had that, you know, U-shaped that bow truss construction. No pillars. So it would work for the distillery equipment. You can see in the back that we've got this huge height, so there was no rejiggering that needed to be done there."
Tank and Bourbulas went to distilling school in Chicago and through that they met Lavelle.
"We wanted to be heavily involved in the process, but we wanted to find a head distiller," says Bourbulas.
"I'd been taking courses, because this was the path I wanted to go was even when I was at Like Minds," says Lavelle. "I actually wanted to distill, so this is kind of a natural swing. What I had in mind was maybe starting my own project and I walked in the doors here and I'm like, 'Oh sh*t, this is awesome. It's beautiful.' The still was already in place. It was an opportunity there was no way I could pass up."
With a bit of help from the guys at Galena's Blaum Brothers distilling – "any questions I had, (because) they use the exact same still, I'd be on the phone with them like every night for like a month," recalls Lavelle – Handen was up and running.
In addition to a vodka made in-house, the distillery got started with Mill Race, a blend of straight whiskeys sourced from a couple Midwestern distilleries, including Indiana's Midwest Grain Products. This 86 proof blend of bourbon and wheat whiskeys has won a couple awards for Handen already.
"We do all our aging in 53-gallon barrels," says Lavelle. "We're not taking any shortcuts when it comes to aging."
That means that at the moment – while whiskey is quietly aging in barrels made by Canton in Lebanon, Kentucky, using oak seasoned for 36 months – all of Handen's whiskeys are sourced.
"Some of it is partially aged," Lavelle adds, "but most everything is finished here. We do a lot of barrel finishing because we don't just want to bring MGP stuff in and repackage and send it out the door. So we put our mark on it with different barrel finishes and blends."
There are some interesting barrels in the back, including an Italian Mastro Bottaio from Udine that formerly held Calvados and is now finishing a whiskey.
"Port barrel bourbon is a finish," he adds, "we also have sherry barrel bourbon that will be out soon."
We sample the Mill Race and the Handen rye, which also comes from MGP, and the results are impressive.
"Mill Race was designed to drink like a sipper, you can drink it neat very easily, there you can leave very easily," says Lavelle. "There's no burn."
He's right. It's smooth and drinkable – a perfect gateway whiskey.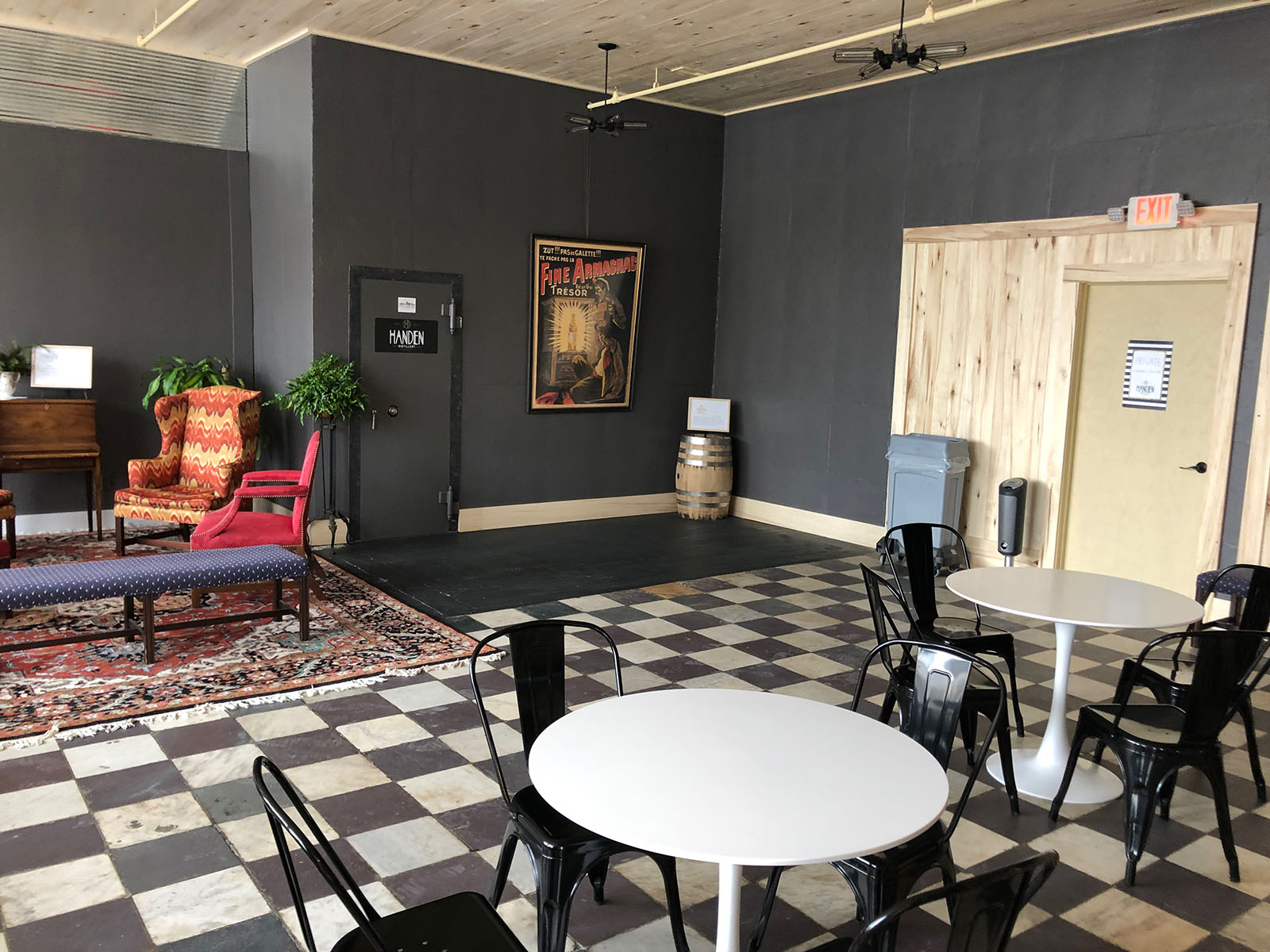 Then there's the rye, which is really unique with not only an extremely mint-forward nose, but with that same cool spearmint breeze on the palate.
"The challenge for us will be how to recreate that on our own here," says Lavelle.
But whiskey is not everything dripping from the still at Handen.
"Cedarburg is pretty well known for Strawberry Fest, so it's something we actually obviously wanted to speak to," says Lavelle. "So we've got wild strawberry liqueur.
"Our vodka is potato-based; again, very, very smooth. We don't like to leave a lot of residual character in. So looking for smooth, clean, very easy drinking. The gin is based on the same thing. So we take that vodka that we've made, we then add more botanicals, which are sourced from Rishi Tea."
In addition to working with Rishi, Handen keeps things as local as possible by sourcing grain from nearby Grafton Stone Mill in Jackson and malt from Briess, up in Chilton.
(PHOTO: Handen Distillery)
There's also a gin aged five-six months in whiskey barrels, and a straight bourbon blended from five barrels of 3-4-year-old whiskey. The latter is also available at cask strength.
The distillery also has a tasting room, of course, with a bar that serves local beer as well as home-grown cocktails made with Handen's products.
There's also a gin aged five-six months in whiskey barrels, and a straight bourbon blended from five barrels of 3-4-year-old whiskey. The latter is also available at cask strength.
"We started the cocktails in June," says Bourbulas, noting that for about eight months before that the bar only served samples of its products.
"We want to execute everything at high level and it's all about the product," she says. "Because we can only serve our product, we don't do a Manhattan because we don't make vermouth, for example."
(PHOTO: Handen Distillery)
The cocktails are interesting and tasty enough that as we chat at lunchtime on a weekday, a customer at the bar chimes in to say she drove to Cedarburg from Racine especially for the Ginchilla, a concoction barrel-aged gin, Early Grey tea, ancho chili syrup, El Guapo Chicory Pecan Bitters and a maraschino cherry.

"I came (to Cedarburg) two weeks ago because someone told me to come up to try the wine and I did and it was fine. But I like gin drinks, so when I saw there was a distillery, I came here and I got the Ginchilla and every drink I've had since then I have compared to it, and everything else does not compare. So I came back up here even though it's an hour away from my home.
"I told all my friends about it. I have a trip planned out with a friend - I told her 'you have to try this.'"
Born in Brooklyn, N.Y., where he lived until he was 17, Bobby received his BA-Mass Communications from UWM in 1989 and has lived in Walker's Point, Bay View, Enderis Park, South Milwaukee and on the East Side.
He has published three non-fiction books in Italy – including one about an event in Milwaukee history, which was published in the U.S. in autumn 2010. Four more books, all about Milwaukee, have been published by The History Press.
With his most recent band, The Yell Leaders, Bobby released four LPs and had a songs featured in episodes of TV's "Party of Five" and "Dawson's Creek," and films in Japan, South America and the U.S. The Yell Leaders were named the best unsigned band in their region by VH-1 as part of its Rock Across America 1998 Tour. Most recently, the band contributed tracks to a UK vinyl/CD tribute to the Redskins and collaborated on a track with Italian novelist Enrico Remmert.
He's produced three installments of the "OMCD" series of local music compilations for OnMilwaukee.com and in 2007 produced a CD of Italian music and poetry.
In 2005, he was awarded the City of Asti's (Italy) Journalism Prize for his work focusing on that area. He has also won awards from the Milwaukee Press Club.
He can be heard weekly on 88Nine Radio Milwaukee talking about his "Urban Spelunking" series of stories.