I admit it: I didn't think I was going to like this dress when I first saw it. I thought that the drop waist wouldn't be flattering, the length would be awkward and the neckline just wouldn't work for me. But when it went on sale, I just thought f*ck it, I'll give a try
And to my surprise, I was wrong!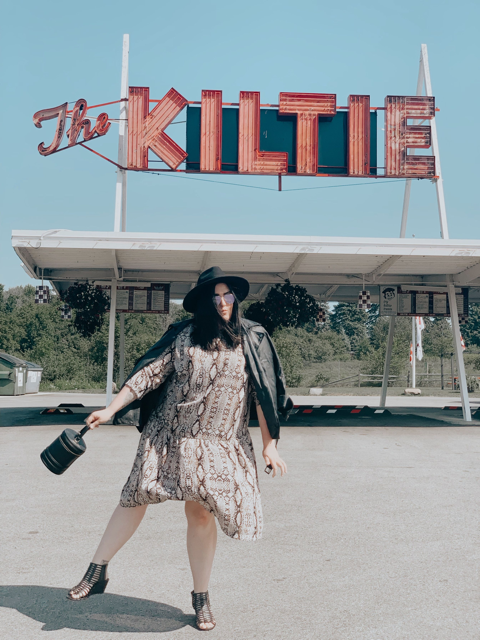 This dress is the perfect fall dress. It's comfy, flattering and unique. It will definitely be worn a ton this season.
I think a lot of us judge a look by its hanger appeal or online pic appeal – but sometimes the items I don't like at first glance end up being the pieces I love the most once I put them on. Pieces look so different on your own body shape. So I challenge you to take risks, try on the out there piece – or even the piece that you might not like at all. Because you never know; it might just become one of your fave items in your closet.
Dress: ASOS
Jacket: C/O Eloquii
Shoes: C/O Jessica London
Hat: ASOS
Handbag: Mel Bianco (old)
Sunnies: Ray-Ban
Pamela Kieck is a Milwaukee based fashionista and is the founder of the fashion, beauty and lifestyle website itspamelakieck.com Pamela has always found herself with an intense interest in style,body positivity, and empowering women to live their best life all while looking fabulous!

Pamela has recently been named an Influencer by Vogue magazine, and is a Social Media Influencer for Cosmopolitan magazine. She enjoys a recurring gig on Milwaukee's Fox 6 Real Milwaukee as a Style/ Beauty expert.

Pamela is bold, outspoken and doesn't take herself too seriously. She is a dog mom to 2 puppies, Cooper and Winston. She can't live without mascara, oversized sunglasses and a lavender latte from Stone Creek Coffee.

Instagram: @pamelakieck
Twitter: @itspamelakieck
Pinterest: @pamelakieck
Facebook: Pamela kieck
Website: itspamelakieck.com