A few weeks ago, I received a message from Alex Christopher-Hayes, who had posted a similar request to some Facebook groups, including Old Milwaukee.
"I am in search of a photo of a restaurant my grandparents used to own on Jones Island around '63-tbd. It was called Harbor Restaurant & Drive-In, and located at 2001 S. Lincoln Memorial Dr.
"The building is still standing. My grandpa, Hilmer Christopher, is the one who had it built for his business. Jones Island has such a unique history and it excites me to know that a piece of my grandfather, whom I never got to meet, still remains there."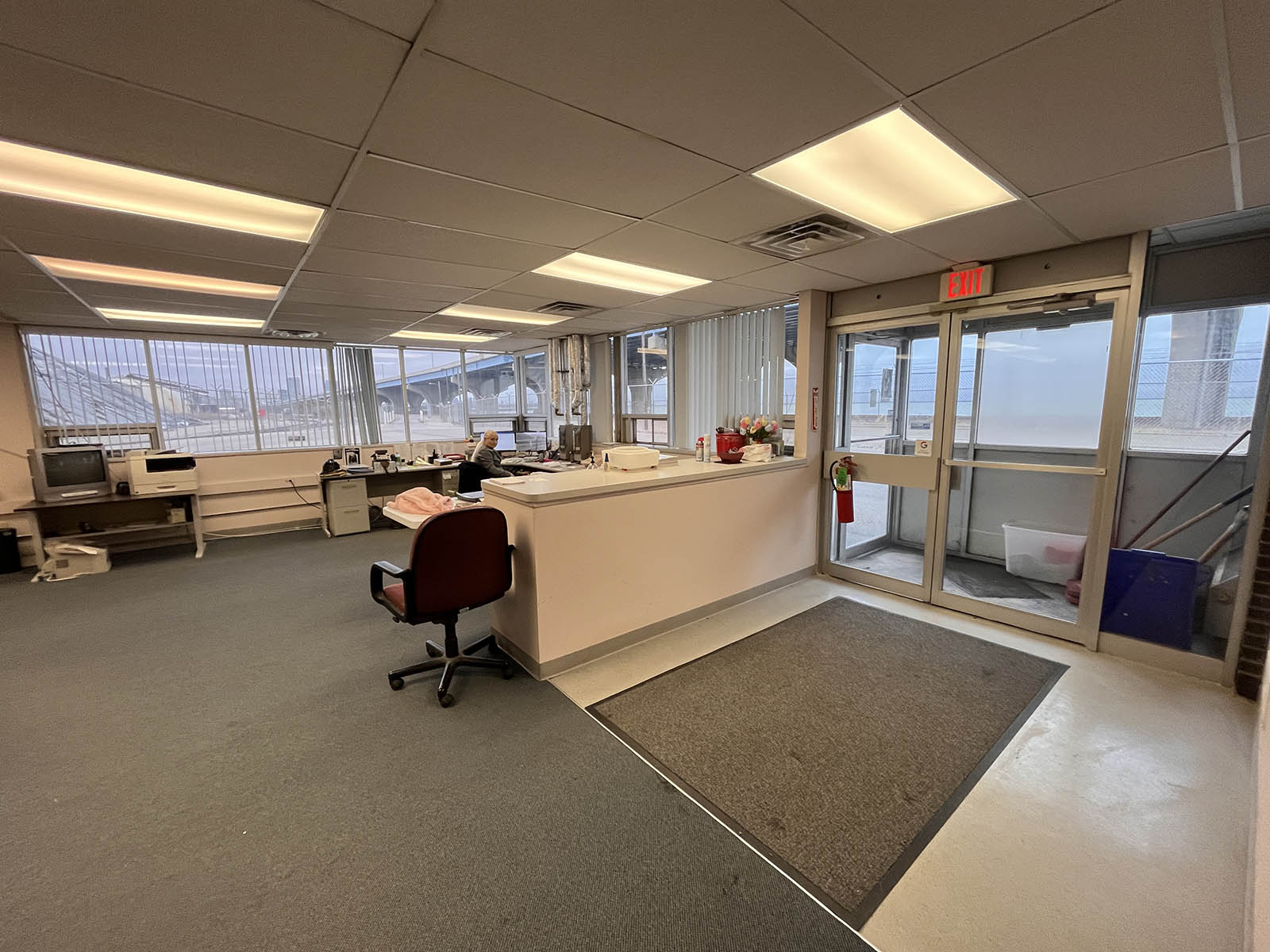 The building – currently the Jones Island offices of Compass Minerals, which owns North American Salt Co. – is on the south end of the island, nearly under the Hoan Bridge, and surrounded by mountains of salt used to de-ice roads in winter.
When I stopped by to see for myself in mid-January, it was a hive of activity, with large frontloaders filling a seemingly endless parade of dump trucks.
The single story building definitely has a mid-century restaurant vibe and even a couple windows that could've served as drive-through or walk-up service windows.
A Compass employee told me there is no sign left inside of any restaurant use, but allowed me a peek anyway. He was right. It's a pretty standard-looking office, albeit with quite a few windows on the north and east facades.
Christopher-Hayes says that when the salt company arrived at the building, "there were many old newspaper clippings and photographs that were thrown away left over from the restaurant."
But the employee I spoke to had never seen or heard about that. It's possible that if these items did exist, they were gone before North American Salt arrived, as there had been occupants inbetween.
So, I hit the newspapers and building permits to see what I could find.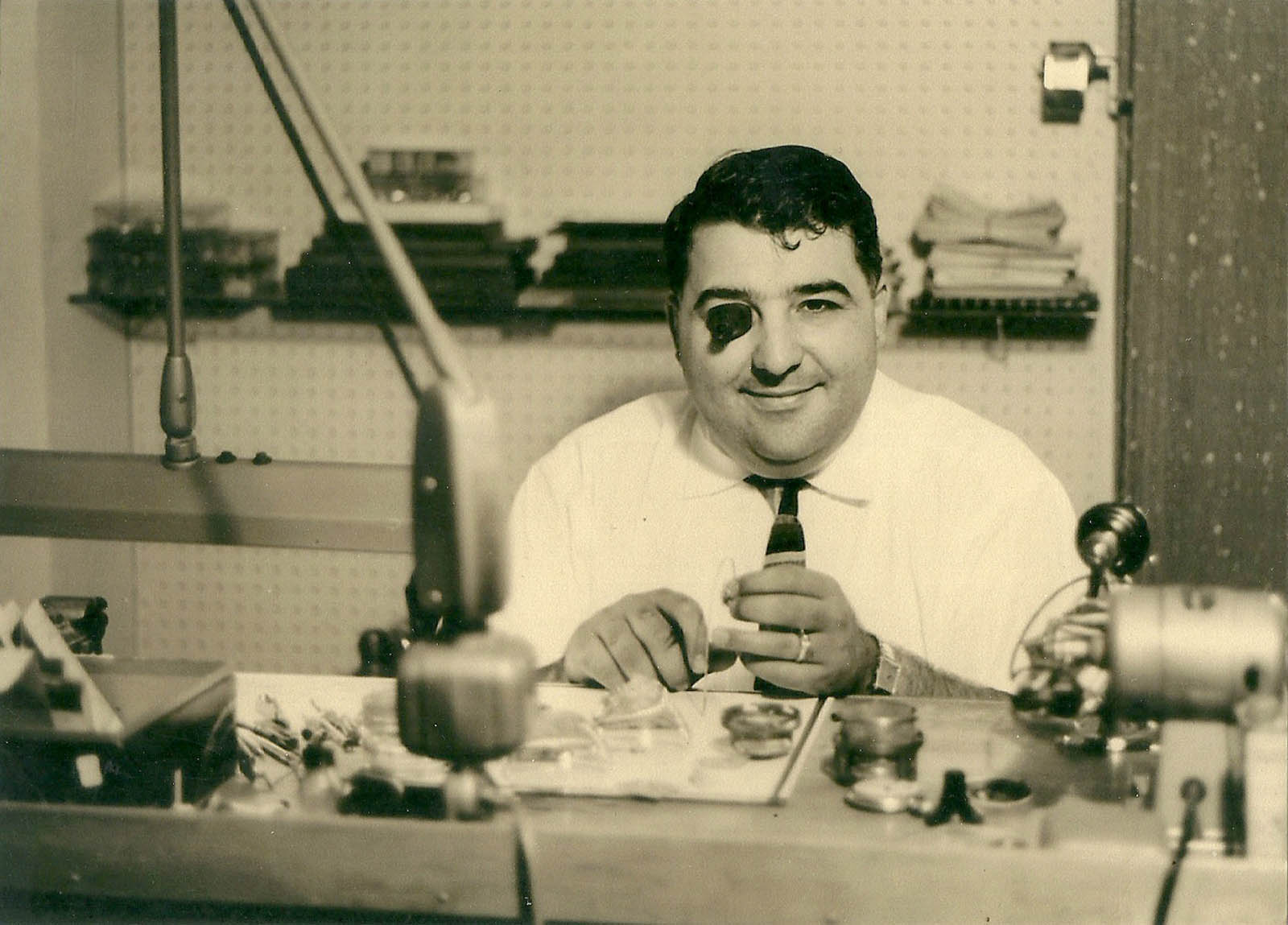 First off, Hilmer Christopher (who had changed his surname in 1948 from DiCristofaro) owned Christoper's Jewelers, located next door to the popular La Joy Chinese Restaurant on the north side of Lisbon Avenue, at 48th Street.
The store had originally opened as Chris Jewelers on Brady Street and was in a number of locations – including on Murray Avenue – before landing in the Uptown neighborhood by 1960.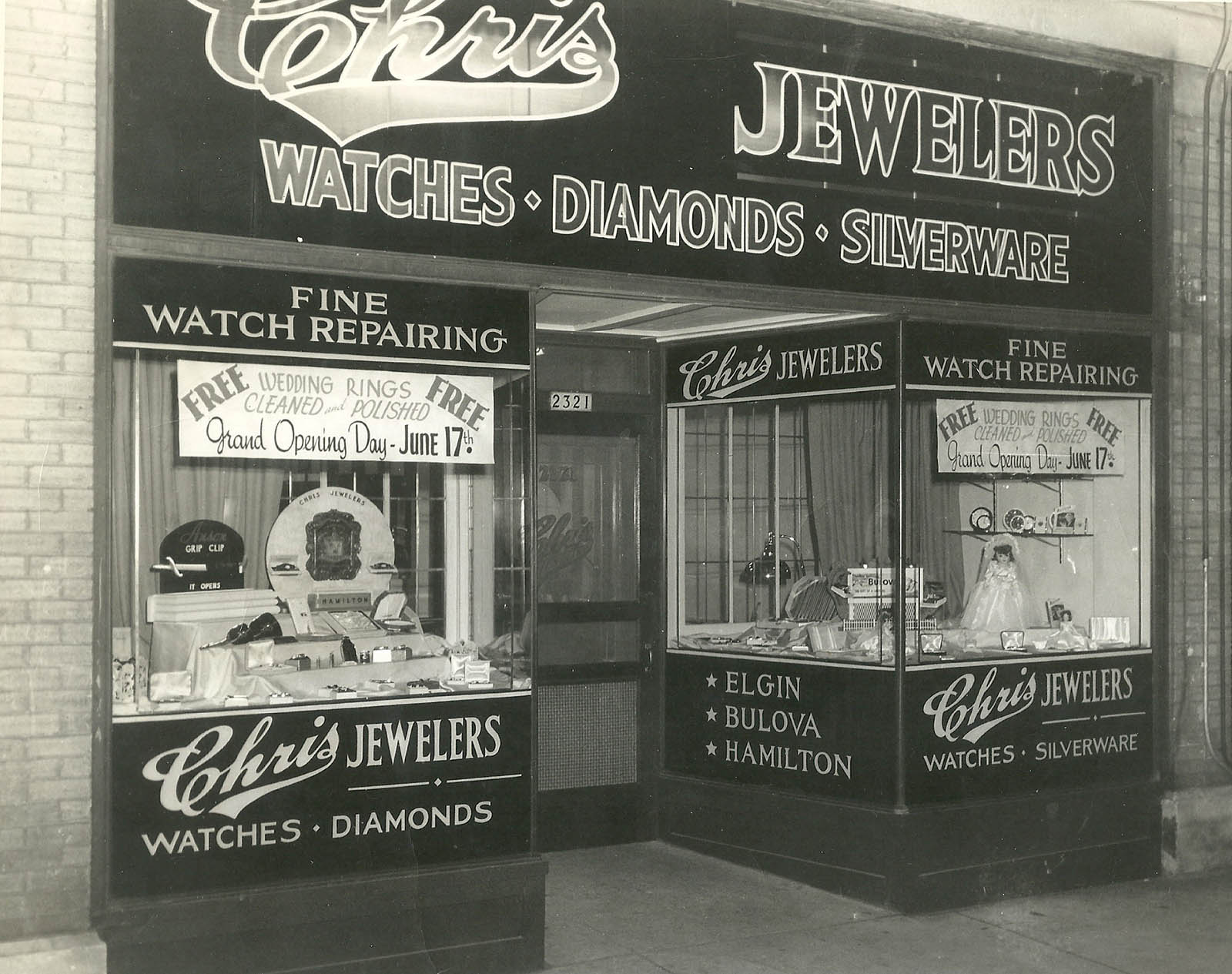 Christopher appeared to have no restaurant experience that I could find, and Christopher-Hayes says, "My grandpa was more involved and present at his jewelry businesses than the restaurant."
This would seem to be the case based on the documents, though, as you'll see later, there is some first-hand testimony that shows Christoper was, in fact, involved in the restaurant at some level.
All of the documentation – from architect's building plans to building permits to newspaper reports – say that Bay View's Gene Koenen owned the building and the restaurant through his Koenen Corp.
"I learned from my aunt that Gene was Hilmer's friend," Christopher-Hayes says. "The restaurant was under a corporation that Hilmer owned and Gene Koenen was the representative."
Koenen, born in Mt. Calvary, in Fond du Lac County, was a technical sergeant in the Army Air Forces and flew more than three dozen missions in Europe during World War II, according to this biography.
Koenen graduated from the University of Wisconsin Law School in 1952 and then attended the University of Michigan Business School, becoming a CPA in 1956.
In December 1960 – long after the residents of Jones Island had been moved off the island to solidify its position as the city's port – Koenen hired Glenview, Illinois-based architects and engineers Charles Pope Jr. & Associates to design the restaurant building.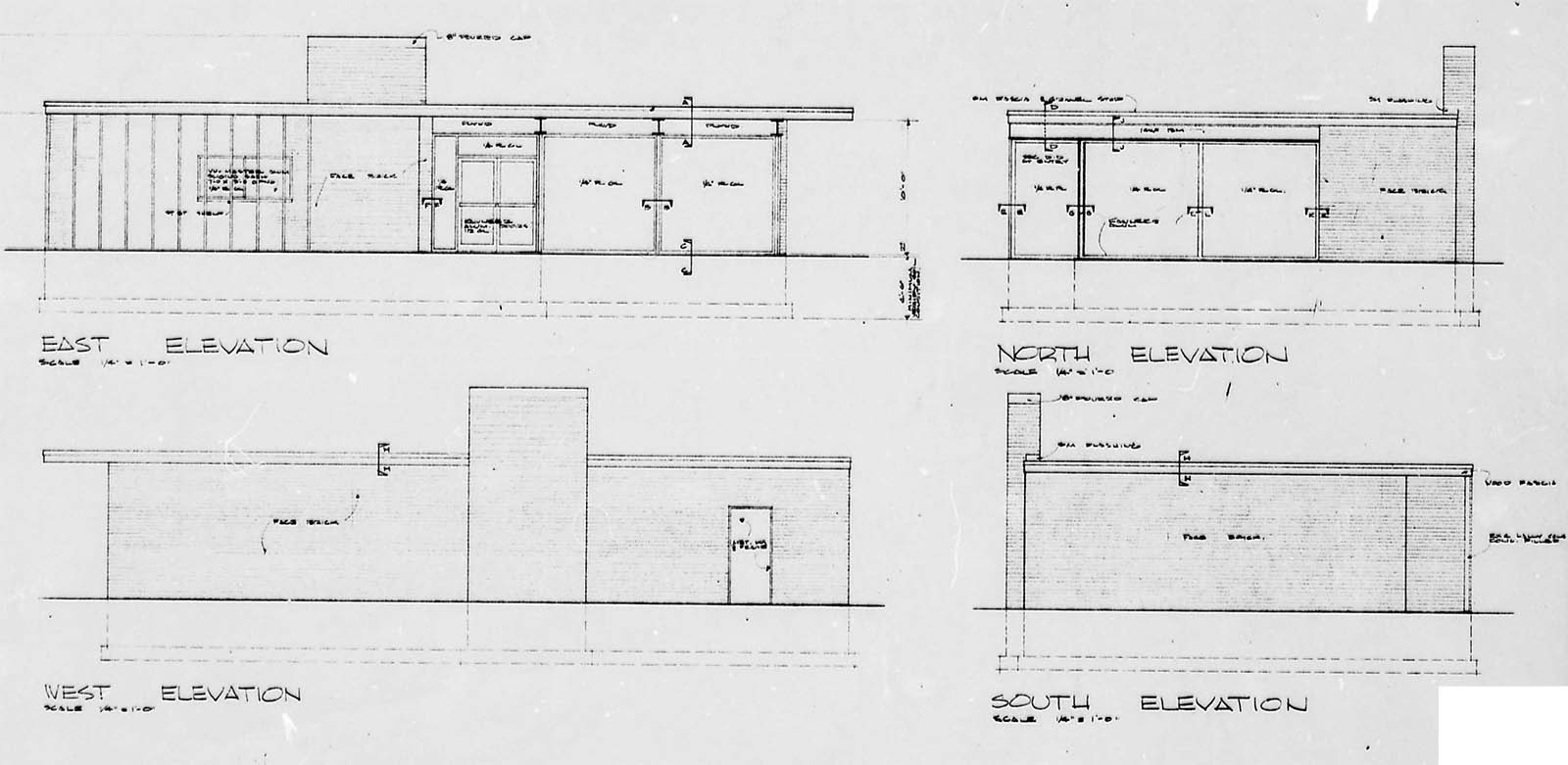 Koenen had inked an agreement with the Harbor Commission – running through 1976 – to operate a restaurant to be built on the site. Rent would be $49.22 a month and the Harbor Commission would get 4 percent of any gross income over $80,000 a year.
In in mid-February 1961, a permit was issued for a $20,000 building with a dining room, kitchen and two bathrooms.
By March 1, work had begun on the footings and foundation of the basement-less building.
Within a couple weeks, Municipal Port Director Harry C. Brockel found himself replying to a letter of protest from H.W. Collins of the Wisconsin Petroleum Terminals Corp. It was apparently not the first time Collins had voiced opposition.
"We have your letter of March 2 and appreciate your further comment concerning the restaurant lease recently authorized," Brockel wrote to Collins. "The restaurant was authorized after the fullest consideration and in the opinion of the city government will render an important public service and will fill the public need. ...
"We appreciate having your input but cannot visualize that a modern restaurant in a masonry structure will impose any hazard to your operations. ... The restaurant which has been authorized ... will be built to very high construction standards and will be operated by a responsible organization."
At the same time, a permit for two furnaces was issued for the building, and construction continued.
An electrical permit was allowed in June for a double-face laminated Coca-Cola sign to be mounted outside on a post, and in early September, Wisconsin Telephone received a permit to install a phone booth. A few days later, Everbrite pulled a permit to install another sign, presumably one bearing the restaurant name.
In the interim, on July 3, Koenen received an occupancy permit for The Harbor Drive-In restaurant (not to be confused with the Harbor Inn, a tavern on the island back in the Kaszube days) and on Aug. 17, the building was complete, a city inspector noted.
Beginning in late October, classified ads seeking waitresses for "The Harbor Restaurant, (a) new, modern restaurant" began to appear in newspapers.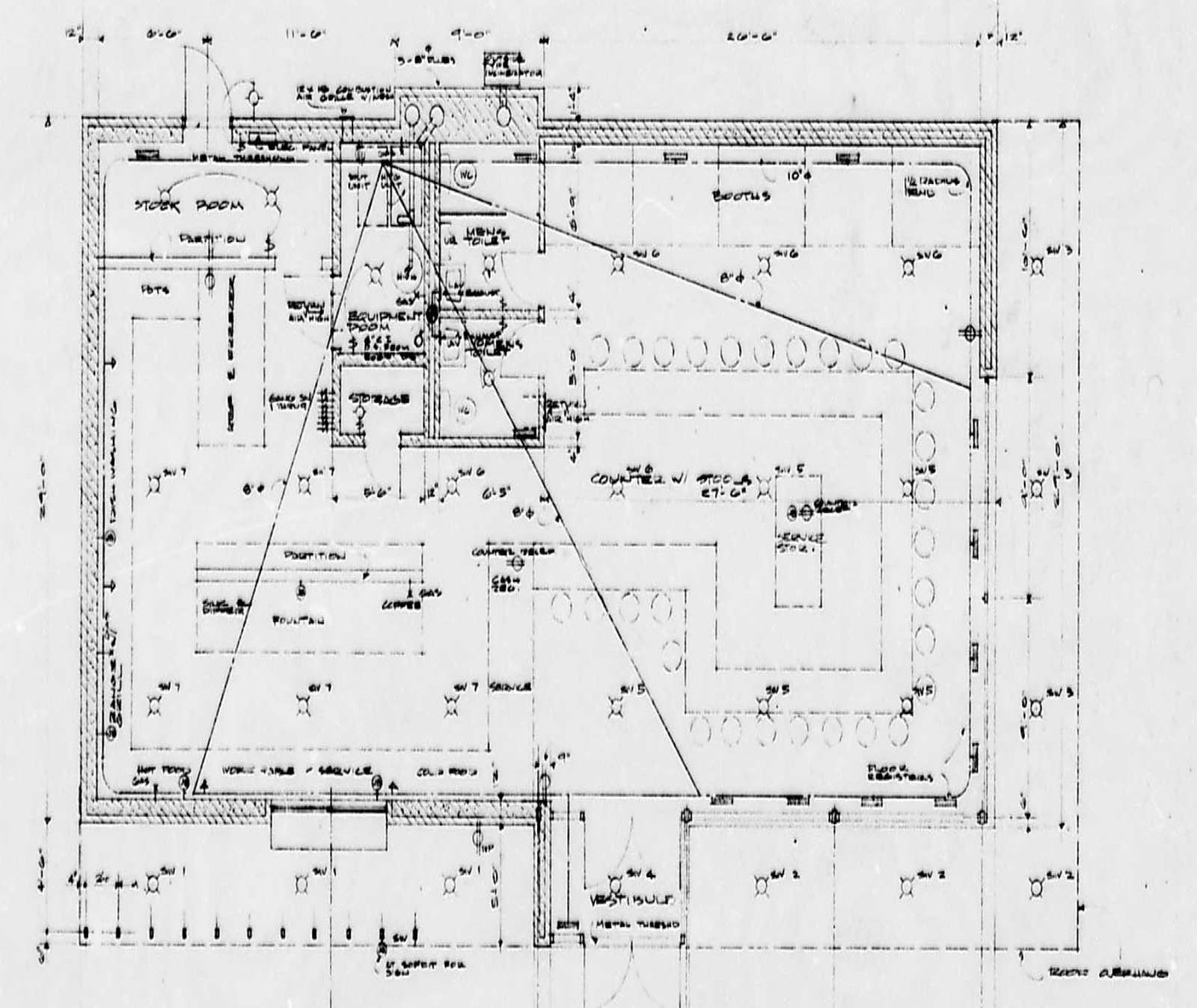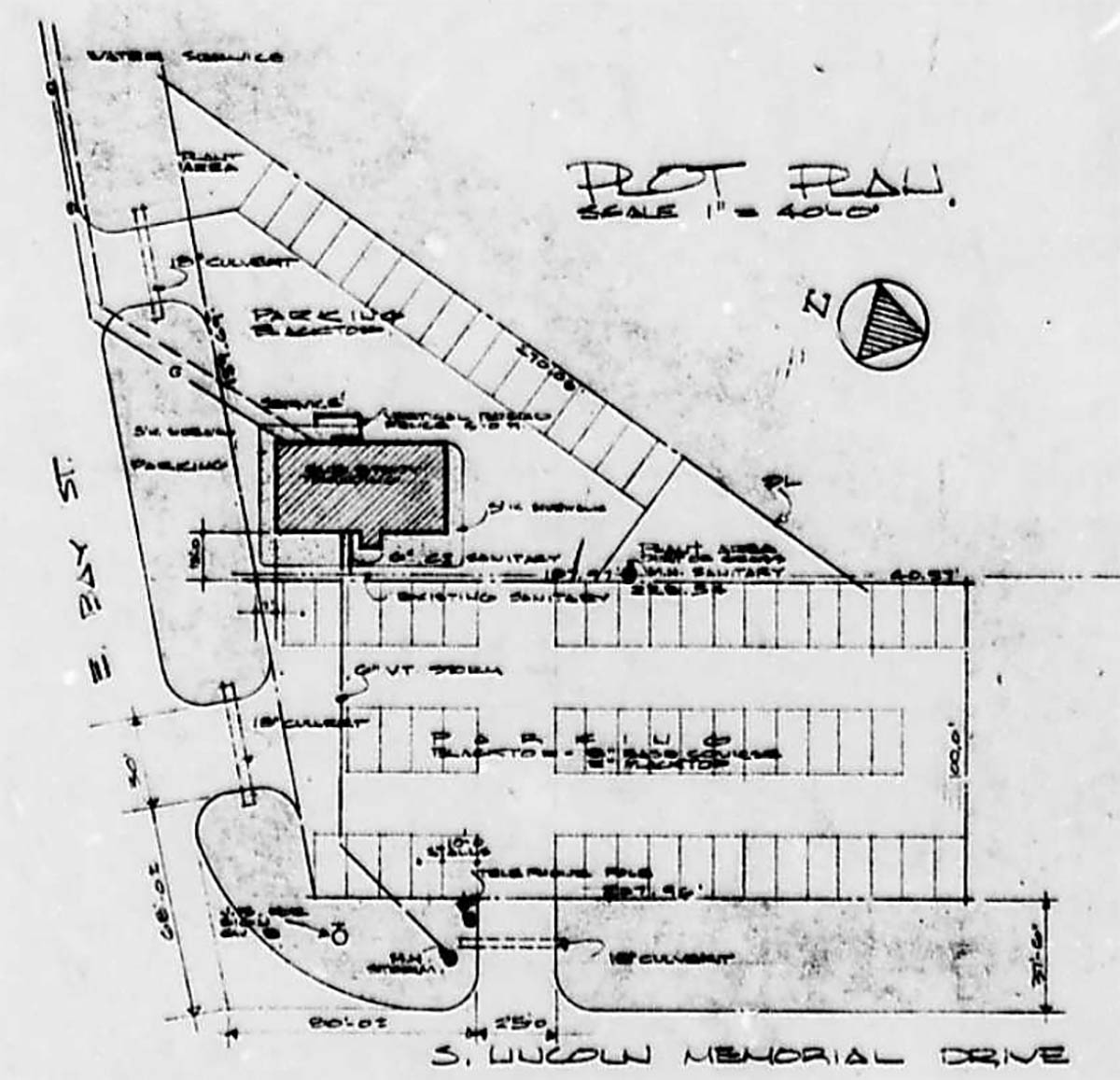 Entering through a pair of glass doors off a vestibule, guests saw a fountain and coffee stand off to the left and an L-shaped counter with stools running around the entire perimeter, filling much of the space to the right.
Beyond the counter, at the back, were five booths. To the left of those were the restrooms, and equipment and storage rooms.
Behind the fountain, filling much of the (mostly) windowless south side of the space, was the kitchen, with a stock room in the far southwest corner.
The restaurant was likely up and running by November 1961, if not earlier.
In summer 1962, it advertised for waitresses (10-3, no Sundays, $1 per hour salary, first or second shifts) and short-order cooks. The following March it sought dishwashers.

Lest we think that in the absence of photos the place didn't exist, Christopher-Hayes' Facebook posts drew some comments from folks who remember The Harbor Restaurant.
"OMG, I completely forgot about this place," wrote one. "As a kid, my parents would take me there for a potty break while smelting. Later we used the Badger Ferry ticket office."
"I remember the Harbor Restaurant," shared another. "My dad loved to take frequent drives to Jones Island. We lived in Cudahy.
"When I accompanied him we would stop at the restaurant occasionally for a sandwich. Whenever I drive to Jones Island and pass that building I think of the restaurant and stopping there with my dad!"
This poster even recalled some details.
"Seems like it was a regular cafe restaurant menu, burgers, hot dogs, other sandwiches and soups. If my memories are accurate, the interior was clean and simple with mostly counter seating and a few tables. I also recall an outside walk-up window for take outs."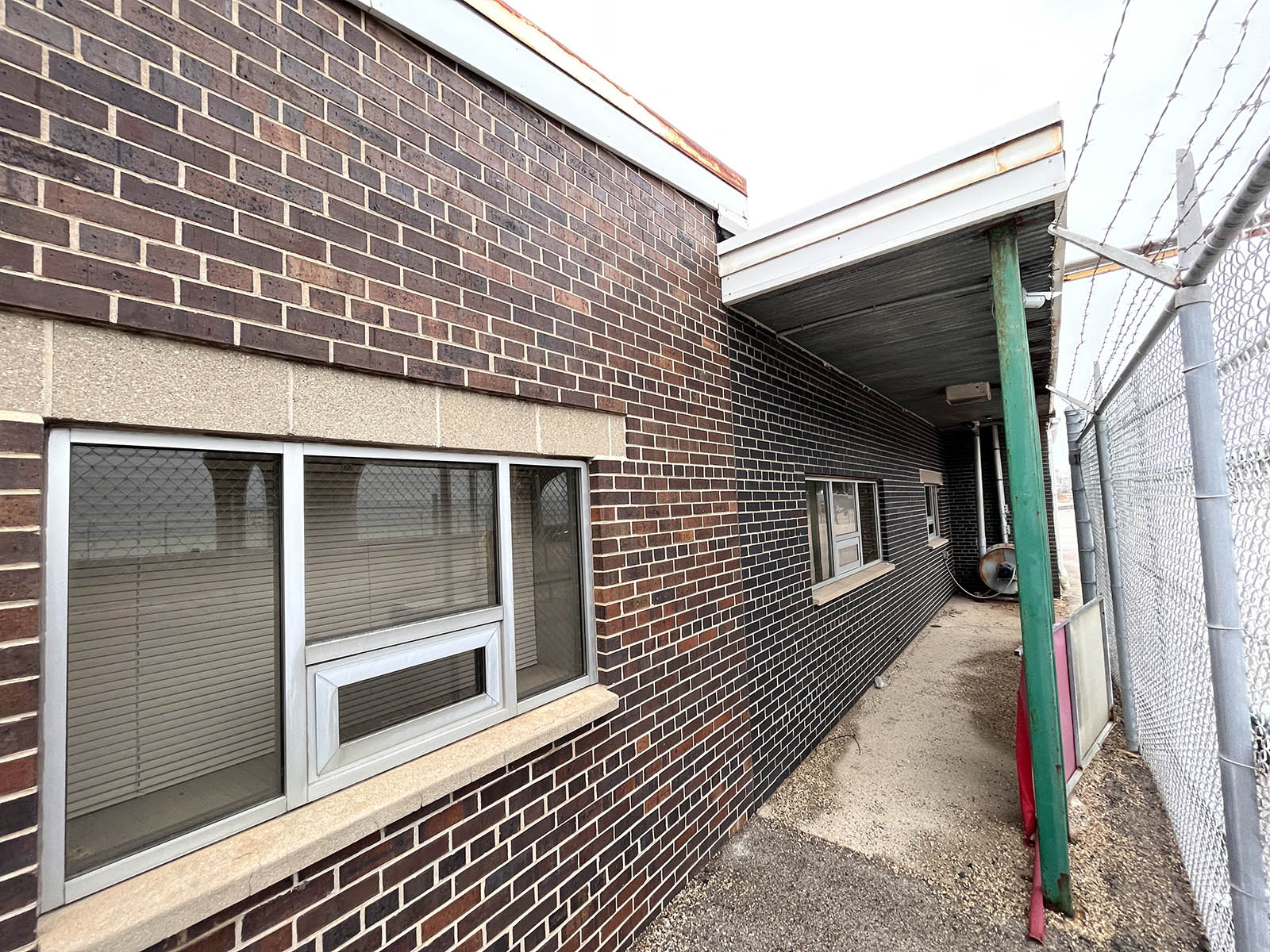 That walk-up window was on the east side of the building, just to the left of the entrance, according to the architectural drawings.
"Oh my, I always wondered what happened to the restaurant," wrote another commenter. "I have a memory of walking in to the restaurant with my cousin when our families were smelt fishing on Jones Island. We walked into the double doors, he on one side and I on the other side, and we happened to be in unison with opening the door, walked in, and staff was wondering how we walked in as they were closed, cleaning up the night.
"We had no clue! Door opened right up and we both felt like criminals when they said door was locked!"
A couple folks had parents who worked at the restaurant.
"My mom worked there for a few years," said one commenter. "She met some interesting people, including the divers who were trying to raise the Prince Willhem.
Another knew the Christopher family well.
"My mom Esther worked for Hilmer and there were many afternoons she would take me there because she had to pick up something or check on something. My mom worked for him for along time. We used to go to Hilmer's house to decorate their Christmas tree when they lived in Menomonee Falls.
"(Hilmer) didn't actually work the restaurant," she clarified.
And, finally, another specifically remembered the phone booth outside.
"That was, back in the day, the only place that had a payphone attached to the building by the front door, before there was a big fence around it."
But the restaurant didn't last very long.
By the summer of 1963 it had closed, though Koenen and his lawyer James D'Amato attempted to reopen.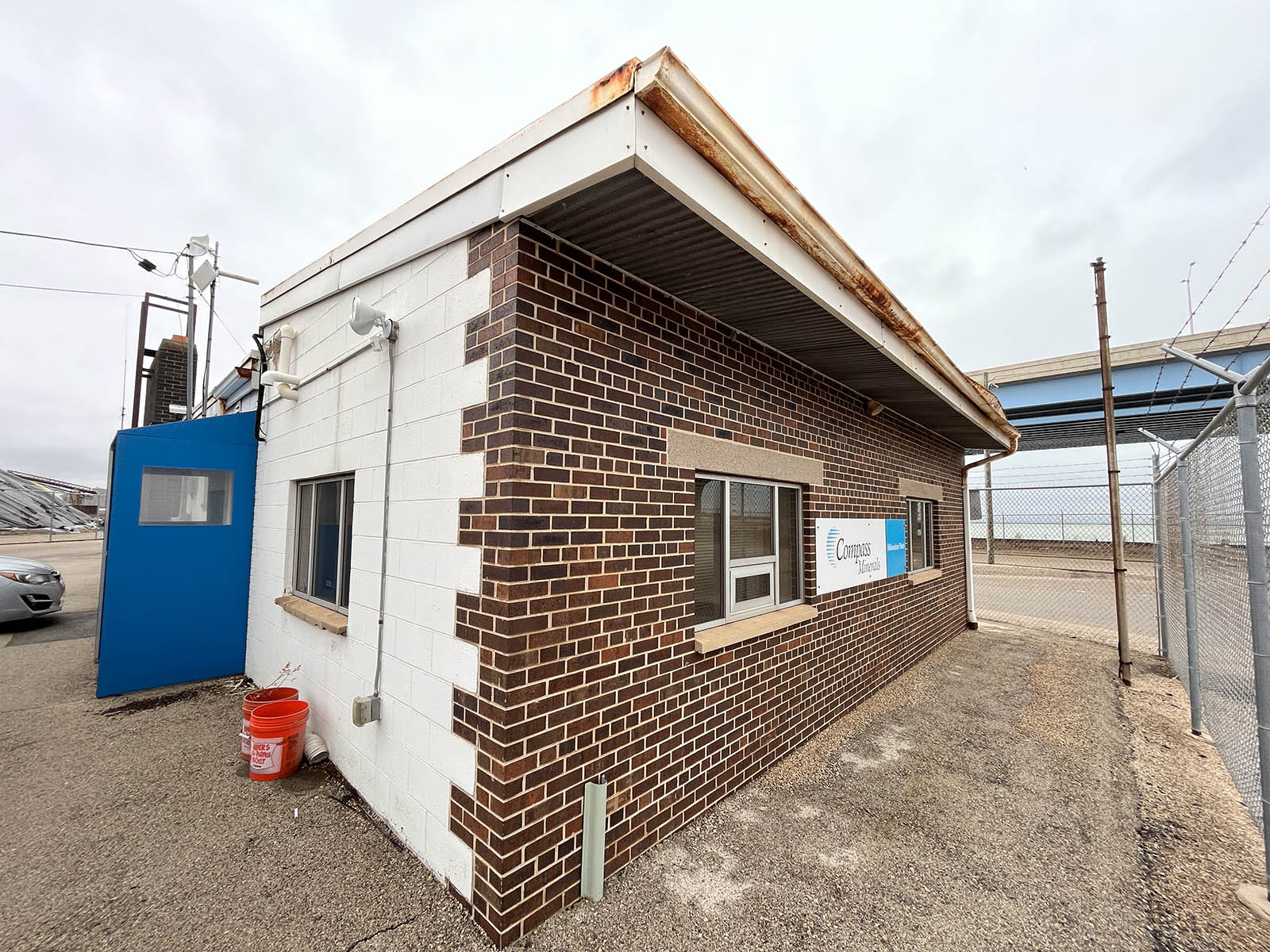 Christopher-Hayes says that family lore suggests that Christopher, "was being threatened by the mafia to close the restaurant." D'Amato argued to the Harbor Commission that vending machines in facilities on the island were eating into the restaurant's business with deleterious effects.
In early 1964, while Christopher was busy running – but not advancing – in the 5th ward aldermanic primary (he also ran for state assembly), Koenen was trying to find ways to reopen the Harbor Restaurant.
He sought permission to ask for a liquor license, but was denied.
Koenen owed back rent, and the commission was not happy. The Harbor Commission never collected a penny from the 4 percent commission because the restaurant never grossed more than $80,000, according to the Milwaukee Sentinel.
That autumn, the commission denied yet another request from Koenen Corp. to seek a liquor license.
In April 1965, D'Amato argued on behalf of Koenen Corp. that the Harbor Restaurant's deal was an exclusive one in terms of food service in the harbor area, according to a Milwaukee Journal report at the time.
Deputy City Attorney Harry G. Slater issued a legal opinion denying this claim.
"The restaurant has been closed since the summer of 1963," the Journal wrote. "D'Amato claimed that it could not compete with 30 to 40 vending machines in cargo terminals. Slater said a 15-year lease granted to the corporation Jan. 1, 1961, 'does not ... confer upon the lessee (corporation) the exclusive right to operate a public restaurant and to provide food service'."
Two months later, the Harbor Commission asked the City Attorney's office to sue for about $900 in back rent owed by the Gene Koenen Corp.
At this point, the trail runs dry and it appears that no further attempts were made to reopen the Harbor Restaurant, at least not any that were deemed newsworthy by the city's two daily papers.
Christopher, who went on to work at the Department of City Development and then suffered a couple legal woes, died in 1979. Koenen died in 2000.
By 1968, the restaurant had been converted into the offices of Marine Employers of Milwaukee, Wisconsin, which helped hire workers for the port.
In 1981, the Board of Harbor Commissioners received a permit to undertake interior renovations that appear to have converted the interior to its current state. During that era, the Harbor Commission seems to have occupied the building.
Some time in the 1990s, North American Salt Co. moved in and memories of the Harbor Drive-In Restaurant had begun to fade.
"Familial memories of the restaurant are fuzzy and fading with time," says Christoper-Hayes. "It's been important for me to draw as many connections as possible while the building still stands and members of my family are still alive. Three generations of my family were born and raised in Milwaukee.
"With the addition of Hilmer's bustling entrepreneurship and community engagement, the roots I have to this city are strong. It's exciting to fantasize what dining on Jones Island was like back then."
But, she says, she'd still love to see a photo of the place (and so would I).
"I'm grateful to Bobby Tanzilo for digging in and piecing together the story behind Harbor Restaurant & Drive-In. While early architectural blueprints and building permits help paint a picture of this place, the search for a photo of the restaurant in its heyday continues," says Christopher-Hayes.
"My family invites readers to connect with us if you or someone you know may have a photo to share!"
Born in Brooklyn, N.Y., where he lived until he was 17, Bobby received his BA-Mass Communications from UWM in 1989 and has lived in Walker's Point, Bay View, Enderis Park, South Milwaukee and on the East Side.
He has published three non-fiction books in Italy – including one about an event in Milwaukee history, which was published in the U.S. in autumn 2010. Four more books, all about Milwaukee, have been published by The History Press.
With his most recent band, The Yell Leaders, Bobby released four LPs and had a songs featured in episodes of TV's "Party of Five" and "Dawson's Creek," and films in Japan, South America and the U.S. The Yell Leaders were named the best unsigned band in their region by VH-1 as part of its Rock Across America 1998 Tour. Most recently, the band contributed tracks to a UK vinyl/CD tribute to the Redskins and collaborated on a track with Italian novelist Enrico Remmert.
He's produced three installments of the "OMCD" series of local music compilations for OnMilwaukee.com and in 2007 produced a CD of Italian music and poetry.
In 2005, he was awarded the City of Asti's (Italy) Journalism Prize for his work focusing on that area. He has also won awards from the Milwaukee Press Club.
He can be heard weekly on 88Nine Radio Milwaukee talking about his "Urban Spelunking" series of stories.