Walking into a 15,000-square foot space stocked with more than 4,000 clocks of all shapes and sizes – and all set to different times – makes for a surreal experience. Such was the case when, after years of wondering about the place, we walked inside Hawkins Clock Center, 7301 W. Greenfield Ave., and were greeted by ticking, tocking, binging, bonging, chiming and chirping.
"We set the clocks to all different times so they don't go off at the same time, which would be too loud," says Gloria Hawkins, who co-owns the family business with her husband and in-laws. "I don't even hear it anymore. It's secondary noise."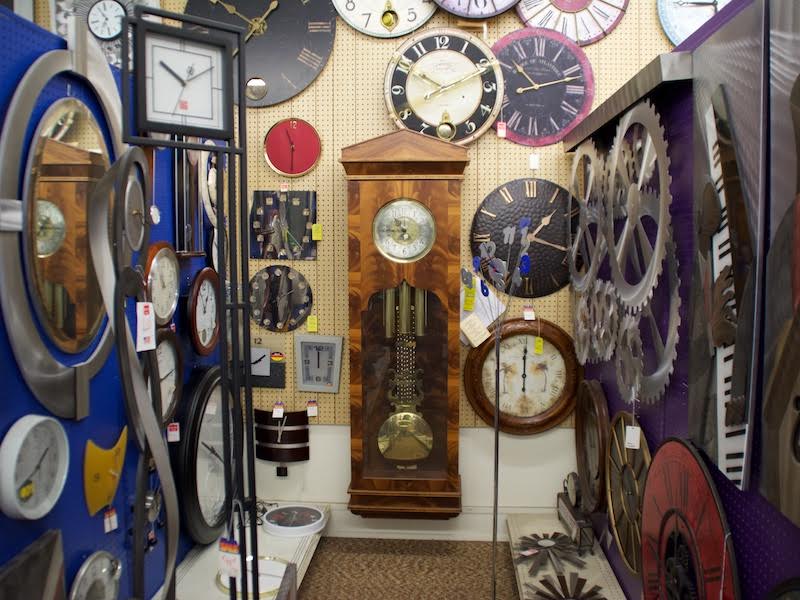 Hawkins Clocks opened 45 years ago in the Jackson Park area, but moved to its current location 40 years ago. Originally, it was owned solely by Hawkins' in-laws and specialized in antique clock sales and repairs.
In 1983, the current building – which the Hawkins family now owns – caught fire and much of the stock was damaged. Since then, the business has run as smoothly, dare we say, as a Swiss watch.
For decades, Hawkins sold primarily grandfather clocks, and remains the largest grandfather clock store in the Midwest, with more than 600 on display in the showroom. Hawkins manufactures their own line of grandfather clocks, under the name Stoneybrook, which are replicas of 18th and 19th century models. All of the Stoneybrook dials are hand-painted by an artist in South Carolina.
"We make them in the same fashion they made them in the old days," says Hawkins.
Grandfather clocks range in price from $2,000 to $20,000. It is mostly the movement – or "guts" – of a clock that determine its value and price. Many clocks in the shop are very affordable, but there also many that cost $5,000 or $10,000. Although this sounds like an incredible amount of money for a clock to most Americans, Hawkins informs us that there are two very separate clock markets: an American and a European market.
"There is a big difference between these markets. Americans buy many less expensive clocks for their homes and over the course of their lives, whereas Europeans often buy one very good clock that will be the only clock in their home and last for their entire life and beyond," she says. "In that case, it is not unusual for someone in Germany or Italy to buy a clock for $10,000."
To appeal to younger customers, Hawkins also has a large selection of contemporary clocks, some of which look more like pieces of modern art than time pieces. There's also a fun selection of Kit Cats – popular Felix-the-cat-type cat clocks originally manufactured in the 1930s.
"At one time, grandfather clocks were the thing and every home that was built had a grandfather clock. It was the finishing point of a home. But the millennials are not looking at grandfather clocks. They're not even looking at clocks at all. They're looking at their phones," says Hawkins.
Hawkins has a large selection of cuckoo clocks which remain coveted today and many are purchased around the holidays. Because the majority of cuckoo clocks have to be hand-wound daily or weekly, they are what Hawkins calls "the least accurate clock you can imagine."
"They don't have a way of timing," she says. "They are more of a novelty than anything else, but people love them."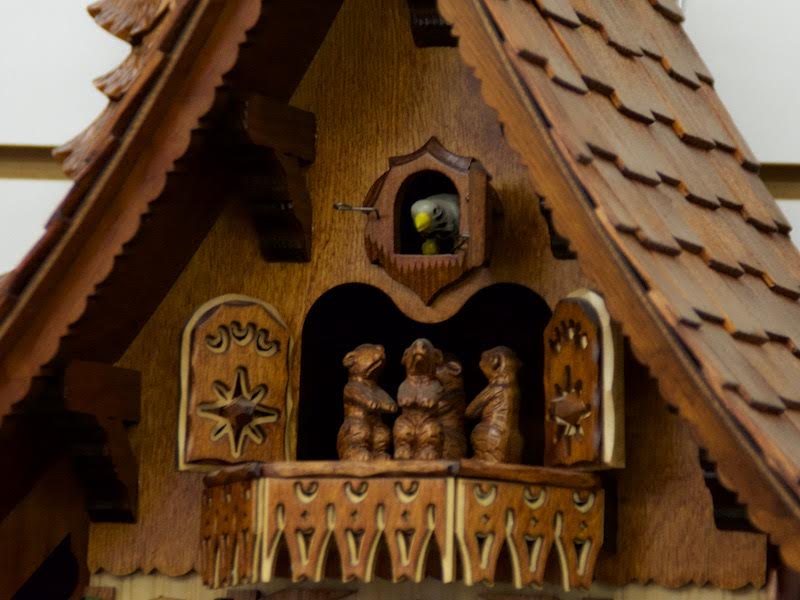 There are three styles of cuckoo clocks: the chalet style, the traditional style featuring birds and leaves and the hunter style.
"In the hunting-style cuckoo clocks, there are traditionally dead animals, but the bleeding heart liberals didn't like that, so a lot of cuckoo clock makers now put dead animals on a swivel and you can just turn them around if you want them standing up rather than laying down dead," says Hawkins.
All of Hawkins' cuckoo clocks come from the Black Forest area in Germany and are made by the Schneider company.
"Schneider is the oldest and largest cuckoo clock company in Germany," says Hawkins. "We still repair clocks that are in good shape that were made by Schneider 100 years ago. They are the very best."
Hawkins has traveled the world, including Holland, Germany, London and the Far East, investigating clock makers and manufacturers.
"I have visited the factory of everyone I do business with," says Hawkins. "Rather than go with the cheaper clocks, I go with the most reliable."
Whereas at one time there were many clock shops in Milwaukee, Hawkins is now the only one left near the city. The business employs five clock repair people.
"Our oldest repair person is 92 years old and still going strong," says Hawkins. "He recently completely restored a clock that came to us in pieces that was dated 1750 from Connecticut."
Hawkins, who was born in Singapore, came to Milwaukee on a United Nations fellowship to attend UWM where she met her husband. The two received degrees in economics and went on to pursue other careers before taking over the shop full time from Hawkins' in-laws a few years ago.
Today, Hawkins' daughter and granddaughter work in the shop as well. Business isn't what it once was, but as long as life is measured in hours and minutes and seconds, there will be a market for clocks. Also, the massive yellow sign on the outside of the building has intrigued and lured in passers-by for four decades.
"People love to come in here and walk around," says Hawkins. "And of course, walk in and say, 'any chance you know what time it is?'"

Molly Snyder started writing and publishing her work at the age 10, when her community newspaper printed her poem, "The Unicorn." Since then, she's expanded beyond the subject of mythical creatures and written in many different mediums but, nearest and dearest to her heart, thousands of articles for OnMilwaukee.

Molly is a regular contributor to FOX6 News and numerous radio stations as well as the co-host of "Dandelions: A Podcast For Women." She's received five Milwaukee Press Club Awards, served as the Pfister Narrator and is the Wisconsin State Fair's Celebrity Cream Puff Eating Champion of 2019.