Get ready to soak up more bar articles, imbibable stories and cocktailing content, brought to by Miller Lite. For more of our Bar stories click here!
Owner Gordie Pierce passed away this week and in his memory OnMilwaukee is rerunning this article from May 2022.
It was the vintage Braumeister sign affixed to the building housing Gordie's that attracted us to the St. Francis corner tavern.
We walked into the bar and were immediately greeted by Kelly Pierce, the daughter of Gordon – aka Gordie – Pierce.
"The sign is always a conversation piece. It's really old. People have offered to buy it. We just wanted to get it working again, but it's really bright and the neighbors probably wouldn't like that," she says.
According to Joyce, Gordie's wife, the bar opened in 1973. Gordie's, 2000 E. Cora Ave., has always been a family business, but back in those days, Joyce had little to do with operations because she was busy taking her sons, Mike and Marty, to ice skating lessons at the Pettit National Ice Center. Marty Pierce later competed in the 1988 and 1992 Winter Olympics. Longtime patrons of Gordie's remember watching him compete and cheering him on from their bar stools.
Today, all three of the Pierce kids – Marty, Mike and Kelly – work in the bar. Gordie retired a few years ago, but still stops by a few times a week for a Pabst or a vodka diet, depending on his mood.
"We've cut back (coming to the bar). We come twice a week. Maybe three times a week when there's a Packers game," says Joyce, whose drink is a vodka sweet.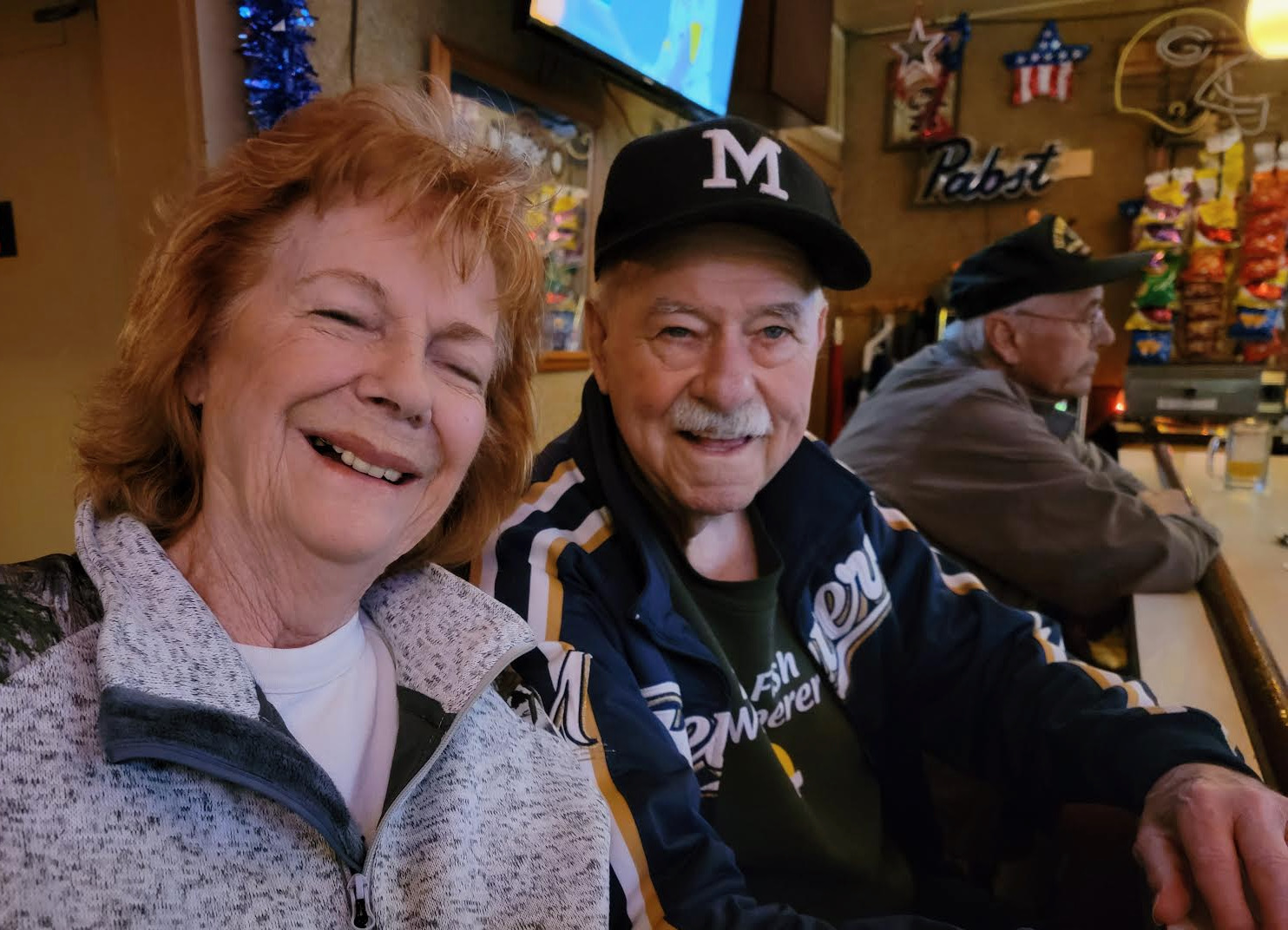 Gordie was the face of the bar for decades.
"My dad is old school in every way. He would always buy his customers a drink after they paid for a few whether he knew them or not," says Kelly.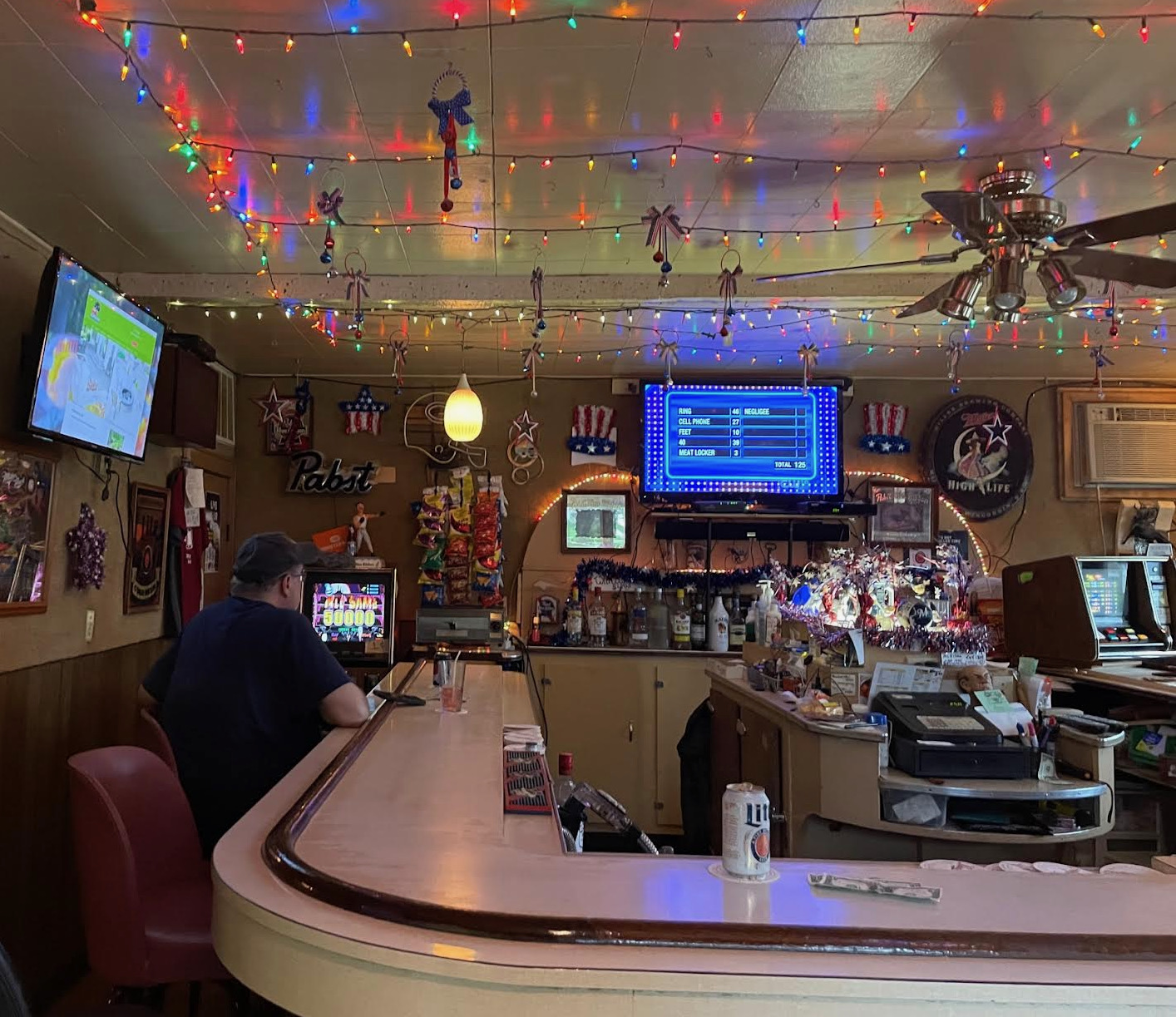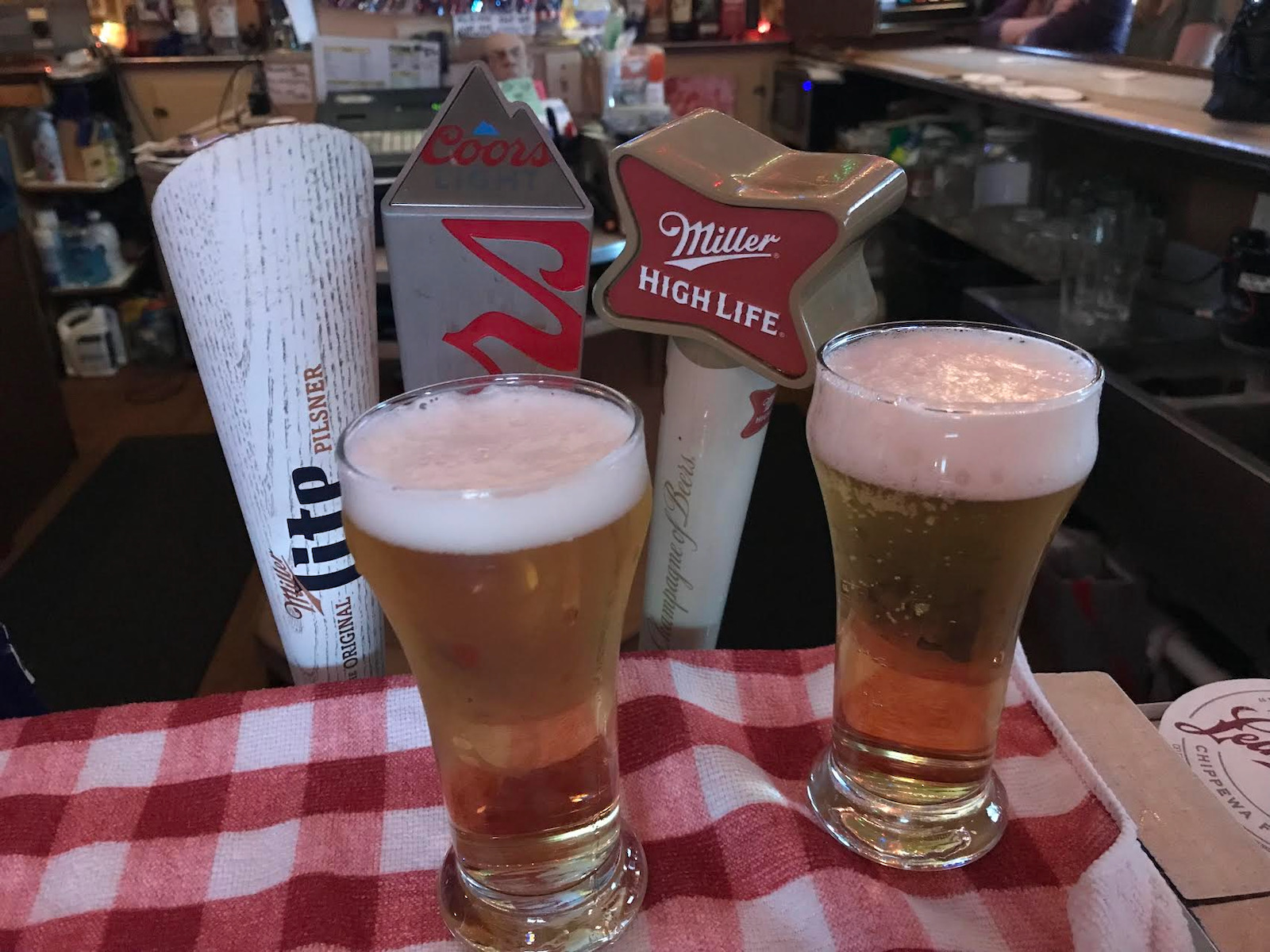 Joyce still decorates the bar for all of her favorite major holidays. During our visit in mid-May, the spot was already decked out for the 4th of July with red, white and blue streamers and stars hanging from the dropped ceiling. She had also brought some lilacs from her yard that were sitting in the window.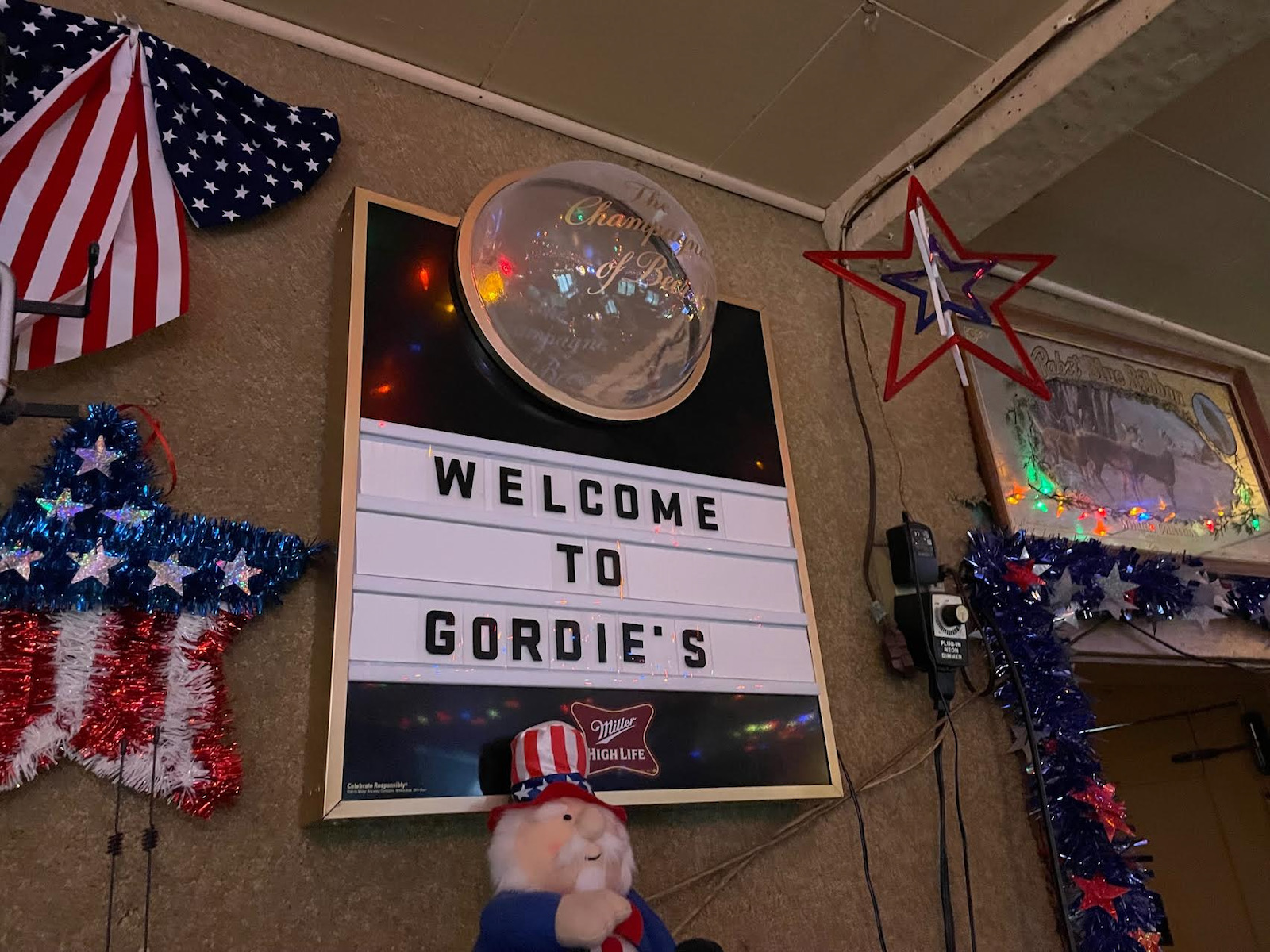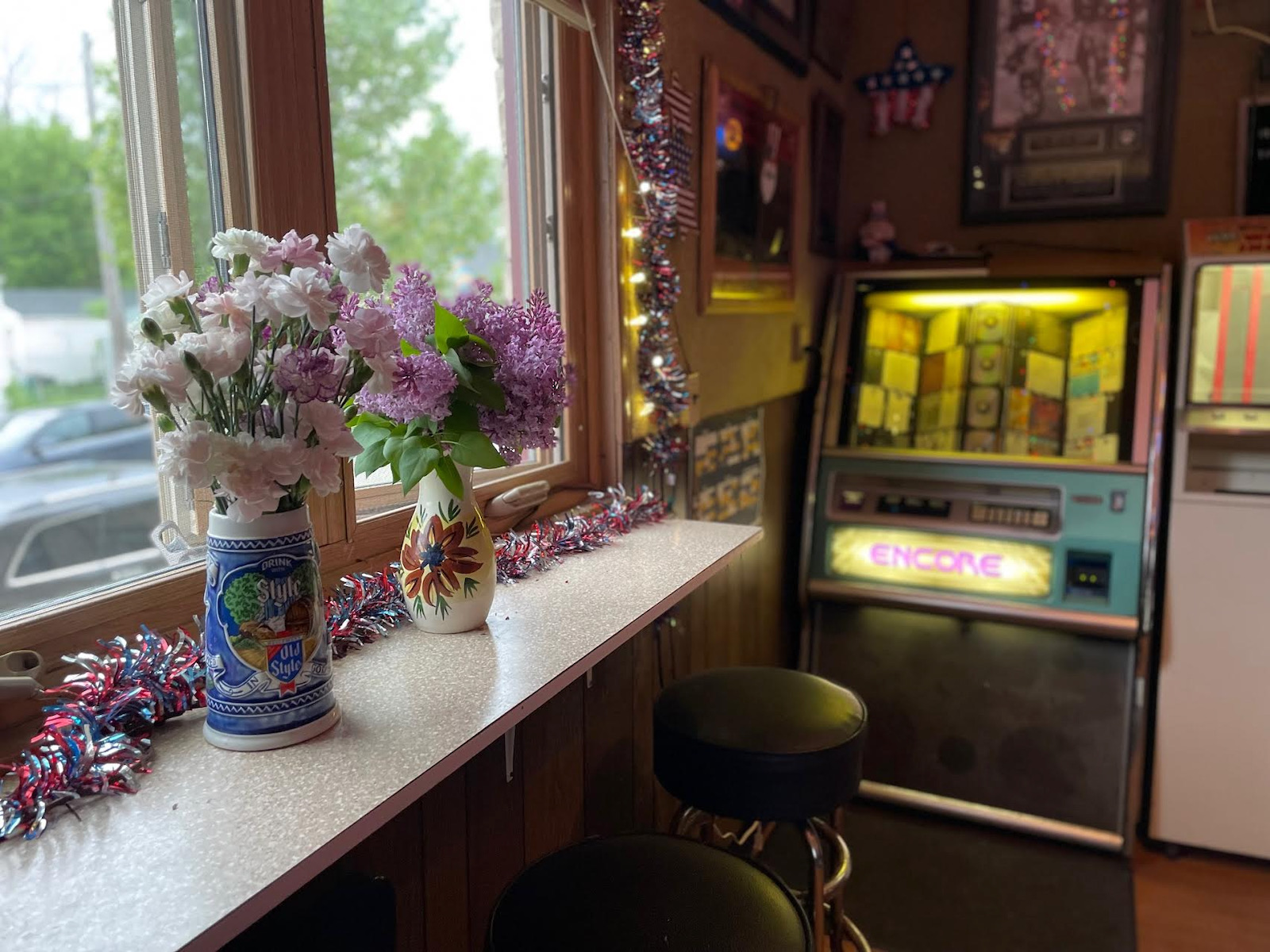 "She's always bringing food here, too," says Kelly, who then offers us shelled peanuts or cheese balls.
Gordie's CD jukebox is stocked with ABBA and Patsy Cline and Lynrd Skynrd and Gordie's favorite, Frank Sinatra.
"Three songs for a dollar," says Kelly. "You can't beat that."
Kelly has been working at Gordie's for most of her life. Her main passion, however, is acting and she has appeared in many local productions, mystery theater, dinner theater and commercials. Most recently she was in an Ashley Furniture commercial. She also had one line in the Milwaukee-based cult film "American Movie" which won the Grand Jury Prize for Documentary at the 1999 Sundance Film Festival.
"My one line was 'I paid the f——-g bill!' I had to scream it. (Demonstrates.) When my mom saw the movie she said, 'why did you have to say that?'" says Kelly.
Gordie's is open every day. The bar will host its annual block party on Saturday, Aug. 13 with live music, free beer, roasted chicken and whatever else Joyce whips up.
"My dad always soaks cherries in five kinds of booze for the party," says Kelly.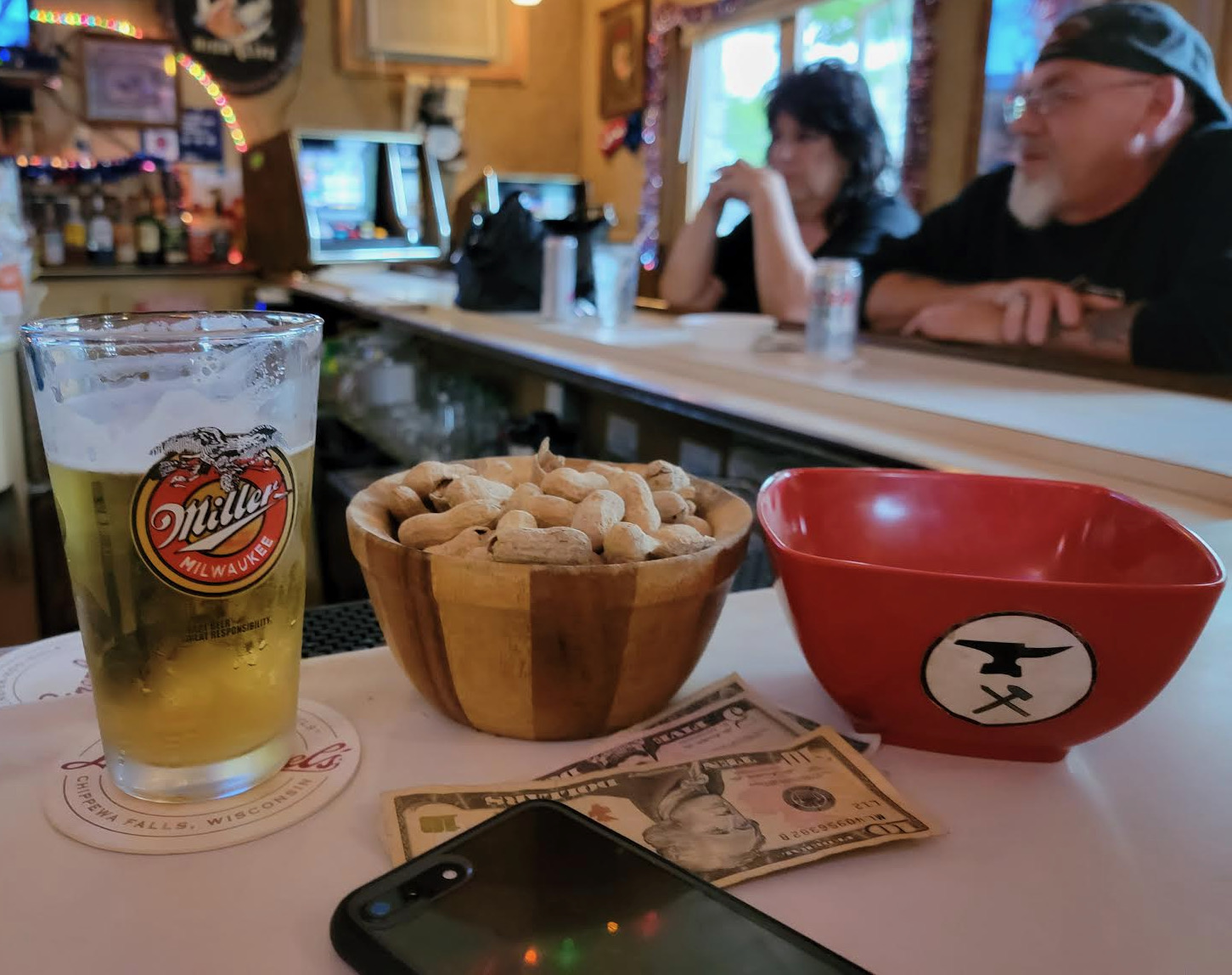 Gordie's sells mostly $1 tap beers and $3 shots. Kelly says they clean their tap lines weekly to ensure the beer tastes fresh. "People also like their Jager and blackberry or ginger brandy here," she says.
Gordie, Joyce and many of the patrons play a lot of cribbage and dice. Bar dice (three shakes, no farming) is always available and on Saturdays from 3:30 to 5 p.m. the entire bar plays "Ship, captain, crew."
"It's an easy dice game and anyone can stop in to play," says Kelly. "We have a lot of fun in here. We have a lot of regulars and new people stopping in all the time."
Note: Gordie's is cash only. There is an ATM in the bar.

Molly Snyder started writing and publishing her work at the age 10, when her community newspaper printed her poem, "The Unicorn." Since then, she's expanded beyond the subject of mythical creatures and written in many different mediums but, nearest and dearest to her heart, thousands of articles for OnMilwaukee.

Molly is a regular contributor to FOX6 News and numerous radio stations as well as the co-host of "Dandelions: A Podcast For Women." She's received five Milwaukee Press Club Awards, served as the Pfister Narrator and is the Wisconsin State Fair's Celebrity Cream Puff Eating Champion of 2019.