Get ready to soak up more bar articles, imbibable stories and cocktailing content, brought to by Miller Lite. For more of our Bar stories click here!
Developed more than five years ago, Black Cat Alley is one of the most remarkable spaces in Milwaukee, turning a once-dreary alley into a bright and breathing outdoor art museum. One can find all sorts of mesmerizing art down the East Side path – including the art of deception and camouflage – thanks to the most engaging, and certainly the most deliciously intoxicating, installation in the alley: Shanghai, the definition of a hidden gem.
Case in point: There's a cocktail lounge in this photo.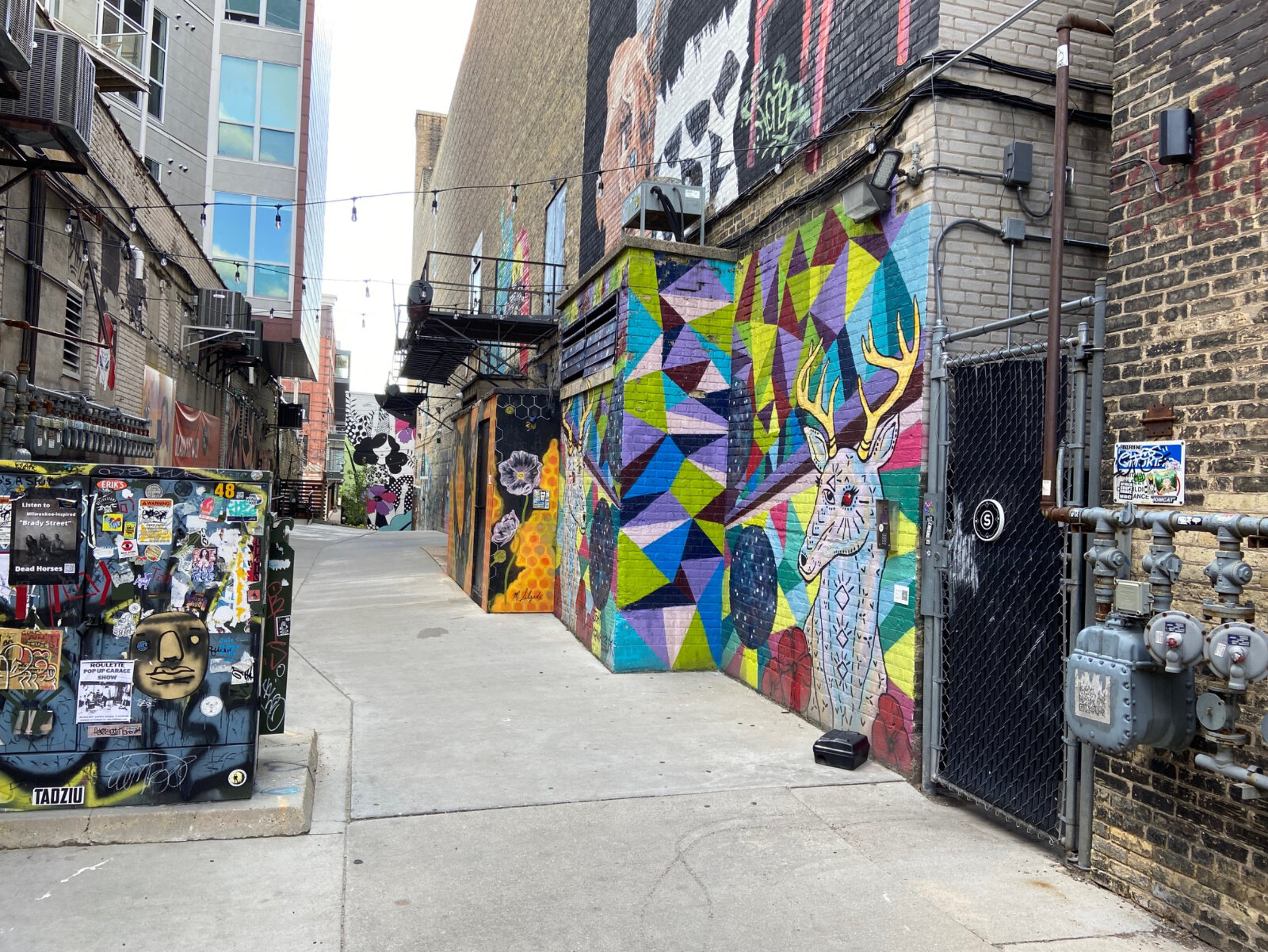 "It's still very much a well-kept secret," said Kat Doughty, beverage and event coordinator for New Land Hospitality, which revamped the tiny space when it remodeled and resurrected the former Oriental Drugs corner into the city's first food hall with Crossroads Collective.
Back before it opened in 2018, where Shanghai stands was actually just a part of the rest of the alley, a narrow throughway in the back where deliveries once loaded and unloaded. During the renovations, though, Crossroads Collective saw promise in the skinny space, put a lid on the Cream City brick niche and turned it into a speakeasy as a tribute to the building's Prohibition-era origins.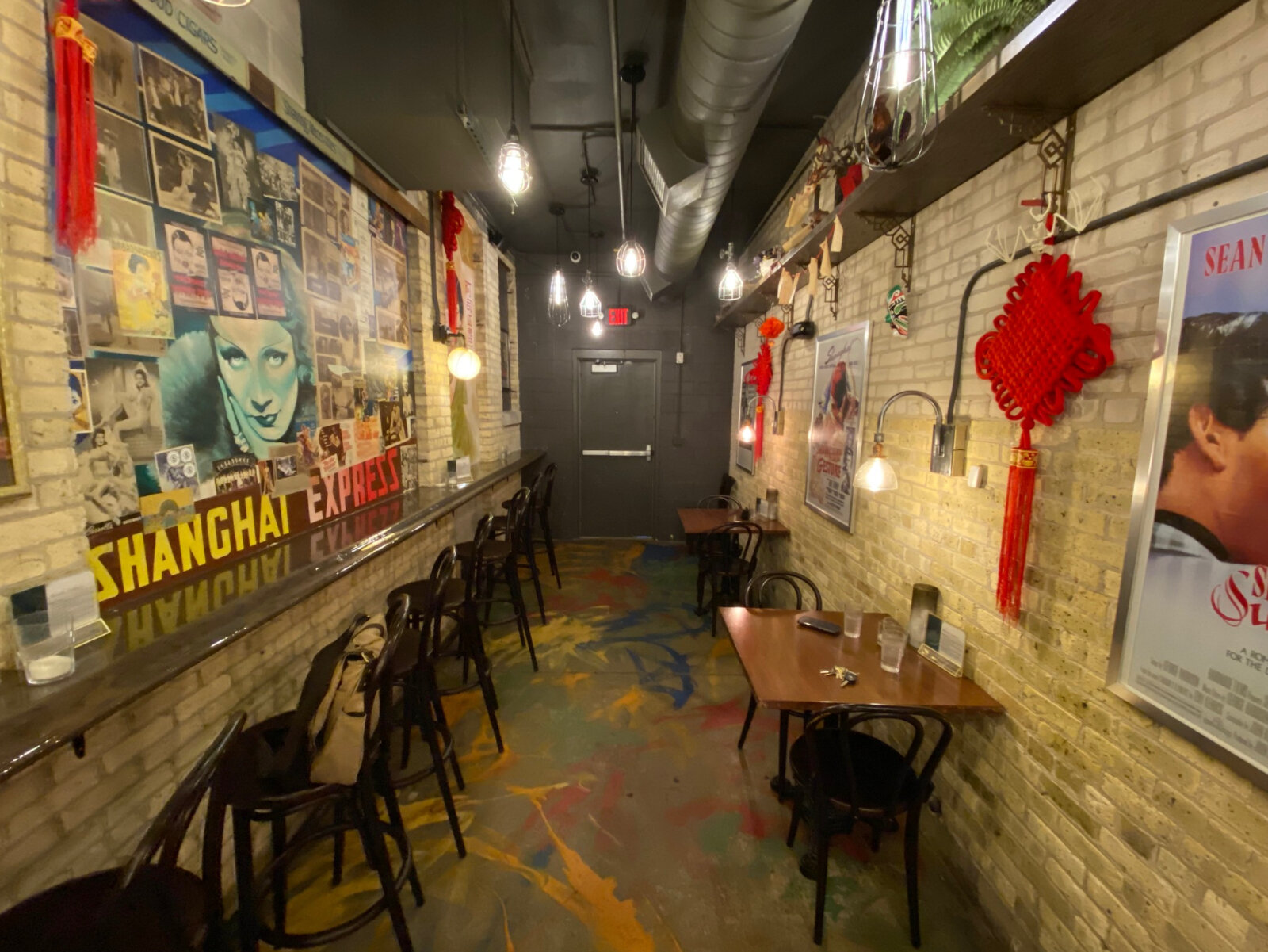 And, much like a proper speakeasy, one has to be in the know to find it. Thirsty travelers can't simply meander in through Crossroads Collective; the public entrance is exclusively in Black Cat Alley, an unassuming gate surrounded by eye-catching murals, marked only by a small circular "S" sign. If you don't know what you're looking for – or are distracted by the impressive art works – you could easily saunter right on past it.
"There's a little camera on there, so it's sometimes fun to look at the camera and see people looking around," Doughty shared. "We don't require a password, but you have to give it a look. Sometimes people do a couple of tugs on the other doors."
Those who know, though, hit the button on the nearby call box and get buzzed into the boozy back alley – where the scintillating surprises don't stop at Shanghai's secretive locale.
In addition to a lineup of wines and several beer options – including Miller products, Riverwest Stein, Third Space Happy Place and more – the one-of-a-kind speakeasy offers a matching menu of one-of-a-kind cocktails, with names paying tribute to hip-hop albums, its neighbor's "Rocky Horror Picture Show" screenings and more. And the drinks themselves are even more playful, each featuring a number of complex flavors and combinations but all tantalizingly tasty. For instance, one of the current options is the All Eyes On Me, "essentially a pineapple upside-down cake and turning it into a cocktail," according to Doughty.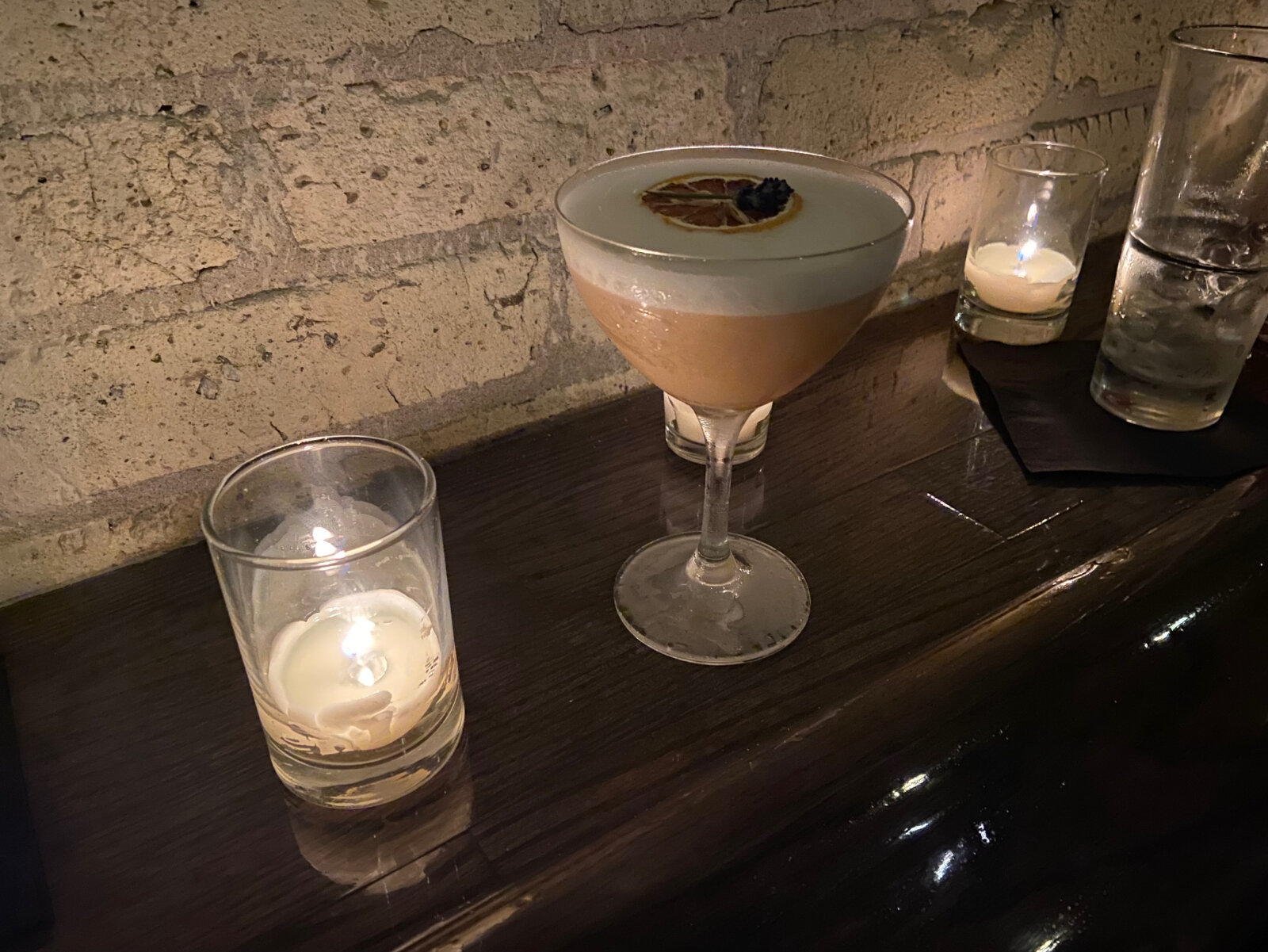 Another particular favorite is the Shanghai Fog, a COVID-born creation which takes a London Fog tea latte and decides that it needs gin. So, in order to transform the drink into a cocktail, Shanghai infuses Earl Grey Rishi tea into its Rehorst gin, uses egg whites and oat milk to get the creamy latte texture, and throws in citrus and floral notes like lemon and lavender, all to create a drink that's warm yet tart, sophisticated and complex but also simply satisfying and addictively tasty. (Plus, as a delicious bonus, a dollar of each Shanghai Fog goes toward Milwaukee Film next door.)
"COVID allowed us to really look at our tiny space and look at the challenges that we have," Doughty explained. "Obviously we couldn't pack this in like we did pre-COVID, so then it became four tables and reservation-only seated service – which meant we could be a little more aggressive with our cocktails. We did a lot of researching and a lot of reading – Dave Arnold was a big conversation in here; he wrote 'Liquid Intelligence,' which is an amazing cocktail book that approaches cocktails as science. So we took the menu and pushed it, started messing with fire and doing an awesome gimlet but with a different syrup and changing it.
"COVID allowed us to do those kinds of things, because we had more time and a little more allowances, being able to have these really intimate services with our guests."
Shanghai also serves up a unique menu of absinthes – both local and beyond, complete with a traditional absinthe fountain – and absinthe cocktails along with themed specials, like a recent collection of honey drinks for Bee's Knees Week or a Negroni week. But Doughty's favorite cocktail at Shanghai actually isn't on any menu at all.
"I really have a lot of fun doing dealer's choices," she noted. "You just tell us what you're interested in – what you normally like to drink, what you're in the mood for, what you're not in the mood for, how crazy we can be – and we go back and concoct something. Every single time, it's tailored to someone specific; there's not a rolodex that we go by or a book we do. That's, again, something we were able to do because of COVID.
"I really just have fun with those and being able to play with flavors and seeing how things work and getting to know someone based on what they like in a cocktail. Sometimes people will even tell us a story and say, 'Make that into a cocktail.' 'Make Harry Potter into a cocktail.' Dope: Let's go."
It's a personal, intimate experience that perfectly complements the intimate atmosphere of Shanghai. The speakeasy may share its name with one of the most populated cities in the world, but it certainly doesn't share its size, holding maybe 20-30 people with a few patio seats in the outside alleyway. Thanks to its moody lighting and warm Cream City brick, however, the space feels cozy rather than claustrophobic, perfect for conversation over sipped cocktails.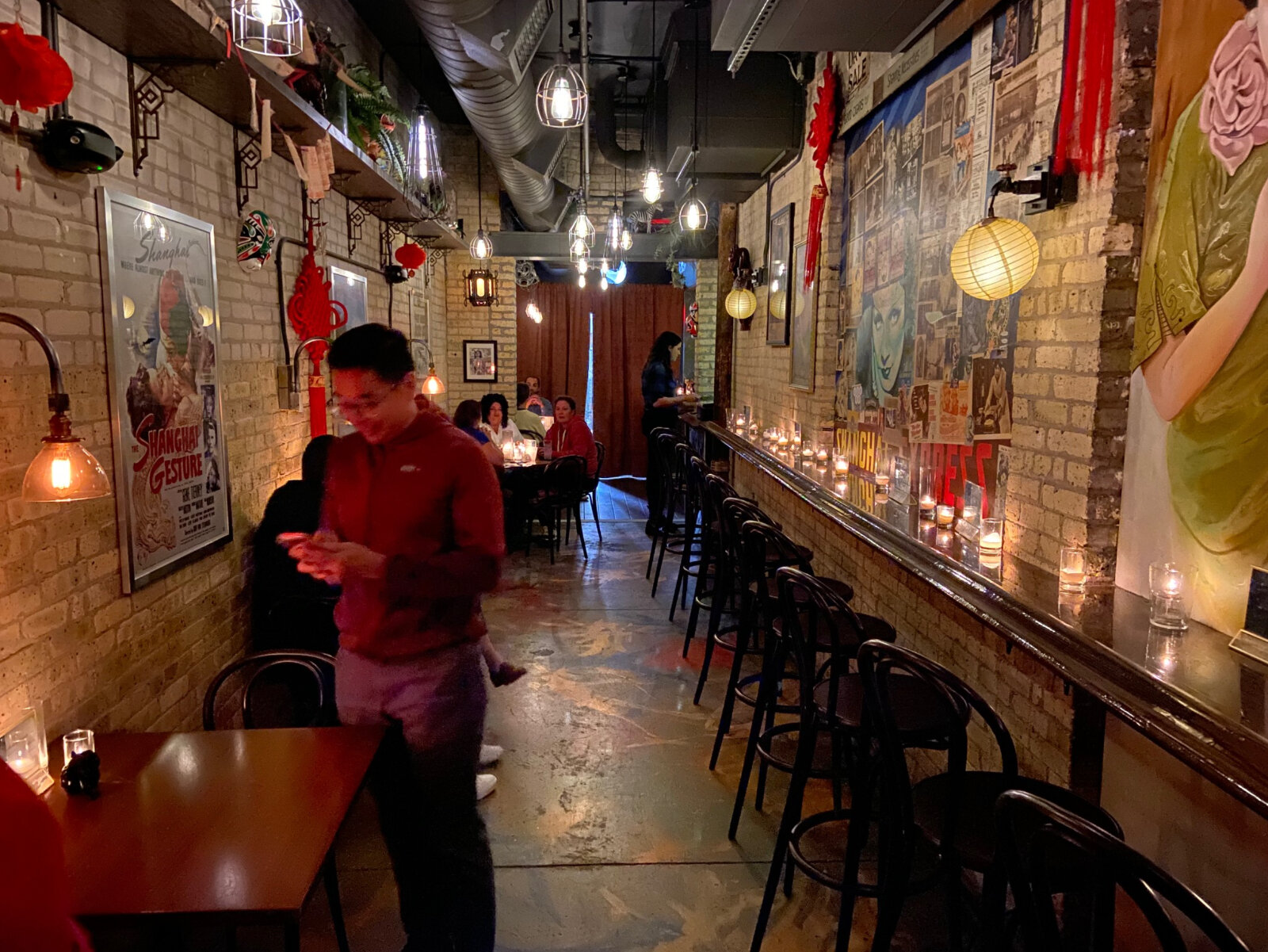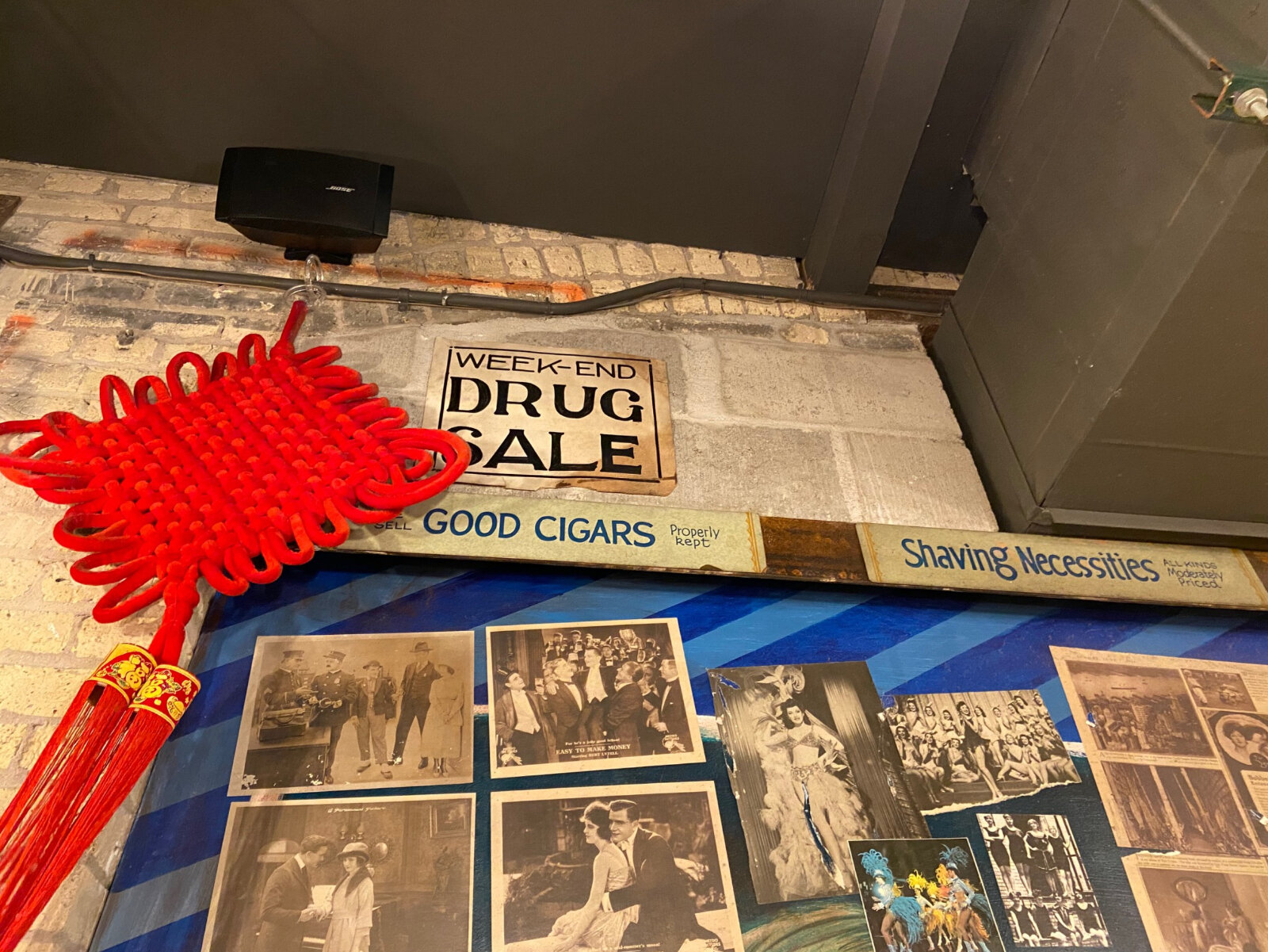 Add in the throwback décor, filled with retro Hollywood movie posters, old newspaper clippings and nods to its neighbor as well as its iconic former tenant – many, like the sign above the alley door, actual originals from Oriental Drugs' heyday – and stepping into Shanghai feels like a step into a Prohibition dive from the past, a 1920s time-traveling escape with a 21st century menu.
And its eyes continue to look forward into the future.
"I'm excited to see what we can do and how we're able to evolve, even in just this tiny little spot," Doughty said. "Because we were a really good secret for a long time – but the secret's starting to get out!"
Shanghai is open Wednesdays through Saturdays from 5 p.m. until midnight, with last call around 11:30 p.m. To find out more, check out Shanghai's Facebook page – and to find Shanghai itself, well, get to Black Cat Alley and keep your eyes peeled.
As much as it is a gigantic cliché to say that one has always had a passion for film, Matt Mueller has always had a passion for film. Whether it was bringing in the latest movie reviews for his first grade show-and-tell or writing film reviews for the St. Norbert College Times as a high school student, Matt is way too obsessed with movies for his own good.
When he's not writing about the latest blockbuster or talking much too glowingly about "Piranha 3D," Matt can probably be found watching literally any sport (minus cricket) or working at - get this - a local movie theater. Or watching a movie. Yeah, he's probably watching a movie.