This content is presented in partnership with ADAMM.
Pickups are more popular than ever, and because no manufacturer wants to be left behind in the race to make trucks more versatile and comfortable, tailgates are suddenly getting a lot of attention.
"As long as pickups keep dominating sales charts, automakers will continue developing new features to give their products an edge," writes Motor Trend's Alex Nishimoto. He refers to tailgates that can drop down or open like tavern doors in old Western movies or fold up, down and inside out to create multiple surfaces as "tricks," but reviewers and sales pros say they're actually pretty practical.
Ram, for example, introduced a "split barn door" configuration this year that John Klein, sales consultant for Griffin's Hub Chrysler Jeep Dodge Ram of Milwaukee, says adds versatility and "makes it a lot easier to reach into the bed."
And while GMC's innovation, the six-position MultiPro Tailgate, doesn't much resemble the Ram's Multifunction Tailgate, versatility is still the whole point, says Nick Larsen, sales and lease consultant for Boucher Buick GMC of Waukesha. "The different modes are purposed for doing different things," he adds.
Here are some details on tailgate innovations:
Ram Multifunction Tailgate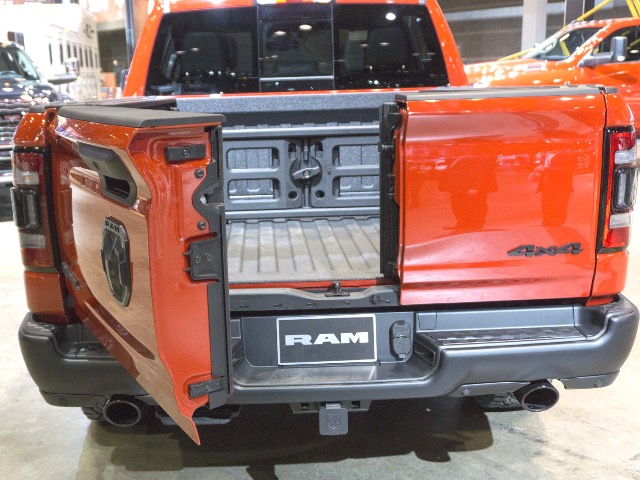 The RAM Multifunction Tailgate opens like a barn door.
Popular Mechanics calls this the tailgate of the future.
"We live in fascinating tailgate times," according to reviewer Bob Sorokanich. "In addition to normal drop-down operation, this dual-hinged, 60-40 split tailgate opens barn-door style, allowing you to swing open one or both sides of the gate."
The doors don't slide the way many barn doors do, so it might be more accurate to say they open like the swinging tavern doors you see in John Wayne movies. Regardless, the advantage, Sorokanich says, is that side-hinge operation makes it so you don't have to reach across the tailgate for each item in the bed, which also makes it easier to load items from the curb "or even to use a forklift to hoist heavy items into the pickup."
Larsen adds that being able to open just one side of the gate is useful when cargo is secured on the other side, and you don't want to risk letting it get loose.
What he loves most about Ram's tailgate, though, is that with an optional retractable step that hides under the bumper when not in use, you can get into and out of the box without a hitch. Or with one. Sorokanich notes that the 60/40 split doors work even when you're towing.
The drop-down and barn-door modes have separate handles. Plus, Klein notes that the tailgate is capable of holding up to 2,000 pounds.
GMC MultiPro Tailgate
The GMC Multipro Tailgate has been recognized for its innovative engineering.
Edmunds named this design its "Most Innovative New Engineering Technology Feature" award winner for "offering six positions that make the tailgate functional and flexible depending on the needs of the owner."
The tailgate drops, but an insert in the upper part of the tailgate body contains panels that flip up or down to create an opening for getting closer to the bed while loading and unloading and creating load-stops at two levels for items that are too long for the bed, plus a standing work station.
It also has a step that runs the full width of the tailgate that drops from the "inner tailgate," as well as a retractable assist bar to help you climb into and out of the box.
Standard on SLT, Denali and AT4 models, the tailgate can be operated with touch pad controls that perform the function of handles or with the key fob.
Ford Integrated Step
Ford introduced a feature that looks like a ladder with one step that slides out of the top edge of its F-150 and Super Duty pickups' tailgates in 2015. The step is spring-loaded so that it flattens to horizontal when you step on it, but then automatically folds into place when you slide the assembly back into hiding.
The assembly also has a telescoping handlebar to help you climb into and out of the bed.
Honda Dual-Action Tailgate
According to Popular Mechanics, the Ridgeline's tailgate, introduced in 2016, borrows a design introduced on station wagons in the 1960s. Depending on which handle you crank, it opens by dropping or by swinging on hinges like a door.
As is the case with other trucks, the primary point is to provide easy access to box. However, opening the gate sideways also provides access to the In-Bed Trunk, a secret, lockable 7.3-cubic-inch storage compartment beneath the floor suitable for tools, groceries, computers and such.
Wisconsin sport fans should also note that the inside of the gate has two molded tailgating seats that can support up to 300 pounds. Being watertight, the In-Bed Trunk can be used as a cooler that drains through a plug, or for stashing wet or soiled clothes. The spare tire is also stored in its own area accessed through the opening.
Furthermore, the compartment locks automatically when the truck's doors are locked and can be accessed independently with the fob through keyless entry.