In celebration of the 135th anniversary of the Thomas' English Muffin brand, the company is celebrating with a national chef recipe competition.
During the competition 135 chefs from 135 cities – including Milwaukee's own Thomas Hauck of c.1880 – will battle it out for a $25,000 grand prize.
But, that's not all. Every time a consumer votes, he or she will be entered into a sweepstakes to win $10,000. Voters can also win instant prizes like free Thomas' products (see voting details below).
Chef Hauck's submission for the contest is a Thomas' English Muffin Sandwich featuring bratwurst-spiced pork, an over-medium egg, farmstead cheese, beer hollandaise, pickled peppers and arugula.
As for his inspiration, Chef Hauck says the sandwich was inspired by Wisconsin: "It incorporates our beer, our cheese and our sausage making tradition in the form of brats."
Sounds delicious, no?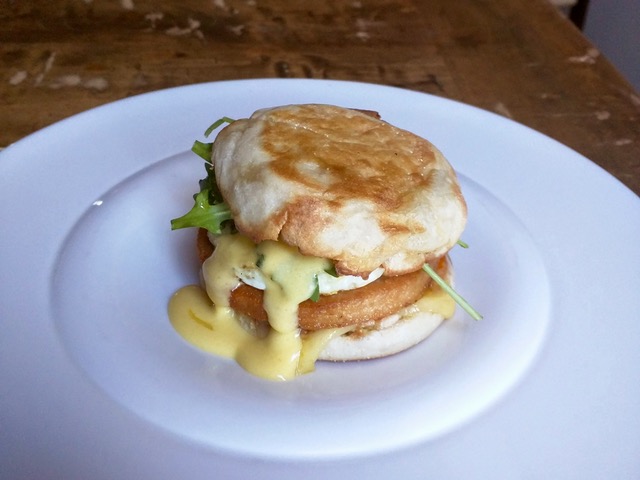 But, there's another element of Chef Hauck's participation that's pretty remarkable: the building in which c.1880 resides is also 135 years old this year.
Coincidence? Maybe.
Good luck for Chef Hauck? We hope so.
If Chef Hauck makes it through the first round, he'll be part of just 16 chefs from around the country who will compete in an additional four rounds of voting over the next six weeks for a chance to win the grand prize.
The Grand Prize winner will be notified via email and announced on Thomas' Facebook page on October 28.
Vote Milwaukee
Show your Milwaukee pride by voting for Chef Hauck online at ThomasBreakfastBattle.com (just click on the dot representing Milwaukee on the map to vote). You can vote for your favorite chefs' creations (up to three) once a day throughout the contest.
Why take the time to vote? Chef Hauck says it best: "Because Wisconsin is the best."
Other Wisconsin cities with chefs competing in the Thomas' Breakfast Battle include Green Bay, Kenosha and Madison.
Lori Fredrich (Lo) is an eater, writer, wonderer, bon vivante, traveler, cook, gardener and girlwonder. Born and raised in the Milwaukee area, she has tried to leave many times, but seems to be drawn to this quirky city that smells of beer and alewives.
Some might say that she is a little obsessed with food. Lo would say she is A LOT obsessed with food. After all, she has been cooking, eating and enjoying food for decades and has no plans to retire anytime soon.
Lo's recipes and writing have been featured in a variety of publications including GO: Airtran Inflight Magazine, Cheese Connoisseur, Cooking Light, Edible Milwaukee, Milwaukee Magazine and the Milwaukee Journal Sentinel, as well as on the blog Go Bold with Butter, the web site Wisconsin Cheese Talk, and in the quarterly online magazine Grate. Pair. Share.