March is "Bar Month" on OnMilwaukee. Get ready to soak up more bar articles, imbibable stories and cocktailing content all month long. For more of our Bar Month stories click here!
For going on nearly a half-century now, Hooligan's Super Bar has meant exactly one thing in Milwaukee: that stalwart triangle-shaped tavern – and East Side landmark – where Farwell, North and Ivanhoe converge.
But, not only is that Hooligan's Super Bar not the only Hooligan's Super Bar that Milwaukee has known, it wasn't even the first.
That honor goes to the west side Hooligan's Super Bar that opened first at 2701 W. Fond du Lac Ave. and later moved up the street to 2713 W. Fond du Lac. Neither building exists anymore, the entire block having been razed and replaced with the Center Street branch of the Milwaukee Public Library.
With Hooligan's East currently closed after a fire a few months ago, it seemed like a good time to remember the original Hooligan's to the west.
The first Hooligan's opened in 1941 and its sister location, on the East Side, followed a few months later.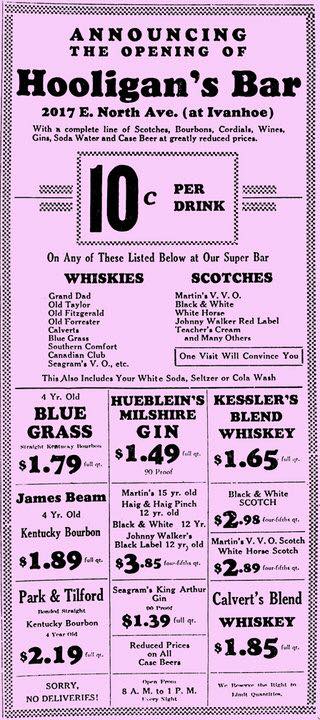 Both were opened by Jack Dworkus.
Born in 1904 in Milwaukee to Yiddish-speaking immigrant parents from Moldova, Jacob Dworkus lived with his two brothers and two sisters on 6th and Keefe and attended North Division High School.
His father, Benjamin, worked as a laborer on the railroads. In the 1920, Dworkus worked as a clerk for the Standard Paper Co.
By 1930, census records show that Dworkus owned a "retail malt shop," but documents suggest he declared bankruptcy three years later.
Six years later, the family was living at 1317 W. Lincoln Ave., above a Cut Rate Liquor Store – which had another location at 1326 S. 16th St. – suggesting that Dworkus was somehow involved with the shop, though in 1938, according to city directories, Edward S. Lubar was president and treasurer.
By that time, 1938, Jack and his wife Eva (nee Bylan) were living on North 41st Street but running Kosciuszko Liquor Store at 2004 W. Mitchell St.
In 1940, the Mitchell Street store was called Quality Cut Rate Liquors, reiterating the potential connection with the Cut Rate on Lincoln and on South 16th.

But by the following year, while Eva continued to run the liquor store on Mitchell Street, Jack had taken over the tavern at 2701 W. Fond du Lac Ave. that had been run by Leonard Hutter in 1939 and by Richard Boyace in '40. The couple also moved with their two children – Elaine and Audrey, then about 12 and 11, respectively – to North 51st Boulevard.
A few months later, Dworkus opened a tavern in a vacant building at 2017 E. North Ave. that had most recently housed the Oriental Art Gallery, naming it Hooligan's Super Bar.
This 1956 explanation offers a good definition of a "Super Bar" (of which National Liquor Bar was another well-known local example; there was also The Loop on 5th Street Downtown in the late 1940s and early '50s).
"A Class "B" Tavern (is) permitted to sell, deal or traffic in intoxicating liquors to be consumed by the glass only on the premises so licensed and in the original package or container in quantities of not less than one-half pint nor more than one quart at any one time, and to be consumed off premises so licensed, except that wine may be sold in the original package or otherwise in any quantity to be consumed off the premises."
Basically, a Super Bar, in addition to serving customers on-site like any tavern, was also allowed to sell packaged beer, wine and liquor to be consumed off-site.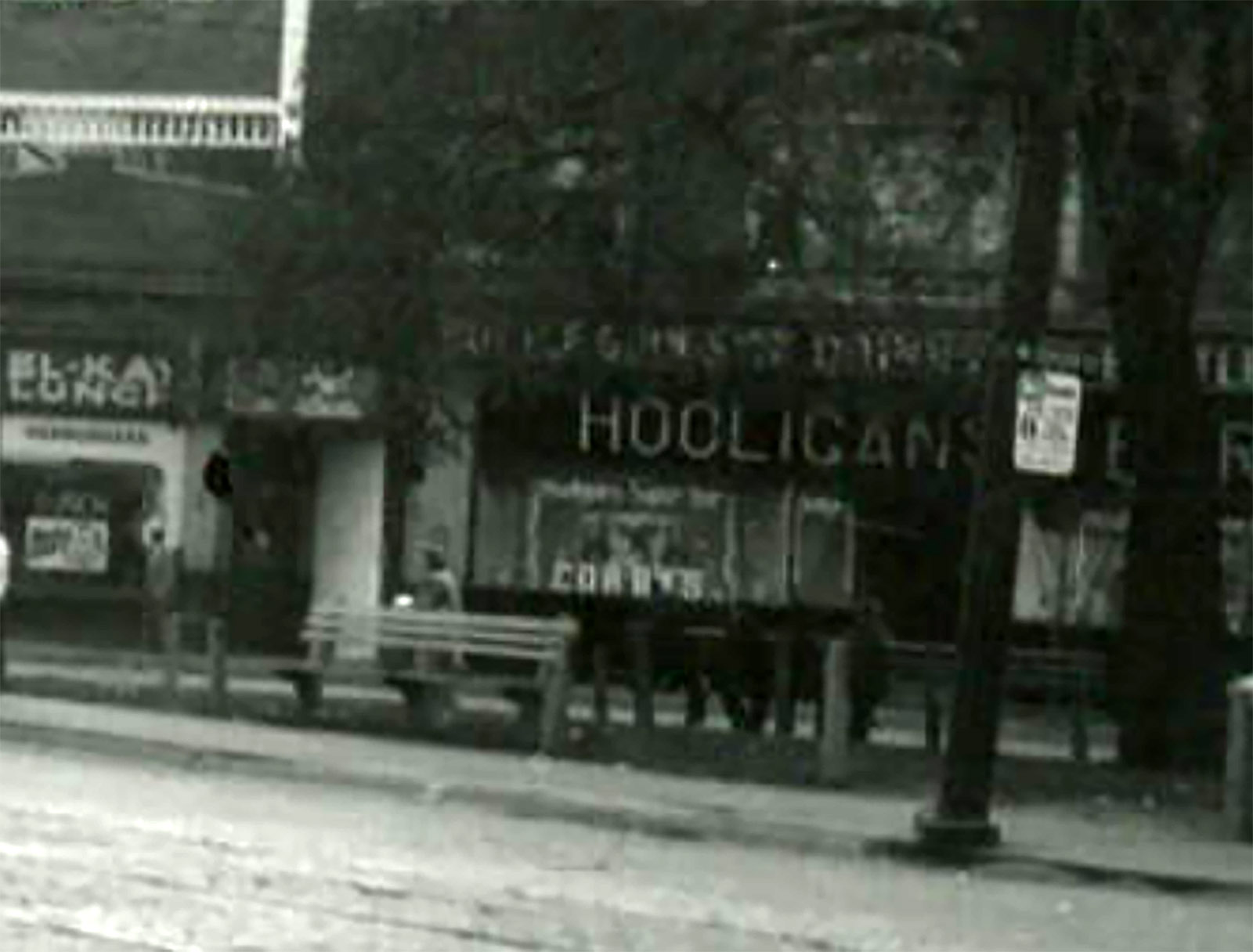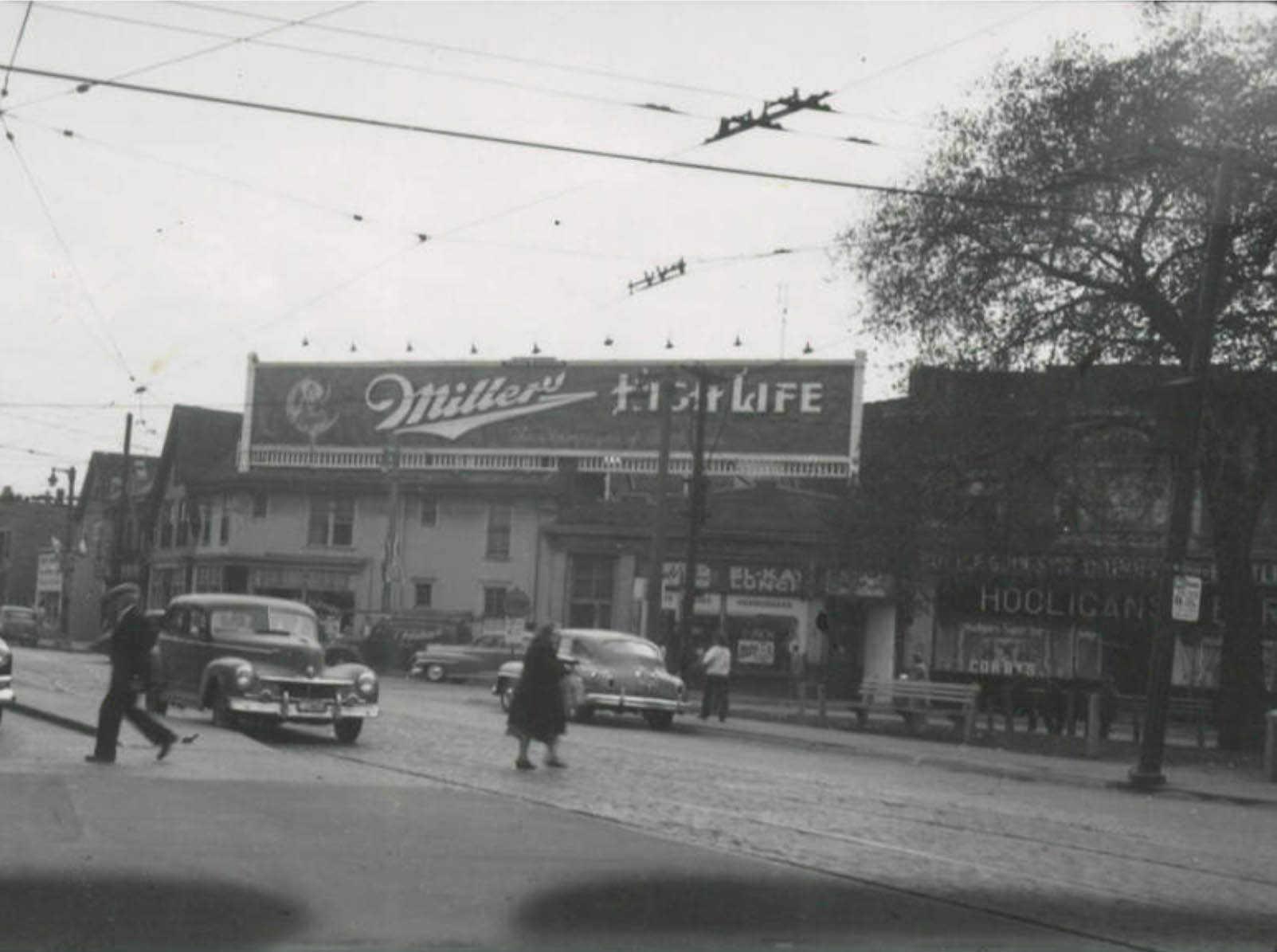 The Mitchell Street liquor store continued on into the 1960s as Quality Liquor, though it's unclear how long the Dworkus family owned it.
In 1944, Dworkus moved the Fond du Lac Avenue location two doors north to 2713 N. Fond du Lac Ave., which had been home to a furniture store.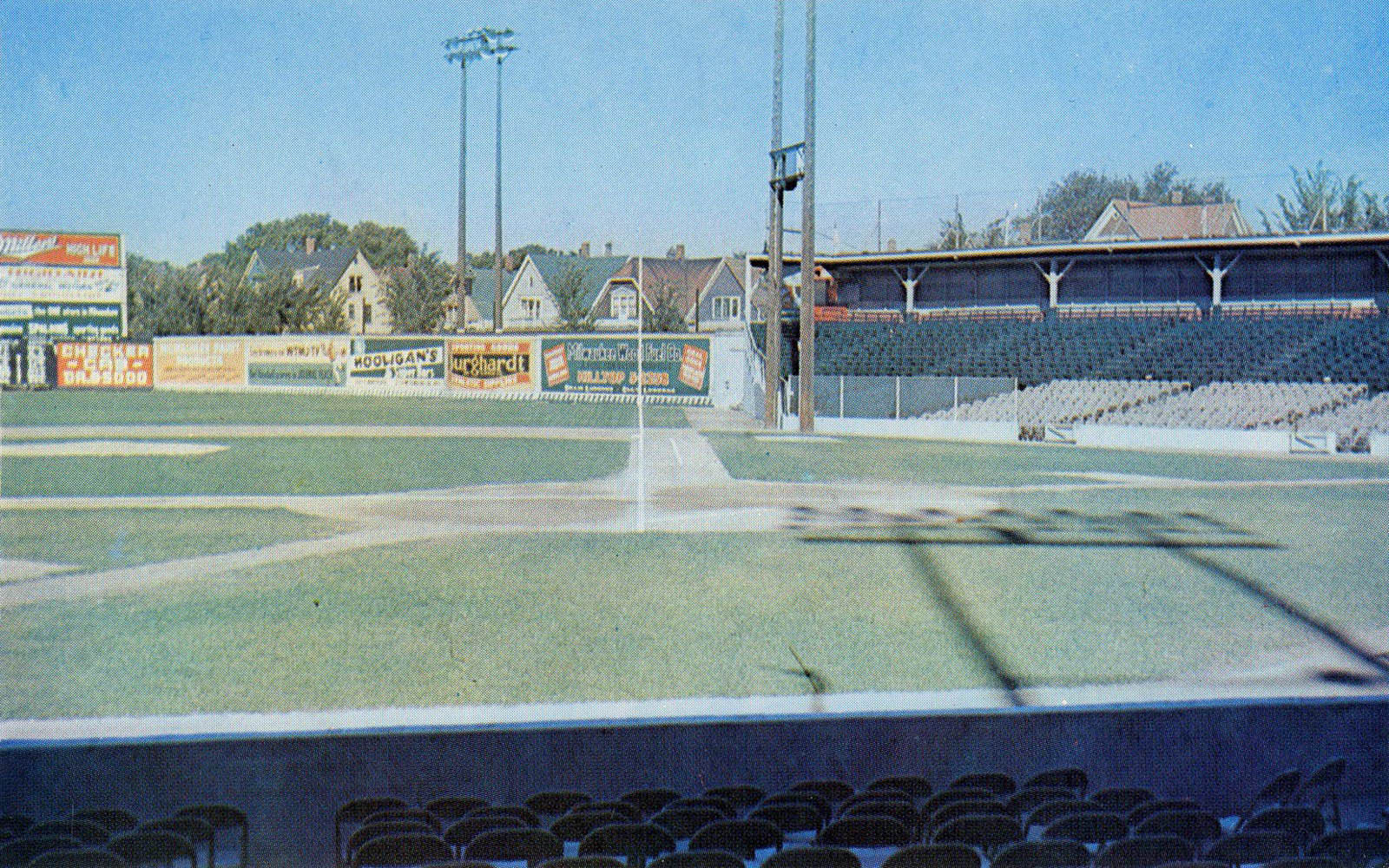 Dworkus was a big supporter of Brewers baseball and Hooligan's billboards can be seen on the right field wall at Borchert Field in old photographs. Old Brewers game day programs also often carried Hooligan's ads.
Interestingly, Dworkus was among the founders of the Jewish Convalescent Hospital and at the time of his death in 1971 had been its sole president.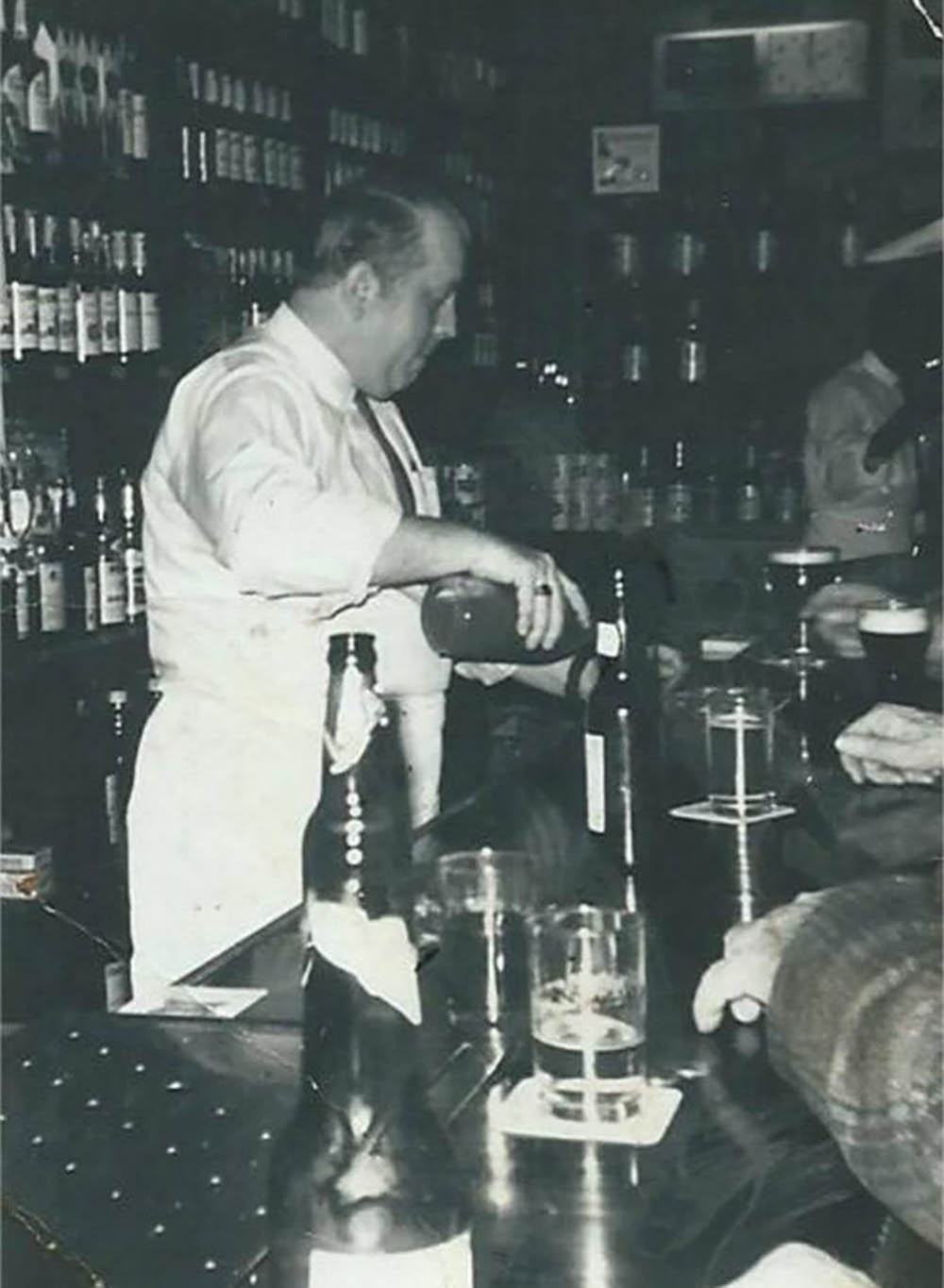 Peggy Herrick's dad, David Vanooyen (pictured above and below) – whose father owned the nearby Chet's Corners tavern – was a bartender at Hoolie's West in the late 1960s and early '70s and it is thanks to her that we have the best images in this article (including the main one at the top, from 1966).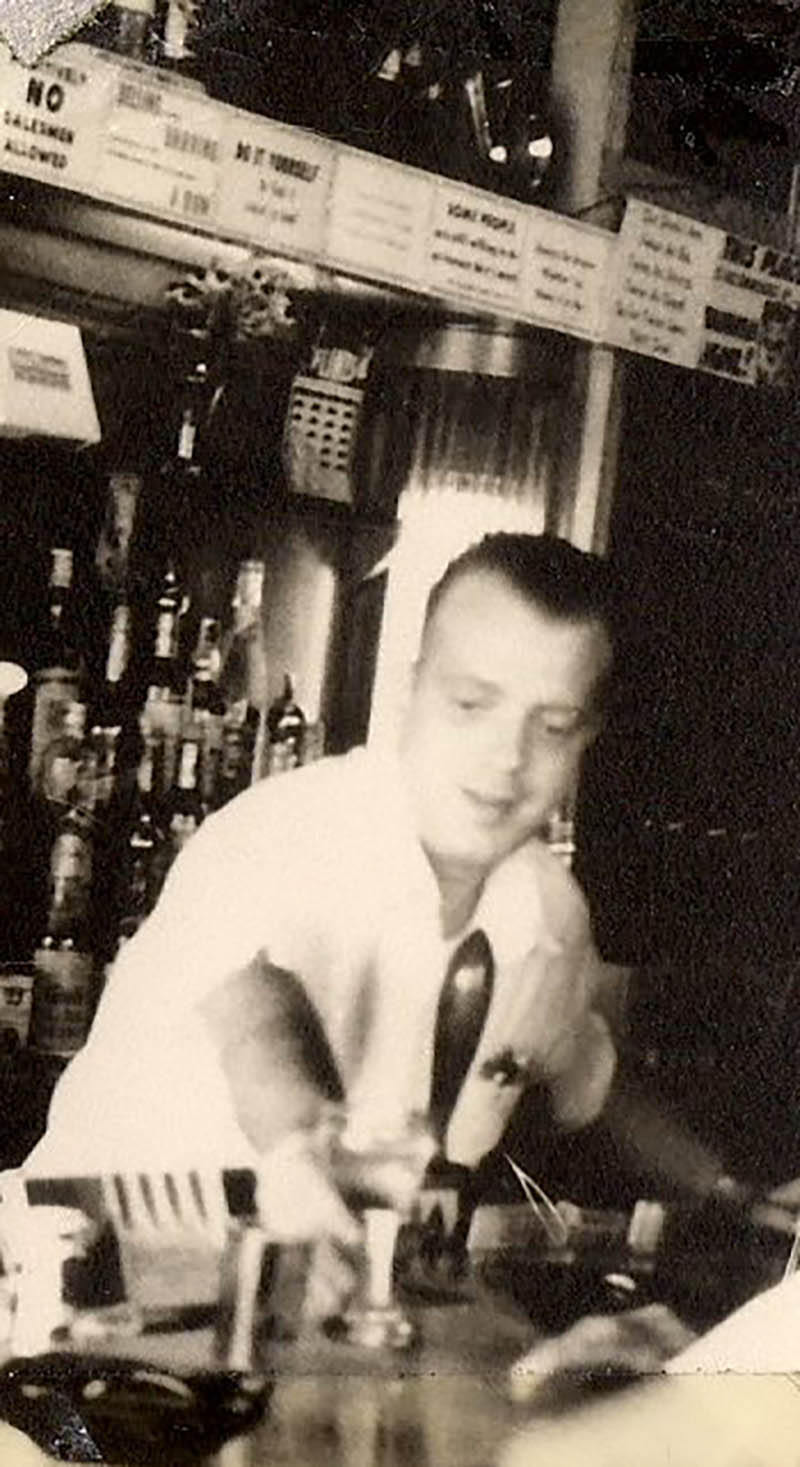 John Sidoff, former long-time owner of Hooligan's East says, "I know that Jack owned both Hooligan's bars and ran them as super bars Working mans places opening at 6 a.m. Monday-Saturday, closing before midnight. I believe they opened on Sunday by 10 that could have been a law back then."
Dworkus sold Hooligan's East in January 1971, a month before his death at age 66.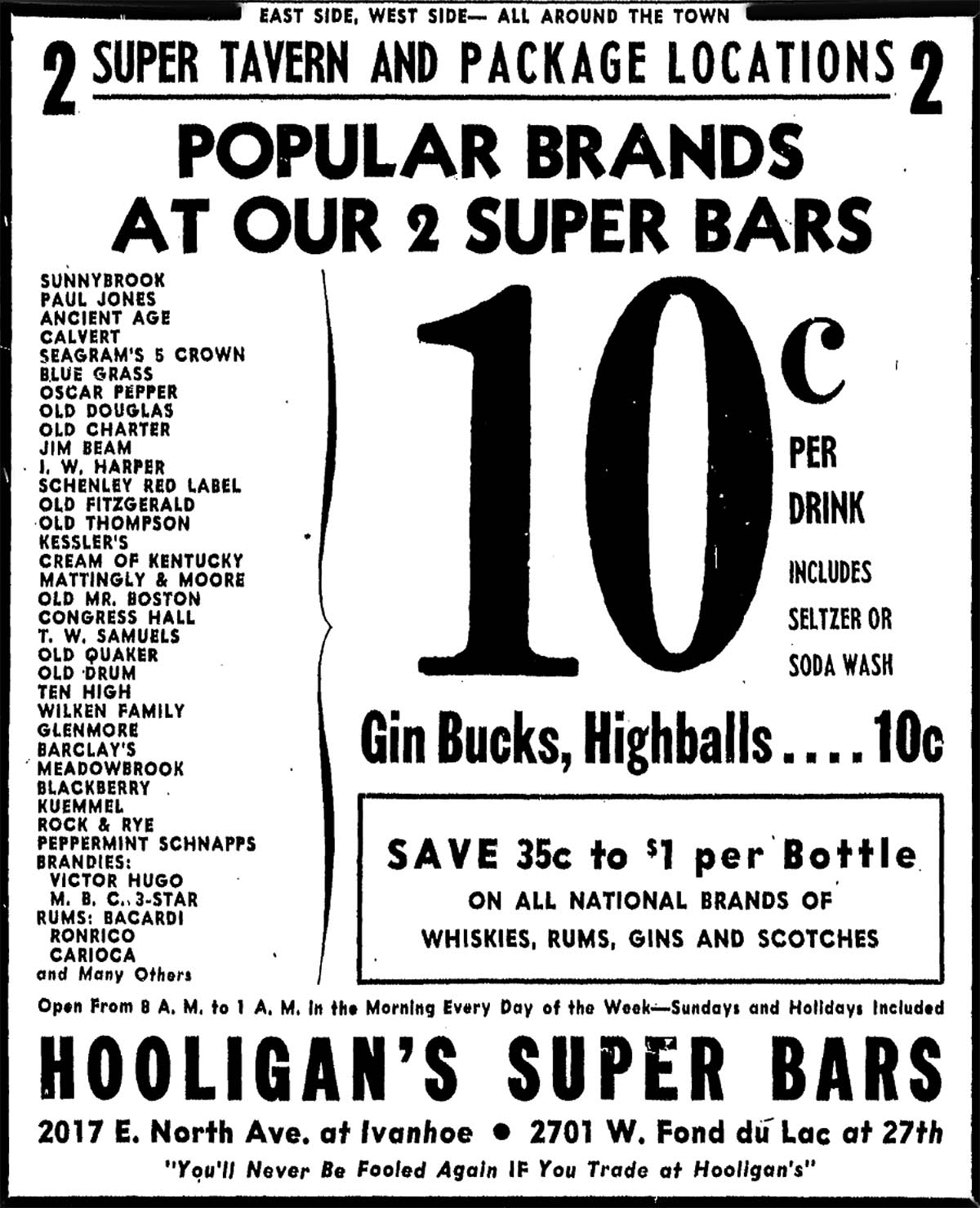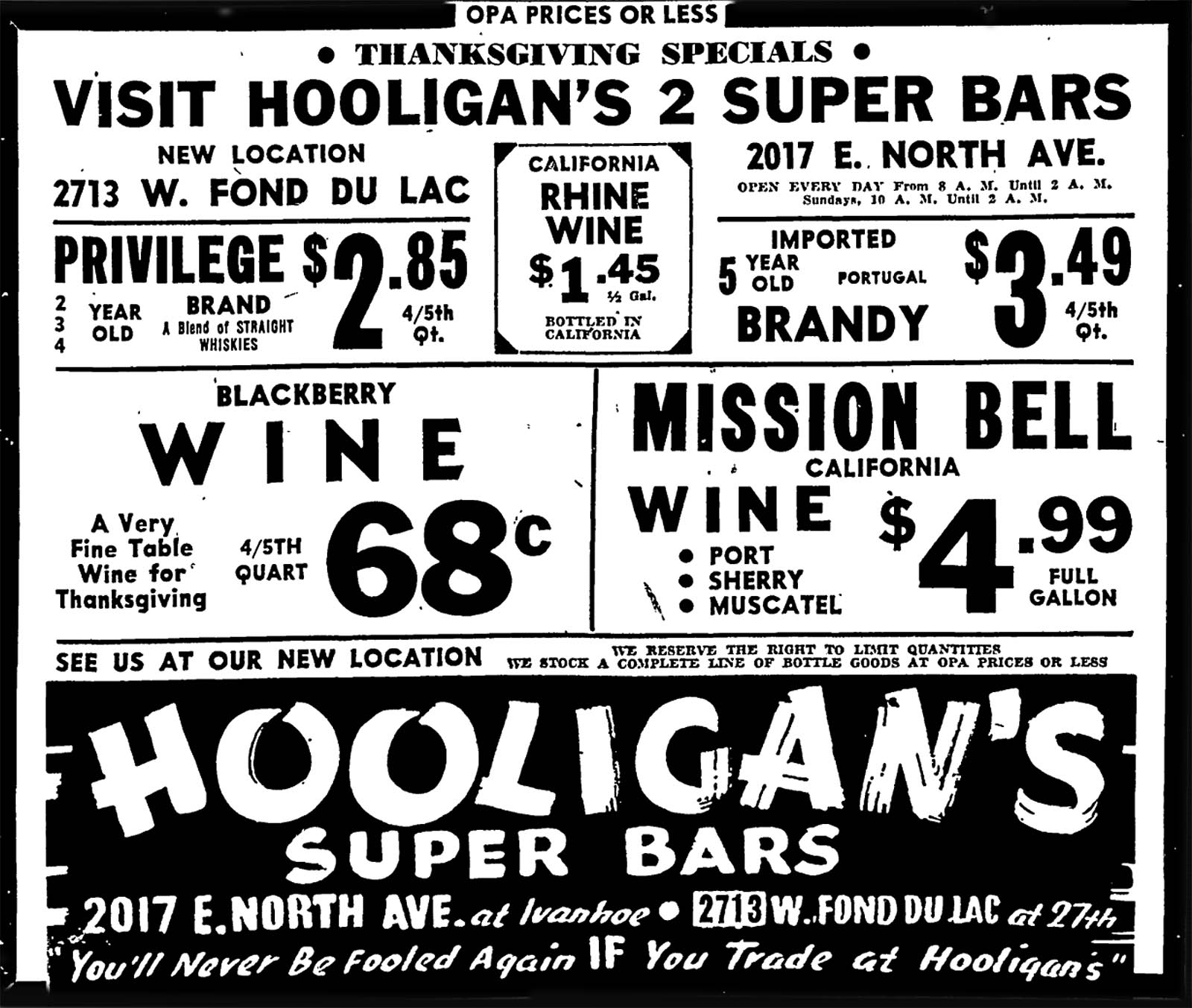 "He sold the eastside bar to Bill and Helen Brusen," says Sidoff. "They ran it the same way Jack did. A few years later they divorced and Helen and her son Mike ran the the bar. Bill opened a bar on South 13th Street until his death. Helen tried leasing out the bar in 1977 but the tenant failed. I took it over in '78 and ran it until I sold to Mark Buesing (in 2013)."

Meanwhile, the Fond du Lac Avenue location appears to have been sold, after Eva's death in November 1972, to Harvey Rotter, who owned Curley's Bar on what is now King Drive. The old Hooligan's became Curley's West.
Curley's on 3rd had a reputation and in the 1980s a local newspaper said it was considered to be one of the roughest taverns in town.
In 1972, likely just before he bought Hooligan's West, Rotter made the papers when he ignored an armed would-be robber who came in, showed his handgun and demanded money.
Rotter ignored him, continued to serve customers and the man simply left.
Curley's West was shortlived and by 1975, when a fire started in the apartments upstairs, the first floor was home to a liquor store, though it remained vacant for a time after the blaze.
By 1989, the entire block had been razed to make way for a new Center Street branch of Milwaukee Public Library, which currently occupies the site.
By then, Hooligan's East – with its bar-top concerts – had already become Milwaukee's beloved Hooligan's Super Bar. The original West Side location had begun to fade from memory.
While the West Side tap isn't coming back, we can't wait to see the East Side location back up and running.
Born in Brooklyn, N.Y., where he lived until he was 17, Bobby received his BA-Mass Communications from UWM in 1989 and has lived in Walker's Point, Bay View, Enderis Park, South Milwaukee and on the East Side.
He has published three non-fiction books in Italy – including one about an event in Milwaukee history, which was published in the U.S. in autumn 2010. Four more books, all about Milwaukee, have been published by The History Press.
With his most recent band, The Yell Leaders, Bobby released four LPs and had a songs featured in episodes of TV's "Party of Five" and "Dawson's Creek," and films in Japan, South America and the U.S. The Yell Leaders were named the best unsigned band in their region by VH-1 as part of its Rock Across America 1998 Tour. Most recently, the band contributed tracks to a UK vinyl/CD tribute to the Redskins and collaborated on a track with Italian novelist Enrico Remmert.
He's produced three installments of the "OMCD" series of local music compilations for OnMilwaukee.com and in 2007 produced a CD of Italian music and poetry.
In 2005, he was awarded the City of Asti's (Italy) Journalism Prize for his work focusing on that area. He has also won awards from the Milwaukee Press Club.
He can be heard weekly on 88Nine Radio Milwaukee talking about his "Urban Spelunking" series of stories.