When the John W. Mariner Building opened on the southeast corner of Mason and Milwaukee Streets in Downtown Milwaukee in the waning months of 1937 it was heralded as an immediate landmark of design and comfort.
Milwaukee marveled at its sleek Art Deco/Moderne architecture and the fact that it was top-loaded with modern amenities, especially that it was the city's first fully air-conditioned office building.
But over time, the gloss was dulled and by the middle of the 1990s, the Mariner Building, long home to investment firm Blunt, Ellis & Loewi, was empty.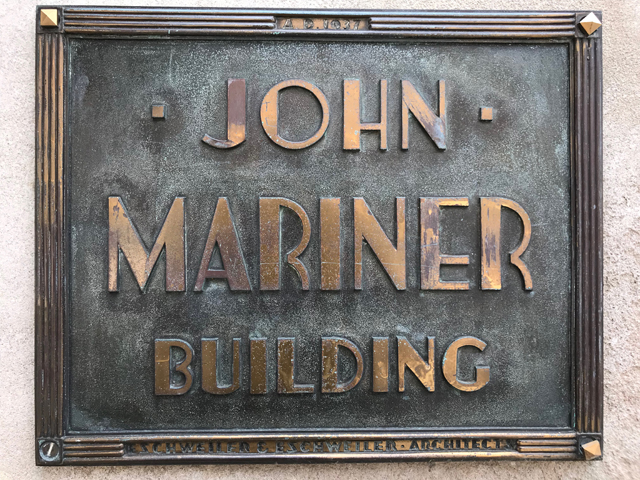 When the building was relaunched in June 1998 as the $6.8 million, 63-room Hotel Metro, 411 E. Mason St., it received similar accolades for its modern style and luxury appointments. One newspaper article called it a "sleek and jazzy boutique inn."
Twenty years on from that glorious opening, the Hotel Metro is still nice, but it, too, could use a burnish. And that's exactly what it's about to get.
"Everything you see hasn't been touched since they renovated the building into the hotel," says General Manager Michael Falkenstein. "Now, the hotel is going to go from an independent boutique owned by the Ogden family to a luxurious boutique hotel underneath the Marriott Autograph Collection. Still owned by the Ogden family. So, new management, heritage owner, heritage boutique hotel."
The history
The Mariner Realty Co. – the Mariner family had been in real estate for at least half a century by the late 1930s – tapped prestigious local architecture firm Eschweiler and Eschweiler to create a modern new office building on the southeast corner of Mason and Milwaukee.
By then, the Eschweilers had already drawn the Wisconsin Telephone Building (1917) and the Wisconsin Gas Light Building (1929) onto the landscape of the east side of Downtown, and the building they designed this time, while still Art Deco, was unlike those.
This one was constructed out of pale grey Bedford limestone from Indiana and made use of the "speed lines" or "Empire lines" of the en vogue streamline moderne style. It shares some commonalities with the building the firm designed for Pittsburgh Plate Glass' enamel plant the same year in Walker's Point (which survives at 201 E. Pittsburgh Ave.) and WTMJ's Radio City on Capitol Drive (1941).
A 1994 Department of City Development historic buildings tour offers a nice description: "The John Mariner Building illustrates 1930s commercial architecture. ... The six-story structure is clad with smooth Bedford limestone blocks incised with vertical ribs and low-relief carvings. These features, along with the rounded corner and characteristic banded windows, are characteristic of this decade. This is an excellent example of an Art Moderne style office building."
The Mariner Company and its building were named for John Mariner, who built the Art Deco Mariner Tower that still stands on the northwest corner of 6th and Wisconsin. (That one was designed by the Chicago firm of Weary & Alford)
Born in a house on Milwaukee and Juneau in which city father Solomon Juneau once lived, Mariner attended private schools like Markham's Academy and, later, Connecticut's St. Paul's School and Hopkinson School in Boston, before moving on to Harvard, from which he graduated in 1891.
Mariner's father Ephraim had the foresight to start "collecting" land around Milwaukee at bargain prices and later selling them for a fortune. For example, he paid $100 for the land on 6th and Wisconsin that, in 1930, was valued at $1.5 million.
The younger Mariner married in 1894 and followed his father into real estate, creating the Mariner Realty Co. in 1920 with the Mariner family holdings. In the ensuing decade, while Mariner spent extended periods living in England and in Pasadena, much of the real estate was sold off.
Interestingly, the 1930 skyscraper built at the corner of 6th and Wisconsin by the theater-owning Saxe brothers was also, for a time, called the Mariner Building, because it was built on land that had long been owned by the magnate.
Mariner died in 1930, but his company continued on and in November 1937, the company took offices in the building bearing its founder's name that it had just built.
Around the same time, the firm took out a full-page newspaper ad boasting about "Milwaukee's only completely year-around air-conditioned downtown office building."
The ad, which listed the firms that actually erected the place, and installed the tile, ductwork and flooring and the like, noted that, "Thomas E. Hoye Heating Co. proudly acknowledges that the heating and air-conditioning systems designed and installed by them in this splendid new building are among the finest achievements in a long career of outstanding success."
In addition to its comfortable temps, the building was also declared fireproof and noiseproof.
"No other Downtown office building has been more carefully designed to fill the business and professional man's requirements ... whether single offices or suites are required," the ad averred.
Humidity was also lassoed and the air was "free from dust and pollen." Double-glazed windows were deemed frost-free in winter and the radiators were hidden into recesses in the walls.
Double glazed windows remain clear and free from frost in the coldest weather.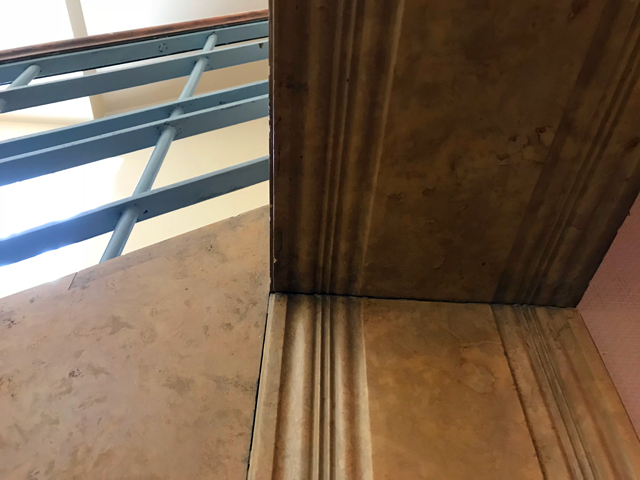 "Glass brick panels (which survive in spots) are provided in elevator lobbies, on stairways and in corridors ... a modern note that insures privacy with abundant light. Venetian blinds installed on all windows. This smart, good-looking, easily adjustable equipment is typical of the builders' thoughtfulness in catering to the tenants' comfort. Composition tile floors are handsome, sanitary and easy on active feet."
Special offices were designed for doctors with amenities like "compressed air outlets, power for X-ray equipment and a special elevator, large enough to admit stretcher patients."
In the end, what was most important to tenants, according to the Mariner Company was reputation.
"Prestige. In addition to all the features enumerated, there is an undeniable prestige which tenants of this building will enjoy. Built of Indiana limestone, the John Mariner building is one of the handsomest office buildings in this city and state."
The building carried on as a general office building for decades.
For a while, says Hotel Metro GM Falkenstein, it was home to E.F. Hutton.
"It used to be a clearing house," he says, "this is like where all the checks came in ... it was a financial services building."
Investment firm Blunt, Ellis and Loewi bought the building in 1981 and remained there for a little over a decade before it moved to new digs, landing later at 225 E. Mason St.
That's when the Ogden Group stepped in to buy the by-then-vacant Mariner Building and rethink its purpose.
The exterior of the building looks much as it always has, with its sleek lines, distinctive curve bending the corner around on Mason and Milwaukee, and those shallow relief panels with patterns and flower motifs.
But by the time the first guest arrived at the new Hotel Metro – an Iowa biker in town for the Harley-Davidson 95th anniversary celebrations – almost the entire interior had been demolished and rebuilt with the exception of the elevators and stairwells.
The elevator lobby on the main floor, called the landing by the Metro folks, is where you'll find the best old details, including brass-framed display vetrines and building directory, a shimmering glass letterbox, carved crown moldings and the elevator cars themselves, which shout deco.
"I love design as much as you do, I'm sure. There's just not a lot of details. The landing is probably, as small as it is, is the place where you'll find the most," Falkenstein confirms.
The railings and newel posts in the stairwells are original and some of those glass block walls in the elevator lobbies, which also have what look like original stepped recessed ceilings, survive.
But not much else. Which doesn't mean there aren't still great details, like the amazing open air roof deck with its great Downtown views and stone cascading fountain.
What's next?
Though not yet ready to release renderings, Falkenstein says the hotel will be luxurious and upscale, but with a more casual vibe than other top of market properties nearby.
"It will sit somewhere between the Iron Horse and the Grande Dame Pfister," he says. "It's right in the middle; very approachable, very luxurious, but not nearly as elegant and not nearly as masculine and kind of tactile, if you will. It's a very soft luxurious design."
Falkenstein says the new hotel's model rooms should be complete by the beginning of October and then work will begin on renovating the rooms toward the end of the year. They'll start at the top and work their way down one floor at a time.
"My job gets real tricky real fast, you know, some people after six weeks will be checking in the new rooms, some will be checking in the old rooms," he says.
Work should be completed by early next summer.
Though the rooms themselves will change, the number and configurations won't.
"It'll end up being 63 rooms just like it is today," Falkenstein says. "And they're huge. Some of our rooms are over 700 square feet, which is crazy. I actually tried to find how I could put in a few more rooms, and I just can't. There's just no way to do it.
"Some of our rooms have fireplaces. And that's where I get excited. As they're checking in, (we can ask) 'what time would you like us to come up and light the fireplace? Or bring a split of wine?' It should be that elevated experience. That's where we're headed. It'll be fun."
Born in Brooklyn, N.Y., where he lived until he was 17, Bobby received his BA-Mass Communications from UWM in 1989 and has lived in Walker's Point, Bay View, Enderis Park, South Milwaukee and on the East Side.
He has published three non-fiction books in Italy – including one about an event in Milwaukee history, which was published in the U.S. in autumn 2010. Four more books, all about Milwaukee, have been published by The History Press.
With his most recent band, The Yell Leaders, Bobby released four LPs and had a songs featured in episodes of TV's "Party of Five" and "Dawson's Creek," and films in Japan, South America and the U.S. The Yell Leaders were named the best unsigned band in their region by VH-1 as part of its Rock Across America 1998 Tour. Most recently, the band contributed tracks to a UK vinyl/CD tribute to the Redskins and collaborated on a track with Italian novelist Enrico Remmert.
He's produced three installments of the "OMCD" series of local music compilations for OnMilwaukee.com and in 2007 produced a CD of Italian music and poetry.
In 2005, he was awarded the City of Asti's (Italy) Journalism Prize for his work focusing on that area. He has also won awards from the Milwaukee Press Club.
He can be heard weekly on 88Nine Radio Milwaukee talking about his "Urban Spelunking" series of stories.