When Hunter Hayes came to The Rave May 4 to perform his setlist as a part of his Closer To You tour, he told the audience he wanted to share a lot of his new music. However, based on how the audience reacted to his new music, it was clear the audience mostly came to the concert to hear his older music.
Hayes started off his setlist with a handful of his new music. He said as a 27-year-old who has been of legal drinking age for six years, he wanted the audience to know who he is right now, and not think of him as the 18 year old who sings "Wanted." But it seemed the audience wanted to hang onto those bits of 18-year-old Hayes anyway and see him perform his most popular tunes.
Not a lot of people from the audience were really singing or dancing, getting into the music, until about his sixth song, "Love Makes Me." Even then, groups were swaying slowly, and I was convinced I was at the chillest country concert I'd been to for most of the concert. Everyone had pretty low energy.
"Rainy Season" was also a slow tune, and for "Still," one of his newer songs, Hayes sat at his piano and sang along, soloing. This kept the slow, mellow vibe going.
Things finally picked up when he sang "Invisible" and "Everybody's Got Somebody But Me." For the latter, the audience had their hands waving in the air. Some people sang along.
"Rescue" was one of my personal favorites of the night, just because it isn't as popular as some of Hayes's other songs, but it still has a great melody and beat. Hearing it live and seeing Hayes's band get into it was a great experience.
But then things really got going when Hayes sang his most-loved classics. After Hayes sang "Wanted," I wondered what else he could possibly finish off stronger with, because "Wanted" is by far his most popular song. It was the second best-selling song by a male solo country singer in the US in 2014 and the audience loved hearing it. They sang along to every word; the concert area was by far the loudest it had been that night, so far.
But the fun didn't end there. Hayes kept the energy going and amped it up even more, channeling his 18-year-old self, by closing off with some of his most upbeat, popular tunes. "Tattoo" and "I Want Crazy" were great songs to end the night with - the audience loved it. Lots of people were jumping up and down during the last song with excitement. The fact that the audience could pull out this much energy this late at night (it was around 11 p.m. by this time) after having such low energy the rest of the concert was very telling that the audience was hearing what they came for.
Hayes didn't do any encore songs, but after ending with "I Want Crazy," I'm glad he didn't do an encore. I couldn't think of any other song he could've played that would've left fans with a more satisfied feeling going home.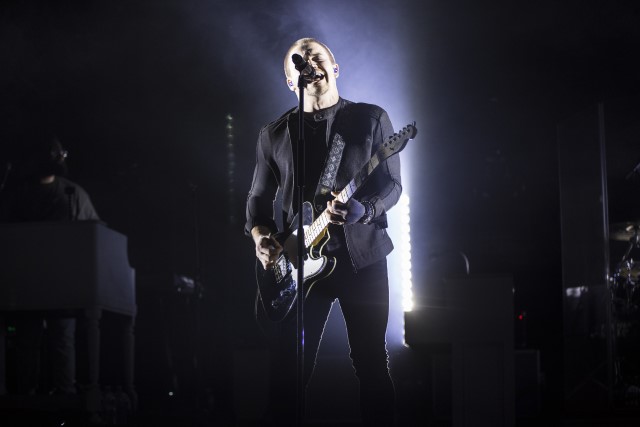 Hayes also didn't do any cover songs, which was something I wasn't used to for a country concert. Covers help the audience get into the music and the artist, which I felt was needed when the audience didn't know his newer tunes as well as his older tunes. Singing a few covers early on, woven in with his new original songs, would've gotten the energy going sooner.
As an added personal note, I had wished Hayes sang "Yesterday's Song" or "21" just because those are some of my favorite songs by him, but Hayes had so many new tunes he wanted to share, it made sense why he didn't want to sing too much of his older stuff.
Setlist
"Madness"
"One Shot"
"Storm Warning"
"Wild Blue"
"Night And Day"
"Love Makes Me"
"This Girl"
"Somebody's Heartbreak"
"Rainy Season"
"You Should Be Loved"
"Still"
"Invisible"
"In A Song"
"Everybody's Got Somebody But Me"
"Rescue"
"Amen"
"Flashlight"
"Dear God"
"Wanted"
"Tattoo"
"I Mean You"
"I Want Crazy"