I got a perm – as in a permanent wave for my hair – without having to time-travel back to 1987. In fact, I got one last week.
Considering my unpleasant past experiences with perms, this was risky. Like many people who survived the '80s, I got a "home perm" or "box perm" that my mom bought at Walgreens. I can still smell the repugnant solution and I still remember that even though I wanted Whitney Houston's perfect corkscrew curls, I wound up with Weird Al's shoulder-length frizz fro.
And yet, there I was: agreeing to get a perm again. In 2019. And yes, I was sober.
The reason I could do this is because I trust my stylist, Al Oldham, the owner of Taylor & Burton. And if I hated the perm and had to hack off my hair, I already knew I had a nicely-shaped skull from shaving off bad, white-girl dreadlocks in the early 2000s.
But Oldham promised me perms have changed. They aren't even called perms by many stylists who instead refer to the process as getting a "texture wave."
"The bottom line is perms or 'texture waves' today are much, much gentler but every bit as strong," says Oldham, who is also an educator for Reference of Sweden (REF) and Brava.
According to Oldham, younger clients who didn't experience the unfortunate look and smell of "80s perms" don't have reservations about the service. Clients in their 30s and older, however, are different – some of us are still traumatized by our 7th grade photo where we look more like a poodle than a person.
"My clients between the ages of 16 and 24 are particularly fine with the idea of a perm, but that's because they didn't live through the '80s," says Oldham. "And in this new wave of texture waves men are getting perms, too."
I was particularly open to the idea of trying a newfangled perm because my hair has changed a lot in the past five years. It's not as thick or as curly as it was for the first four decades of my life and it bums me out. When I see Facebook Memory photos from five or seven years ago, I miss my old hair. (Whether or not age and hormonal change affects women's hair texture is controversial, but Oldham says he believes it does because so many of his middle-aged female clients have told him so.)
Oldham used a Reference of Sweden (REF) perm called "Curly Perm" on my hair. And I love it – more on why later – but for now: phew.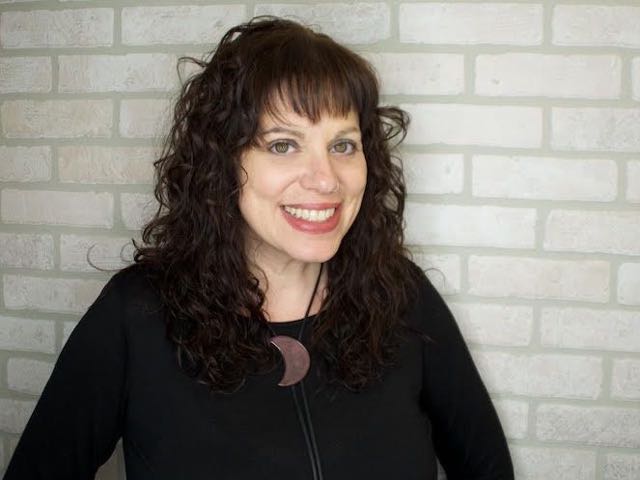 New school perms take under two hours, cost between $100 and $250, depending on the length and thickness of your hair, and last for about four months. Here are some of the reasons I dig mine so much:
They're way gentler
New perms are less chemical-y which means they leave hair softer and less damaged. (The modern chemicals in REF's perms are protected information). But they are so much gentler that people can get their hair dyed or bleached and permed on the same day without any fear of breaking or even damaging their hair.
They smell better
Perms used to smell like rotten eggs or worse – but not anymore. They have a faint "perm smell" in the first part of the process, but nothing compared to the eye-frying aroma of perms past. And the second solution in the REF process smelled really good, very similar to grapes.
You can shampoo hair immediately
These perms don't "fall out" or need to set for a period of time. You can take a shower, swim or get caught in the rain immediately after getting a perm and it won't affect the curl.
It doesn't "grow out"
Remember when growing out a perm meant straight hair for a few inches followed by discolored frizzy fuzz? Not anymore. The perm relaxes over the course of months until it's gone.
The process is faster
I sat in our bathroom for hours while my mother set my box perm in the '80s, but this entire process took just under two hours. I barely got to catch up on all my trashy magazines.
The rods are different
The rods used in perms today are much larger and flexible and are not set in perfect rows like they once were.
"Back in the day, the rods were placed in exactly nine sections of hair and looked very orderly," says Oldham. "Now we are much freer with how we place the rods so your hair looks soft and naturally curly."
Super easy
I don't like to spend a lot of time primping, so I appreciate that it takes me the same amount of time to get ready with the perm as it did without. I now blow dry my hair after washing it with a diffuser attachment or I let it air dry.
When I left the salon with my new perm, I had the "I hope I can make my hair look this good at home" thought. But I think I did. And to employ an '80s term, I'm pretty stoked to look more like the me I imagine myself to be. Like, totally.

Molly Snyder started writing and publishing her work at the age 10, when her community newspaper printed her poem, "The Unicorn." Since then, she's expanded beyond the subject of mythical creatures and written in many different mediums but, nearest and dearest to her heart, thousands of articles for OnMilwaukee.

Molly is a regular contributor to FOX6 News and numerous radio stations as well as the co-host of "Dandelions: A Podcast For Women." She's received five Milwaukee Press Club Awards, served as the Pfister Narrator and is the Wisconsin State Fair's Celebrity Cream Puff Eating Champion of 2019.