With Valentine's Day season blooming as we speak, you could watch all your usual romantic regulars – your "When Harry Met Sallys," your "Loves Actually," your Nicholases Sparkses – on the couch. Or you could join us for a date night watching a brand new, star-studded rom-com before anyone else on the big screen for free.
On Wednesday, Feb. 2 at 7 p.m., we're teaming up with Amazon Studios for a special sneak preview of the new comedy "I Want You Back" at the Marcus Movie Tavern in Brookfield.
From two of the writers behind "Love Simon" and "This Is Us," the new movie stars Charlie Day ("Horrible Bosses," "It's Always Sunny in Philadelphia") and Jenny Slate ("Big Mouth," "The Secret Life of Pets") as two recently dumped strangers who team up and try to help one another win back their respective exes (Gina Rodriguez from "Jane the Virgin," Scott Eastwood from "The Fate of the Furious") after they discover they've started dating new people. I too would have a mental breakdown if my ex dumped me for Manny Jacinto (Jason from "The Good Place") or Clark Backo ("Letterkenny"). Anyways, shenanigans ensue in this sweet and spicy comedy perfect for those who love love as well as those who think Valentine's Day should be banned.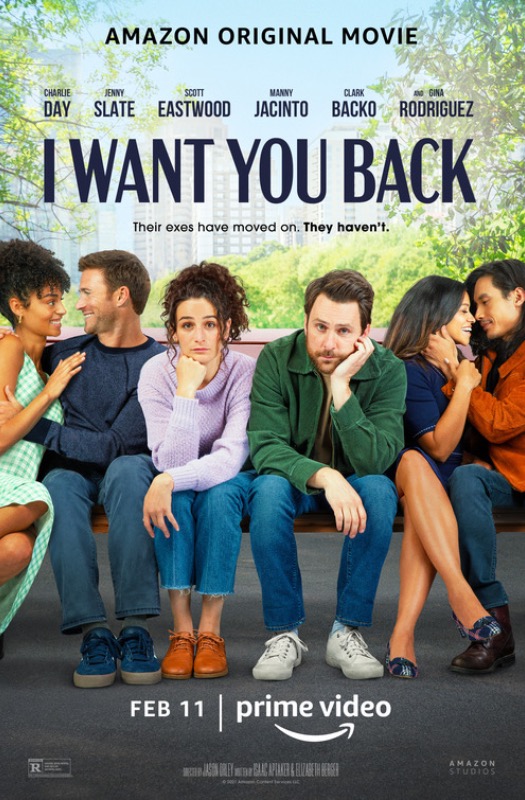 So how do you get tickets for this terrific pre-Valentine's Day date night? Easy – just head over to this link, sign up for a free pass (you can choose whether you want one or two seats) and we'll see you at the movies next Wednesday night! Fair warning, though: Act quickly and arrive early for the screening, because there will be limited capacity available for distancing purposes. (Thankfully, the Marcus Movie Tavern also serves both food and drink – so why not make it a whole night out!)
Miss out on the sneak preview screening? Don't be completely heartbroken: "I Want You Back" will debut on Amazon Prime Video on Feb. 11.
As much as it is a gigantic cliché to say that one has always had a passion for film, Matt Mueller has always had a passion for film. Whether it was bringing in the latest movie reviews for his first grade show-and-tell or writing film reviews for the St. Norbert College Times as a high school student, Matt is way too obsessed with movies for his own good.
When he's not writing about the latest blockbuster or talking much too glowingly about "Piranha 3D," Matt can probably be found watching literally any sport (minus cricket) or working at - get this - a local movie theater. Or watching a movie. Yeah, he's probably watching a movie.