A time will come when COVID-19 is behind us in Milwaukee. Whether that's sooner or later, the psychological scars of more than a year of restricted social behaviors will remain.
Milwaukeeans will return to restaurants, sporting events and concerts. The work-from-home model might continue for some, but eventually many of us will return to a modified office environment.
But will we feel safe? Whether the threat is COVID-19, flu season or the next pandemic, business owners across the world have had to reckon what the "new normal" will look like. In cold climates like Wisconsin, year-round outdoor solutions are impossible. So, even as indoor capacity restrictions are lifted, safety concerns will continue to decimate restaurants, bars, entertainment venues and corporate real estate, unless these businesses can effectively rebuild the trust of an increasingly wary public.
Fortunately, technology already exists – and more is coming – that may provide customers with some peace of mind as they consider emerging from hibernation. Among the options are HVAC solutions which claim to not only increase overall air quality, but also eliminate bacteria and viruses.
In some cases, these solutions are costly and difficult to implement. In others, the process is not as daunting as one might think. And the jury is still out on whether or how well each of them works and – more importantly – how much the public will believe they are effective. However, some in the industry believe that post-pandemic indoor air quality will simply be added to the everyday cost of doing business, much like fireproofing and sprinklers.
And, while nothing stops a sneeze to the face, if businesses can demonstrate that advanced science-based air filtration and virus-killing HVAC systems are installed in their places of business, they may well have a leg up on those who have not.
It's why a number of local proprietors, developers and building owners are not simply waiting for the problem to go away by itself.
Restaurants play offense
At Crossroads Collective, an East Side food hall owned by New Land Enterprises, preparations for a safer experience began right after the first shutdown, with a goal of reopening for inside dining as soon as possible.
"That was, unfortunately, before we knew as much as we do today about how the virus spreads," says General Manager Gina Gruenewald. "We started with high contact surface cleaning, touchless fixtures, and much like everyone else, we put up acrylic barriers to separate the stalls from the patrons, but that was just the beginning."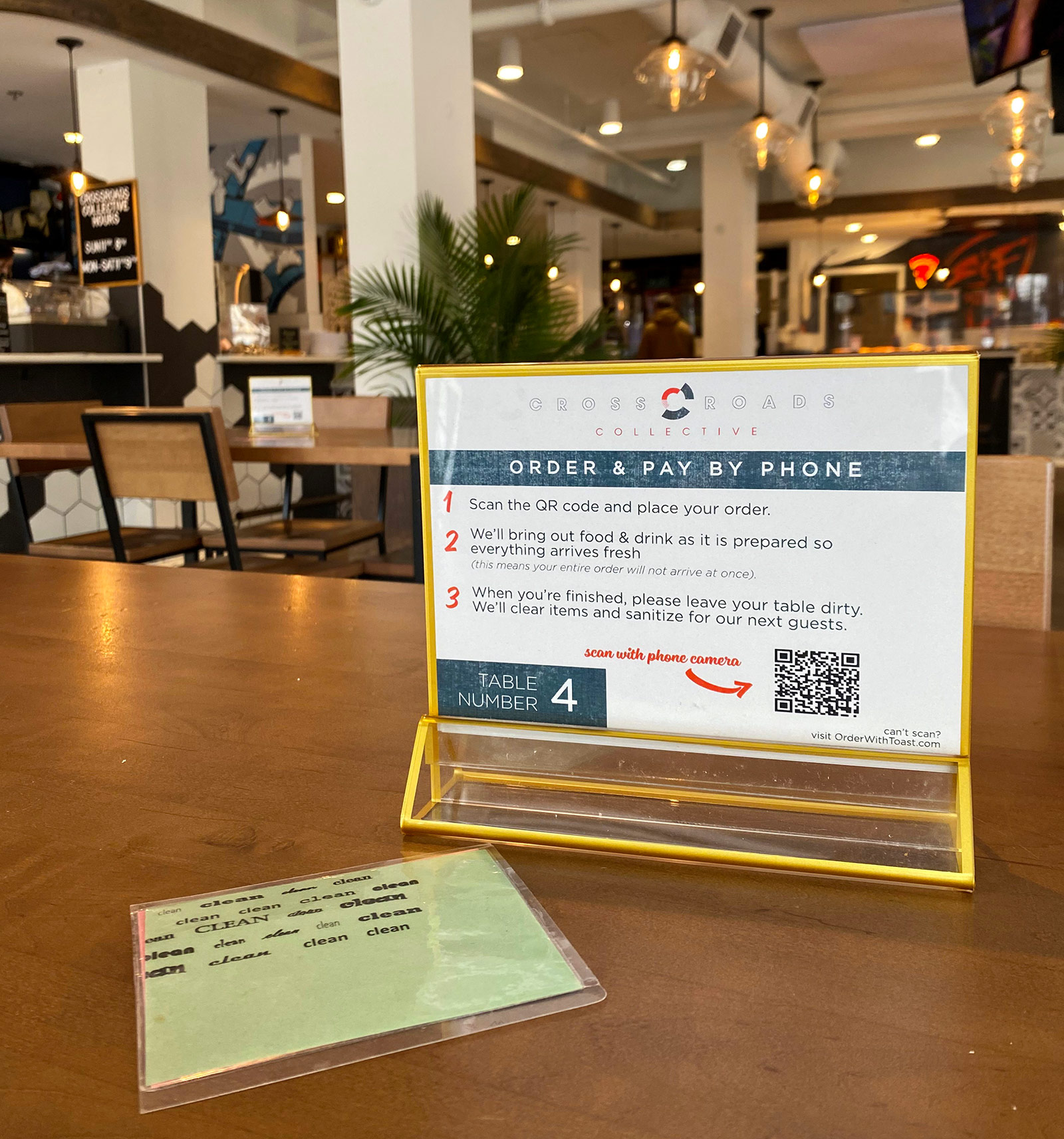 Crossroads coordinated with the City Health Department to implement a COVID-19 safe operating plan, but they kept looking for ways to go further. They implemented a tool that allows diners to view the menu and pay by phone.
"Knowing that one day patio season would come to an end, and more people would be coming inside, we wanted to do more than the operating plan required," she says.
New Land Enterprises also began researching air cleaning technologies in June, but at that time, many options were being floated. They started with opening windows and doors where possible, as well as increasing their indoor fresh air exchange as high as possible, given the limits of their HVAC system and outdoor air temperatures. They installed "MERV 13" air filters, which use ultra-fine filtration to capture airborne pathogens (an effective move when the HVAC system is newer and strong enough to continue to operate efficiently when pushing air through such a fine filter).
With consultation from Direct Supply, Automated Energy Solutions and feedback from the Medical College of Wisconsin, Crossroads also selected a technology called "Needlepoint Biploar Ionization" for installation in the food hall, as well as some of its own offices apartment common spaces.

"The ionization prcoess cleans the air in two ways," says Bob Skaggs, maintenance director for New Land. It causes small particles, like dust and pathogens, to attract each other and cling together. When they do that, they either get heavy enough to fall to a surface which is easily disinfected or, if they didn't fall to the ground, they're now big enough to be caught with a less efficient filter.

The ionization process cleans the air. In addition to that, the science has indicated that what small particles do remain in the air, are neutralized and made to be no longer infectious."

Bipolar Needlepoint Ionization is already active in places like the Crossroads Collective, which aims to keep patrons healthy, satiated and warm through the indoor dining season.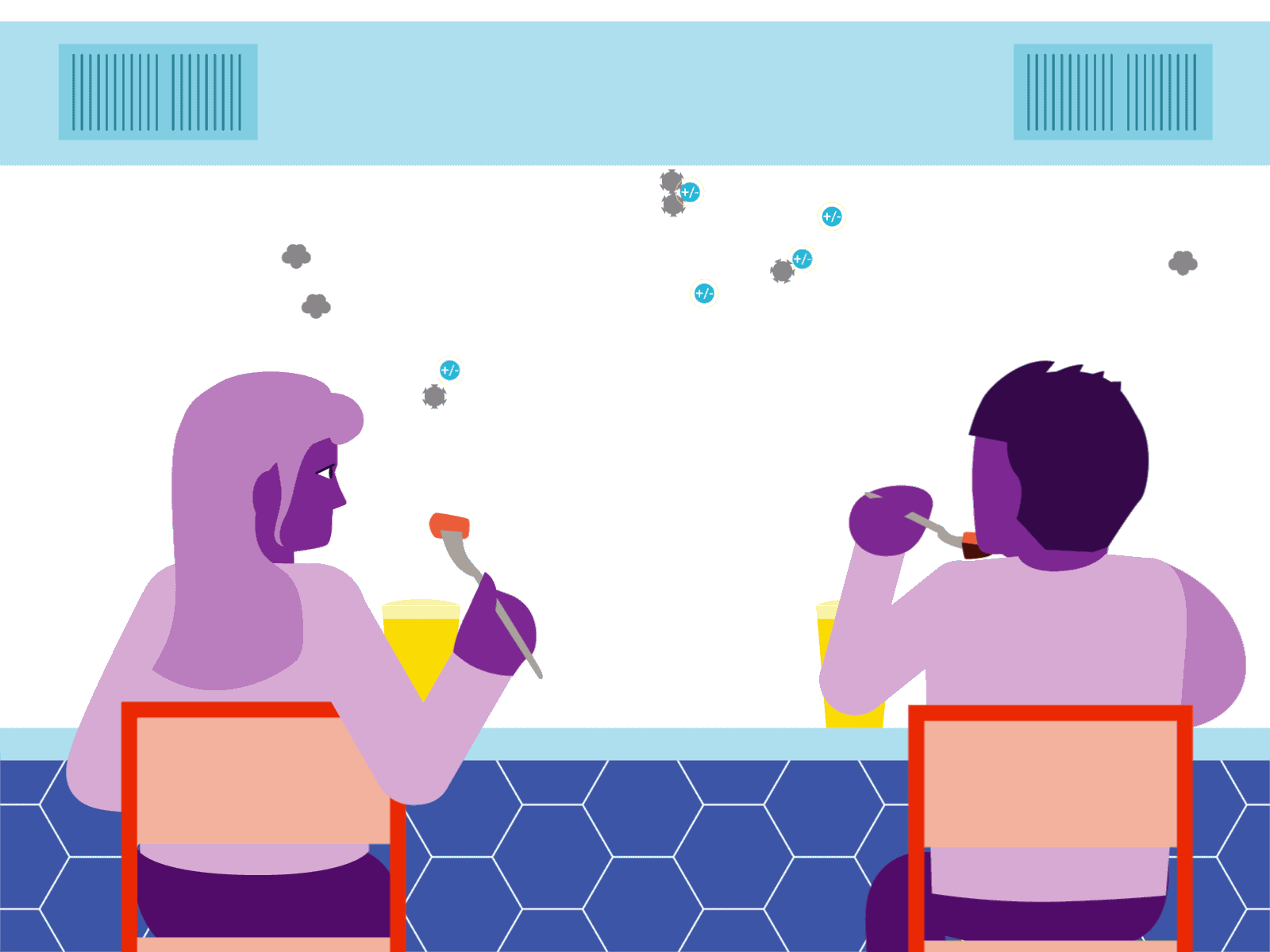 Solutions both large and small
At venues like The Packing House, which has become a local fixture for its supper club environs and popular Friday night fish fry, creating a safer environment has been part of an overall plan to win back the business of an increasingly safety-conscious customer base.
"It's been tough," says General Manager Chris Wilken. "We've lost a lot of business over the last year, from regular dining customers to holiday gatherings. And part of the way we bring people back is by showing them we're doing all we can to keep them safe."
Wilken says they've done so with a multi-faceted approach that includes smart sanitation measures, mask-wearing, social distancing and HVAC mitigation.
"Restaurants are sanitary places overall," he says, "but adding air-filtration to an overall sanitation plan really makes it a more effective overall. In that sense, we really believe that we've done everything we can to create an environment that keeps people as safe as possible."
The restaurant utilizes three separate HVAC systems, all of which were replaced two years ago. In recent months, they've also added a UV-light filtration system in each unit, which filters the air coming into the system, eliminating particles (including viruses). They have also upgraded their furnace filters to include HEPA filtration and have committed to changing them monthly.
"One of the other things we can do is use the dampers on our HVAC units," says Wilken, "which allow us to circulate fresh air from the outdoors every few minutes, rather than recycling the air inside the restaurant. It makes the system work harder, which is costlier, but it's also safer for our guests and employees."
He hopes the investment will have benefits that extend far beyond the pandemic.
"I think long term, this makes a lot of sense," Wiken says. "During the winter months, we deal with people getting sick and passing cold and flu viruses along to other people. And there the hope is that we can reduce that transmission moving forward."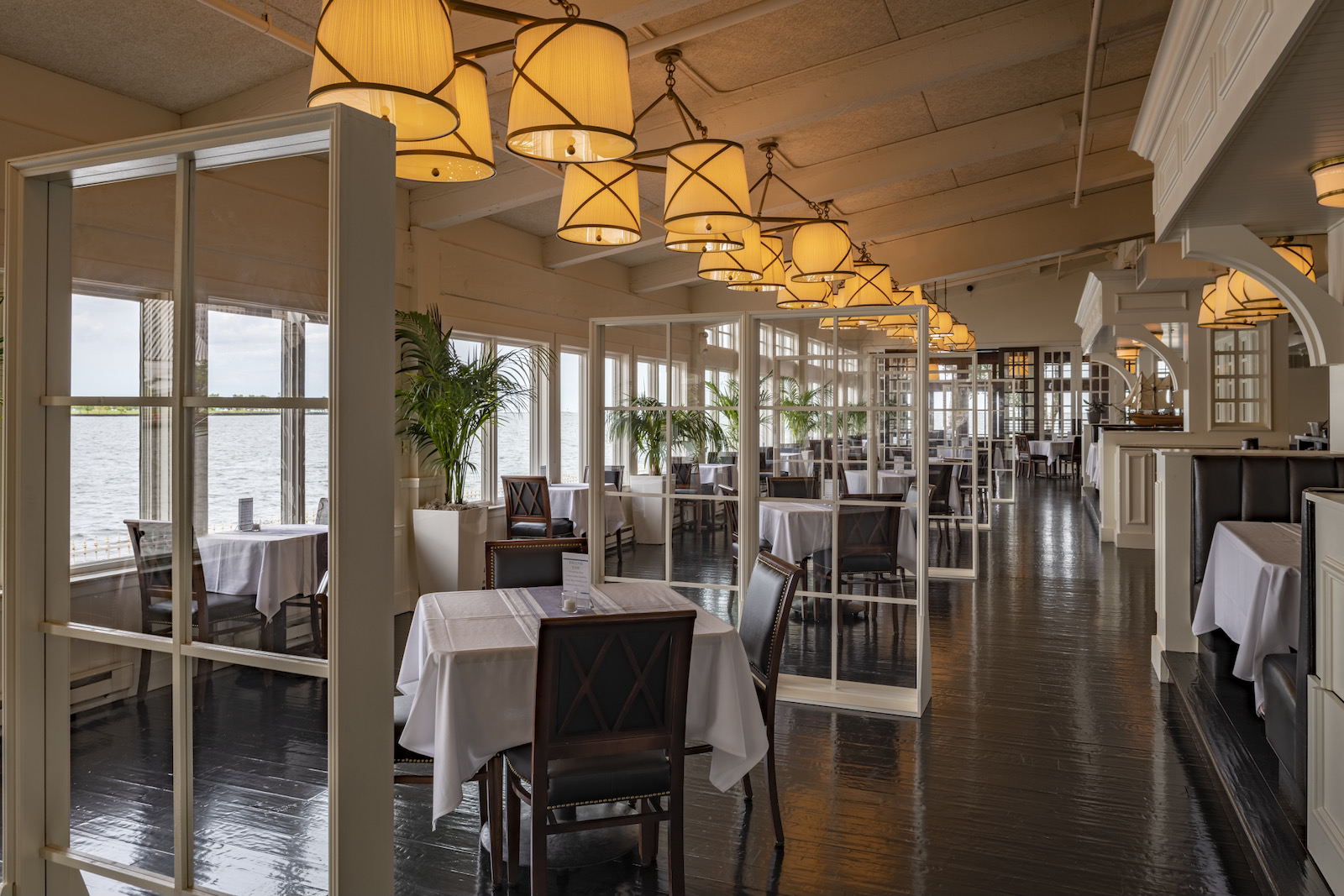 For large-scale operations like The Bartolotta Restaurants, safety has been at the forefront of planning the careful reopening of their 10-plus venues and catering operations.
"Air quality was an element in the multi-faceted health and safety policies and procedures that we took several months to create for The Bartolotta Restaurants as part of our reopening strategy," says owner and co-founder Chef Paul Bartolotta.
"As we contemplated our COVID-19 plan, we thought through how the plan would impact the indoor season, which drew our attention to improved HVAC solutions. From our perspective, this is part of following the best practices possible and upholding our philosophy on high standards. The health and safety of our guests and employees remains our highest priority, and following CDC guidelines to improve air flow and air purity in our restaurants with increased spacing and ventilation is just one of the ways that we have invested in employee and customer safety."
To choose technology that best suited their goals, the Bartolotta facilities team worked closely with their HVAC provider, incorporating feedback from the Medical College of Wisconsin to select a Global Plasma Bipolar Ionization system, which works with their current heating and cooling units. They also upgraded their HVAC filters where applicable.
"While we are not experts on HVAC systems, air-filtration or bipolar ionization technology, our research and feedback indicates that the Global Plasma Bipolar Ionization System reduces particle circulation, provides pathogen control, and helps to eliminate dust and odors," notes Bartolotta. "This technology system provides benefits such as improved air quality in our restaurants by reducing air particulates while increasing the overall efficiency of our HVAC system. This helps us ensure we are providing our guests and employees with the best possible experience."
Yet, even smaller independently-owned bars and restaurants have put a great deal of thought into how they can more safely serve customers indoors. Among them is Lost Whale, a Bay View bar which opened in summer of 2018.
"Over the last 10 months, things have changed so much in terms of what we know about safety in our bars and restaurants," says Tripper Duval, co-owner of Lost Whale in Bay View. "As a business owner, the possibility of anyone getting sick at the bar is a serious matter. It's up to us as owners to ensure that we are doing as much as possible to keep customers safe. Our goal is to put people at as little risk as possible when they are in the confines of our space."
In addition to adding an extensive enclosed outdoor patio for guests, Duval says they spent a good deal of time researching what could be done to add to the regular sanitation and distancing measures they'd put into place inside at the local watering hole.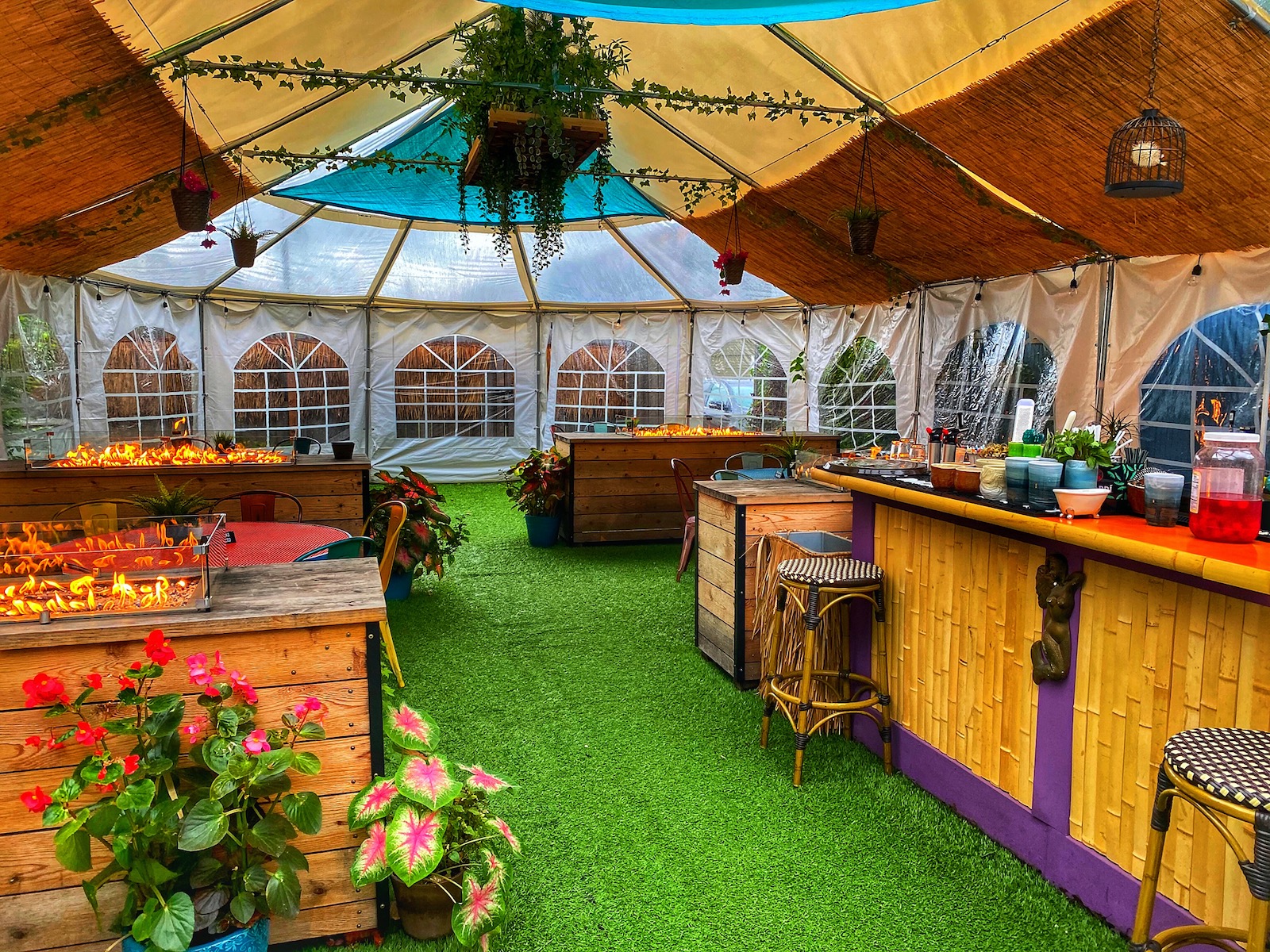 Ultimately, they decided to treat their entire HVAC system to a thorough duct cleaning and sanitization process, repairing any ducts that weren't air tight. To bolster the system, they also installed a UV light system within the ducts themselves, with the goal of killing bacteria, viruses and particles that pass through the system. And they've supplemented their HVAC efforts with regular applications of electrostatic spray, which works in tandem to kill airborne particles in the space itself.
"This isn't our building," he says. "So we did this of our own volition because we needed to feel we're doing everything in our power to keep both employees and guests safe. In the end, if I get more hours and less sick days from my employees, the investment we made will be well worth it."
Movies and shows in the new normal
When it comes to air handling, not every entertainment venue has the same needs, and the systems that they have can be enormous. For example, while the Oriental Theatre has three theater spaces and a lobby, Potawatomi Hotel & Casino has large open gaming rooms, smaller restaurant and bar areas, banquet facilities and hotel rooms, among other distinct areas.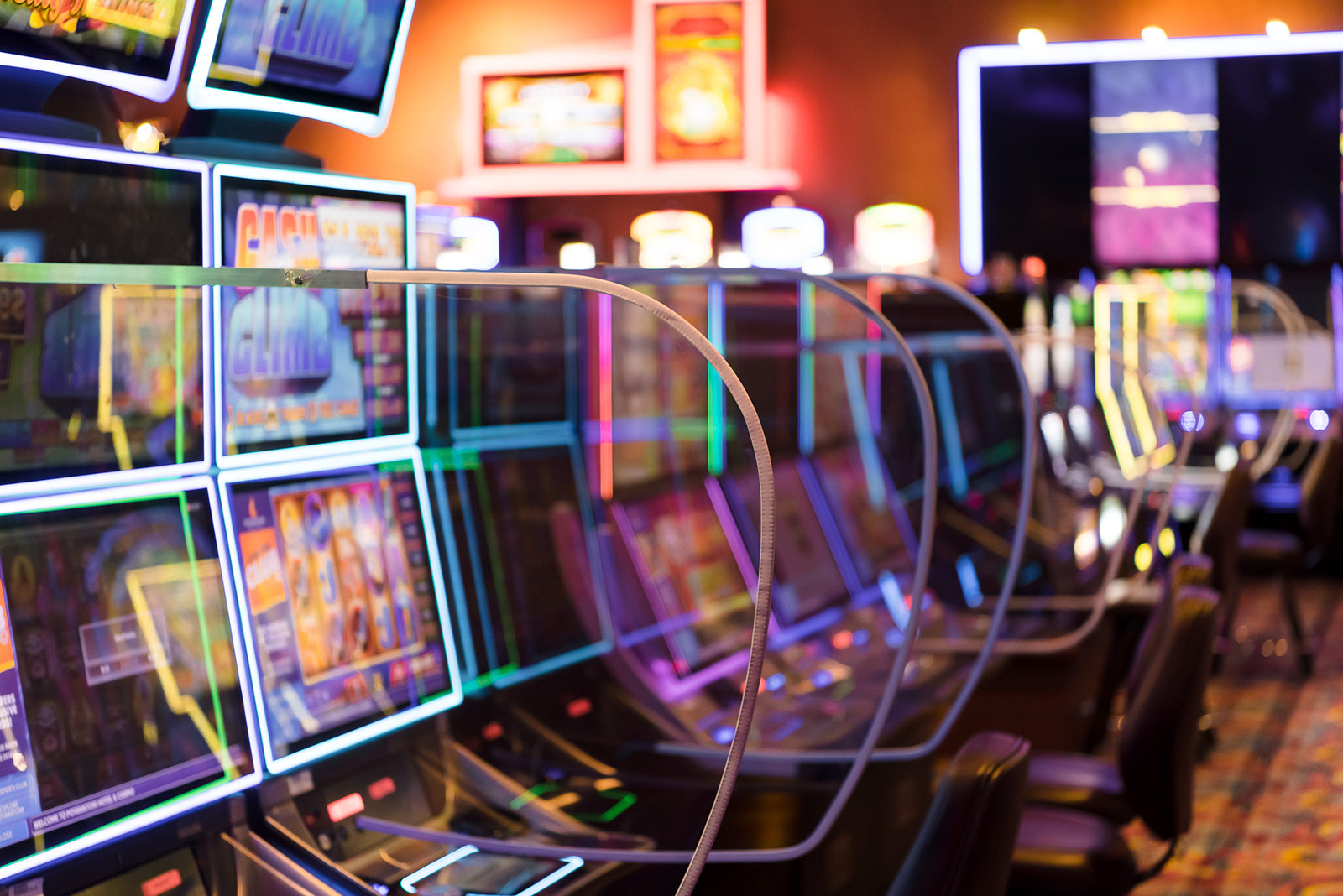 The ever-growing Potawatomi Hotel & Casino was built with modern HVAC systems, but the 1927 Oriental Theatre and the concert venues run by The Pabst Theater Group (which were constructed between 1882 and 1928) must find ways to retrofit such systems into historic buildings in a manner that is appropriate and sensitive as well as economical and effective.
However, in the end, they all face the same basic issue of circulating and cleaning the air to ensure the safety and confidence of guests, be they filmgoers, concert fans or blackjack aficionados.
"Scientists and healthcare professionals tell us that the most important things to reduce COVID-19 transmission are maintaining distance, limiting capacity, wearing face masks and avoiding public spaces when you're not feeling well," says Andy Helmkamp, cinema operations manager for Milwaukee Film, which operates the Oriental Theatre.
"But a close second to those would be creating more clean air exchanges in an enclosed space. These air exchanges improve air quality and reduce the likelihood of airborne transmission. Our approach at the Oriental Theatre is to use multiple measures for air exchanges, including pulling fresh air in from the outside and filtering air through various HVAC systems."
While Helmkamp says Milwaukee Film doesn't expect to open the Oriental Theatre to full capacity any time soon, he does believe that limited capacity opening could be on the horizon thanks to work its undertaking now.
"Since the first cases of COVID-19 were identified in Wisconsin, we began evaluating many different options to keep our venue safe for staff and patrons," he says. "With the recommendations from healthcare professionals and the CDC, we now believe Needlepoint Bipolar Ionization is the best option for our spaces. This system creates an ionization plasma field that keeps unit coils clean and treats air inside the building."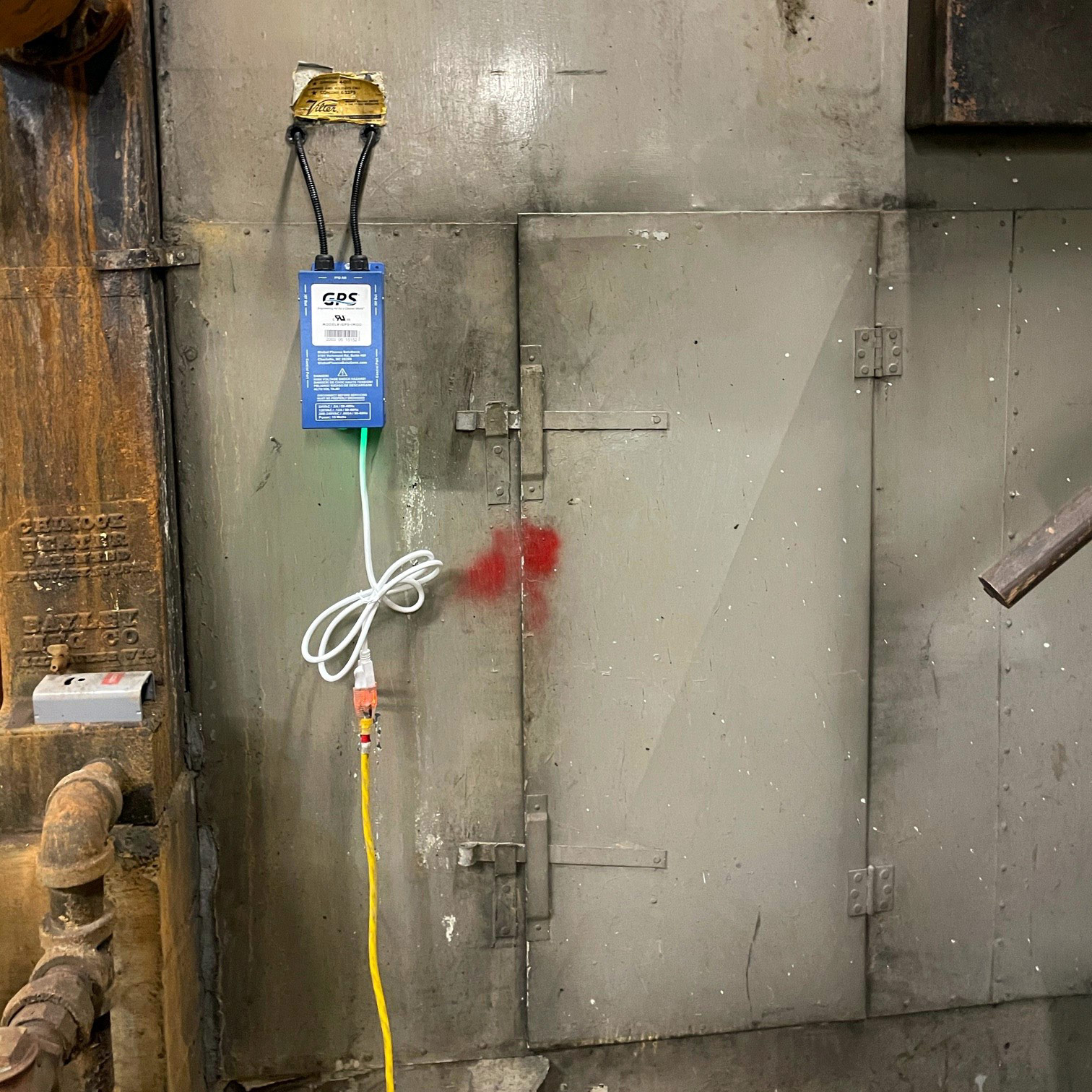 Such a system is now being installed in all three of the Oriental's auditoriums and is expected to be fully-functional and tested by the time they reopen.
The fact that the Oriental has been undergoing profound renovations during the shutdown has presented an opportunity, says Helmkamp, for Milwaukee Film to dig deep into the variety of options available and to install a system more easily into its historic building, erected in 1927.
"The new phase of renovations at the Oriental Theatre created an opportunity for us to explore the installation and operation of these systems," he says. "Today, we're happy to say we're in the process of installing this system for all our screens."
The Oriental will have a system that encompasses 23 separate needlepoint bipolar ionization devices that serve the three auditoriums, restrooms, the lobby, project booths and other spaces, says Helmkamp, who adds that prior to installation, workers undertook "significant" duct cleaning, too.
"In some ways, we're lucky with how the theater's air exchange works," says Helmkamp. "In the main house, there's already an option for us to draw in a large amount of outside air quickly. There's also a large air duct that gives ideal placement for the filtration systems.
"The east and west theaters are slightly more complicated, but with the ongoing renovations and the smaller size of their HVAC systems, our vendors feel confident in the installation."
The Pabst Theater Group knows a thing or two about historic venues, considering its events are held in four buildings that were constructed before 1930.
"Even though our facilities are old and historic, we are fortunate that they are equipped with very large-volume fresh air intake systems, with matching exhaust air systems," says Executive Director Gary Witt. "This is likely because true air conditioning, as we know it today, was non-existent when our venues were built.
"Today we will take advantage of these systems to improve our air quality by bringing in fresh air continuously while exhausting germs. In addition, the Pabst and the Riverside Theaters are large spaces with 90-plus-foot ceilings, which offer the added benefit of space for air flow, whether at limited or full capacity."
Thanks to renovations made in 2007, says Witt, the system at Turner Hall Ballroom is already up to the task, providing plenty of fresh air exchange. MERV 13 air filters are being installed there, based on ASHRAE Epidemic Task Force recommendations. Witt says the same recommendations are being followed at the Pabst and Riverside Theaters.
"Our Facilities Engineer Joe Huser has been working on different systems and options for both of our historic theaters, The Pabst and The Riverside," says Witt. "We are adding increased filtration by updating our filtration systems utilizing MERV 13 air filters as well as changing the operation of our fresh air intake so that it is at its maximum capacity during occupied times, increasing the volume of fresh air into our facilities.
"We feel these changes to our HVAC system are necessary to ensure the health and safety of our staff, guests and performers."
Hotels consider the overnight experience
Meanwhile, over at Potawatomi Hotel & Casino in the Menomonee Valley, the air filtration system already installed in the complex is more powerful than many, according to Facilities Director David Brien.
"Air filtration has always been important to us, and something we've invested heavily into – even prior to 2020," he says. "The air filtration system we have in place was, and continues to be, powerful enough to help with challenges that accompany COVID-19. We filter air from both the outside and recirculated indoor air to basic surgical suite standards
"With this system, we can filter particles as small and smaller than COVID-19. Additionally, we employ ultraviolet lighting which kills bacteria. We also use photocatalytic oxidation in our major air handlers which is also able to kill bacteria as well as take odors out of the air. "
Because of the efficacy of its current system, Brien says that Potawatomi is planning any changes, though he adds, "We're always looking at new technology, but we're confident in the system we currently have in place."
But he does offer a key reminder that facilities can do a lot in terms of upgrades, but guests still need to take measures to ensure their own safety, too.
"While we take all of these steps, no system is 100 percent effective," he reminds. "We can't filter the air until it goes through our filtration system, which is why we're very strict about mask wearing and social distancing."
Air quality is also on the mind of smaller inns and independent properties.
"Safety has been at the forefront of our minds throughout the process of building and rehabbing the Dubbel Dutch," says co-owner Andy Braatz of Braatz Building. "We believe it is of the utmost importance to provide guests with the safest possible environment utilizing the best equipment available. As a truly public space, we wanted to protect all who enter as best as we can."
To do so, Braatz says that the hotel has implemented two types of HVAC systems, plus add-ons which boost their air-purifying qualities. Each of the 17 hotel rooms is equipped with an individual VRF unit (variable refrigerant flow) which allows for not only individual temperature control, but eliminates the sharing of air between rooms.
Meanwhile, the first floor common areas are heated and cooled with a forced air system, which draws fresh air from the outside. The unit is bolstered by an Eco Sun 2000 UV light system, which eliminates pathogens and viruses by damaging their DNA; a Tri-Fecta Purification System which uses UV light in tandem with charcoal filtration to create photocatalytic oxidation to neutralize air particles and keep the HVAC unit clean; and a Pure Air Ionizer which releases charged particles into the air that encourage microscopic particles to cluster together so that they are larger and more efficiently expunged by the air filtration system.
Braatz notes that the systems they've implemented are readily available and tools that any hotel could use to improve the safety of their quarters, but admits that the Dubbel Dutch was at some advantage, since a portion of the build-out was completed after the pandemic had begun.
"Given our current climate in the hospitality industry, we wanted to step out to front and invest in our indoor air quality," he says. "We want to protect both our employees and guests with the latest technology available."
Braatz also says he's certain the investment will pay off for the future.
"Air quality in the building world is a code issue first and foremost; but we made upgrades that we felt were worth the time and energy, not only for COVID-19, but also to combat common airborne pollutants and allergens that come along with an 120-year-old building. And I think we'll see benefits from that for years to come."
Rethinking apartment and office life
The recently-constructed Downtown highrise apartment building, 7SEVENTY7, is also making major changes to make its residents feel safer. The building, owned by Northwestern Mutual and operated by Bozzuto Management Company, began communicating its plans as early as last February, according to property manager Lauren Schramka.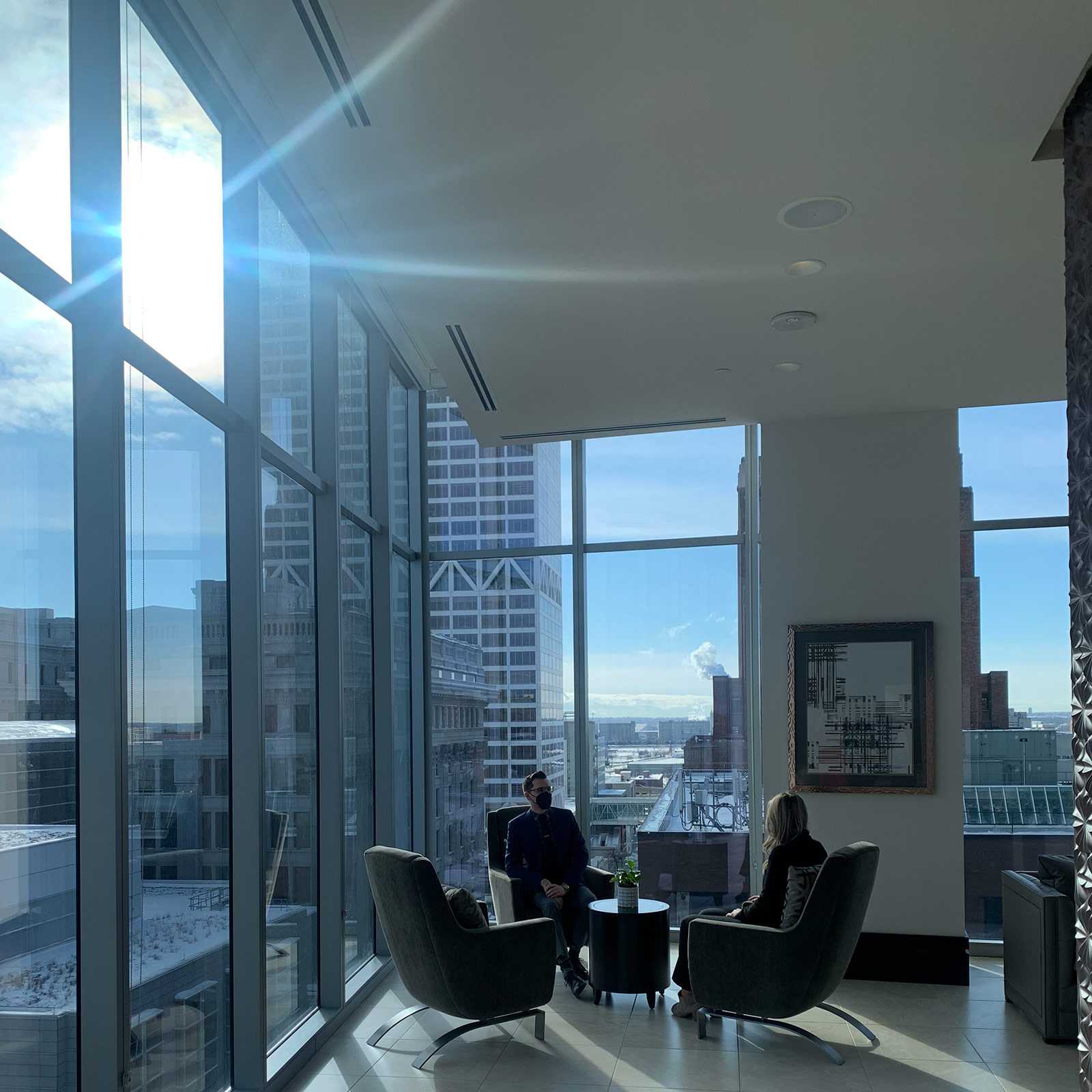 "The onset of COVID-19 undoubtedly changed the apartment industry and evolving resident concerns and expectations, which required Bozzuto to build upon our already high standards of maintenance and customer service," says Schramka.
Ultimately, management also chose an air cleaning system by Global Plasma Solutions, which introduces ions into the space via the airflow in their ventilation systems. Fortunately for them, the building is quite new, but it still has a unique air handler and exhaust system. With almost 500 residents, they decided to install the system in their lobby and communal areas.
Says Schramka, "We met with many companies to discuss options for our community, this ionized air system was the best fit for us, providing the largest positive impact to our residents and employees."
Of course, it's still complicated for a building like 7SEVENTY7, where residents chose this luxury community for the amenities, including large, in-person events. While they moved many events to a virtual setting, Schramka says that the combination of technology and best practices position the property for life after this pandemic.
"We want our community, especially our amenities and common areas, to be gathering spaces for our residents and their guests," she says. "By making these preventative efforts now, we will be creating a space for our residents to feel even more comfortable in the future."
At the CityCenter at 735 office building, where OnMilwaukee calls home, Todd Greenwald, vice president of real estate operations, says the property is undergoing a complete building retrofit. In addition to cleaning protocols, they boosted the air exchange to maximum and installed MERV 13 filters everywhere. Even in a 100-year-old building, their systems can handle it.
"It's not ideal though," says Greenwald. "More energy is used when you use these kinds of filters. So we're looking to NBPI next. We haven't ruled out other tech, or using various solutions in combination, but for now, we're confident this is effective and available, so we need to get going."
Greenwald says he understands the companies are pivoting to a more flexible work environment, but there will always be reasons to head into the office.
"Isolation isn't good for the human condition," he says. "We need interpersonal interaction and the workplace is a good and safe place to have that. We think people will be back, and when they do, it will be our job to not only make sure they are safe, but also, and maybe more importantly, help them feel safe."
"No one can guarantee health and safety especially during these times of ever-changing information," points out Schramka. "But we will continue to share with current and future residents all the initiatives that Bozzuto, Northwestern Mutual and our 7SEVENTY7 Milwaukee team takes every day to provide a sanctuary for our residents family."
Solutions from Milwaukee's own
Milwaukee-based Johnson Controls provides HVAC, fire and security systems and services for thousands of commercial buildings around the world. Now, the company is leveraging its systems integration expertise to provide very sophisticated COVID-19 transmission countermeasures for its Milwaukee headquarters buildings. The company has 1,500 manufacturing and branch offices around the world.
"We see a lot of value in investing in technologies that help employees feel safer about returning to our offices and factories," says Ward Komorowski, the company's vice president of enterprise property and security.
At its Milwaukee and Glendale headquarters buildings, all entrances have thermal cameras, and every employee entering the lobby is automatically scanned. If an employee has a high temperature, the security system immediately restricts access to the facility.
Johnson Controls employees have been issued a special fob connected to their employee badges. The fobs are monitored by short-range sensors that record employee movements, enabling very precise contact-tracing if needed.
To help enforce proper social distancing, the fob system alerts employees by text any time they stray closer than six feet from someone else for several minutes. The company's security office is notified of serial violators of the six-foot rule, so the issue can be addressed by the employee's supervisor. The Johnson Controls system is currently being modified to include vaccination data. If, in the future, two fully vaccinated employees stand closer than six feet, no alert would be generated since there is no chance for infection.
Komorowski says high-intensity ultra-violet treatment and ionization technologies are similar methods for eliminating contaminants in the air. The choice between the technologies is a function of cost, type of HVAC system, duct distances from the air handler to the occupied space and other building-specific factors. The large Johnson Controls headquarters locations in the Milwaukee area have used ionization technologies for many years, Komorowski says.
A healthcare professional weighs in
But do these mitigation technologies work?
Delaware-based Dr. David Glick has taken a keen interest in the research of keeping doctors and patients safe during a pandemic, especially when disinfectants and PPEs were in short supply. At the top of the discussion early on was the use of UV light, which is known to be antimicrobial. But it has significant shortcomings, which include limitations of line of sight and exposure times, not to mention potential dangers of UV light exposure, especially to one's eyes.
He began to investigate photocatalytic oxidation (PCO) technologies. "As a healthcare provider, the process made sense," says Glick. "The dangers and limitations of UV light exposure are addressed, the process did not rely upon chemicals or other VOCs, it generated a substance which has long since been known to destroy pathogens on contact, and the end result was water and carbon dioxide."
Eventually, he connected with a Texas company called CASPR, and now works for them as a consultant. Says Glick, "The CASPR Medik device had already been installed in a number of hospitals, and with data now demonstrating greater than 99% kill rates for the pathogens tested, and overall reduction in hospital borne infections by 53% in one hospital – which incidentally also recognized a 40% reduction in absenteeism."
He says CASPR has adopted their hospital grade PCO technology to address the needs of most every commercial and residential space, even elevators and transportation vehicles. The most recent report by the University of Wisconsin demonstrated a 99.991% reduction of SARS-CoV-2 after 1,440 minutes of exposure with the CASPR HVAC device installed and running in the background. 97.8% was achieved after 360 minutes.
"Personally I feel much more comfortable sitting in an indoor space that is actively minimizing aerosolized pathogens, as well as those that have settled on surfaces," says Glick. "The CASPR name describes the technology well: Continuous Air and Surface Pathogen Reduction."
What will make Milwaukeeans feel safe indoors?
Tim Gokhman, managing director of New Land Enterprises, says air quality will become an amenity to entice customers, residential and commercial real estate tenants.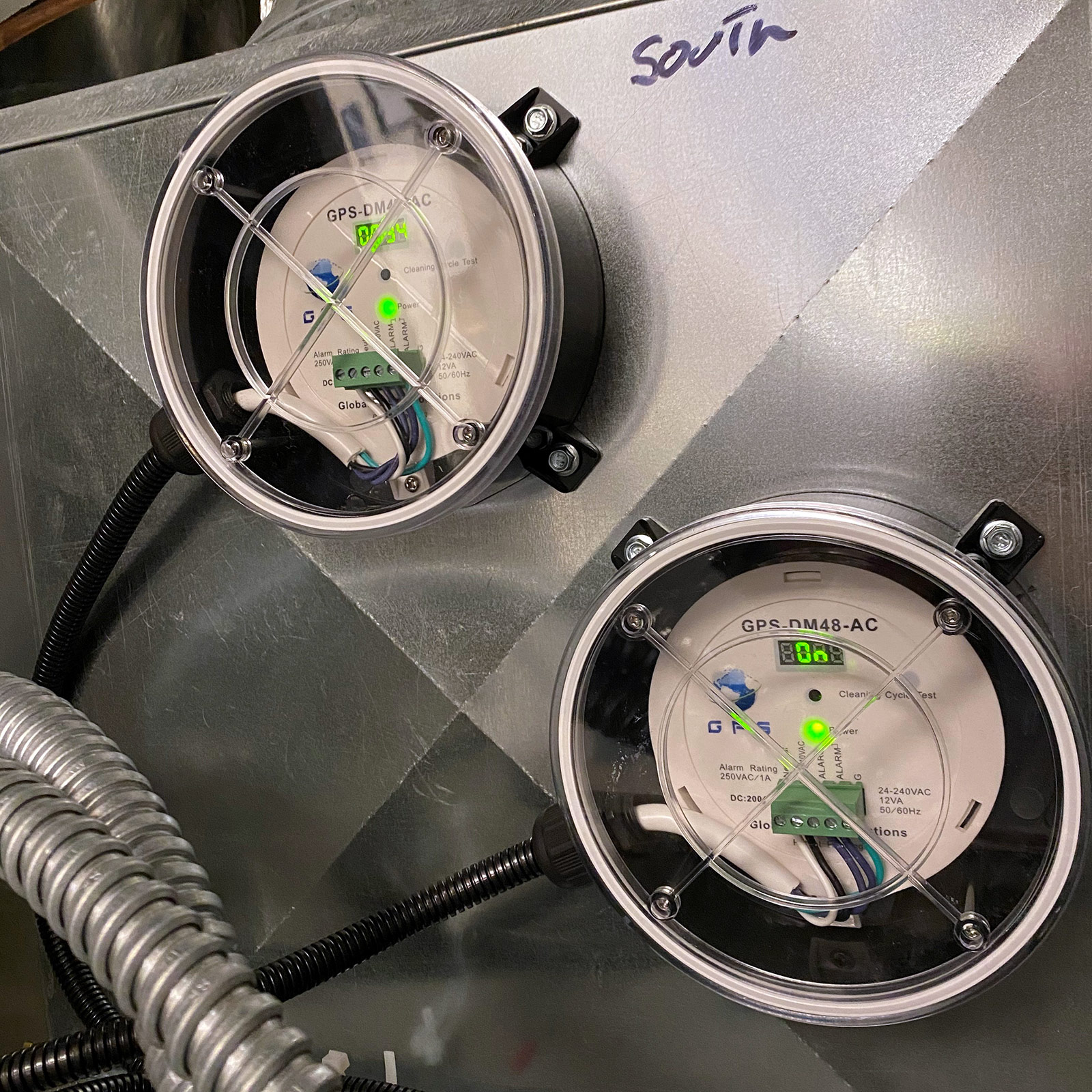 "As developers, owners and property managers, we've always wanted to make sure our buildings are safe," he says. "But no one was really taking it as far as they could to make sure wellness and remaining healthy was lumped into being safe. A lesson learned that won't need to be repeated."
And that extends to life after COVID-19, since this pandemic won't be the last.
Says Gokhman, "We want to be sure we're availing ourselves to the best available solutions to help keep the people in our buildings healthy, even if someone there happens to not be."
It will be an expensive and time consuming endeavor, but the EPA estimates we spend 87 percent of our life indoors.
Some of the technologies being implemented to help fight COVID-19 transmission can lead to higher energy and operating costs. The tiny holes in MERV 13 filters (2.5 microns or 0.0001 inch wide), for example, cause a greater resistance to air flow. That means that air handler fans have to work harder, and use more energy, to deliver required quantities of air to the occupied space.
Commercial buildings have traditionally maximized the use of recirculated air for energy efficiency reasons – it costs less to heat or cool the air already inside the building than it does to condition air from the outside. In response to COVID-19, the Center for Disease Control (CDC) recommends bringing in higher-than-usual levels of outside air to diffuse any virus concentrations inside buildings.
"It costs a lot more in energy, but compared to the costs of someone getting COVID-19 or not being able to come to work, it's a worthwhile trade-off," Komorowski, of Johnson Controls, says.
7Seventy7's Schramka agrees that safety outweighs expense.
"This is an easy one," Schramka says. "Our number one priority is the wellbeing of the community and residents. While I cannot say 'No expense is too high,' this was a no brainer to install with the positive data and information we have received from hospitals and other large corporations where this is already in use."
And, says Gokhman, building users will come to expect no less.
"Now that we've experienced life in a pandemic, apartment residents and commercial tenants will look to the spaces they consider moving to and will want to know if the building was built and is being run proactively," says Gokhman.
"If not, why not?" he asks.