Since the readership of this pizza blog has grown to double digits, I've had one or two folks offer their suggestions of pizzas I should try. Most of them I've already written about, but once in a while, I'll add a suggestion to my list, and sometimes I'll be intrigued enough to check one out.
Such is the case with Scotty's Bar and Pizza, 3921 S. Clement Ave. The key words "thin crust," "good pizza" and "small bar" were repeated by enough people that I felt a visit was warranted. I stopped in on a Saturday afternoon with a friend to find a full bar and an empty dining room. We grabbed a table and were soon greeted by Shay, a bartender who was playfully sassy and added fun to our dining experience. She was great!
Neither of the owners were there on my visit, but I was able to speak to Gary Tiedke by phone. He and longtime friend Marcie Rone bought Scotty's Bar and Pizza 15 years ago. Tiedke owned a bar in the past and currently owns a tile company that his son manages. Tiedke said Scotty's had such a great reputation, he felt it made sense to buy the business when it was for sale.
I peeked into the kitchen through the ordering window in the dining room and saw the two Blodgett ovens used to bake the pizzas that are made fresh. I was told that the pizza dough is made from scratch and delivered several times per week by Canfora Bakery, also located in Bay View. Canfora also makes the seeded French bread rolls that Scotty's uses for its burgers. In fact, most of the pizza toppings are sourced from local businesses, including vegetables from Layton Fruit Market and the Italian sausage made specifically for Scotty's by a local butcher.
There are two small dining rooms in the back and a game room adjacent to the bar. The walls are filled with old radios and other collectibles, such as clocks and metal signs representing gas stations, auto racing and classic cars. I literally enjoyed staring at the walls, while waiting for our pizzas.
Scotty's pizza options do not include any specialty pies, but you can build your own medium or large thin-crust pizza using any of the 10 toppings available. Cheese pizzas start at $10.90 for the 13=inch and $14.90 for the 17-inch. Additional toppings are $1.25 and $1.50, respectively.
The rest of the menu features appetizers, burgers, sandwiches, soups, nachos, tacos, shrimp, scallops, spaghetti and Gary's homemade lasagna. Each night features a different special, such as the Friday fish fry with cod or perch and homemade potato pancakes and their popular chicken fry on Saturdays and Sundays. Scotty's Bar and Pizza also offers a children's menu for kids 12 and under which includes a mini pizza, grilled cheese, chicken nuggets, hot dog, mac 'n' cheese and SpaghettiOs.
We ordered a sausage, mushroom and onion pizza as well as a pepperoni pizza, which arrived as a pepperoni and mushroom pizza. It wasn't a deal breaker though, so we didn't send it back. I'll accept responsibility for that one for ordering it as "cheese and pepperoni" while not listing the cheese when I ordered the sausage, mushroom and onion. She likely thought I ordered a second topping that sounded like mushroom. I should have just said pepperoni; my bad. The important take away here is that Shay felt bad and discounted the pizza for us.
The crust on both pizzas was almost perfect for me, very thin with a crispy cracker texture and no cornmeal. Kudos to Canfora Bakery on the pizza dough they make for Scotty's!
Both pies were topped with the same sauce, which I found to be a bit on the spicy side – the way I like it – and there was definitely the right amount of sauce applied. I had sauce all around my mouth after each bite! That's what I'm talking about! Like most pizzerias, Scotty's adds its own seasoning blend to a canned base.
The pepperoni and mushroom pizza looked a little strange to me because I've never had a pizza with just pepperoni and canned mushrooms. I've had pepperoni and onion or pepperoni and fresh mushrooms, however, which actually looks good together.
Even though I'm not a fan of canned mushrooms, these were fine. The pepperoni was good. It was slightly spicy – I would not have minded a spicier pepperoni – but I liked it. The pizza was good, but I think it would have been better without the canned mushrooms.
The sausage, mushroom and onion pizza – or as some places call it, the "Milwaukee Special" – was also good, but again, I would have preferred fresh mushrooms. I think for me, it's more about texture and appearance. Canned mushrooms look like slices of grayish, wet rubber and feel a little slimy in my mouth. Sometimes they might taste better than fresh mushrooms, but I'll take the texture and appearance of fresh mushrooms over canned every time, especially on pizza.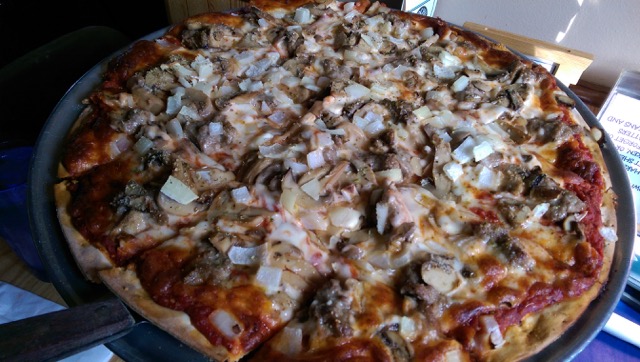 Despite the canned mushrooms, I enjoyed the pizza. The onions were diced thin, and the sausage was among the very best I've had on a pizza. The chunks of Italian sausage were large and tender, with a great flavor complemented by the mild taste of fennel seeds. The onions, canned mushrooms, sauce and Italian sausage all worked well together, but there is no doubt the sausage carried this pie.
After we finished, I looked over at the table next to us, envying those guests with the burgers on French bread and crinkle cut fries in the baskets. We had pizza left over, so there was no way I could eat a burger on that visit. If we had another diner or two with us, we would have ordered the chicken fry special, too. Do you see where I'm going with this?
I'm going back to Scotty's Bar and Pizza to get one of those burgers on seeded French bread. Then I'm going to go back again and get the chicken fry, and probably a fish fry another time. You can also bet that I will be going back for a sausage and pepperoni pizza. I hope that Shay is the bartender. I hope she reads this and sees I poked a little fun about the pepperoni and mushroom pizza. Most importantly, I hope she is in the same fun and sassy mood to dish it right back at me!
I was born and raised in Milwaukee, and I plan to stay in Milwaukee forever. I'm the oldest of three children and grew up in the Riverwest neighborhood. My family still lives in the same Riverwest house since 1971.

I graduated from Rufus King High School and the University of Wisconsin-Whitewater with a business degree.

My true passion for Milwaukee probably started after I joined the Young Professionals of Milwaukee (now called FUEL Milwaukee) which just celebrated its one year anniversary at the time. The events that I attended, and sometimes organized, really opened my eyes to what Milwaukee had to offer, as well as its potential for the future. So for the past, present, and future FUEL Milwaukee corporate sponsors out there, that organization does produce results (editorial)!

I love all of the Milwaukee Sports teams, professional and amateur. I love the Milwaukee arts scene and all of the festivals. I love that you can find a free concert in the summer just about every day of the week. I love the various neighborhoods around the Milwaukee area and the unique characteristics that they offer. I love the people who take the time to tell us about those unique characteristics. I have to hold my breath and count to ten when someone tells me that there is nothing to do in Milwaukee. Then I prove them wrong.

Most of all, I love the Milwaukee dining scene. I love how it continues to evolve with modern dishes and new trends while the classic restaurants continue to remind us that great food doesn't have to be "fancy schmancy." However, I also love the chefs that create the "fancy schmancy" dishes and continue to challenge themselves and Milwaukee diners with dishes we've never seen before.

Our media provides attention to the new restaurants, which is great, but I don't like seeing the older great restaurants close their doors (Don Quijote, African Hut) because they've been forgotten, so I try to do my part to let Milwaukeeans know that they're still out there, too. I do that through social media, online reviews, and a dinner club I run for my friends, where we visit restaurants they haven't heard of before or try ethnic cuisine they haven't had before.

My dream is that one day I can mention a great experience in Milwaukee and not have someone respond with "have you been to Chicago?" I don't like those people very much.