Around fifteen years ago, I worked in the Brookfield area. I used to explore Waukesha for lunch options after exhausting my options in Brookfield. At the time, a friend asked me if I ever visited Jimmy's Grotto, 314 E. Main St. in Waukesha. She spoke glowingly about it. I hadn't heard of it, but I visited soon after, and I hadn't returned until about two weeks ago.
I was at a party on July 3 that I attend just about every year. Another friend I hadn't seen in a while was there with her brother and the pizza blog came up. I told them I was closing in on the 100th pizzeria and narrowed my remaining list to two, one of which was Jimmy's Grotto. Her eyes lit up, and she began to share how she and her brother grew up with the ponza rotta from Jimmy's Grotto.
A summary of the history of Jimmy's Grotto can be found on their website, but I found an important piece of the history in a framed article written in 1996 from the Waukesha Freeman that hangs on a wall near the restrooms in the dining room. More on that later.
They seemed to be out of paper menus when we arrived. The five of us shared one and used the new menu boards hanging behind the counter when we ordered. Interestingly enough, the designer of the new menu boards happened to walk in while we were ordering. I met her at a business networking event several years ago. I guess "Smallwaukee" extends to the suburbs, too. Anyway, the menu consists of appetizers and side orders, sandwiches, chicken, shrimp, fish, and spaghetti dinners, pizza, and ponza rottas.
Pizzas are available on thin or hand-tossed crust in 12, 14 or 16 inches, with cheese pizzas ranging $10.30 to $13.30 and extra toppings ranging $1.30 to $1.80. Specialty pizzas include a veggie, taco and deluxe pizzas ranging from $15.30 to $24.10.
When I visited, I went with my friend and her brother who grew up with Jimmy's Grotto, as well as a couple of other friends, one fairly new to Jimmy's Grotto and the other who also grew up with it.
We started with an order of breaded and deep fried green pepper rings and garlic cheese bread. The pepper rings were unique. They had a good flavor and weren't over powering. The garlic cheese bread was a hit. Crispy bread with a soft center was topped with a thick layer of mozzarella cheese; but what stood out to me was the flavor of the garlic. It's rare that I actually taste the garlic in garlic cheese bread. This was among the best garlic cheese bread I've had in town.
We all placed orders for ponza rottas, but I also ordered a thin crust sausage and pepperoni pizza because this is a pizza blog.
They called my number for the pizza, and I was disappointed to see it was in a box. They assumed the pizza was to go, but also assumed the ponza rottas were for dining in, so they were half right.
When I opened the box, the pizza looked like they dropped it, but I don't think they did between the oven and the 10 steps it took to get to the counter. The toppings were mostly on one half of the pizza, and the slices were shuffled out of place a bit. I don't know which photo our editor will use, but I'll admit that none of the photos look very good because frankly, the pizza didn't look very good. The pizza did taste a little better than it looked.
The crust was slightly crisp at the edge but mostly soft with plenty of corn meal underneath, an element of which I'm not a big fan though I know some of you are. The cheese was applied generously, but the sauce was scarce. I couldn't find a trace to isolate and taste. Were it not for the reddish hue I saw on the crust when I peeled back the cheese, I would have guessed they forgot the sauce.
The pepperoni was on the mild side, but the slices of Italian sausage had a slight tang, and the fennel seeds were clearly visible, for which I'll give a point. It's not a pie I would go back for, but maybe the hand-tossed pizza is better.
The ponza rotta, however, is why people come. The restaurant was steady and carry-out orders went out the door in waves. The boxes were small, so it was ponza rottas being ordered, not the pizzas.
I was the only one in our group that didn't order a ponza rotta with pizza toppings. Since I ordered a pizza, I opted for the taco ponza rotta, which is essentially the taco pizza in ponza rotta form.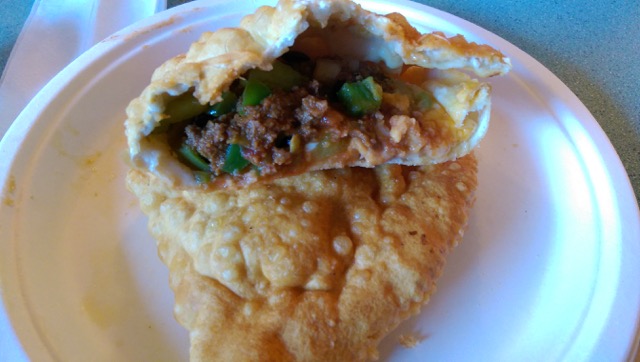 For those who don't get to Waukesha and don't know what a ponza rotta is, I'll tell you. Think of a calzone, except it isn't baked. The pizza dough is filled, folded and deep fried. It looks like a big empanada but has a much lighter textured shell.
When I cut into it at the center, I found it filled with a little mozzarella cheese on one side, seasoned ground beef, diced green peppers and onions, cheddar cheese, black olives and a little salsa on the other side. I liked it, but I liked my friend's ponza rotta with sausage, pepperoni and onions better. While there is a Philly cheesesteak ponza rotta I'd like to try on a future visit, the traditional pizza toppings seem to be the way to go.
The ponza rottas come in one size and sell for $4.65 for cheese plus $.75 for additional toppings. Specialty ponza rottas include taco; Philly cheesesteak; veggie with cheese, canned mushrooms, black olives, onions and green peppers; and the deluxe, which is a veggie with sausage and pepperoni added.
So where did the ponza rotta come from? The framed article that I read on the wall explains that the original owners of Jimmy's Grotto were Jimmy and Rosie Rucci, who opened in August 1946, and did so by tearing off the top story of their brick home and reassembling it next to the house as a small brick building. That building became Jimmy's Grotto.
In 1958, Mr. and Mrs. Rucci turned the business over to their son-in-law, Rocky Werning, who brought in his brother Dick Werning as a partner in 1971. In 1972, Rocky left the business, and Dick and his wife Bobby took on new business partners in Dick and Lucy Obodowsky. They owned the business until they retired in 2003, and long-time store manager Doug Ciampa took over the business.
The story states that Rosie continued to cook after she left the business and would occasionally visit Jimmy's Grotto with treats in hand. In 1976, she brought in a pastry filled with tomato sauce and ricotta. The staff loved it and worked to recreate it. Since they didn't have ricotta, they used the cheese they had on hand for the pizzas and later added toppings as filling, and the ponza rotta, which is a trademarked name, became the top selling staple for the business.
You can Google the ponza rotta and find the southern Italian panzerotti and ways to make very close variations on YouTube, if you are so inclined. I choose to leave it to the professionals. One of the friends who joined on this visit just heard about the ponza rotta a few months ago from a co-worker at her job in Waukesha, and she is hooked. So, if you haven't had a ponza rotta and want to try pizza in a different form, give it a shot. You might get hooked, too.
Some of you may want to sit down for this next part. I don't know which ones, so play it safe and sit down when you read this next part in case you're one of the seven people who actually like reading my pizza blog. I wasn't sure how long this pizza blog would last, but I didn't think I'd write about 100 different pizzas in just over four years. I made a decision six months ago to stop at 100 pizzerias, and I let my OnMilwaukee editors know. Jimmy's Grotto is that 100th pizzeria.
After the first 50 pizzerias, I wrote a blog to summarize those visits. Next month, I'll write another summary of the last 50 and maybe highlight a few of the first 50. So, technically I will have written 102 pizza blogs, which seems like an odd place to stop, but that's how it worked out. I hope you'll click on the blog one more time next month so I can formally thank you. And I hope you're eating a slice when you do.
Jimmy's Grotto is open Monday through Thursday from 9 a.m. to midnight, Friday and Saturday from 9 a.m. to 1 a.m. and Sunday from 11 a.m. to 10 p.m.
I was born and raised in Milwaukee, and I plan to stay in Milwaukee forever. I'm the oldest of three children and grew up in the Riverwest neighborhood. My family still lives in the same Riverwest house since 1971.

I graduated from Rufus King High School and the University of Wisconsin-Whitewater with a business degree.

My true passion for Milwaukee probably started after I joined the Young Professionals of Milwaukee (now called FUEL Milwaukee) which just celebrated its one year anniversary at the time. The events that I attended, and sometimes organized, really opened my eyes to what Milwaukee had to offer, as well as its potential for the future. So for the past, present, and future FUEL Milwaukee corporate sponsors out there, that organization does produce results (editorial)!

I love all of the Milwaukee Sports teams, professional and amateur. I love the Milwaukee arts scene and all of the festivals. I love that you can find a free concert in the summer just about every day of the week. I love the various neighborhoods around the Milwaukee area and the unique characteristics that they offer. I love the people who take the time to tell us about those unique characteristics. I have to hold my breath and count to ten when someone tells me that there is nothing to do in Milwaukee. Then I prove them wrong.

Most of all, I love the Milwaukee dining scene. I love how it continues to evolve with modern dishes and new trends while the classic restaurants continue to remind us that great food doesn't have to be "fancy schmancy." However, I also love the chefs that create the "fancy schmancy" dishes and continue to challenge themselves and Milwaukee diners with dishes we've never seen before.

Our media provides attention to the new restaurants, which is great, but I don't like seeing the older great restaurants close their doors (Don Quijote, African Hut) because they've been forgotten, so I try to do my part to let Milwaukeeans know that they're still out there, too. I do that through social media, online reviews, and a dinner club I run for my friends, where we visit restaurants they haven't heard of before or try ethnic cuisine they haven't had before.

My dream is that one day I can mention a great experience in Milwaukee and not have someone respond with "have you been to Chicago?" I don't like those people very much.