Once again, Suzzette Metcalfe, owner of the iconic Pasta Tree restaurant, launched "International Women's Series." The year-long event celebrates a different woman in the community every month by offering a dish that is meaningful to her and with a portion of proceeds going towards a charity of her choice.
This year, organizations that will benefit from the sale of these special dishes are the National Kidney Foundation, Planned Parenthood, Pearls for Teen Girls, National Institute of Mental Health, The Women's Fund, Core El Centro, Ronald McDonald House and more.
I am honored to be one of the women Suzzette asked to participate in this heartfelt series. Recently, I had the pleasure of doing a trial run with Suzzette of the dish I chose for my special evening in October: baked polenta with sausage and artichoke hearts. I picked this dish because my Italian grandparents made a plethora of polenta dishes during my childhood. I'm also a huge fan of Pasta Tree's artichoke cream pasta dish, so when I saw a recipe that combined polenta with artichokes, I was all in.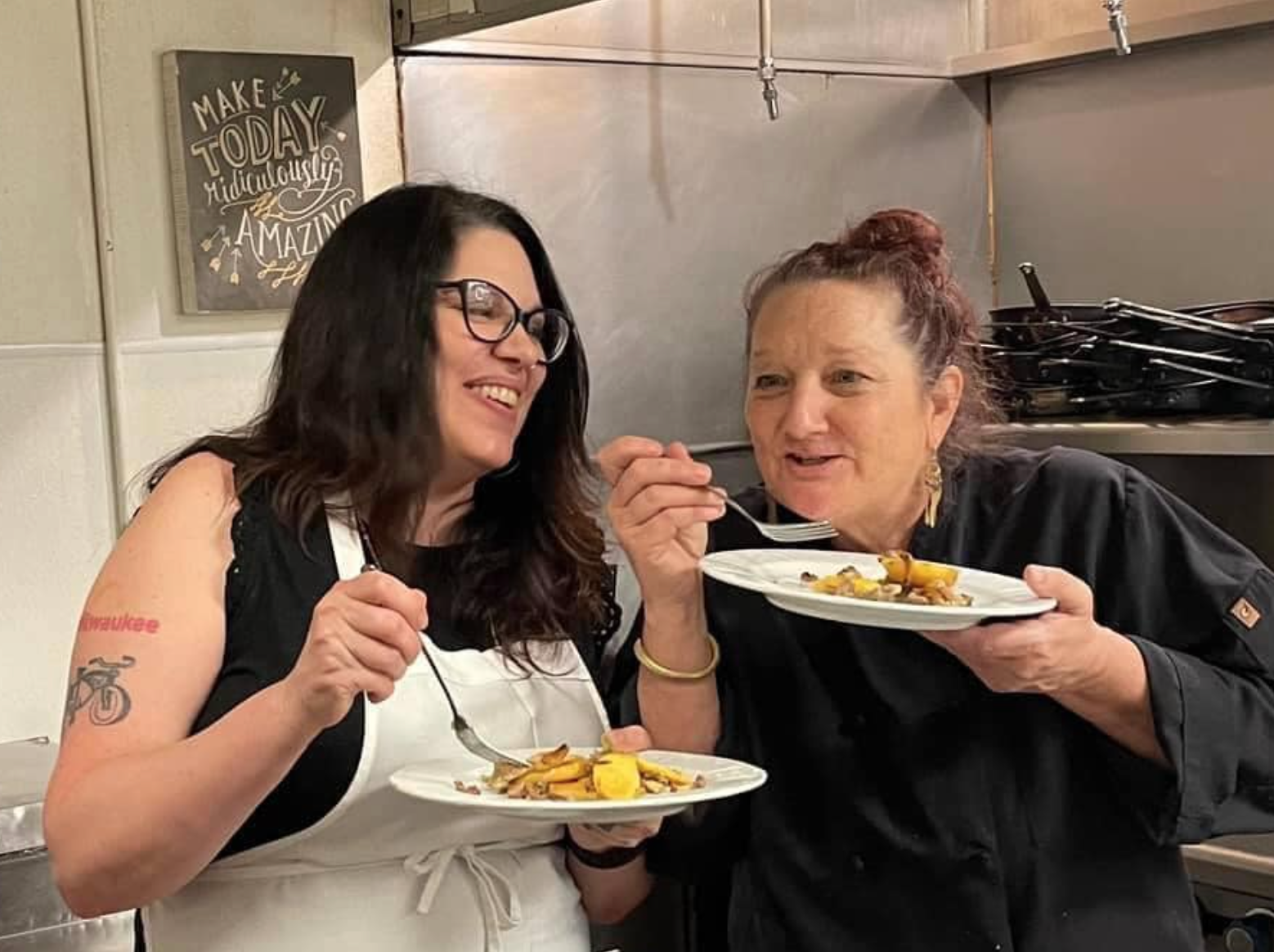 Here is a full list of the upcoming dinners, including the woman who is presenting the meal, what the meal is and the charity highlighted that evening. Make a reservation for one or more of these wonderful evenings by going here.
And as my nonie used to say, "Mangia!"
Wednesday, June 16
Presenter: Karen Hager, pastor at Tippecanoe Faith Community
Charity: Art & Science Literacy Camps
Entree: Summer vegetable risotto
Wednesday, July 15
Presenter: Tammy Johnson, Cornerstone Health & Business Coach
Charity: Care Net
Entree: Tenderloin sandwiches
Wednesday, Aug. 10
Presenter: Elizabeth Kay, Radio and podcast host; kidney donor
Charity: National Kidney Fund of Wisconsin
Entree: Lasagna
Wednesday, Sept. 15
Presenter: Beth Koehler, Director of communication and community relations for West Milwaukee school district
Charity: Women's Fund of Greater Milwaukee
Entree: Chicken Marsala
Wednesday, Oct. 7
Presenter: Molly Snyder, senior writer OnMilwaukee
Charity: Affiliated Medical Services, Abortion Clinic Escorts
Entree: Baked polenta with sausage and artichoke hearts
Wednesday, Nov. 11
Presenter: Amanda With, founder of #Lemonyay
Charity: Pearls for Teen Girls
Entree: Cacio e Pepe with crispy prosciutto and peas
Wednesday, Dec. 2
Presenter: Camilla Young, CPA and business owner
Charity: Ronald McDonald House
Entree: Seafood Paella
Wednesday, Jan. 11, 2022
Presenter: Mary Mathison, advertising
Charity: Wisconsin Humane Society
Entree: Chicken and mushroom linguini
Wednesday, Feb. 10, 2022
Presenter: Lisa Nelson, owner Roots Chocolates
Charity: Boys and Girls Club
Entree: Dark chocolate and chili gnocchi
Wednesday, March 9, 2022
Presenter: Chef and owner of The Tandem
Charity: Metcalfe Park Community Bridges
Entree: Chicken and dumplings
Reserve your spot for one of the International Women's Series dinners here.

Molly Snyder started writing and publishing her work at the age 10, when her community newspaper printed her poem, "The Unicorn." Since then, she's expanded beyond the subject of mythical creatures and written in many different mediums but, nearest and dearest to her heart, thousands of articles for OnMilwaukee.

Molly is a regular contributor to FOX6 News and numerous radio stations as well as the co-host of "Dandelions: A Podcast For Women." She's received five Milwaukee Press Club Awards, served as the Pfister Narrator and is the Wisconsin State Fair's Celebrity Cream Puff Eating Champion of 2019.