Last November, the Common Council approved a new tax incremental district for the East Side that will fund a number of improvements along the East North Avenue corridor.
One of those is an effort to close to vehicles part of a one-block stretch of Ivanhoe Place, between Prospect and Farwell Avenues, to create a pedestrian plaza.
Other portions of the plan create traffic calming and other upgrades in the neighborhood.
"Specifically," noted an East Side Business Improvement District press release in November, "(the plan) will target public infrastructure and plaza improvements along North Avenue between Humboldt and Prospect where pedestrian and bicyclist safety are a concern, as well as in the area surrounding the recently announced Fiserv, Inc. global headquarters in Downtown Milwaukee."
The effort is part of Mayor Cavalier Johnson's work to fight reckless driving and improve safety in the city, the BID release noted.
"North Avenue is a central commercial corridor that is critical to the East Side's commercial and residential vibrancy," said East Side BID #20 Executive Director David Smulyan upon the release of that statement. "It traverses through neighborhoods where many Milwaukeeans live, work and play. We, as a BID, believe that the initial streetscape improvements on North Avenue can serve as a catalyst for additional improvements all along the avenue.
"The business and commercial property owners and residents in the BID are eager to see infrastructure improvements that enhance traffic safety and create new public spaces. We strongly believe that these improvements will have a positive impact on our business district and the surrounding community."
Next, the city must devise a plan for that section of Ivanhoe that will be closed to vehicles.
"We are working closely with the business community and Ald. (Jonathan) Brostoff to activate that space on Ivanhoe Place, which includes a closure to vehicle traffic," said City of Milwaukee spokesman Brian DeNeve.
"We are exploring the best way to facilitate that. Whether it's an existing program or creating a new one, our goal is a streamlined process to safely permit plazas where they are in demand."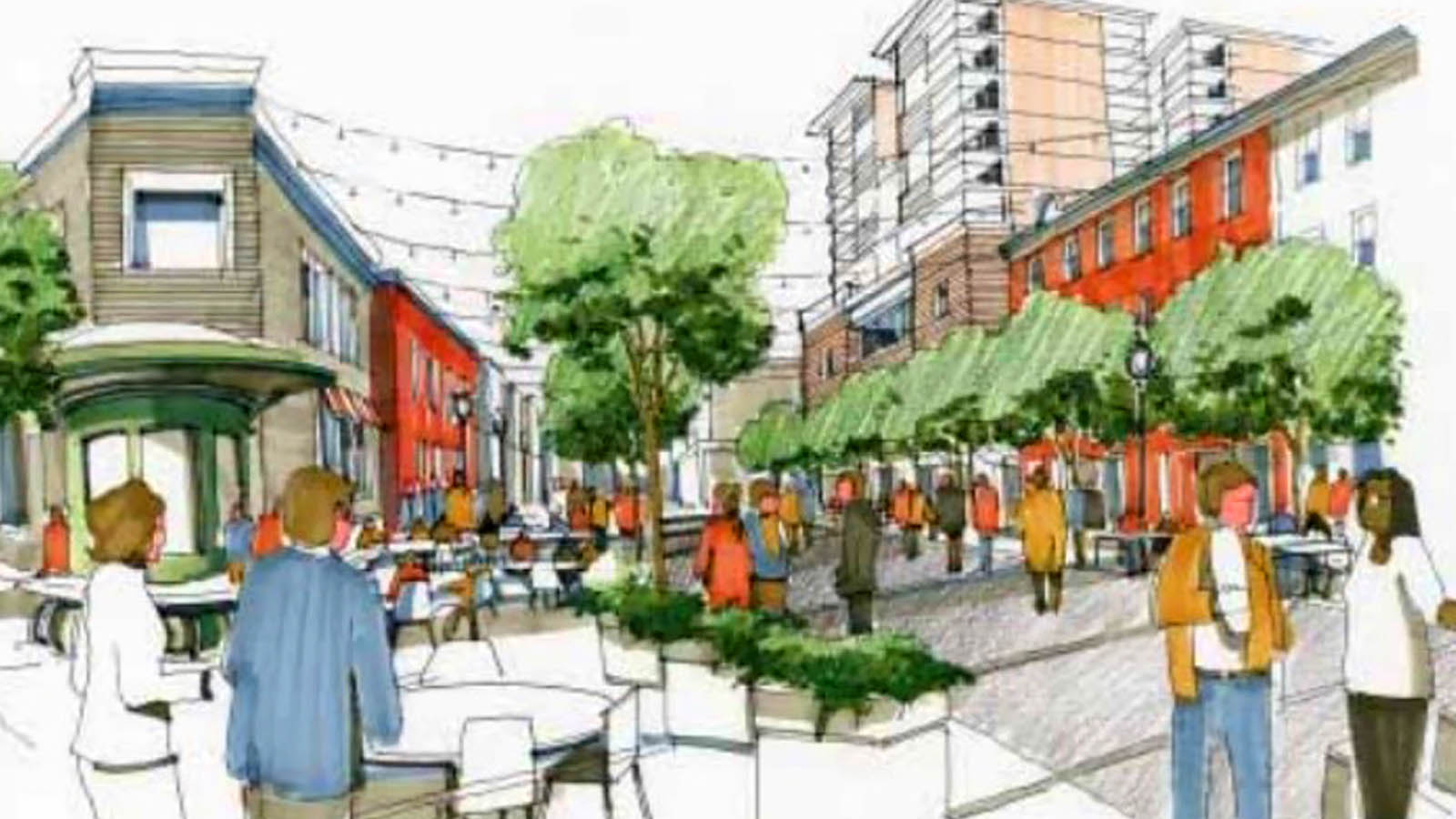 A rendering of the space created by the BID shows upgraded pavement, more tree plantings, planter boxes and outdoor seating.
Recently, Tim Gokhman of New Land Enterprises, which owns the Oriental Theater building and Crossroads Collective food hall, tweeted asking folks what they'd like to see in a future Ivanhoe Place, drawing a response that suggested a number of features, including a painted basketball court, a fresh flower market and a DJ/music station.
I started by asking Gokhman what HE would like to see.
"I hope that Ivanhoe becomes that great gathering space for the neighborhood, and helps remake North Avenue as a destination," he told me. "I hope it's a place that inspires people to visit, and then gets them to stay.
"Good gathering places are in a central location, easily accessible, free, have great seating options, shade and access to food, water, and bathrooms. Great gathering spaces also have something interactive that gets you to stay – think Millenium Park (in Chicago). And the cherry on top is if there's some sort of surprise."
Gokhman added that Ivanhoe already has a lot going for it.
"Ivanhoe has all the ingredients – the various restaurants, bars and cafes, the Oriental Theater, and of course Black Cat Alley," he said.
"What it can't be is incremental improvement, i.e., some picnic tables and that's it," Gokhman continued. "It has to be special. Protected from the streets with landscaping, well-lit, and visually inspiring.
"The city, and the BID, have to be ready to INVEST in our public spaces. Any good business owner will tell you the same – the experience matters as much as the product. If done right, this investment will yield incredible results for the neighborhood."
Next, I asked the alderman.
"A family friendly activation of the space and pedestrians able to walk freely and safely back and forth on Ivanhoe," Brostoff said. "As it is now it's dangerous, confusing and not an optimal use of that space.
"Pedestrianizing Ivanhoe is also an important step in combating reckless/dangerous driving and making Milwaukee a safer place for everyone."
I also checked in with Joey Wisniewski of Wiskullsin, who, like Gokhman, serves on the East Side BID board.
"From a BID perspective," he said, "The East Side BID is excited to participate in the pedestrialization of Ivanhoe. We are working with city staff, the local design team and neighborhood businesses to create a welcoming, active space for public use. We strive to create something that draws businesses, residents and visitors together in a meaningful way."
But I wanted to know what he thinks as an East Side business owner, too.
"My focus is completing the task at hand which is city approval to close the western section of Ivanhoe," Wisniewski said. "While we thread the needle on that, the BID is working on a plan for short-term and long-term programming.
"To me, the diversity of uses for the space will be a key component in driving success. We want the space activated with a variety of uses at different times throughout the week, month and year. The space also needs to be versatile enough that when it's not actively programmed, it provides a gathering space for pedestrians to sit, relax and enjoy the neighborhood in a passive way. That's not something that comes together at a single meeting."
Katy McHugh, who owns Sip & Purr Cat Cafe at 2021 E. Ivanhoe Pl., is a little more cautious.
"I'm not 100 percent sure what I think, to be honest," she told me. "I need more information and some confirmation about vehicle access to Sip & Purr. We can't be bringing 10 cats in for adoption on a weekly basis if we don't have vehicular access to the door.
"So I guess I'd need to see a pretty definitive rendering to form an opinion. And what about deliveries and other access to Sip & Purr."
Educators Credit Union operates a drive-thru banking facility on the north side of Ivanhoe Place and it is likely access to that, as well as to the garage access for the Overlook apartment development in the former Prospect Mall, that are preventing closure of the entire block.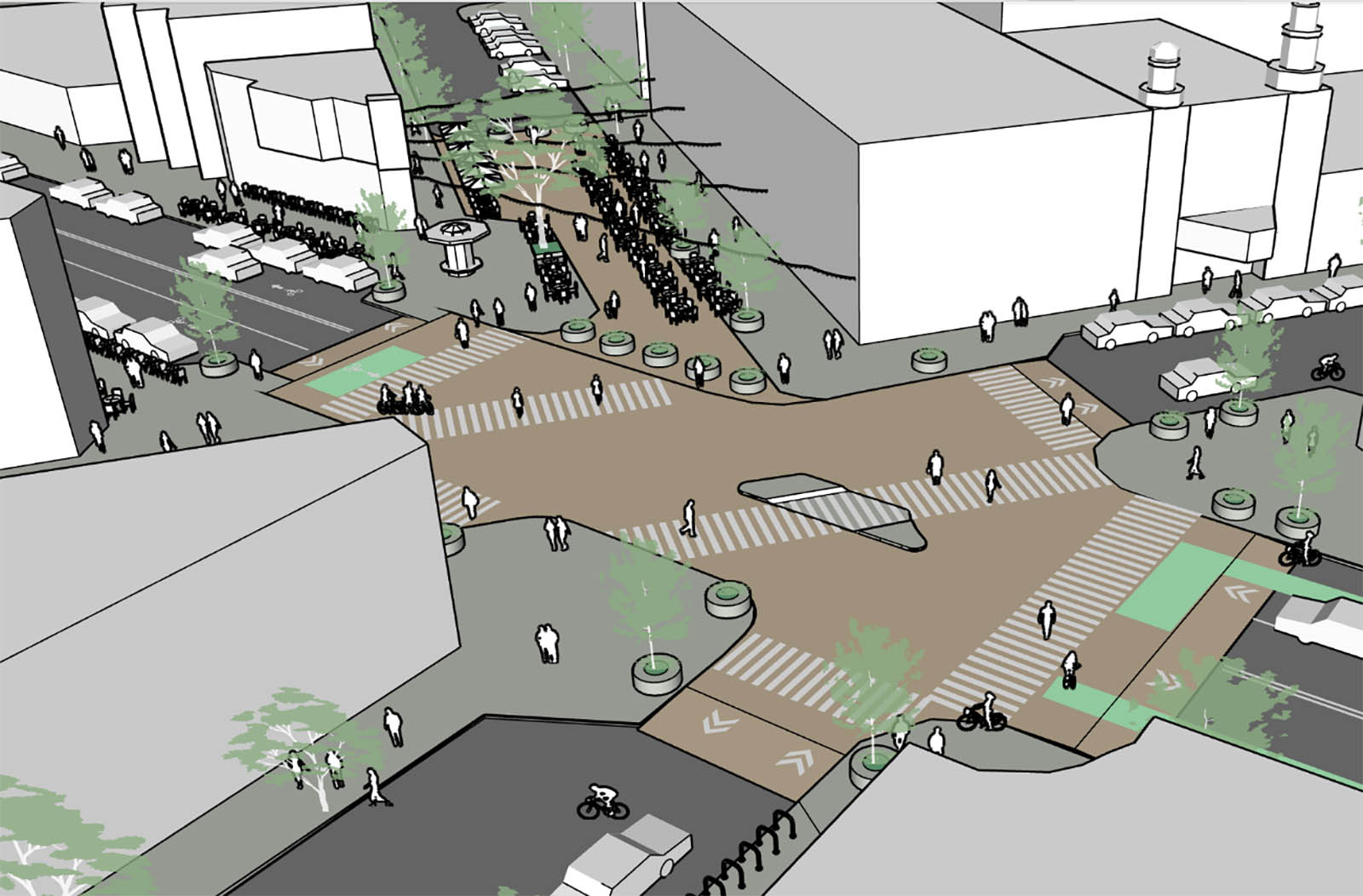 This rendering, which appears in an East Side BID streetscaping vision document, suggests the closure would end right at the edge of the cat cafe building, which could potentially allow vehicle access to the cafe.
But it's true that McHugh's business is the only one that would lose direct vehicle access to its front door.
The BID report suggests that the portion that would remain open could be converted from one-way to two-way traffic and parallel parking would be replaced with perpendicular head-in parking.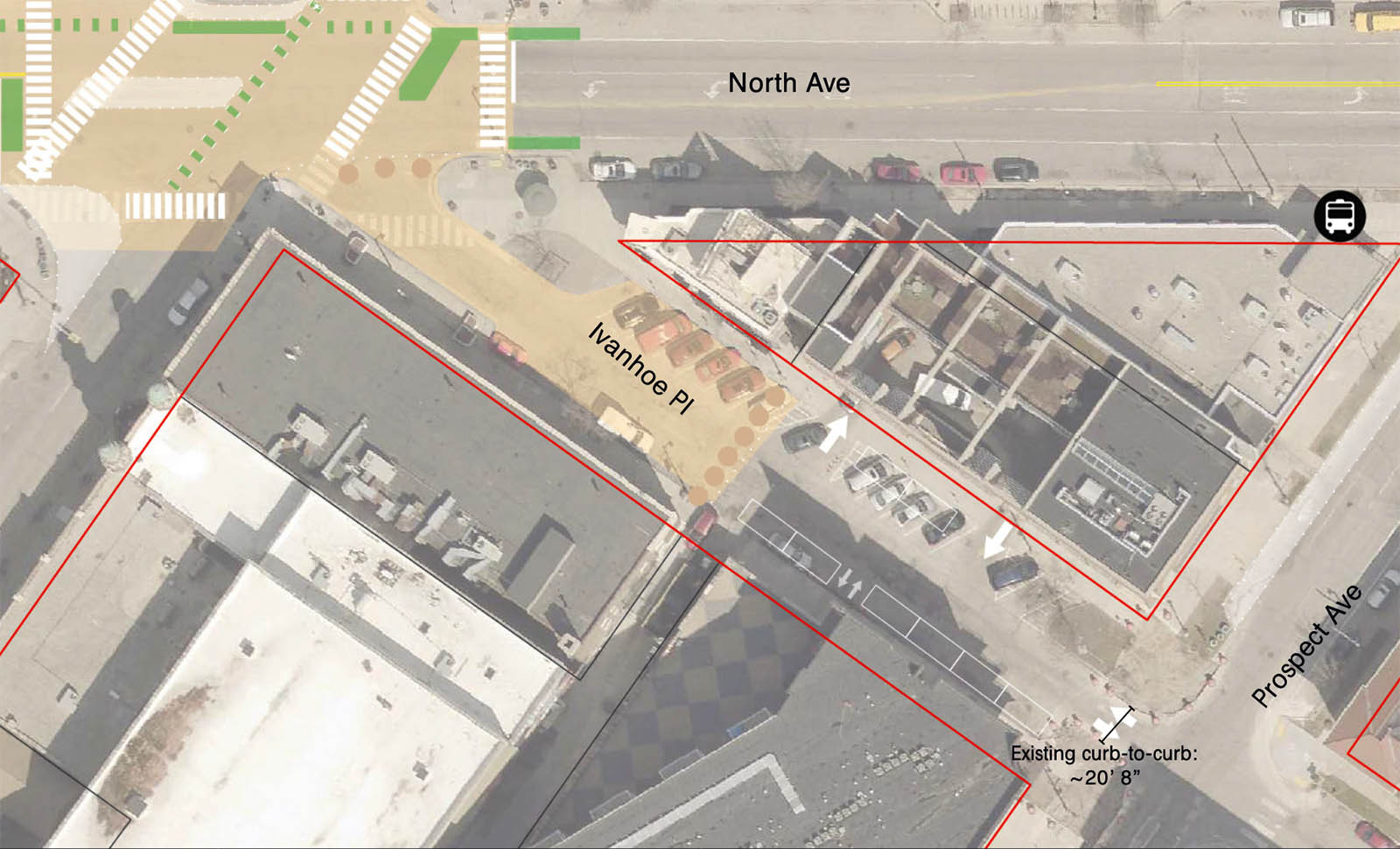 It also notes that the plaza would be a, "highly-designed outdoor gathering space."
Because Kenilworth Place between North/Oakland Avenues and Farwell Avenue also would appear ripe for a similar plan, I asked Wisniewski what he thought of that idea, which is, admittedly, somewhat more complicated because that street continues beyond Farwell to Prospect Avenue and further east, serving as something of a short cut between Oakland and Prospect.
"Kenilworth offers other interesting opportunities, but is complicated," he confirmed. "A few ideas have been discussed, but only ideas at this point. The BID included Kenilworth as an area of opportunity in our recent streetscape vision document."
Meanwhile, the Ivanhoe project is a chance to Milwaukee to embrace vehicle-free public spaces in other places, too, as DeNeve suggested earlier.
"I've been thinking about Ivanhoe for a long time. Having proximity to something gives you perspective – I never noticed how awful Ivanhoe was until we did Crossroads Collective," says Tim Gokhman. "Additionally, I've been influenced by my travels – seeing the impact that great gathering places, like the High Line in NYC or Denver's Union Station, have on people.
"Milwaukee doesn't have great gathering spaces, and we certainly don't have any great plazas, which is odd for a city with so much history and great architecture."
Born in Brooklyn, N.Y., where he lived until he was 17, Bobby received his BA-Mass Communications from UWM in 1989 and has lived in Walker's Point, Bay View, Enderis Park, South Milwaukee and on the East Side.
He has published three non-fiction books in Italy – including one about an event in Milwaukee history, which was published in the U.S. in autumn 2010. Four more books, all about Milwaukee, have been published by The History Press.
With his most recent band, The Yell Leaders, Bobby released four LPs and had a songs featured in episodes of TV's "Party of Five" and "Dawson's Creek," and films in Japan, South America and the U.S. The Yell Leaders were named the best unsigned band in their region by VH-1 as part of its Rock Across America 1998 Tour. Most recently, the band contributed tracks to a UK vinyl/CD tribute to the Redskins and collaborated on a track with Italian novelist Enrico Remmert.
He's produced three installments of the "OMCD" series of local music compilations for OnMilwaukee.com and in 2007 produced a CD of Italian music and poetry.
In 2005, he was awarded the City of Asti's (Italy) Journalism Prize for his work focusing on that area. He has also won awards from the Milwaukee Press Club.
He can be heard weekly on 88Nine Radio Milwaukee talking about his "Urban Spelunking" series of stories.