The Pabst Theater Group's new East Side concert venue officially planted its first seeds this afternoon, cutting the ribbon on the space and revealing the future music hotspot's name: Vivarium.
Found at 1818 N. Farwell Ave., in between Chopstix Chinese Food and Arlanderz Chicken & Fish, Vivarium will host a new 450-seat all-ages concert space – replacing The Back Room at Colectivo, which will close at the end of the year, in the Pabst Theater Group's portfolio of venues. The Back Room originally began hosting concerts in 2015.
The newly announced name, according to Pabst Theater Group president and CEO Gary Witt, comes from a Latin word meaning "place of life" – with Wednesday's reveal visually emphasizing plants, foliage and greenery. A video accompanying today's announcement emphasized Vivarium would be "a place of emerging artists, life, transformation, gathering, growth – rooted in Milwaukee," the last note perhaps pointed considering the much-debated Live Nation-affiliated concert hall slated for Downtown.
"I know in the media there's been a lot of discussion around big new venues getting built in Milwaukee – so we, of course, went small," Witt noted. "We went small because small venues in Milwaukee are where fans discover artists and, even more importantly, it's where artists discover Milwaukee ... Artists yesterday and today begin their careers (in smaller venues), and I think it's incredibly important that that's what this venue is all about."
Pabst Theater Group's 𝐧𝐞𝐰𝐞𝐬𝐭 𝐯𝐞𝐧𝐮𝐞 comes to 1818 N. Farwell Avenue in 2024. 𝐑𝐨𝐨𝐭𝐞𝐝 𝐢𝐧 𝐌𝐢𝐥𝐰𝐚𝐮𝐤𝐞𝐞, the Vivarium is a 450 capacity multi-purpose venue where creativity and self-expression will come to life. pic.twitter.com/pxfajhXLZI — Pabst Theater Group (@PabstTheaterGRP) November 8, 2023
The natural theme inspiring the venue's name will continue into the space itself, according to newly revealed renderings of Vivarium. Inside the club, Vivarium will feature wood walls as well as plants and greenery spread all across the venue, playing into the herbaceous theme, along with natural light from a skylight above the space and a wall of Cream City brick. The entrance to Vivarium will include even more foliage and warm verdant tones, as well as a parklet for approximately 20 bikes and a blade sign signaling the new stage's place on the block.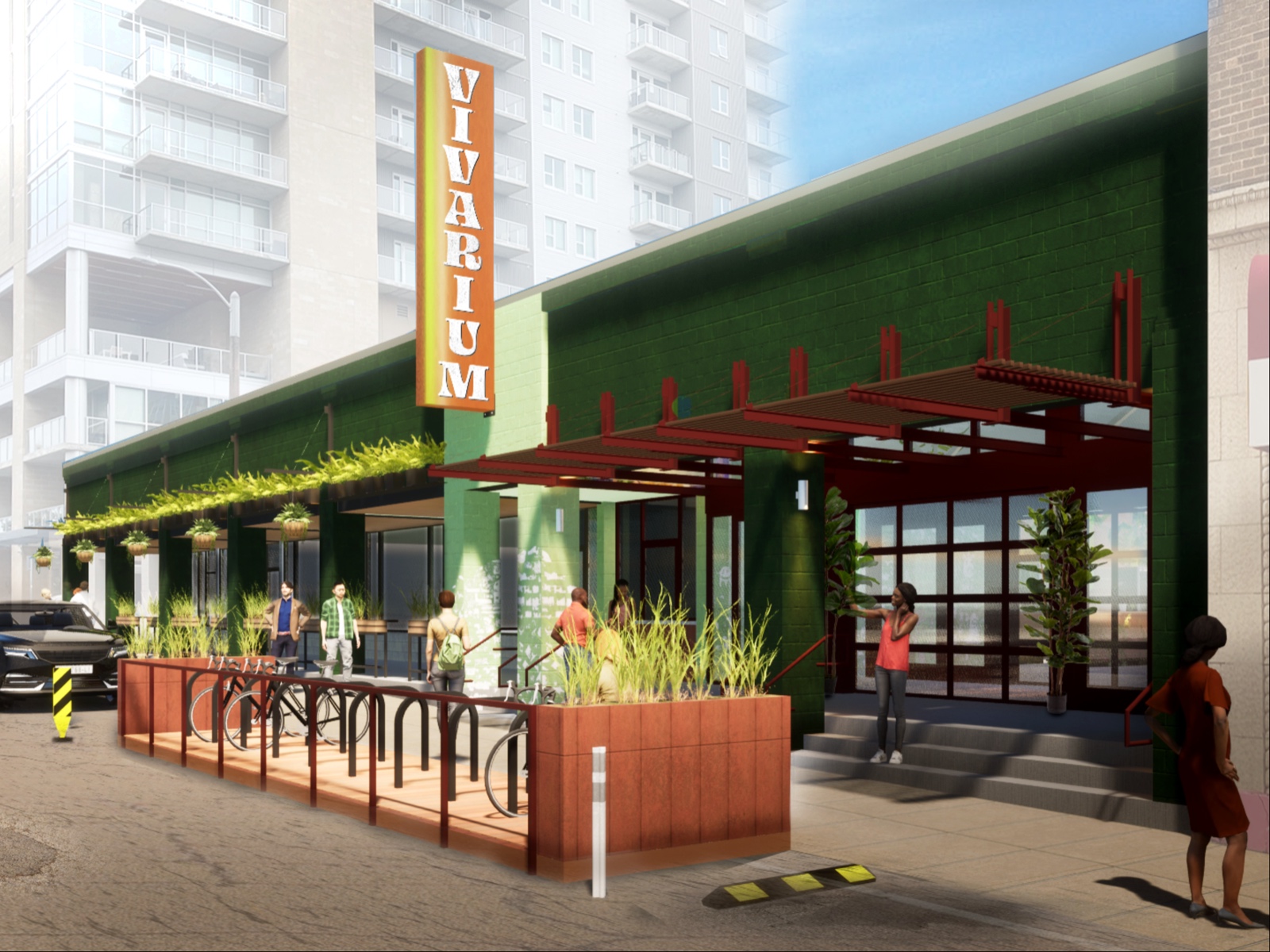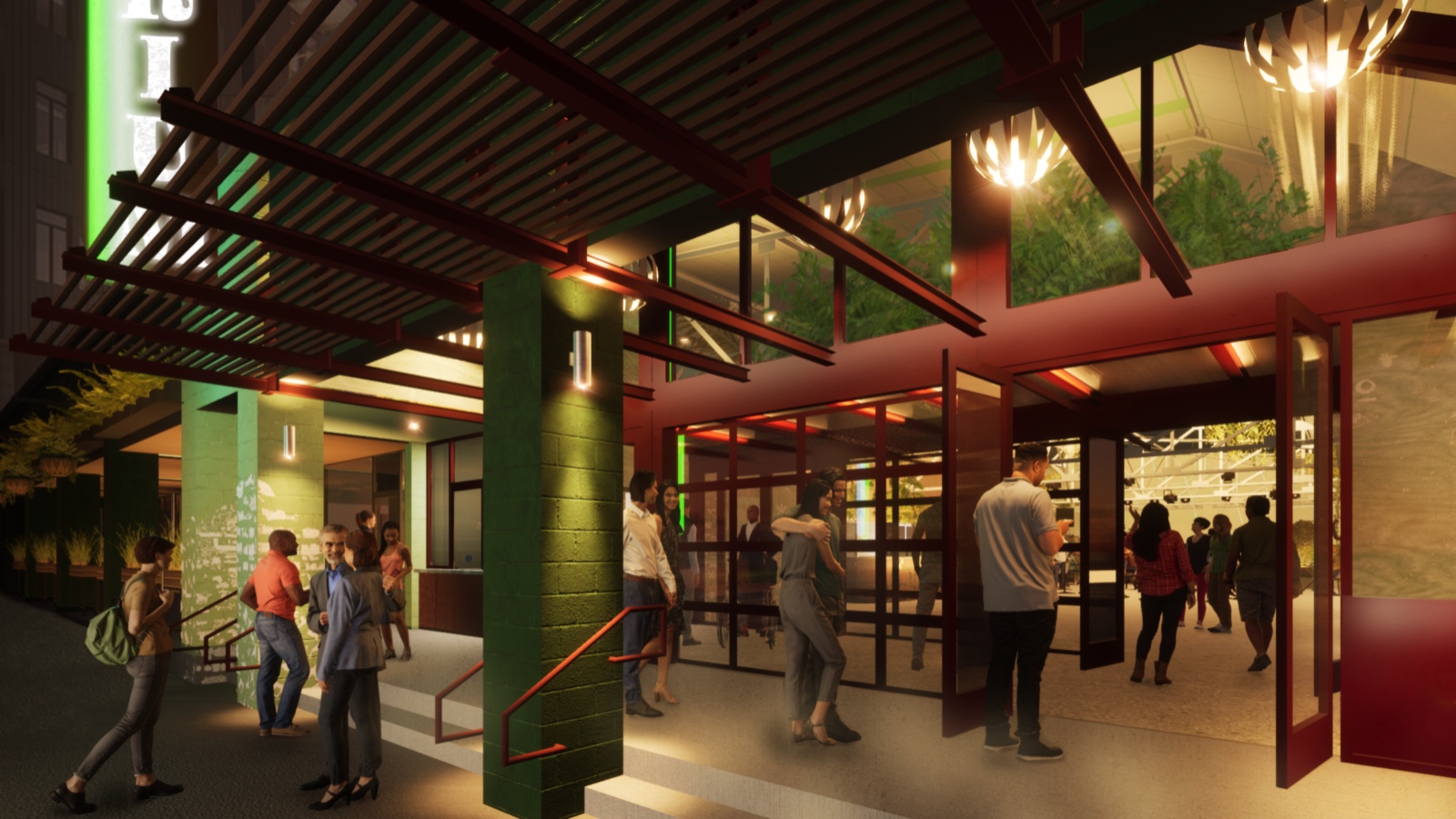 "This place has life, has a soul already – but nobody really knew about it. So what the design of this is going to do is pull that outward and realize that in the best possible way," said Chris Socha of architecture and urban design firm Kubala Washatko Architects. "Once you step inside this place, you're going to find a club that defies expectations. We have daylight, beautiful trusses and it's going to be infused with greenery, infused with vegetation. It's going to almost have a serene feel that also meets a club."
The new all-ages venue is aiming for an early 2024 debut, with February mentioned during Wednesday afternoon's announcement as a particular goal. The Pabst Theater Group's website includes a number of artists already scheduled for Vivarium, starting with Molly Grace on Feb. 22, The Moss on March 9, Sir Chloe on March 13, Eliza McLamb on April 5 and Mike on April 26.
"It will be, as we have done with our other venues, a part of the developmental ladder, where artists grow through those venues and grow up into our other venues, eventually playing Fiserv Forum and venues beyond that," Witt said. "I think that Vivarium has an opportunity to play an important role in the growth of events in the city."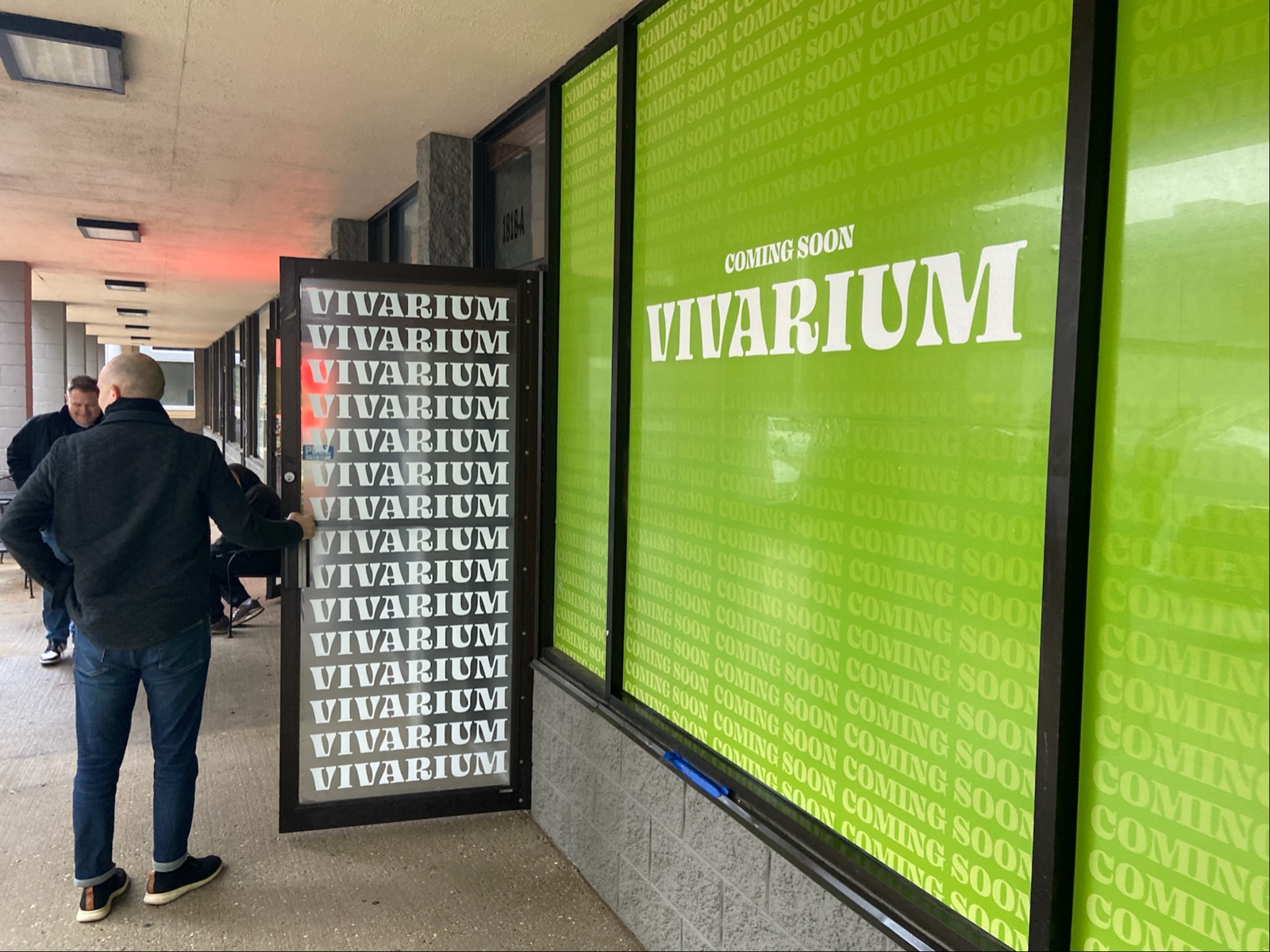 For more updates on Vivarium – including a first look – stay tuned to OnMilwaukee.
As much as it is a gigantic cliché to say that one has always had a passion for film, Matt Mueller has always had a passion for film. Whether it was bringing in the latest movie reviews for his first grade show-and-tell or writing film reviews for the St. Norbert College Times as a high school student, Matt is way too obsessed with movies for his own good.
When he's not writing about the latest blockbuster or talking much too glowingly about "Piranha 3D," Matt can probably be found watching literally any sport (minus cricket) or working at - get this - a local movie theater. Or watching a movie. Yeah, he's probably watching a movie.