Published in 1998, author Jerry Apps' "Cheese: The Making of a Wisconsin Tradition," has long been a key popular work on this history and state of cheesemaking in America's dairyland.
Now, the University of Wisconsin Press has published a second edition of the book with updates by Apps, a respected voice in Badger State history, traditions and more. He is the author of more than 40 books about these subjects and rural life in Wisconsin, too.
A professor emeritus at UW-Madison, Apps has also been featured in numerous Wisconsin Public Television documentaries based on his books, which seem to arrive in multiples each year.
The illustrated "Cheese" paperback starts with the story of cheesemaking in the state as far back as 1840 and then surveys the state's cheeses, cheesemakers, graders and inspectors, dairy farm producers and more. It is, especially now that it's been updated and expanded, a must read for anyone who loves the food that made Wisconsin famous.
We caught up with Apps, via socially distant email, to ask him about the new edition and what else he's been working on.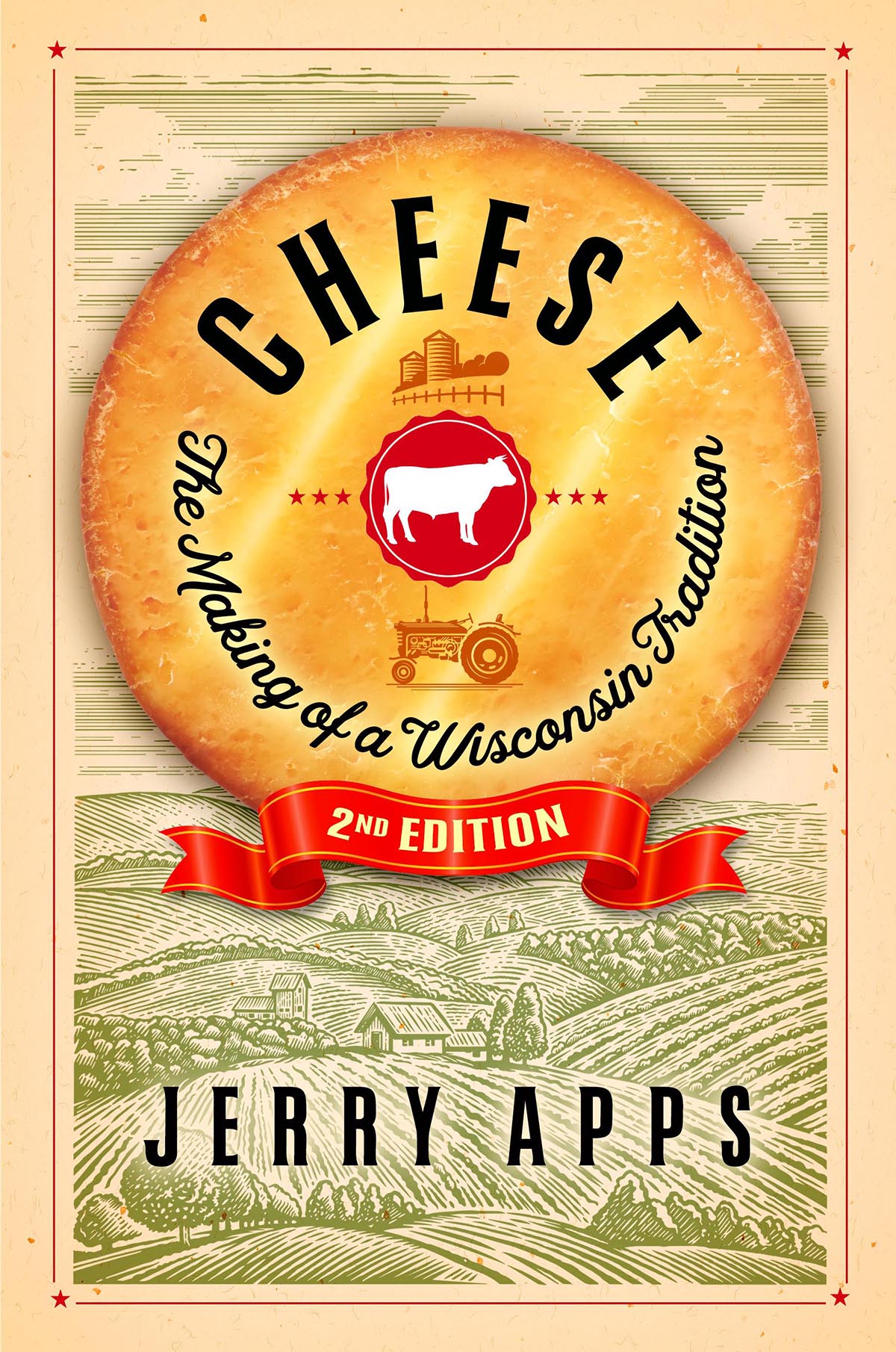 OnMilwaukee: How has 2020 been treating you; have you been able to continue doing your research and writing?
Jerry Apps: COVID-19 has not prevented me from doing my research and writing, to any great extent. Of course, I am not do any face-to-face interviews. All of my face-to-face book talks were cancelled. On the positive side, without doing so much traveling, I have been able to do more writing. I have also recently done several virtual talks, mostly using Zoom.
To the casual observer, you seem to publish so voluminously that it would appear you don't sleep much and that you always have multiple books in the works. How do you keep it up?
I have always had several books in various stages of development all the same time. I read several books at the same time – it's just me and the way I work. In addition to my book writing, I write a weekly blog that I publish on Facebook. The blog is also published as a column in the Wisconsin State Farmer, a weekly farm newspaper.
It's good to see a new edition of the Wisconsin cheese book. Is there anything behind the timing of the new edition?
There is nothing about the timing for the new edition beyond the fact that I wrote the first edition 20 years ago and the world of cheesemaking and dairy farming have changed dramatically since I wrote the first edition.
How has the cheese industry in Wisconsin changed?
The major change in the industry: specialty cheese. Wisconsin now makes 600 different kinds of cheese. Another major change: in 1995, California became the nation's major milk producer, shoving Wisconsin into second place. Wisconsin, however, since 1910 has been the nation's leader in cheese production, and it continues today.
For many years, of the several cheeses produced in Wisconsin, cheddar led the way. Today, mozzarella is the leader.
Dairy farm numbers have dropped dramatically and continue to drop. In 1950, Wisconsin had 143,000 dairy farms. In 2020 the number is 7,049. In 1950, Wisconsin boasted 1,279 cheesemaking plants. In 2020 that number was 132, with 99 of them making specialty cheese.
Beyond dairy cows, Wisconsin is a leader in dairy goat numbers with goat cheese a popular choice for many consumers. Dairy sheep have also increased in number, with several cheese makers producing dairy sheep cheese.

Can you tell us about what's been updated, changed, etc. in the new edition?
New chapters: Changes in the industry, 1998-2000, an entire chapter on specialty cheeses, a brief history of Wisconsin's largest cheese producers, selected cheese factory histories, specialized cheese factories, supporting organizations for cheesemakers, supporting organizations for dairy producers, how cheese is celebrated and promoted today, a chapter on the funny side of cheese, including the Cheesehead story, a case study of the dairy and cheese making industry in Green County, Wisconsin, and my summary of where the cheese making industry has been and where it is likely headed.
Is that all?! I have to ask, of course, if you have a favorite cheese and a favorite cheesemaker.
My favorite cheeses (are) Swiss and aged cheddar. Asking me who is my favorite cheesemaker is like asking me to name my favorite child. Can't do it.
What are some of the other projects you have coming soon?
My work with PBS Wisconsin – I have done five hour-long documentaries with them – is on hold because of COVID.
I have a book on the history of Wisconsin state and county fairs in process. It will be published by the Wisconsin Historical Society Press. My eighth novel with the University of Wisconsin Press is due for publication in 2021 – it's titled "Settlers Valley" – another novel in my Ames County series. This one is about a group of disabled veterans who take up small acreage farming in Ames County. They are following the adage, "As they heal the land, the land will heal them."
Born in Brooklyn, N.Y., where he lived until he was 17, Bobby received his BA-Mass Communications from UWM in 1989 and has lived in Walker's Point, Bay View, Enderis Park, South Milwaukee and on the East Side.
He has published three non-fiction books in Italy – including one about an event in Milwaukee history, which was published in the U.S. in autumn 2010. Four more books, all about Milwaukee, have been published by The History Press.
With his most recent band, The Yell Leaders, Bobby released four LPs and had a songs featured in episodes of TV's "Party of Five" and "Dawson's Creek," and films in Japan, South America and the U.S. The Yell Leaders were named the best unsigned band in their region by VH-1 as part of its Rock Across America 1998 Tour. Most recently, the band contributed tracks to a UK vinyl/CD tribute to the Redskins and collaborated on a track with Italian novelist Enrico Remmert.
He's produced three installments of the "OMCD" series of local music compilations for OnMilwaukee.com and in 2007 produced a CD of Italian music and poetry.
In 2005, he was awarded the City of Asti's (Italy) Journalism Prize for his work focusing on that area. He has also won awards from the Milwaukee Press Club.
He can be heard weekly on 88Nine Radio Milwaukee talking about his "Urban Spelunking" series of stories.