It's National Fast Food Day. Enjoy this story from 2019.
Milwaukee is abundant with quality locally owned restaurants and in years past also attracted coveted chains like Shake Shack, Jamba Juice and Portillo's to round out the dining scene. However, Milwaukeeans often lament the lack of fast food joints like White Castle and In-N-Out Burger.
Perhaps Jollibee belongs on this short list of dream chains?
Jollibee is a Filipino fast food restaurant founded in Manila, the capital of the Philippines, in 1978. Today, it is still headquartered in the Philippines with roughly 1,200 eateries worldwide. There are 34 locations in the United States, mostly in the State of California as well as Hawaii, Illinois, Nevada, New Jersey, New York, Texas, Virginia and Washington.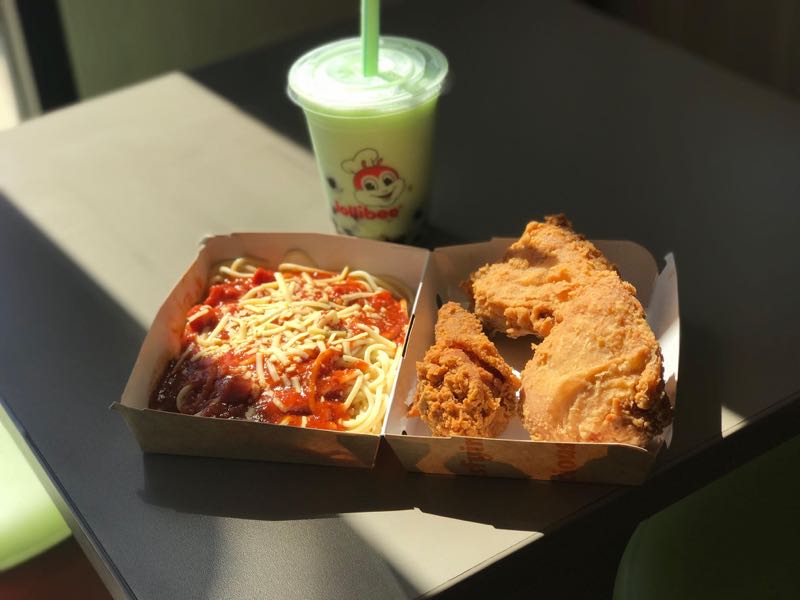 Jollibee serves breakfast, lunch and dinner seven days a week. The food – a fusion of Filipino and American cuisines – is a unique mix of burgers, chicken and classic Filipino dishes.
The most popular menu items include the fried chicken, delightfully monikered "Chickenjoy," which is commonly ordered with a side of spaghetti, and the "Yumburger" which is Jollibee's take on a classic burger. There's also a "cheesy classic jolly hot dog" which, despite recent debate, they refer to as a sandwich.
Jollibee's Filipino dishes, called "rice meals" or "noodles," include burger steak with spaghetti or Shanghai rolls (similar to egg rolls) and Palabok Solo, perhaps the most authentic Filipino dish on the menu made with noodles topped with meat, seafood (usually shrimp) and Jollibee's signature palabok sauce.
Morning items include a breakfast Yumburger served with a fried egg, pancake sandwiches and corned beef or beef tapa with garlic rice and a fried egg.
During a recent visit to a location in Skokie, Ill. (there is also one in Chicago), we sampled the fried chicken – both the spicy and the regular – along with sides of mashed potatoes, fries and corn. We found the chicken to be on par with Popeye's, our favorite American fried chicken chain, and the sides similar to Kentucky Fried Chicken's, especially the potatoes, which never disappoint. The fries were slightly crispier than McDonald's and equally as addictive.
We also ordered sides of spaghetti which we were less impressed with because of the overly sweet sauce and the addition of sliced hot dog "coins." The kids appreciated the selection of bubble teas.
Next time, we plan to try one of the more authentic Filipino dishes. After all, if we accept fast food Chinese from Wong's Wok and Panda Express, why not fast Filipino?
The Jollibee mascot is a smiling, chef hat-wearing bee that appears on all of the food and beverage containers and is erected as a statue in the lobby of most restaurants. The mascot adds a flair of kitschy cuteness to the Jollibee experience.
We also found the decor colorful and fun, with round padded stools to sit on and lots of natural light. It was also extremely clean.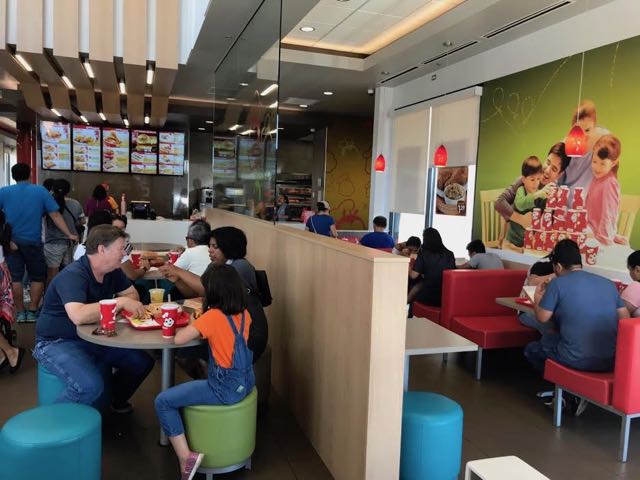 Although we would fully support a Jollibee chain in Milwaukee, after our meal we debated if this would be a good fit for Milwaukeeans in general. To formulate a more solid perspective, we contacted Alexa Alfaro, co-owner of Meat on the Street, the only traditional Filipino food truck and restaurant in Milwaukee.
Alfaro, who grew up with an Italian mother and Filipino father who loved to cook, says Milwaukeeans have been very receptive to her Filipino food even though most had not sampled it before.
"When we first started in 2014 it was the beginning of the food truck movement and people wanted to try new things," says Alfaro. "This definitely played out well for us and we've felt very well received."
Alfaro has visited Jollibee chains in the past and says she believes a franchise would fare well in Milwaukee, and it could also infuse interest in more authentic Filipino food.
"I think it would be really cool to have a Jollibee in Milwaukee. It would drive awareness of Filipino culture – even if doesn't serve traditional Filipino food," says Alfaro. "It would definitely be a positive thing."
OK, Jollibee corporate, are you listening?

Molly Snyder started writing and publishing her work at the age 10, when her community newspaper printed her poem, "The Unicorn." Since then, she's expanded beyond the subject of mythical creatures and written in many different mediums but, nearest and dearest to her heart, thousands of articles for OnMilwaukee.

Molly is a regular contributor to FOX6 News and numerous radio stations as well as the co-host of "Dandelions: A Podcast For Women." She's received five Milwaukee Press Club Awards, served as the Pfister Narrator and is the Wisconsin State Fair's Celebrity Cream Puff Eating Champion of 2019.