The textile arts were part of the lighted schoolhouse movement from the latter's very beginnings in Milwaukee just after the dawn of the 20th century, and that connection has been woven into the very history of Milwaukee Recreation.
The Alice Bertschy Kadish (ABK) Memorial Weaving Center, established in 2000 at Gaenslen School in Riverwest, is the latest iteration of this connection.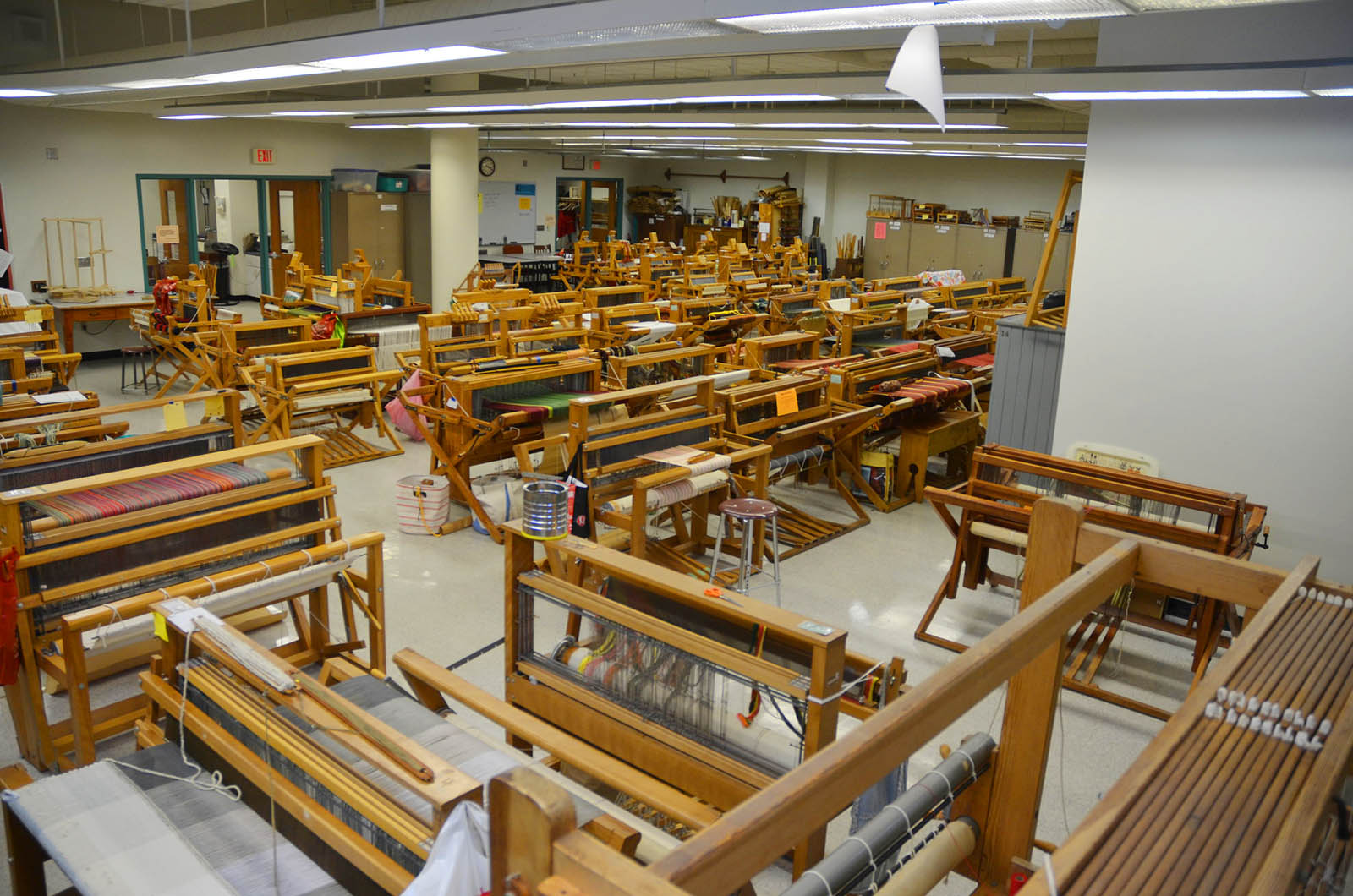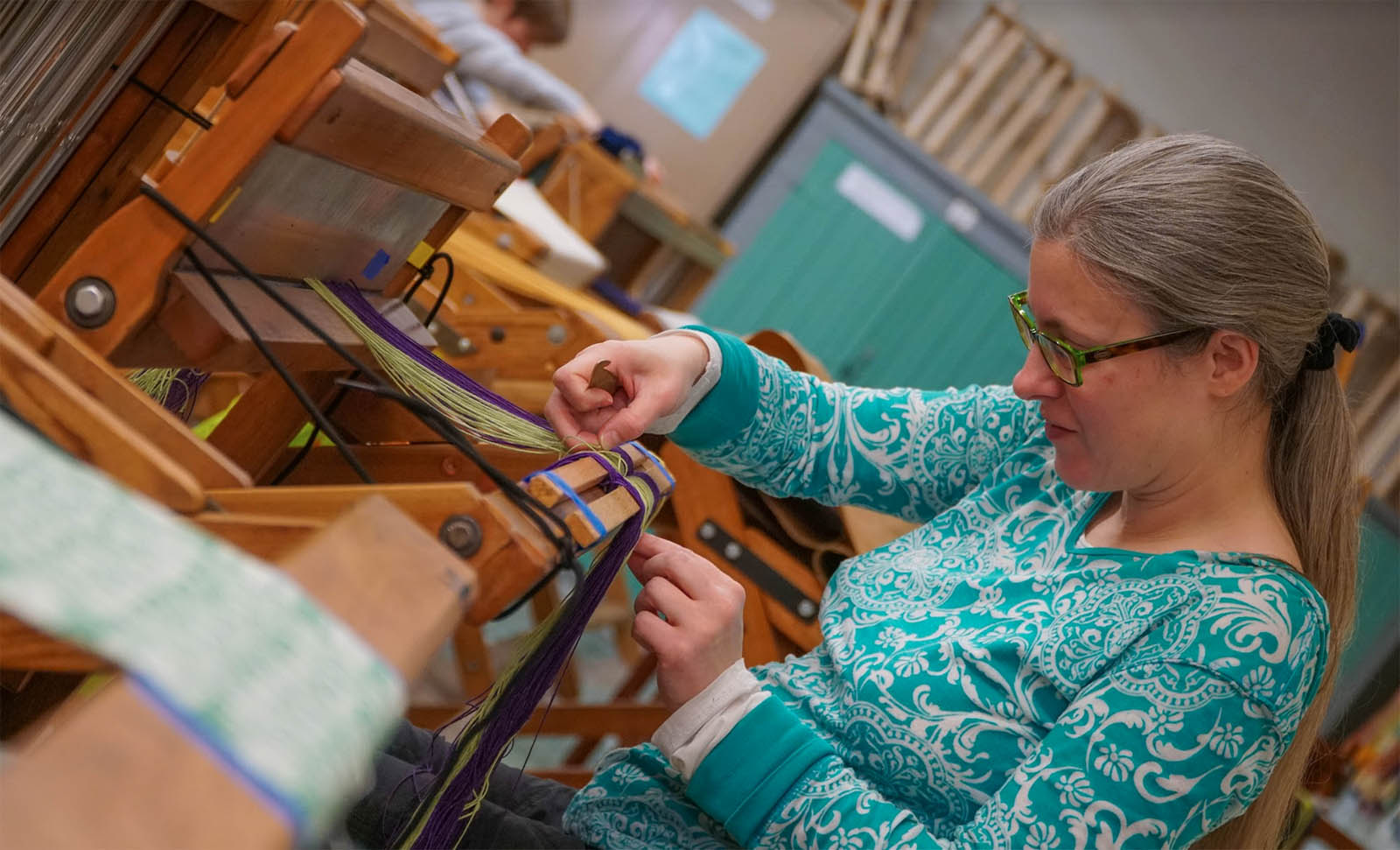 Although numbers fell in the pandemic year of 2020, in 2019 433 people registered for classes at the center. Last year, the number went up to 249 and so far in 2022, 196 have signed up, more than in all of 2020.
The center has 129 looms, most of which are floor looms, but there are also tapestry looms, inkle looms and some small table looms, too.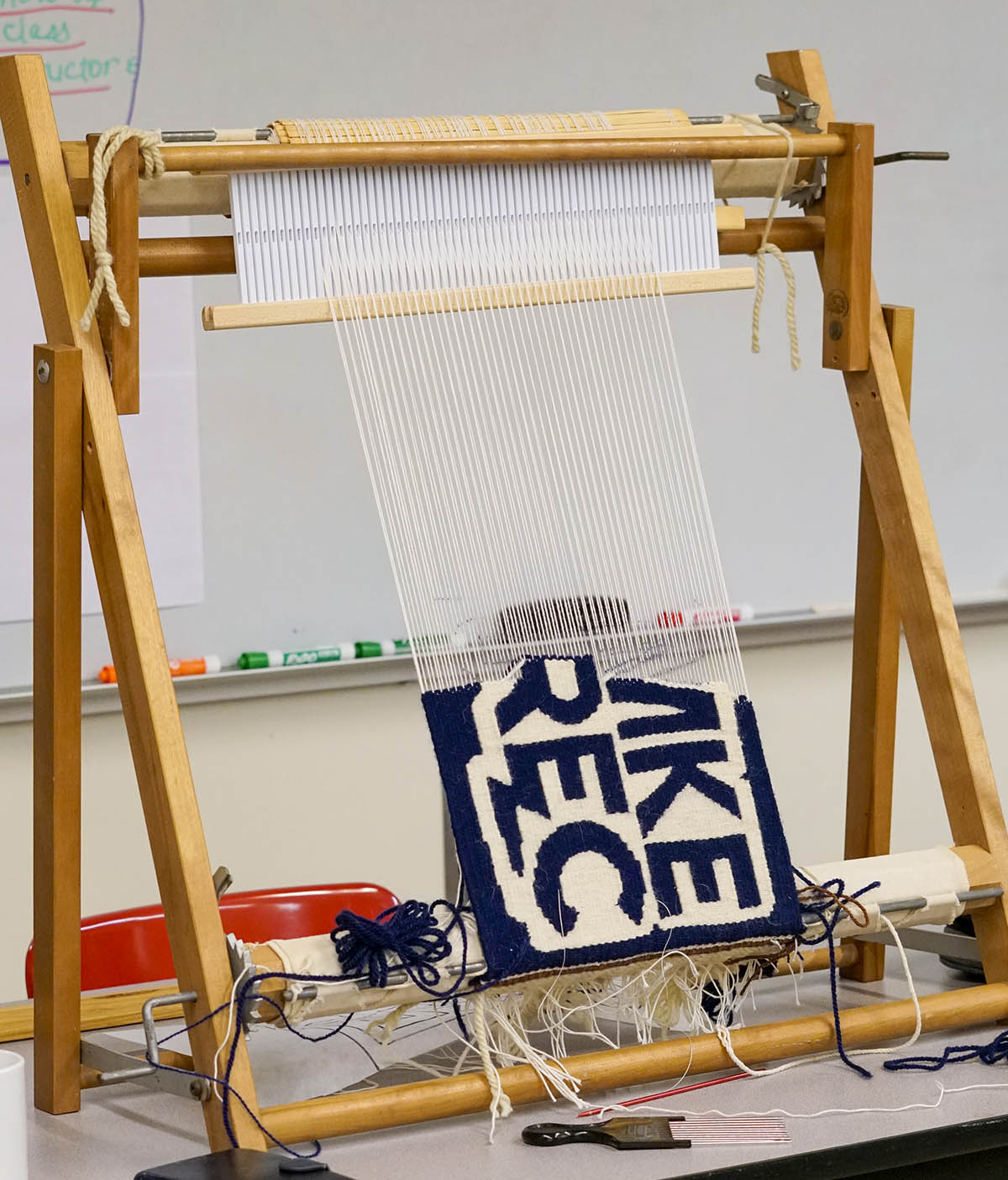 "ABK Weaving Center is special because it offers an amazing opportunity for the general public to learn to weave and further weaving skills at an affordable cost and at a time when weaving is enjoying its place as a contemporary artform," says Carole Grandaw, director of the ABK Weaving Center.
"While ABK's primary mission is to make weaving available to people of all ages, the Center also offers classes in other fiber arts disciplines including knitting for children and adults, dyeing, basketry, bobbin lace and spinning."
Thanks to its location within an active and operating Milwaukee Public School, children also get to use the center, says Grandaw.
"The center provides weaving instruction to MPS 8th graders attending Gaenslen on Friday mornings when school is in session," she says.
"This effort is organized by another retired teacher along with a group of volunteer weavers. Alice Bertschy Kadish believed that weaving was a beneficial skill for children to learn, and ABK is proud to be exposing young people to the art of weaving for the past 20-plus years."
Weaving classes in the schools pre-date even the establishment of the Milwaukee Recreation Department in 1911.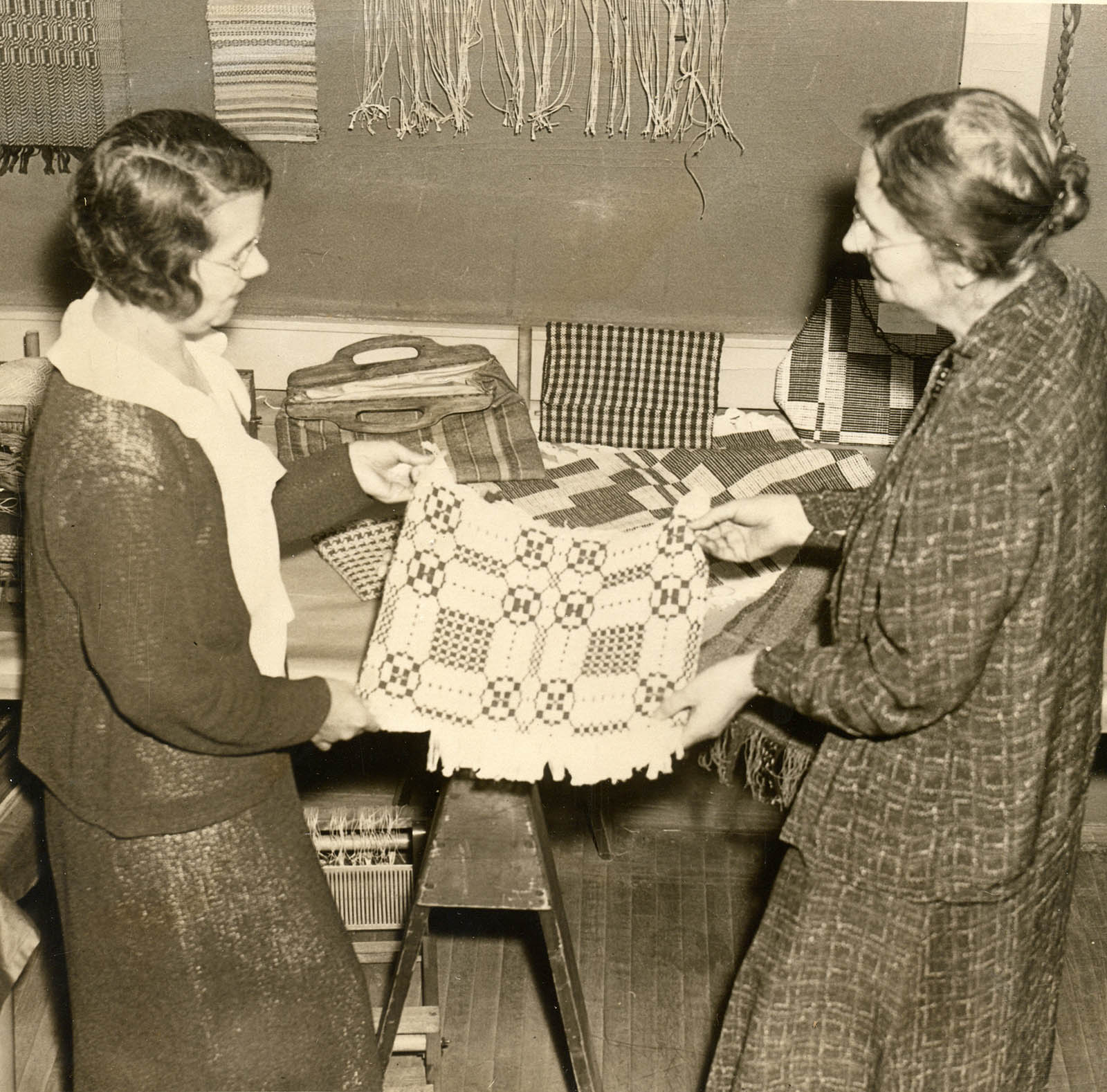 "In 1908 the Women's Club of Wisconsin spearheaded a movement to open and fund a vacation school' at the Sixth District School (now Golda Meir School)," wrote George Wilson in a department history.
Later that year Carroll G. Pearse, the Superintendent of Schools, recommended the flooding of some schoolgrounds for ice skating.
"When $2,500.00 was appropriated by the School Board ... evening school activities increased to include chorus, band, games, weaving, knitting, reading room and gymnastics."
Such classes continued and by the early 1930s there were programs scattered throughout the city's schools.
"These centers eventually consolidated forming a single All-City Weaving Studio," noted a history of the weaving center.
"Looms at the studio were created by workers from the Works Progress Administration (WPA), and it was run by Milwaukee Recreation. Arts and crafts flourished during those years, and the Weaving Studio was the largest in the Midwest with 64 looms in operation."
The first All-City Weaving Studio was established at the Lapham Park Social Center in March 1934.
"The weaving studio in Lapham Park social center, where for some months women have been getting acquainted with the looms and working more or less informally, will inaugurate its first formal course in the fundamentals of weaving on Tuesday, July 24," wrote the Milwaukee Journal that summer.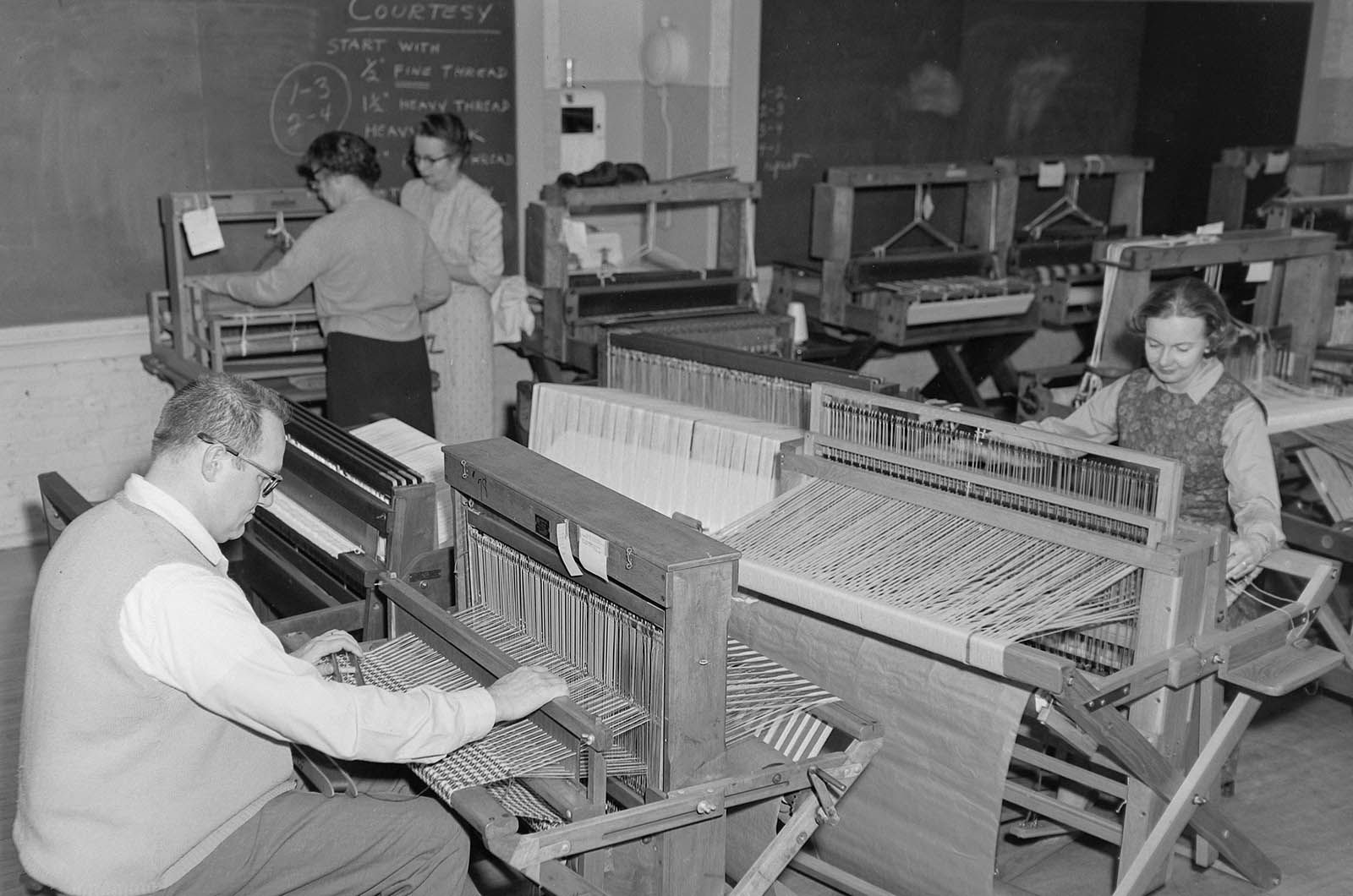 "Harry Lichter, graduate of the Milwaukee State Teachers College art school and winner of the first prize for weaving in the recent exhibit of the Applied Arts Association and the Art School, will conduct the course,"
The two-hour class was divided into an hour of "lecture and demonstration" – including discussion of "the parts ot the loom, warping, setting up of patterns and types of weaving" – and an hour of "practical work."
In addition, the studio was open to the public every day except Saturdays from 1:30 to 9:30 p.m.
During its years at the Lapham Park Social Center, the weaving center's work was often recognized in local newspapers. One of the most interesting reports came in 1935, in an article bearing the headline, "Voice Returns While at Loom."
A woman who had barley been able to utter a word after an car crash began attending a class at the center.
"She could hardly get a word out when she first came and took her place at the loom," the Sentinel wrote. "It was the automobile accident. Ever since that, the strain of uttering an intelligible sound had been so great that nobody thought she'd ever speak normally again."
The thought was that if the woman, "could learn to weave maybe she wouldn't worry so about not being able to talk."
"She did learn to weave; furthermore, she learned to talk. As her hands became more facile in working the shuttle through the warp, her tongue and her vocal chords loosened too. Today, she chats with the best of them. They have a lot to talk about, the 89 women who take turns at Lapham Park's 36 looms throughout the week ... whether the crackled method is preferable to the Colonial overshot for a radio bench cover, if a piece of cellophane might be used to advantage in the design of that purse, what to make next for a Christmas present."
While that was the most incredible success story, it wasn't the only one. Some came to the center only to unleash hidden talents.
Take Mrs. Fred Long of Bay View.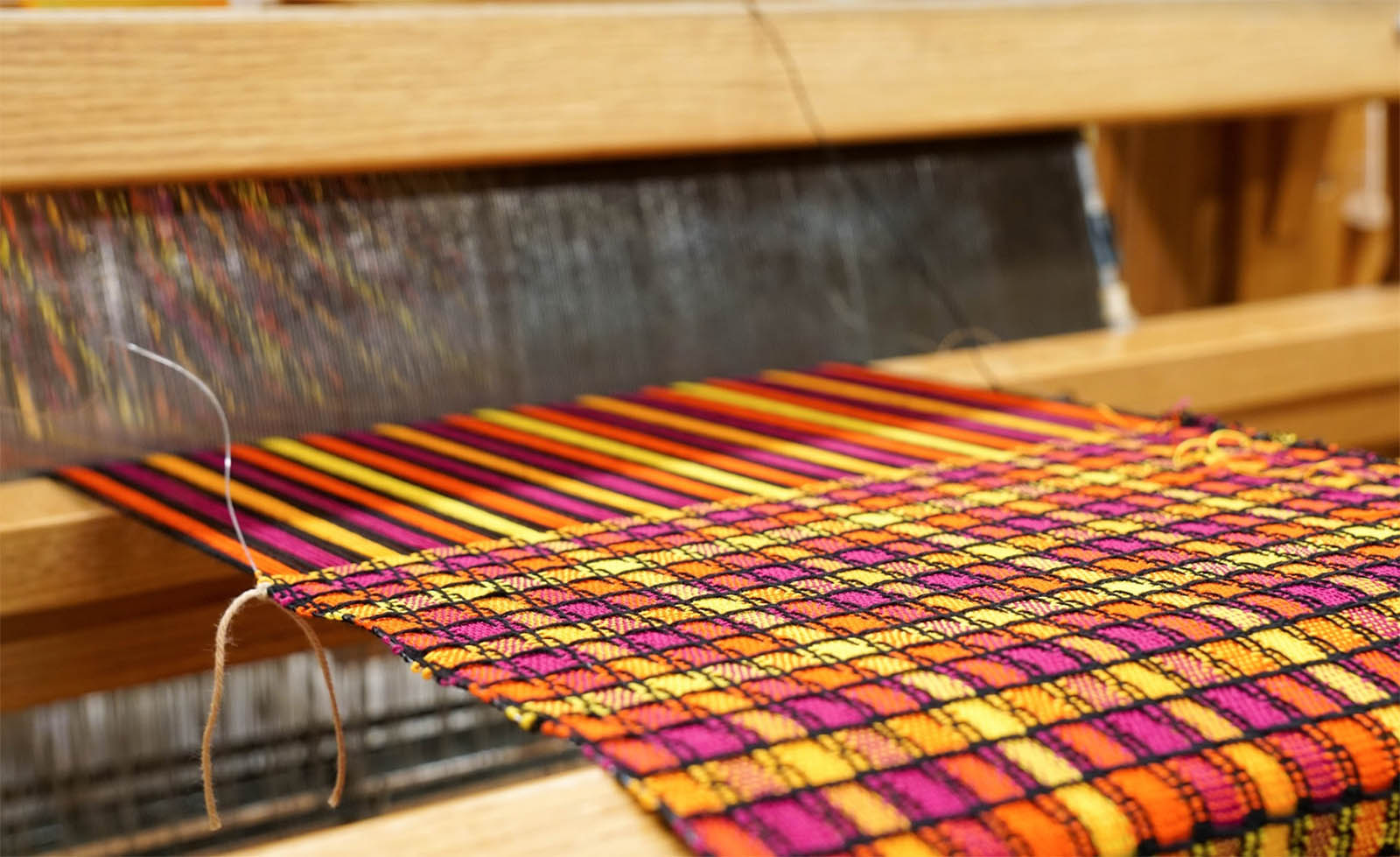 "Two months ago the loom and (she) were strangers," the paper wrote. "Not so now. A member of a weaving class at the Lapham Park Social Center, Mrs. Long already has turned out rugs, pillow tops, scarfs, purses and ties in quantities that approach wholesale lots. She is one of 89 women who are enrolled in classes throughout the week."
The weaving center attracted mostly women, but a very diverse group, including many who brought their own ethnic textile traditions to the center, including from Italy, Sweden, Switzerland and other countries.
A number of women ran the center in its early years, but in 1945, when the center was relocated to Auer Avenue School, Hazel Kolloge took over and remained at the helm for decades.
Born Hazel Taft in 1889, in 1917, she married Herman Kolloge, who owned a hardware store. By the late 1930s, Kolloge was working for Milwaukee Recreation as a supervisor.
In 1945 the new studio at Auer Avenue had 40 looms, by 1951 – a year in which we can see video of Kolloge demonstrating a loom thanks to WTMJ-TV and UWM's Archives – there were 50.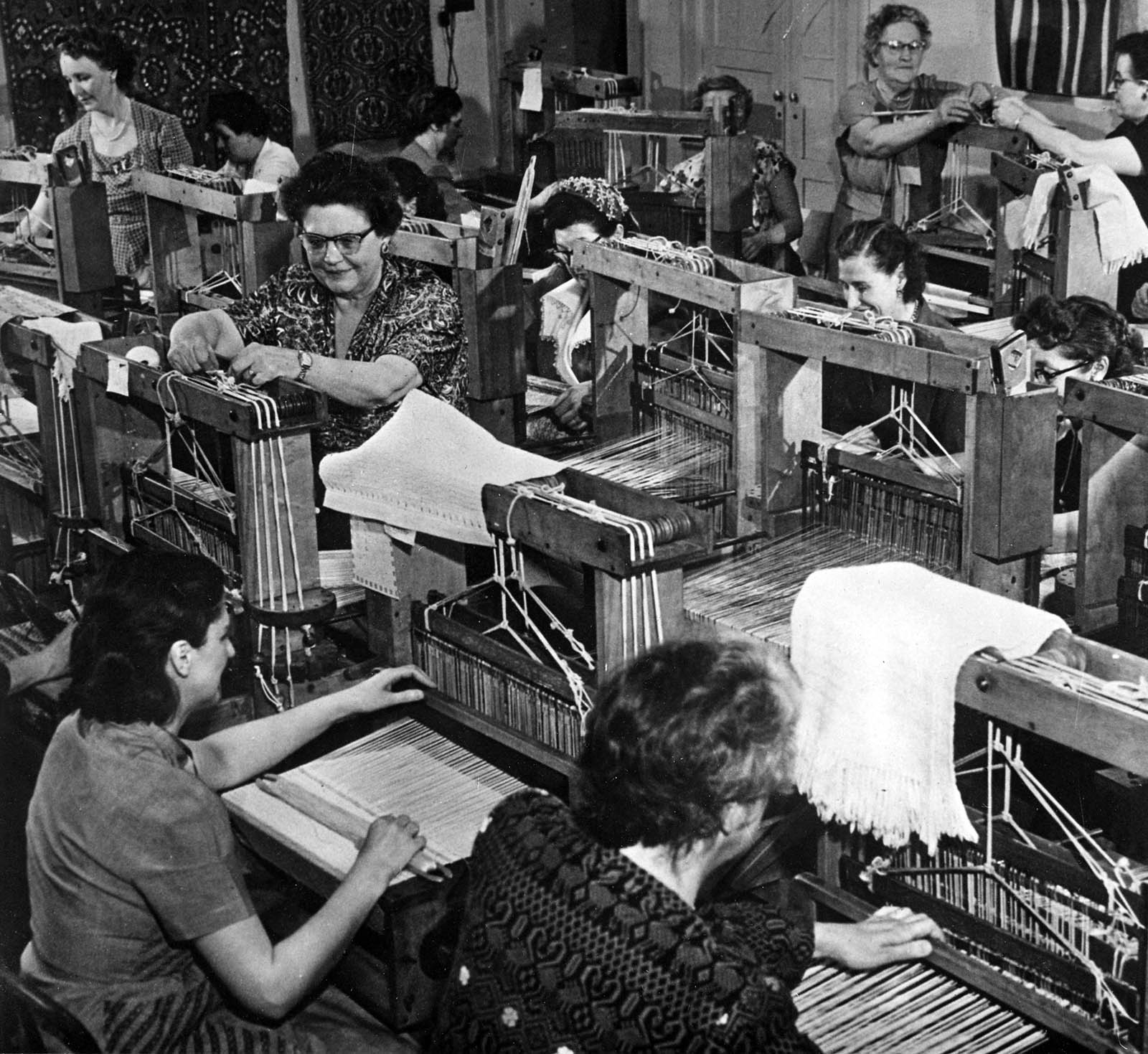 At this time there was also a weaving center at Parklawn Social Center.
The looms at Auer were thrumming every weeknight at Auer Avenue and there were daytime classes on Tuesdays, Wednesdays and Thursdays, too.
In 1952, the All-City Weaving Studio relocated to Room 33 at Clarke Street School and was open 9-5 every weekday.
By 1957, Kolloge has secured another 10 looms for a total of 60 and the center was outgrowing its classroom.
In January 1958, it moved again, this time to Wisconsin Avenue School, occupying its largest space to day and adding four more looms.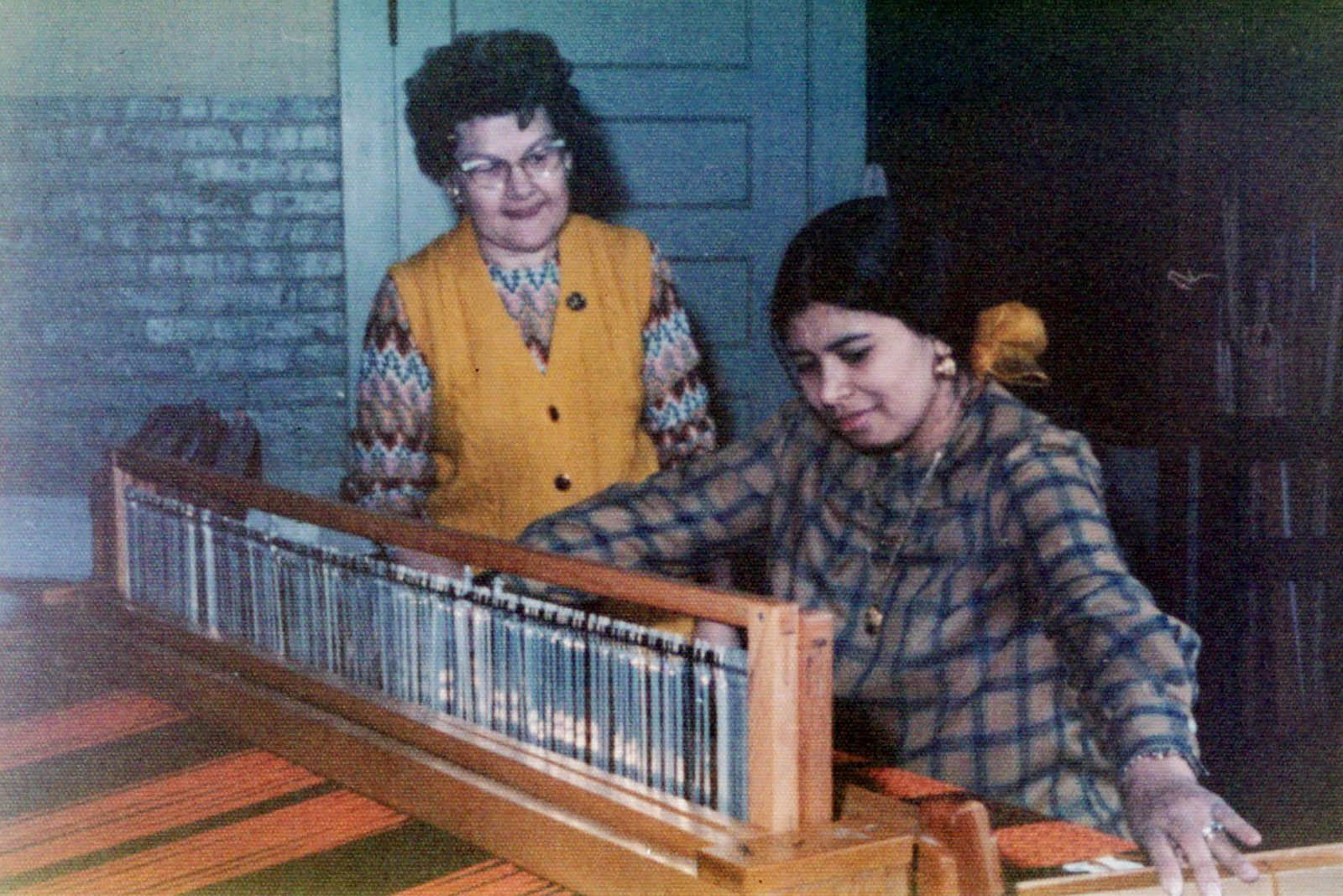 Once again, space constraints – this time it was the school that needed the extra room – the weaving studio was moved to the new Gaenslen School building, 1250 E. Burleigh St., in Riverwest in the late 1980s.
Later, it was named in honor of Alice Bertschy Kadish, a philanthropist – and weaver – who gave to a number of causes. Riverwest also is home to a park named in her honor.
"ABK exists due to Alice Bertschy Kadish's passion for weaving and her desire to share the craft with others," says Grandaw, who was named director just this year. "Alice, who was a retired MPS teacher, loved weaving, and she wanted to keep the craft alive in the Milwaukee area."
Kadish and her husband Halbert endowed the center through their foundation to help ensure its future.
"ABK Weaving Center is unique in that it operates in conjunction with MPS, Milwaukee Recreation, and Wisconsin Handweavers," says Grandaw.
The majority of users are women and of all ages, though ages 30-49 and 60-79 are most heavily represented. But all are welcome and the center's staff encourages everyone to join in.
"ABK is invested in the community in which it exists. For 10 years, ABK collaborated with the Riverwest Artists' Association and hosted Warped Milwaukee, a fiber art exhibition, at the Riverwest Jazz Gallery Center for the Arts.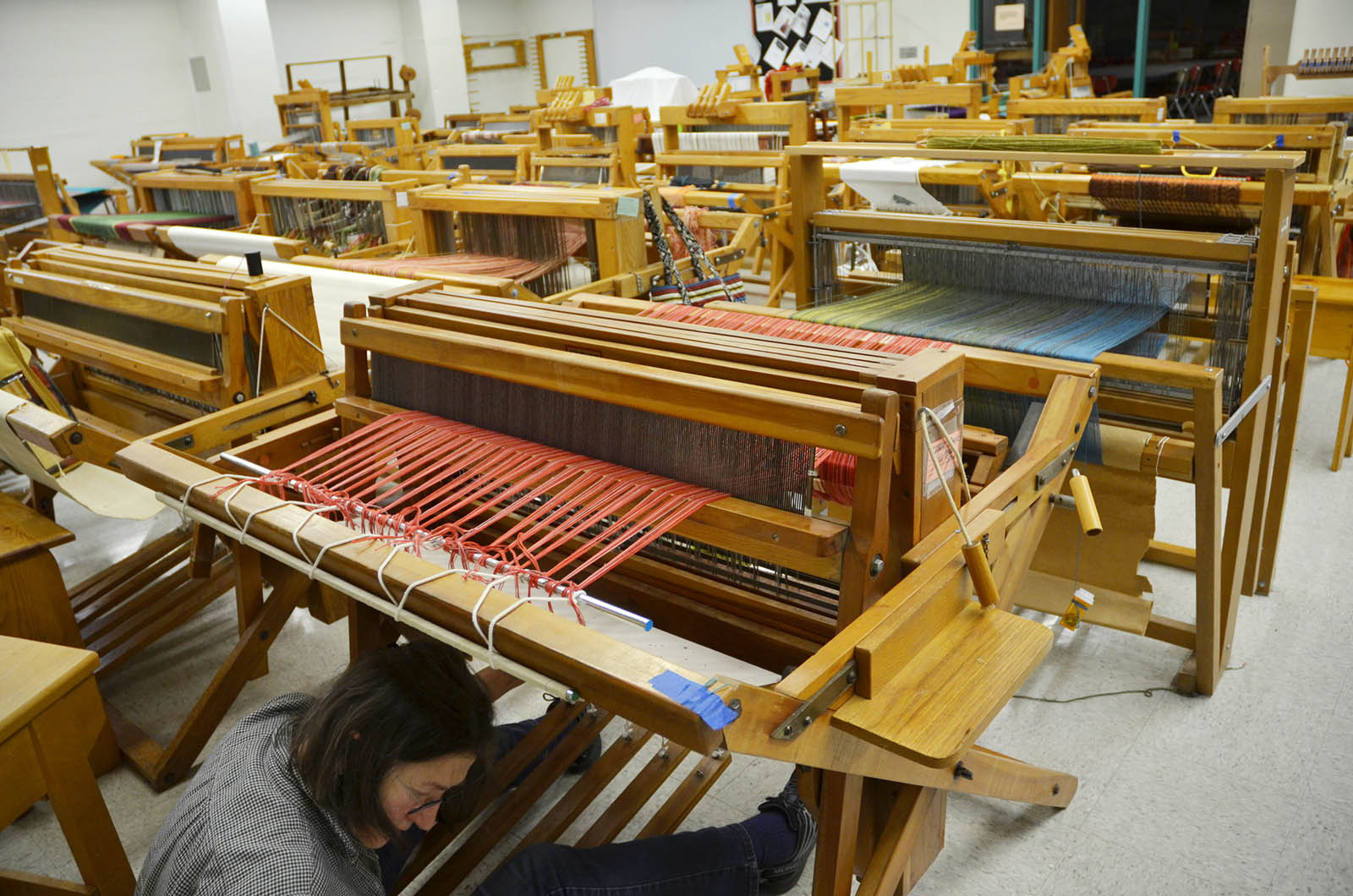 "More recently, ABK has been represented at Riverwest 24 by staffing one of the rest stops with staff and providing a weaving related activity in which bike riders and community members can participate. ABK was also scheduled to participate in Doors Open Milwaukee in 2020, but due to the pandemic participation was canceled."
You'll be able to get a peek inside at this year's Doors Open Milwaukee in September.
But why wait? If you sign up for a class now you can hone your weaving skills at this quietly historic Milwaukee treasure of a place.
(NOTE: This article was written for Milwaukee Recreation's institutional history project. While the topic was provided by Milwaukee Recreation, the content was not.)
Born in Brooklyn, N.Y., where he lived until he was 17, Bobby received his BA-Mass Communications from UWM in 1989 and has lived in Walker's Point, Bay View, Enderis Park, South Milwaukee and on the East Side.
He has published three non-fiction books in Italy – including one about an event in Milwaukee history, which was published in the U.S. in autumn 2010. Four more books, all about Milwaukee, have been published by The History Press.
With his most recent band, The Yell Leaders, Bobby released four LPs and had a songs featured in episodes of TV's "Party of Five" and "Dawson's Creek," and films in Japan, South America and the U.S. The Yell Leaders were named the best unsigned band in their region by VH-1 as part of its Rock Across America 1998 Tour. Most recently, the band contributed tracks to a UK vinyl/CD tribute to the Redskins and collaborated on a track with Italian novelist Enrico Remmert.
He's produced three installments of the "OMCD" series of local music compilations for OnMilwaukee.com and in 2007 produced a CD of Italian music and poetry.
In 2005, he was awarded the City of Asti's (Italy) Journalism Prize for his work focusing on that area. He has also won awards from the Milwaukee Press Club.
He can be heard weekly on 88Nine Radio Milwaukee talking about his "Urban Spelunking" series of stories.