In this article series from OnMilwaukee, Milwaukee-based theater director Alexander Coddington will give you an in-depth, insider's look behind the curtain and inside the craft of bringing a show to life. This is Director's Notes.
Kärin Simonson Kopischke: A Joseph Jefferson Award winner for her work on a production of "Richard III" at Chicago Shakespeare, her regional credits range across the country from San Francisco to Minneapolis to Boston. Now residing in Door County (and we are unbelievably lucky to have her here in Wisconsin), Kärin makes a long-overdue return to the Milwaukee Rep with "Holmes and Watson," directed by Joe Hanreddy, as well as the Skylight's production of "Urinetown" next summer.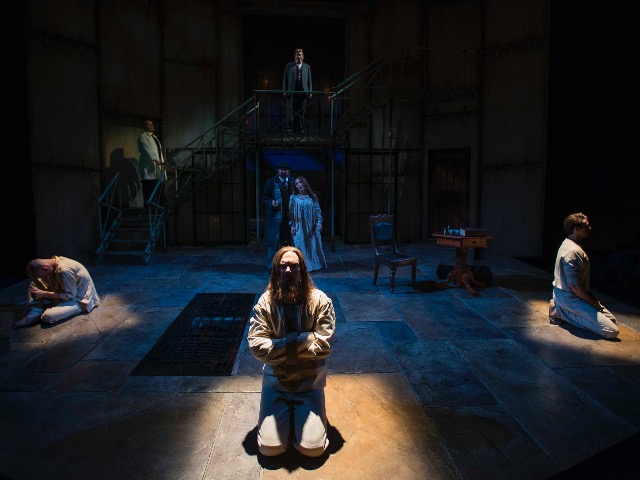 (PHOTO: Michael Brosilow)
Kärin and I met this past summer working on a different Hanreddy production, "The Tavern" at the Utah Shakespeare Festival, for which she designed the costumes and I was Joe's assistant director. Over a break during tech rehearsals, Kärin and I sat down for dinner at Kil@wat,upstairs in the Intercontinental Hotel, and we had a conversation that covered as much ground as her storied career. Her hair isn't the same color as when I last saw her – the highlights have changed from purple to green – but she's as delightfully quirky and chatty as ever.
We chatted about finding joy in the work, the artistic communities of Milwaukee and Chicago, life in Door County, raising children in a two-artist household and the unexpected careers of actors she designed costumes for decades ago. It's a small world.
Alexander Coddington: I am really excited to see "Holmes and Watson."
Kärin Simonson Kopischke: It's exciting. And I'm not a huge Sherlock Holmes fan. I've done another play that's a more traditional play – in fact, it's a play based on that final story about the both of them going over the falls ["The Final Problem" by Sir Arthur Conan Doyle], so this one, when I read it, I wasn't quite sure what my reaction would be, but it's Jeffrey Hatcher ["Holmes and Watson" playwright], and he's so great. It's so clever. And it basically starts where the last novella ended.
The basic premise of this particular Holmes adventure is that there are three inmates who are all claiming to be Holmes. And Holmes, to us, is such an iconic character. So how do you, as a costume designer, take each of those and make them distinct characters who are all trying to inhabit the persona of this character we all know so well and is so iconic?
This is only my second Sherlock Holmes play, but the first one, it's a little scary and a little … I can't think of the right word, but I'm a little apprehensive because it is such an iconic figure.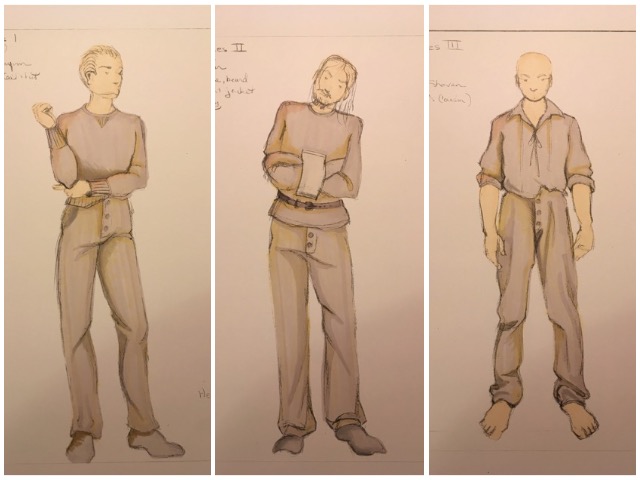 (PHOTO: Kärin Simonson Kopischke)
It's daunting.
Yeah! Everybody in their mind knows what Sherlock Holmes is supposed to look like and what Watson is supposed to look like and Moriarty. So there's a part of that where you know what people are expecting, you kind of want to shake it up a little bit, but if you do too much, that's going to take away from the storytelling. That was my main concern at first. So what Jeffrey has done that is so great is that it happens three years after Holmes and Moriarty go over the falls, and it takes place in this deserted lighthouse that's been turned into an asylum. And each of these men who come forward, claiming to be Sherlock Holmes, are eccentric in one way or another, and Jeff is fairly specific about what your first impression is of each of them.
It's sort of like a ghost story and a thriller, and it has those Holmes elements and there's a quality to the storytelling that's very classic, old Sherlock Holmes storytelling – a little melodramatic where, you know, the story is happening and then the character looks out at the audience and the music happens and the lights go dim and there's a spot and he takes us back. It reminded me of "The Tavern" a little bit.
Sure, yeah!
In a little way, except it's much more serious. But in that sense, it gave me permission to go outside that classic look. And one thing I wanted to stay away from was that tweedy, English …
Monocles ...
And as I was reading it, I loved the story, but I was trying to figure out what I could do with the costumes that would make me excited, that would be a little unexpected. And the requirements were that the inmates were in uniforms. I researched matrons in hospitals, and they wore black and white uniforms, very specific. The doctor was in a white lab coat; the orderly had a white apron over a dark longshoreman outfit. And the more I read, it was like, black, white, black, white, black, white. And the only set piece was this table with a chess board on it, so I thought, "Oh, chess!" And when I met with Joe, one of the first things he said was, "The whole script is like a game of chess." The chessboard is kind of a metaphor for the play because things will happen, and then you'll learn a little bit more. And I was like, a chessboard, that's brilliant.
So after I finished my research, and I did the first group of sketches, I said, "I would really like to take that chess image further and just do black and white and stark." So everything has turned out being iconic images, but it's kind of stripped down, black and white, little shades of gray, and pops of red. And there are little chess pieces hidden in costume pieces here and there. And who knows if anyone will even notice, but that made it fun for me and fun for actors.
And that's great when the playwright gives you such evocative imagery to play with.
Yeah! And the set designer, Bill Clarke, whose set is gorgeous – very stark and industrial. So without intending to, it looks like 1894 but also steampunk and very dystopian. So there's a fun quality there. And the lighting designer, Michael Chybowski, is very excited about the possibilities because it's all of its own world.
So you have to approach it in a very different way from the last time you did a Holmes play.
Mmm, and the last time was very traditional. It was Sherlock Holmes and a lot of earth tones and realistic settings, even though they went to a lot of different places, but it was much more traditional. And here it's really interesting.
More sort of boldly theatrical.
Very. Very. And there are projections in this one, by Mike Tutaj. The projections are gorgeous. It has a very modern feel in telling the old story – like I said, some of the conventions of older storytelling, but very theatrical. And then I'm not going to tell you the fun part, but nothing is what you think it is. When I finished reading it, I had to reread it again, because you don't see things that are coming.
I think Milwaukee audiences are really excited about it for a lot of reasons, because it's Sherlock Holmes and that's a lot of fun to see, but it also feels like a big homecoming for a lot of people working on it. Hatcher has such a history at Milwaukee Rep. It's the first time Joe's been back in awhile – the last time Joe directed in the Powerhouse was "Ten Chimneys" in 2011, a Jeffrey Hatcher play. But also Mark Corkins, who was a member of the Resident Acting Company for years and years, and Norman Moses, who lives here in Milwaukee. And you, of course. How far back does your working relationship with Joe go?
I was based in Chicago, but I grew up in Milwaukee, so I interviewed with the Rep. This was when John Dillon – this dates me – was the Artistic Director [Dillon was Artistic Director from 1977 to '93], and I interviewed with him, and that went very well. Then I got a phone call and was asked to do "How I Got That Story," which is an old Amlin Gray play that was done years ago, probably in the '70s. Jim Pickering was in it. So they revived it in 1993 and I was put together with a new director: Joe Hanreddy [then the Artistic Director of Madison Rep]. So it was Joe's first show at the Rep and my first show at the Rep.
James Pickering and Gregory Steres in the Milwaukee Rep's "How I Got That Story."
Before he was Artistic Director?
Before he was Artistic Director. And it was the spring of that year and then he was named Artistic Director the following year. And then I started doing a show a year and then when I moved to Milwaukee, I was Chicago based for a long time ...
When did you move to Milwaukee?
So I was in Chicago early '90s until … I think we moved to Milwaukee in 2000. When I moved to Milwaukee, I started doing more at the Rep. I continued working with Joe, but bit by bit, worked with a lot other directors.
We were working full time in Chicago, and we made enough money that we were able to buy a little house. We were so proud of supporting ourselves in the theater there, but we never saw each other. I'd work during the day; he'd work during the night. Our daughter was going to be starting first grade, and we had a nice little house in an adequate little neighborhood, but the local school was awful. And because I came up to Milwaukee and saw the people in the theater in Milwaukee, I looked at Norman Moses and Carrie Hitchcock, Deborah Staples and David Cecsarini …
In Chicago, it was really weird just being married – and then you put a kid in it, nobody was married with kids. So I thought we can possibly continue what we're doing in Milwaukee, it's cheaper to live there. So we moved up to Milwaukee for quality of life.
I'm really curious: How is Joe Hanreddy as a director today different from the Joe Hanreddy of pre-Milwaukee Rep early '90s.
For me, Joe as a director is a lot like my brother [Kärin's brother is playwright/director Eric Simonson, who is an ensemble member with Steppenwolf, an associate artist with Milwaukee Rep, a Tony Award nominee and author of "Lombardi" (2011/2012).]. He has a lot going on in his head; he thinks in terms of the world, and he thinks in terms of lights and sound and that's what he's focusing on. He lets the costume designer do that, but he does have definite reactions. So he's very much like Eric to work with. The only difference with Joe is that my brother's my brother and I'm the big sister so I can talk to Eric like a sibling and give him sh*t. But Joe is very good about his notes, so if there's something he really doesn't like, he lets you know.
Since we've had the break and since he left the Rep, he's more relaxed and I think there's more of that … probably that initial joy that he had when he went into theater. The Artistic Director position means wearing so many hats.
But it's been fun. I don't know if it's just that we're both older or if Joe is just more relaxed, but I've seen more of the joking that he does. And also the "Eh, it's just a play!" That thing. Where before it was really serious and now it's just enjoying the process.
And that's something that I think is very typical of Wisconsin theatre. I think it's very jovial and community-based and everyone feels like family. I'm curious how you think Wisconsin differs from Chicago, because we are so close and you lived there for such a long time.
I think Milwaukee has a fierce pride about their theater, and I think their theater is just as good as Chicago, but I think that they feel like Chicago doesn't think that. People would be surprised that I was doing shows in Milwaukee, and at that point, Milwaukee had more costume shops. Steppenwolf's costume shop was very tiny. The Goodman had a wonderful costume shop. Chicago Shakespeare's costume shop was kind of transient; they would pull together for a show and then just disperse.
But I find Milwaukee and Chicago very similar. There's a very close-knit community. And I do get the sense that it's friendly competition.
People are happy when their friends book work.
Exactly. Exactly. Yeah, I think they're more similar than different.
I'm always curious about designers and playwrights and their paths to theatre, whether it was the theater that brought them to their particular craft or the craft of what they're doing to theater. Were you a theater kid who started doing costumes or did you really love clothes?
It was sort of a combination of both those things. So my mom was a piano performance major too, so she was very cultural. My dad's family was very artistic, but they were pretty much business people; my dad was in real estate and he had brothers that were all in very practical fields. I think my mom enrolled me in a summer theatre camp in junior high, and I fell in love with it. Both Eric and I would do a lot of pretending growing up and we'd put on little skits and stuff and that really whet my appetite.
But after I graduated from Lawrence, I tried art. I worked at the Milwaukee Art Museum as an assistant curator, and I didn't like the exclusivity of the art world. It was so heady and so lofty – too many rules.
Then I met a piano teacher in Whitefish Bay and I taught with her for a year, and to supplement the piano teaching, I did some musical direction at small theatres in Milwaukee. But as I sat in on rehearsals and performances, it reminded me how much I loved theater. I would look around think about how theater incorporates music, art, language, English, writing, sometimes dance. It incorporates all the arts and it doesn't take itself so seriously. Because classical music and the classical art world take themselves so seriously and I immediately thought, I just want to do theater.
And the theaters I had worked at, I had been very critical of the costumes. And they were small storefronts; they didn't have a lot of money. But I was like, they should have done this for the costumes and this and this, and they could do this without a lot of money, and it's not that much work. So I started doing more community theater and semi-professional theater with the musical direction, met Alan, and we ended up dating and getting engaged fairly quickly and then he went to ACT (American Conservatory Theatre) in their MFA Acting program, so that brought us out to San Francisco and I had to support us.
I've always loved fashion and I was working at I. Magnin, a department store, in the buying office to make money. And that took itself way too seriously; it was not fun. And Al said, you cannot work there anymore, it is killing your joy. He had talked to the production manager at ACT and asked if there was anything there I could do – and there was an opening in the costume shop as a design assistant and a buyer. I had worked in the buying office at I. Magnin and I had an art degree, and within weeks, I knew that this was what I wanted to do.
I didn't go to grad school. I worked at ACT for six or seven years, and I started as a design assistant, continued doing that and then they asked me to be the resident designer for a new play program they were starting. Then I started freelancing a little bit, and then when we moved back to Chicago, I just jumped in and freelanced.
And what brought you back to Chicago?
My brother Eric. He had gone directly from Lawrence to Chicago, and he was part of that exciting '80s Chicago theater scene and he couldn't find a good costume designer. He was directing and he said, "Come to Chicago – there's work for Alan, there's a lot of theater, I can't find a good costume designer and I want you to design." So we just moved out there without any jobs. We just got an apartment and started hitting the pavement.
And it was so much fun back then, because everything was booming, but it was small enough. I did a show with Eric – it was "Bang the Drum Slowly" [1992 at the now-defunct Next Theatre], one of the actors I costumed was Tracy Letts. So that was one of the first plays he'd done. So I know Tracy Letts from back then.
Way before he was Pulitzer Prize winning playwright Tracy Letts.
Never in a million years would I have anticipated that happening …
Journeyman actor Tracy Letts.
Yes! So I worked with him. I got a job out at College of DuPage doing an opera out there and Peter Amster directed that. I never worked with [Steppenwolf Ensemble Member and Tony Award winner] Frank Galati, but I got to know Frank through that.
Because I worked with the draper on that show, she was head of wardrobe at Chicago Shakespeare. They needed somebody to remount a production of "Cymbeline," so it was one of these situations where the designer of the original production wasn't around but other designers didn't necessarily want to step in and remount something. I was new in town, so I interviewed and hit it off with [Chicago Shakespeare Theater Founder/Artistic Director] Barbara Gaines.
You didn't happen to do any of the shows that Deb Staples was in when ...
Oh my god, yes, I did! We did "As You Like It" and she was Celia. I didn't know her from anyone, and she didn't know me from anyone. She wasn't living up in Milwaukee yet. It was a British director, David Gilmore, and [Steppenwolf Ensemble Member] Mariann Mayberry, who just passed away, played Rosalind. So that's how I met Deb. I think it was probably years later that we actually worked together again.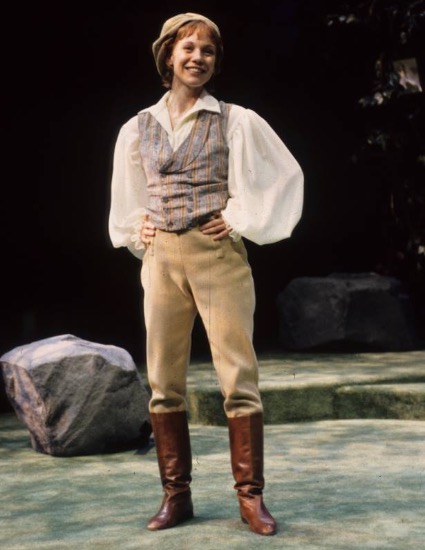 Mariann Mayberry in Chicago Shakespeare Theater's "As You Like It."
It's such a small world.
It's so small. And each connection ... I worked with J.R. Sullivan at Northlight – he lived in the neighborhood we lived in when we bought a house, which was fun. That's what was kind of wonderful about Utah, because I've been in Door County for almost ten years, which is unbelievable, and I've been not actively designing those ten years, sort of sporadically. But at Utah, I was reconnecting with people from Chicago, people from Milwaukee and people I knew when we lived in San Francisco. Art Manke, who is directing the Pearl Bailey show there next year, I designed for him in San Francisco.
And he did "Sense & Sensibility" at Milwaukee Rep a few years ago.
You're kidding … oh my gosh, I didn't know that.
It all comes full circle.
It's a small, small world. That's what I keep telling my students. It's wonderful, and it could bite you in the butt. You have to figure out ways to work with everybody, because you're always going to be running into either that person or people who know that person or people who've worked with that person. And you can't, you know … you have to be good all the time on every level.
Alexander Coddington is a freelance theatre director in Milwaukee, a city he is proud to call his chosen home, though the rain still makes him nostalgic for his upbringing in the Pacific Northwest. Here in Milwaukee, he has worked on productions with Renaissance Theaterworks (including directing the inaugural production of Groundworks), Milwaukee Chamber Theatre, Next Act Theatre and the dearly missed UPROOTED Theatre. Although his apartment is technically in Milwaukee, the work has picked him up and taken him to the Utah Shakespeare Festival, Chicago Shakespeare Theater, Remy Bumppo Theatre Company (Chicago) and American Players Theatre, where he has spent several summers. On Sundays, you can usually find him at brunch ... unless he's in rehearsal.