Recently, Milwaukee's baseball-themed craft brewery announced a line-up of new beers in new-look cans. They're the first big visible evidence that the brewery has a new head brewer this year: Karl Osterman.
Opening in the Third Ward in 2017, Broken Bat grew quickly, moving in early 2020 to larger digs in Walker's Point that even include an indoor Wiffle Ball field, as well as a large taproom.
After starting at Broken Bat as a bartender, Osterman was hired as an assistant brewer in 2021 and earlier this year was named head brewer.
This month, the brewery released a line-up of six new beers in cans with a new look for Broken Bat.
"In the game of baseball, and in life, sometimes you have to change your approach at the plate – and after 5+ awesome years, we're excited to introduce a new era here at Broken Bat," read an email sent by the brewery in late October.
"To celebrate our new look and feel, we're introducing 6 brand new brews to the lineup. Our Head Brewer, Karl Osterman, hand-picked these brews to kickstart our new era. "
It seemed like the perfect opportunity to have Osterman tell us his story.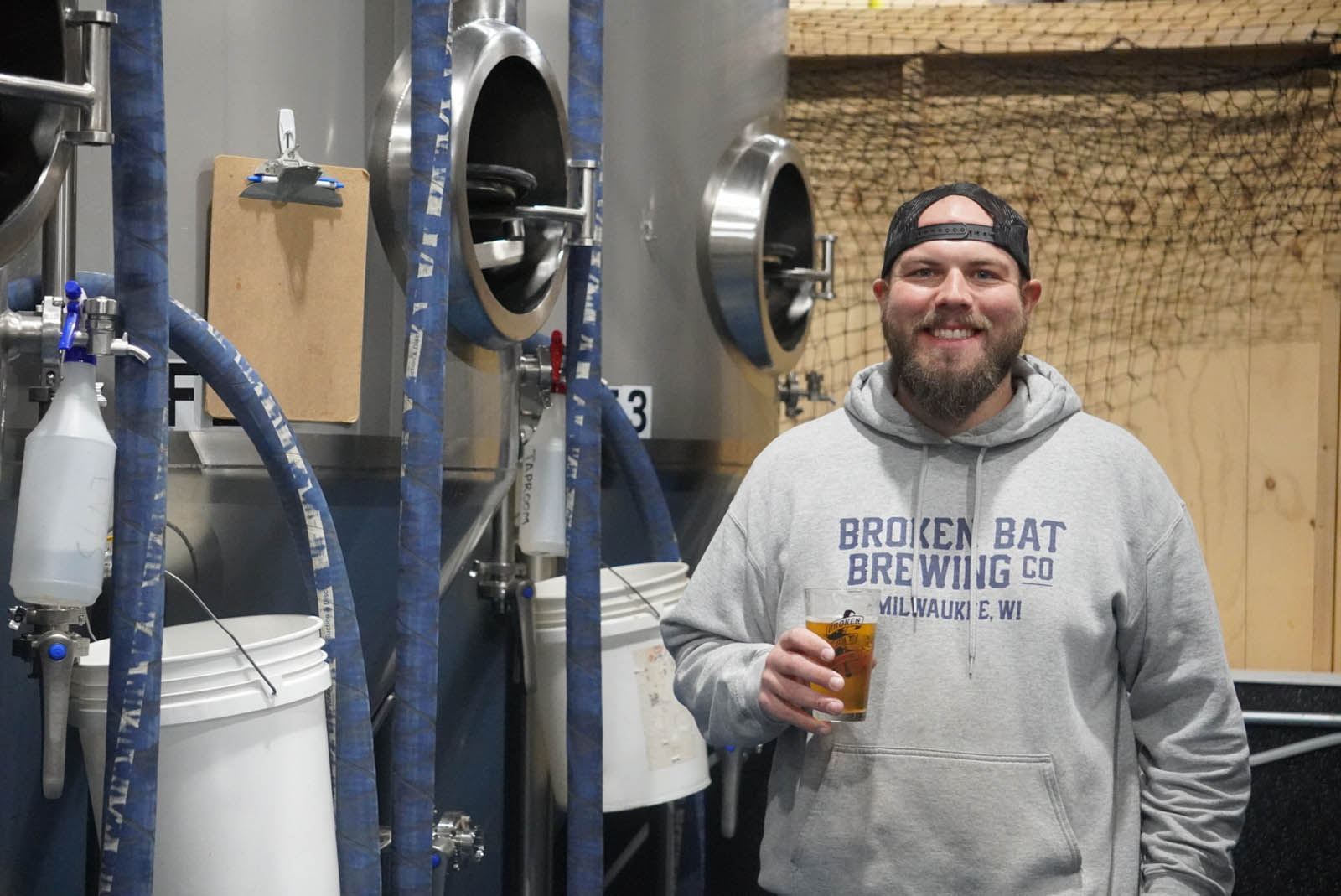 OnMilwaukee: Tell us a bit about your background.
Karl Osterman: I grew up on the south side of Milwaukee, near St. Luke's Hospital. My dad works closely with the Milwaukee Common Council and my mom is an administrative assistant for Ascension Healthcare. My wife, Kimmy, and I currently reside in Menomonee Falls and she is a school psychologist for the Hartford School District.
I attended Ripon College and received a 4-year Bachelor's Degree in Exercise Science and went on to receive my Master's Degree in Athletic Training (Sports Medicine) from South Dakota State University. Working in elite level football was a huge dream of mine, and I gained experience with the San Diego Chargers and University of Missouri.
Collegiate athletics, much like professional sports, is very much a business. In 2019, circumstances led to a wide-spread shift in culture at Mizzou and I decided to explore a job back home in Wisconsin. I landed on a job as a high school athletic trainer for Johnson Creek High School. Things were going well, until the pandemic changed everything, as most people can relate to.
So that's the sports connection, but what about the beer side?
In the world of craft beer, I had no background in beer brewing. What I did have, was a high level of interest, and a few years of seasonal experience delivering beer for a local Milwaukee distributor.
Through mutual friends, our taproom GM, Kyle, hired me on at Broken Bat as a bartender. I worked a few shifts a week while still carrying my full-time job until I was able to start helping in the brewhouse part-time. Cleaning kegs, cleaning tanks and packaging beer were main parts of my role.
Throughout this time, I tried to absorb as much information as possible into how the process of brewing is done, from grain to glass.
Was that a steep learning curve for you?
In April of 2021, I was approached by our owner Tim (Pauly) about the opportunity to hop on full-time as assistant brewer. I was humbled by the opportunity.
How could a local brewery hire a guy with absolutely no brewing background? All I could do was control what I could control. An old mentor and close friend of mine had an acronym we loved to use that will always stick with me. G.S.D. (Getting Stuff Done). I will let you figure out what that means.
I knew that my experience couldn't do the talking, so at this point I dove deep into any self-educating I could: textbooks, YouTube, podcasts, research articles and so on. I would say it was a steep-learning curve, but I wanted to set the expectation level very high.
Tim trusted me with this job, and I wanted to see how far I could go in the industry. At this point, I already knew that 90 percent of beer production is cleaning, and I knew how to do all of those things. Now, I needed to learn all of the technical aspects.
As cliché as it is, I love the thought of lifelong learning. There will always be aspects of beer production that I can learn more about, innovate best practices and help make Broken Bat a brewery known for high quality, consistent beer.
So it was something of a a baptism by fire.
My goal is to put Broken Bat Brewing on the map, to produce high quality and consistent beer that people want to seek out, whether when enjoying a day in the city or looking for a beer to sip on at home. With that in mind, I felt a sense of responsibility and ownership to be the one to get us there. No matter what it takes.
When I was hired as assistant, I did everything in my power to better our standard operating procedures, make us more efficient, and get to a point where I could formulate a recipe and carry out the entire brewing process. After my first solo-brewed beer, an amber ale with raspberry and pecan, I knew I was ready.
I suppose it was baptism by fire. I wanted to be head brewer, and felt I was headed in that direction. I was promoted after nine months as assistant – quite the whirlwind. I have never been more excited to lead our brewhouse into a bright future. I get to play on a giant adult playground that makes beer!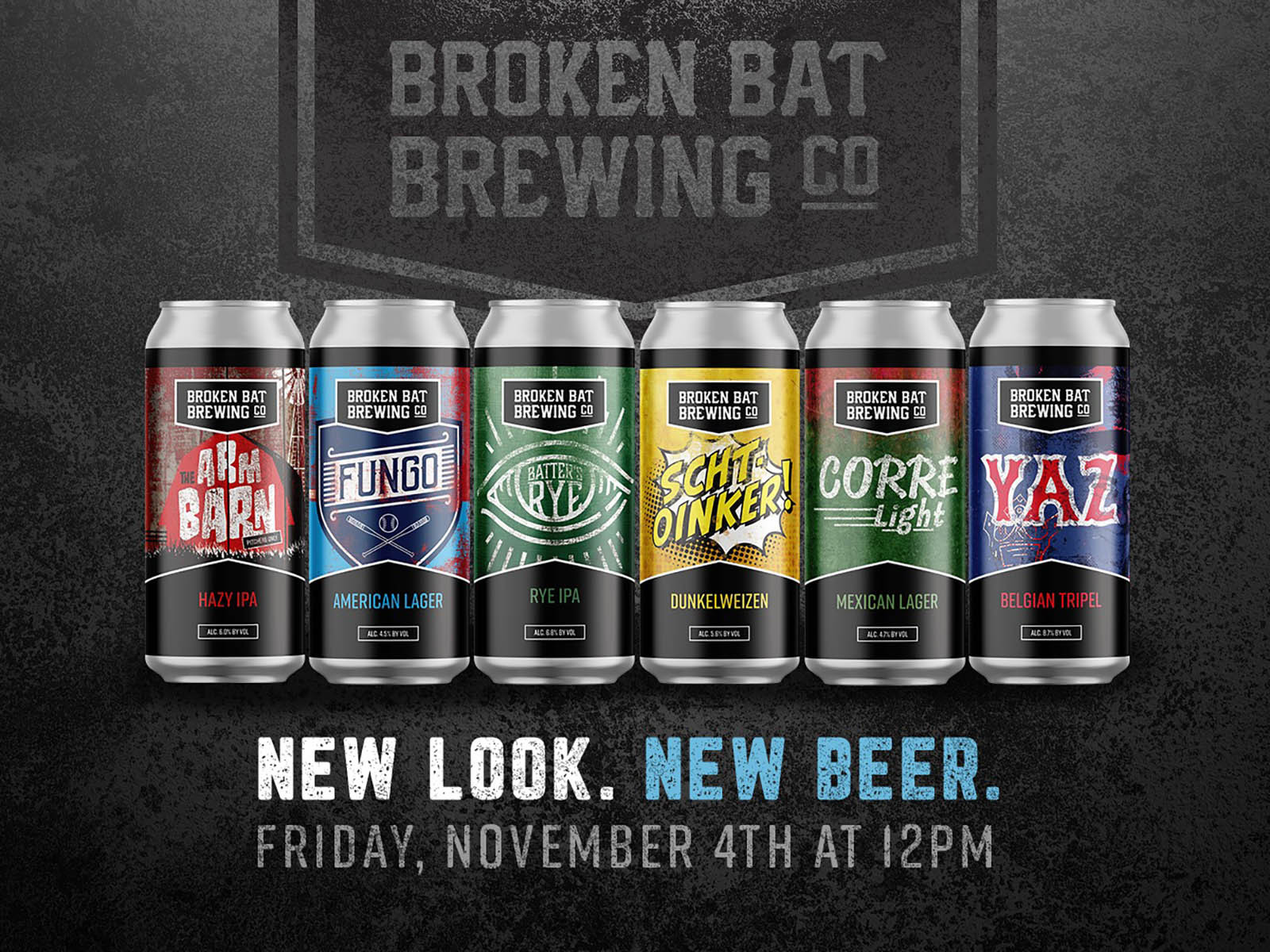 Tell us about the new lineup and how you selected the beer styles, etc.
Firstly, Tim did a great job getting us rolling with our rebrand. Same brewery, new logo, new beers, fresh start.
He gave me freedom to create six new beers. I wanted to continue the trend and give Broken Bat some new styles we've never made to treat customers to.
Arm Barn New England (Hazy) IPA has minimal bitterness and bursts with tropical hop aromas and taste. Loaded with Eukanot and Cashmere hops during fermentation.
Batters' Rye IPA is a style perfect for the winter months at 54 IBU, it has a nice bite that is balanced well with the peppery spice synonymous with rye malt. The amber color is very pleasing to the eye.
YAZ Belgian Tripel is dangerously drinkable. Approaching 9 percent ABV, it is very sweet due to use of Belgian candi sugar, and the esters provided by a traditional Belgian yeast strain. I also added crushed coriander and Grains of paradise to provide even more citrus / peppery notes.
Schtoinker, a traditional German dunkelweizen, is often the winter seasonal version of its golden-pale twin, hefeweizen. At 5.6 percent ABV, it is easy to drink and full-bodied. This bronze-colored ale has notes of biscuit from the malt and the yeast-driven banana and clove esters many love in a German wheat beer.
FUNGO ... I am so excited for this banger of a beer. At 4.5 percent, we wanted to make an American lager that drinks as easy as you can say the name "FUNGO." It is clean, crisp and damn tasty.
Born in Brooklyn, N.Y., where he lived until he was 17, Bobby received his BA-Mass Communications from UWM in 1989 and has lived in Walker's Point, Bay View, Enderis Park, South Milwaukee and on the East Side.
He has published three non-fiction books in Italy – including one about an event in Milwaukee history, which was published in the U.S. in autumn 2010. Four more books, all about Milwaukee, have been published by The History Press.
With his most recent band, The Yell Leaders, Bobby released four LPs and had a songs featured in episodes of TV's "Party of Five" and "Dawson's Creek," and films in Japan, South America and the U.S. The Yell Leaders were named the best unsigned band in their region by VH-1 as part of its Rock Across America 1998 Tour. Most recently, the band contributed tracks to a UK vinyl/CD tribute to the Redskins and collaborated on a track with Italian novelist Enrico Remmert.
He's produced three installments of the "OMCD" series of local music compilations for OnMilwaukee.com and in 2007 produced a CD of Italian music and poetry.
In 2005, he was awarded the City of Asti's (Italy) Journalism Prize for his work focusing on that area. He has also won awards from the Milwaukee Press Club.
He can be heard weekly on 88Nine Radio Milwaukee talking about his "Urban Spelunking" series of stories.