Explore the best Milwaukee has to offer with VISITMilwaukee and OnMilwaukee this summer by "Urban Exploring." We'll be sharing parks to hike, walls to climb, rivers to paddle, trails to bike and so much more. Be a tourist in your own town and experience it with us!
As much as we celebrate the emergence of Downtown – and there is much to commend, from the rising private buildings to the expanding public greenspaces to the streetcar project, new Bucks arena, burgeoning businesses and more – it's easy to pass absently by all of that civic beauty and exciting development, in cars and Ubers and Bublr bikes and busses, amid the hustle and bustle of just trying to get where we need to go every day.
That's why you owe it to yourself to spend a day enjoying Milwaukee's current transformation from the wonderful waterways that have always been here, seeing the city from the inside out at a leisurely pace that lets you appreciate our changing history but gives you a good enough workout that you'll feel like you've earned those riverfront beers you paddled up to the patio to get.
Do yourself a favor: Get in a kayak and get out on the water. Now.
Tourists love Lake Michigan and the Milwaukee, Menomonee and Kinnickinnic Rivers. Our water is what sets us apart from other places – at least until all that other awesome stuff comes to fruition. But locals too, even lifelong residents, will love the fun, the freedom and the feeling of early French-Canadian exploration that comes with experiencing our fair burg via a small, narrow, one-seat boat with a double-bladed paddle.
I did it Tuesday, and I can't wait to go back.
Here are nine great reasons to kayak Milwaukee.
1. A unique perspective
You've surely driven around Downtown. You've probably strolled the Riverwalk. You may have gaped at our (not-so-tall) skyscrapers, marveled at the intricacy of century-old buildings and smiled at the little parks scattered throughout the city. Perhaps you've even stood there along one of our rivers, looking out at it with wonder and wishing you could be like the people navigating it, who are having the time of their lives.
"It's a whole different world when you're checking out the city from the river," says Beth Handle, owner of Milwaukee Kayak Company. "There's a living city underneath the Riverwalk, too. You get to see the city in action; in the morning, you get to see the city wake up."
It's an entirely different vantage point looking out from the river. You'll observe architectural features and building angles you never noticed before, exposed and otherwise-unseen structures that only face the water and the undersides of bridges; you'll see into the guts of riverside construction projects not viewable from the street; you'll feel like you're in the heart of the city, seeing the inner workings of where it's going and what it's becoming.
"With kayaks, you can go into different areas that motorboats can't travel to," Handle says. "You're paddling under trees, on the Menomonee River you can go under train tressels and, depending on the season, make it almost to Miller Park.
2. Experience history
Native Americans were first attracted to this area because of the water and the fertile land around it, especially the abundant wild rice that grew in the marshland of the Menomonee Valley. Jacques Marquette and Louis Jolliet traveled from Lake Michigan through the Milwaukee River when charting Wisconsin. City founders Solomon Juneau, Byron Kilbourn and George Walker established settlements at the confluence of the rivers.
Throughout Milwaukee's history, the rivers were a source of power, a site of industry, a means of transportation and a place for recreation – with ice skating in the winter and water slides and swimming in the summer in the early 20th century.
As you paddle down the river, a modern urban explorer, you'll feel like you're floating back in time, traversing the same waterways people used to discover, settle and build this city.
"Right now the river is really high, as high as it's been in 12 years, which is good and allows you to kayak further," Handle says. "As kayakers, we can go past the old North Avenue Dam and paddle through the Milwaukee River Greenway, which is all natural and beautiful and that many people have really worked to restore."
3. It's (relatively) clean
Speaking of our illustrious past, one of my favorite nuggets of waterway history is that, around the turn of the 19th century, after decades of industrial, human and horse waste had been dumped into the Milwaukee River, making it dirtier and smellier than you can imagine, civil engineers at the time proposed solving the pollution problem by simply putting a roadway (euphemized as a "grand boulevard") over it. Out of sight, out of mind, apparently, a boxed-in sewer.
Thankfully, they didn't do that; rather, city leaders worked to improve heavy manufacturing and waste disposal processes and, over the course of many years, dramatically cleaned up the rivers, most notably the Milwaukee.
"It went through many phases and manufacturing was so heavy and prevalent, the river was used many different ways back in the day," says Handle. "There were lots of people who've done a lot work to clean it up. But thank goodness they didn't decide to cover it, because it's a whole different world down here, and it provides recreation and a healthy way to exercise and something to do for locals and people visiting Milwaukee."
4. It's safe
Kayaks may seem daunting because they're small and seemingly unsteady. But once you're successfully in, as long as you're not thrashing around in it, you'll be fine. The recreational kayaks provided by most companies are directionally stable, compact and maneuverable.
Veteran kayakers, including VISIT Milwaukee communications manager Katy Deardorff, say more fall-ins actually happen when amateurs are getting back in the kayak and lose their balance (perhaps after a few drinks at a riverfront patio), rather than simply being overturned while in the water.
"The weekends get really busy with boat traffic," Handle says, "but everyone plays really nicely on the river, and it's all slow, no wake, so it's safe."
Generally, kayak companies – as well as the Coast Guard and Milwaukee Police Department boats – prefer that inexperienced paddlers stick to the rivers, within the harbor, and refrain from going past the Hoan Bridge. But there are no laws restricting where a kayaker can venture, and on a good day, an old salt could easily get to Lakeshore State Park and be rewarded with a great view of Downtown.
"But definitely stay within the breakwall because that wind can pick up out there," Handle says. "We want everyone to be safe."
5. It's easy
You don't have to pack two pairs of clothes, bring a lunch, drive 40 miles to an outfitter and be shuttled to the river to enjoy Milwaukee's waterways. It's easy to get there and even easier to get in. There are a few spots to get a kayak, and it's not expensive.
Milwaukee Kayak Company's rate for a single is $35 for up to four hours, $50 for a tandem. The Urban Ecology Center rents theirs out for free to members. There are others, such as Wheel Fun Rentals ($12 per hour for a single) and Clearwater Outdoors, which has various packages. Easy, accessible and reasonable.
6. But not too easy
Don't overestimate the exercise element. While certainly there are more difficult things to do than paddle a relatively lightweight kayak around at 2-3 mph, after an hour or two, you'll be feeling the burn. Particularly in your abdominals, if you're doing it right (and you should be). And particularly if there's some wind (and there will be).
Deardorff says, ideally, a good paddle stroke is less flailing arms and shoulders and more twisting torso and abs.
"It's a really good ab and upper-body workout," adds Handle. "We're in this urban watershed, and wind is a big factor here. We're so close to Lake Michigan we have this effect called the seiche effect, and so our river water flows into the lake and mixes with lake water, and it's constantly rising and falling. So the current is changing and it is a flowing river, so it's a really good workout."
7. Bridges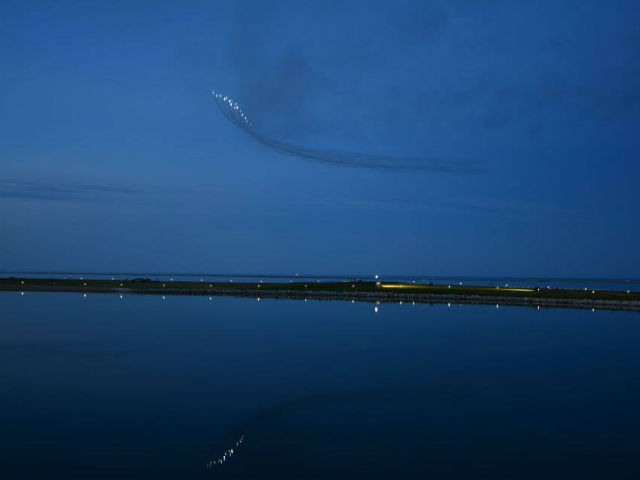 Spanning Milwaukee's rivers are several different types of moveable bridges, including bascule and vertical lift bridges, as well as other fixed bridges, pedestrian-only and some railroad trestles. Kayaking under the bridges is cool for a few reasons.
First, they have "No wake, 5 mph" signs that are just begging you to summon all your strength and try to exceed the speed limit. I suggest using the Snapchat speedometer filter; my high was 3.5 mph. Second, it's fun to watch the bridges work. And third, it's even more fun to watch them work and be fully able to freely paddle under them while crabby car-drivers above curse the bridges for making them wait. See ya later, suckers!
Handle says the bridges are "for sure" the highlight of the trip for her kayakers.
"The bridges are the biggest thing," she says. "They're loud, it's exciting and we can just stay to the side of the river while watching the bridges open and close."
8. Patio refreshments
At this point, if you own a restaurant or bar that backs up to the river and you don't have a riverfront patio, you're basically throwing money into the water. Not only have patios sprung up over the last few years, but also public docks and slips where people – whether in a boat, a kayak or something else – can just pull up, tie up and drink up.
"It's definitely a nice opportunity to reach a whole different demographic and a whole different set of customers on the river," says Handle.
On Tuesday, we stopped at Lakefront Brewery – the farthest spot north on the Milwaukee River for a refreshment – which last year opened its patio and this month introduced an artistic chalet on the riverfront. There's also the popular new Smash Ale, which already met its summer projection in its first month, and beersicles that are delicious and definitely 21-plus.
Lakefront tour manager Dylan Mazurkiewicz says the brewery realized it had to improve its patio game to keep pace with other riverside businesses, which have also rapidly catered to and capitalized on boaters looking for some brews and cheese curds. Lakefront's offerings were excellent.
9. Freedom
If you're like me, living in a big, bustling city (yeah, like Milwaukee!) can be stressful and restricting. There are neighbors playing terrifyingly loud video games, traffic jams and street closures, meetings, obligations, weird interactions and plenty of other things that make you want to just move to the Northwoods and get away from it all.
On the water, though, there is peace. There is placidity. There is independence and looseness and carefreeness, especially in a kayak. If you want to just stop in the river, chill and take a hundred pictures or a nap, no one will beep at you; if you want to furiously paddle forward on one side and backward on the other to spin in circles like a lunatic, no one minds; if you want to narrate your Snapchat video and loudly sing "I'm On a Boat," as I did, that's fine.
There are a few basic rules – common courtesies, really – in a kayak: try to stay on the east side of the river, avoid drifting into the path of a faster boat and always, always, wave back to the old people who say hello. But otherwise, it's live and let live, paddle and be glad.
Handle says she loves seeing the smiles on people's faces after they've been on the water.
"Oh my gosh, they're so happy," she says. "They're happy when they get here but they're so much happier when they get out of their boats. They just had the most amazing experience, they've seen the city in a different way, they didn't realize what a good workout it is and they really feel good that way."
Born in Milwaukee but a product of Shorewood High School (go 'Hounds!) and Northwestern University (go 'Cats!), Jimmy never knew the schoolboy bliss of cheering for a winning football, basketball or baseball team. So he ditched being a fan in order to cover sports professionally - occasionally objectively, always passionately. He's lived in Chicago, New York and Dallas, but now resides again in his beloved Brew City and is an ardent attacker of the notorious Milwaukee Inferiority Complex.
After interning at print publications like Birds and Blooms (official motto: "America's #1 backyard birding and gardening magazine!"), Sports Illustrated (unofficial motto: "Subscribe and save up to 90% off the cover price!") and The Dallas Morning News (a newspaper!), Jimmy worked for web outlets like CBSSports.com, where he was a Packers beat reporter, and FOX Sports Wisconsin, where he managed digital content. He's a proponent and frequent user of em dashes, parenthetical asides, descriptive appositives and, really, anything that makes his sentences longer and more needlessly complex.
Jimmy appreciates references to late '90s Brewers and Bucks players and is the curator of the unofficial John Jaha Hall of Fame. He also enjoys running, biking and soccer, but isn't too annoying about them. He writes about sports - both mainstream and unconventional - and non-sports, including history, music, food, art and even golf (just kidding!), and welcomes reader suggestions for off-the-beaten-path story ideas.