Check in early and stay late during OnMilwaukee's "Hotel Week" sponsored by VISIT Milwaukee. These seven days will be packed with stories about historic area hotels, reviews, history, food and drink, staycations and more. Find out what it's like to be a tourist in this town. (Chocolate on your pillow not included.)
This year, thanks to OnMilwaukee's partnership with The Family Backpack, I've read a lot of family travel blogs. Some have inspired me to travel to the far corners of the world with my kids, some have reminded me how much there is for us to see in our own state.
Recently, I came across this post called "How To Have The Perfect Weekend In Milwaukee" from the blog "Kids Are A Trip."
I've read a lot of travel articles about Milwaukee and am often disappointed, seeing the same ol' same ol' suggestions. But this one really rang true to me. It's written by a Chicago mom named Kirsten Maxwell who really seems to have explored Brew City and discovered solid and original places to hang out, like Bavette La Boucherie, a butchershop and restaurant owned by one of the few female butchers in the state.
Maxwell also impressed me by listing "Best Place" first in her beer tour suggestions. Truth be told, there isn't a local brewery tour that I wouldn't thoroughly enjoy, but Best Place's is my favorite because of the amount of history and information it provides. Finally – and I know I am biased because I live in this neighborhood – but Maxwell's recommendation of Walker's Point for dining in general was reflective of the latest in local dining trends.
She also has really good ideas for places to stay, including the Pfister Hotel, the Iron Horse Hotel and The Ambassador.
Maxwell's children are 15, 13 and 10, so some of her suggestions might not be ideal for babies or toddlers, depending on the child, of course. But for kids who are a little older, her recommendations are spot on.
OnMilwaukee: When did you start "Kids Are A Trip" and what inspired you to do so?
Kirsten Maxwell: I started the website in February 2014. On our honeymoon, my husband and I backpacked through Europe, hitting 14 cities in 23 days. We told ourselves that when we had children, we wouldn't stop traveling. When our oldest was 9 months old, we took him to the UK for two weeks. By the time we had three kids, traveling as a family was just something we did. However, people were always asking, "How do you travel with kids"? I always responded, "How do you not?" At some point, I think I just got tired of telling the same story and wanted to have a place to write it down.
How often do you post?
Usually twice a week, but right now I have a lot to say, so it's about three times a week.
Do you make money on the blog? Is it a job? A hobby?
This is a full time job for me, so yes, I make money.
That's really inspiring to hear. So what do you enjoy about travel blogging?
The thing I enjoy the most about travel blogging has to be the people I meet. No matter where I go, I always meet someone or something with an awesome story that needs to be told. I feel so blessed that I get to know these people and places and have experiences I didn't even know were possible.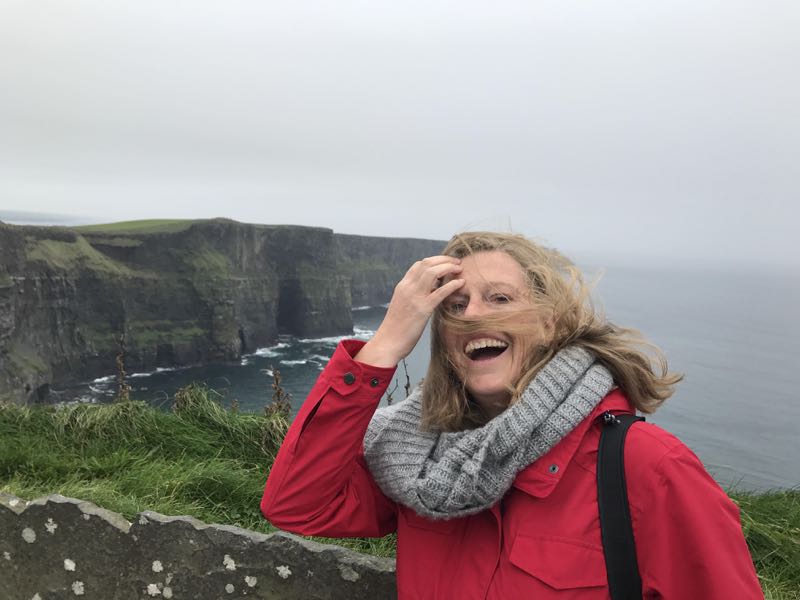 How old are your children and what are their favorite family trips so far?
I have three boys. They are 15, 13, and 10. Each one of them has a different favorite destination. The oldest loved New York City. The middle one loved the farm we stayed at outside Florence. The youngest loved Puerto Rico. For my husband and myself, it always comes back to Prague and the Dordogne region of France. There's just something special about both of those places.
How do you balance writing and being a mom?
Being a mom comes first and foremost. In the morning, I try to wake up before the kids and check email, but once they're awake, I'm on the clock. After I take them to school, it's back to work for me. I spend the time while they are at school writing my articles, making phone calls, scheduling appointments, you name it. When school's out, I'm back to being the chauffeur. If I have anything pressing at night, I'll try to get to it once they're in bed, otherwise it waits until the next morning.
Where did you grow up?
I grew up in Phoenix. I moved to the north Chicago suburbs after living in San Diego. The winter weather here still gets me every year.
Did you study writing anywhere?
I did not study writing. My degrees are in Spanish and Elementary Education with a minor in Marketing. Those all work together for my website in a crazy, awesome way.
Why is family travel important?
As a society in general, we spend so much money these days on material things. I wish more people would understand the value of travel and experience. It broadens your family's horizons and lets you see things from a different perspective. I would love to see people step out of their comfort zone and stop making excuses. Hop in a car, head down the road and see what the world has to offer. Your kids will thank you for it.
Molly Snyder grew up on Milwaukee's East Side and today, she lives in the Walker's Point neighborhood with her partner and two sons.
As a full time senior writer, editorial manager and self-described experience junkie, Molly has written thousands of articles about Milwaukee (and a few about New Orleans, Detroit, Indianapolis, Boston and various vacation spots in Wisconsin) that range in subject from where to get the best cup of coffee to an in-depth profile on the survivors of the iconic Norman apartment building that burned down in the '90s.
She also once got a colonic just to report on it, but that's enough on that.
Always told she had a "radio voice," Molly found herself as a regular contributor on FM102, 97WMYX and 1130WISN with her childhood radio favorite, Gene Mueller.
Molly's poetry, essays and articles appeared in many publications including USA Today, The Writer, The Sun Magazine and more. She has a collection of poetry, "Topless," and is slowly writing a memoir.
In 2009, Molly won a Milwaukee Press Club Award. She served as the Narrator / writer-in-residence at the Pfister Hotel from 2013-2014. She is also a story slam-winning storyteller who has performed with The Moth, Ex Fabula and Risk!
When she's not writing, interviewing or mom-ing, Molly teaches tarot card classes, gardens, sits in bars drinking Miller products and dreams of being in a punk band again.