Carnival season is in full swing, and if you're contemplating indulging in a king cake this year, this guide is for you.
What is king cake?
For many Christians, Jan. 6 is known as Kings Day, Epiphany or Twelfth Night (since it falls 12 days after Christmas). As the story is told, it is on this day that three wise men – or magi – followed a star to Bethlehem to see the baby Jesus. In New Orleans, this feast day marks not only the end of the Christmas season but also the beginning of Carnival, which lasts through Mardi Gras (Fat Tuesday).
One of the elements born of Epiphany is the king cake, a sweet, circular pastry, cake or bread baked in the shape of a king's crown. It's an annual tradition observed in Latin and European countries around the world – with a special prize or gift inside the cake. Whoever finds the trinket in their slice of cake is considered "king" for the day, and it is said that good luck will follow them throughout the year. The king is also responsible for providing the king cake for the following year.
In France and Belgium, the galette des rois ("cake of kings") takes the form of a pastry that's typically filled with a frangipane almond cream. In Spain and Latin America, the rosca de reyes is comprised of a ring-shaped sweet dough that's topped with icing and dried fruit.
In America, Louisiana-style king cakes are a more popular style. They are constructed from a buttery brioche-style dough that's twisted into an oval shape and decorated with icing and colored sugars. Most sport stripes of green, gold and purple – the traditional colors of Mardi Gras, which signify the blessings of faith, power and justice. Most cakes feature a cinnamon flavor, and some are filled with fruit or cream fillings. These cakes also traditionally included a plastic or porcelain baby baked inside or sold alongside the cake (some bakeries no longer observe the tradition, as it's been recognized as a choking hazard).
In New Orleans, the cakes are sold widely, and favorite cakes can be procured from bakeries like Joe Gambino's and Haydel's Bakery. In Milwaukee, however, they're a bit more difficult to find – but not impossible. In fact, a number of bakeries in the area offer their own Wisconsin twists on the Big Easy staple.
We've done the research for you and assembled this list of places where you can find (and pre-order) the cakes.
1. Aggie's Bakery
7328 W. Greenfield Ave., (414) 482-1288
aggiesbakery.com
King cakes at Aggie's are made with a tender sweet dough with a choice of three fillings: cinnamon, cream cheese or a combination of both. They are priced $14.95 to $49.95, depending on size, with the smallest cakes feeding 5-8 and the largest accommodating up to 50. The cakes will be available beginning the first week in February and leading up to Fat Tuesday (March 5).
2. Blue's Egg / Black Shoe Bakery
317 N. 76th St., (414) 299-3180
bluesegg.com
Black Shoe Bakery will be whipping up 16-inch oval king cakes decorated with purple, green, and gold sugar and icing, Mardi Gras beads and a baby hidden inside. Cakes will be sold for $24 (plus tax) and must be pre-ordered with at least 48 hours notice. Orders can be placed online, with pick-up dates between Feb. 21 and March 5.
3. Cranky's
6901 W. North Ave., (414) 258-5282
crankyals.com
Cranky Al's in Wauwatosa has made it an annual tradition to bake up king cakes for enjoyment on Fat Tuesday, and this year is no different. Pre-orders are highly recommended for the cakes, which come in two types, traditional and doughnut for $30. All cakes will be available for pick-up on Tuesday, March 5.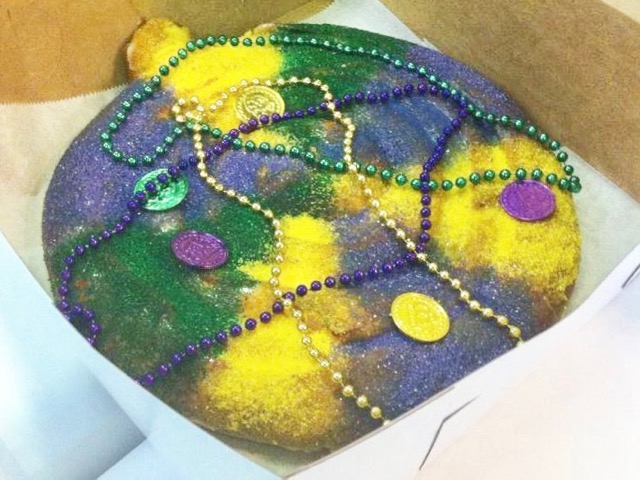 4. Grebe's Bakery
5132 W. Lincoln Ave., (414) 543-7000
grebesbakery.com
For the third year running, Grebe's bakery will offer king cakes. The cakes will be available for purchase February 27 through March 5 for $14 each.
5. Mila's European Bakery
239 N. Main St., Thiensville
(262) 242-1404
milasbakery.com
Mila's offers two types of king cakes: the Spanish rosca de reyes featuring icing and dried fruit and Louisiana-style cakes made with a sweet Danish-style dough, icing and sprinkles. Cakes will be on hand in the bakery's retail shop during the week of March 4 in limited quantity; however, pre-orders are recommended. Pricing is available by calling the bakery directly; please give the bakery at least three days lead time for your order.
6. Miss Cupcake Boutique Bakery
3801 N. Oakland Ave., Shorewood
(414) 810-3997
misscupcakebakery.com
Looking for something less traditional, yet delicious? Miss Cupcake offers special rum cakes decorated in the style of traditional king cakes (complete with a baby inside). The cakes are available as mini cakes (single serving) or large cakes and are sold for $4.99 or $34.99, respectively. Pre-orders are available through Friday, March 1 for pick-up on Fat Tuesday. A limited number of cakes will also be available in the bakery on March 5.
7. National Bakery
3200 S. 16th St., (414) 672-1620
13820 W. Greenfield Ave., Brookfield (262) 827-4097
5637 Broad St., Greendale (414) 423-4620
nationalbakery.com
National Bakery will have king cakes available in the bakery through Fat Tuesday. The cakes, which are made with a traditional Danish laminated dough infused with cinnamon, are iced and decorated with green, gold and purple sanding sugars. Each cake is $18.95 and comes complete with a little plastic baby.
8. O&H Danish Bakery
9540 S. 27th St., Oak Creek, (414) 856-1141
717 S. Sylvania Ave., Sturtevant, (262) 898-1950
4006 Durand Ave., Racine, (262) 554-1311
1841 Douglas Ave., Racine, (262) 637-8895
5910 Washington Ave., Racine, (262) 504-7000
ohdanishbakery.com
If you're looking for a king cake with Wisconsin flair, look no further than O&H Danish Bakery. Their king cake is a cream cheese kringle decorated in green, purple and gold and sold with three strands of beads, a plastic baby and a copy of the king cake story. The cakes can be picked up at one of the O&H stores or ordered online beginning Jan. 8. Pricing for the kringles is $11 in-store or $25.99 plus shipping when ordered online.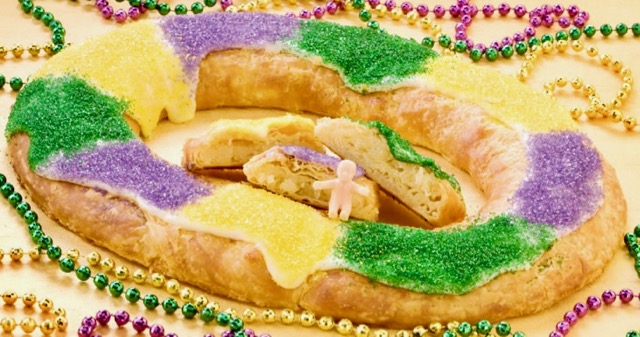 9. Simma's Bakery
817 N. 68th St., Wauwatosa, (414) 257-0998
simmasbakery.com
Simma's bakery will be offering king cake in two flavors (chocolate chip cheese and raspberry cheese) for Fat Tuesday (Feb. 13). The cakes must be pre-ordered on or before Saturday, March 2 for pick-up on the 5th. A limited number of cakes will also be available in the bakery for purchase. Cost is $13.95 each.
Lori Fredrich (Lo) is an eater, writer, wonderer, bon vivante, traveler, cook, gardener and girlwonder. Born and raised in the Milwaukee area, she has tried to leave many times, but seems to be drawn to this quirky city that smells of beer and alewives.
Some might say that she is a little obsessed with food. Lo would say she is A LOT obsessed with food. After all, she has been cooking, eating and enjoying food for decades and has no plans to retire anytime soon.
Lo's recipes and writing have been featured in a variety of publications including GO: Airtran Inflight Magazine, Cheese Connoisseur, Cooking Light, Edible Milwaukee, Milwaukee Magazine and the Milwaukee Journal Sentinel, as well as on the blog Go Bold with Butter, the web site Wisconsin Cheese Talk, and in the quarterly online magazine Grate. Pair. Share.