Lent is quickly approaching. And that means a host of Milwaukee bakeries are battening down their hatches and baking up a storm in preparation for "Paczki Day," which takes place on Tuesday, Feb. 21 (Fat Tuesday).
The Polish holiday has long provided a mechanism for folks to clear out their larders before beginning the traditional 40-day Lenten fast (in fact, in the Middle Ages, precursors to the sweet treats were actually filled with pork and fried in lard). As a result, paczki are a particularly indulgent treat that's set aside for one special day each year.
It's important to note that paczki aren't your average jelly-filled doughnuts. In fact, what sets them apart is their dough, which is a richer, often sweeter yeast dough incorporating eggs, butter and often milk.
With that in mind, it's never too early to start thinking about paczki. After all, if we were in Poland, where they celebrate Tlusty Czwartek (Fat Thursday), we'd be even closer to indulging in celebratory deep-fried deliciousness.
Before you say the word
Now that you know the difference between paczki and doughnuts, it's time to respect the word paczki and use it properly. So, before you venture out into the world and start throwing around the term paczki (or even worse, paczkis), here's a quick lesson in how to really pronounce it.
Paczki is pronounced PAWNCH-key and is the plural form of the word (really the only one you need, since you can't eat just one, right?). Paczek, on the other hand is pronounced PAWN-check and refers to just one lonely Polish-style confection.
If you'd prefer, here's a video that illustrates the point quite well.
Where to get paczki
So yeah, you can just grab a few jelly doughnuts at the grocery store (because these days, almost every one will have them; and they'll call them paczki to boot). However, since you've got time to think about it, here are some spots you might want to check out for your paczki fix.
Keep in mind: there is a superstition that if you don't eat at least one paczek on Shrove Tuesday, bad luck will follow you for the rest of the year. So, we'd advise erring on the side of caution and eating at least one.
Hankering for a king cake? We've got you there too!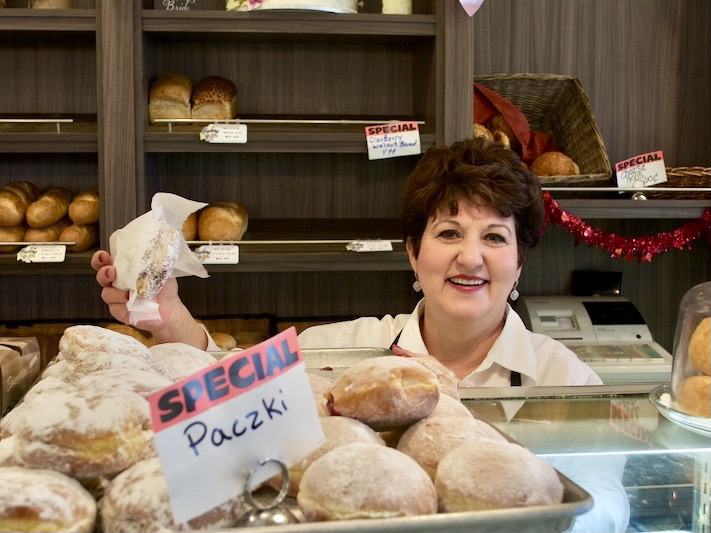 1. Aggie's Bakery
7328 W. Greenfield Ave., (414) 482-1288
aggiesbakery.com
[Read more]
Handmade paczki are a specialty at Aggie's Bakery, which offers flavors including apple with cinnamon sugar, blueberry with sugar, buttercream with powdered sugar, custard with white sugar glaze, lemon with powdered sugar, prune with sugar, raspberry with sugar and strawberry with glaze. Paczki are sold in six-packs for $12.50 or by the dozen for $25. Pre-order online at aggiesbakery.com for pick-up (or delivery) as soon as Feb. 10.
2. The Bake Sale
6923 W Becher St, West Allis, (414) 543-4230
bakesalewestallis.com
The Bake Sale will be stocking a selection of paczki from Cranky Al's for Paczki Day. Flavors will include lemon, raspberry, Bavarian cream and prune. Paczek will be sold for $2.50 each on Feb. 21 from 6:30 a.m. until 2 p.m. (or until sold out). Selection will be first come, first served.
3. Cranky Al's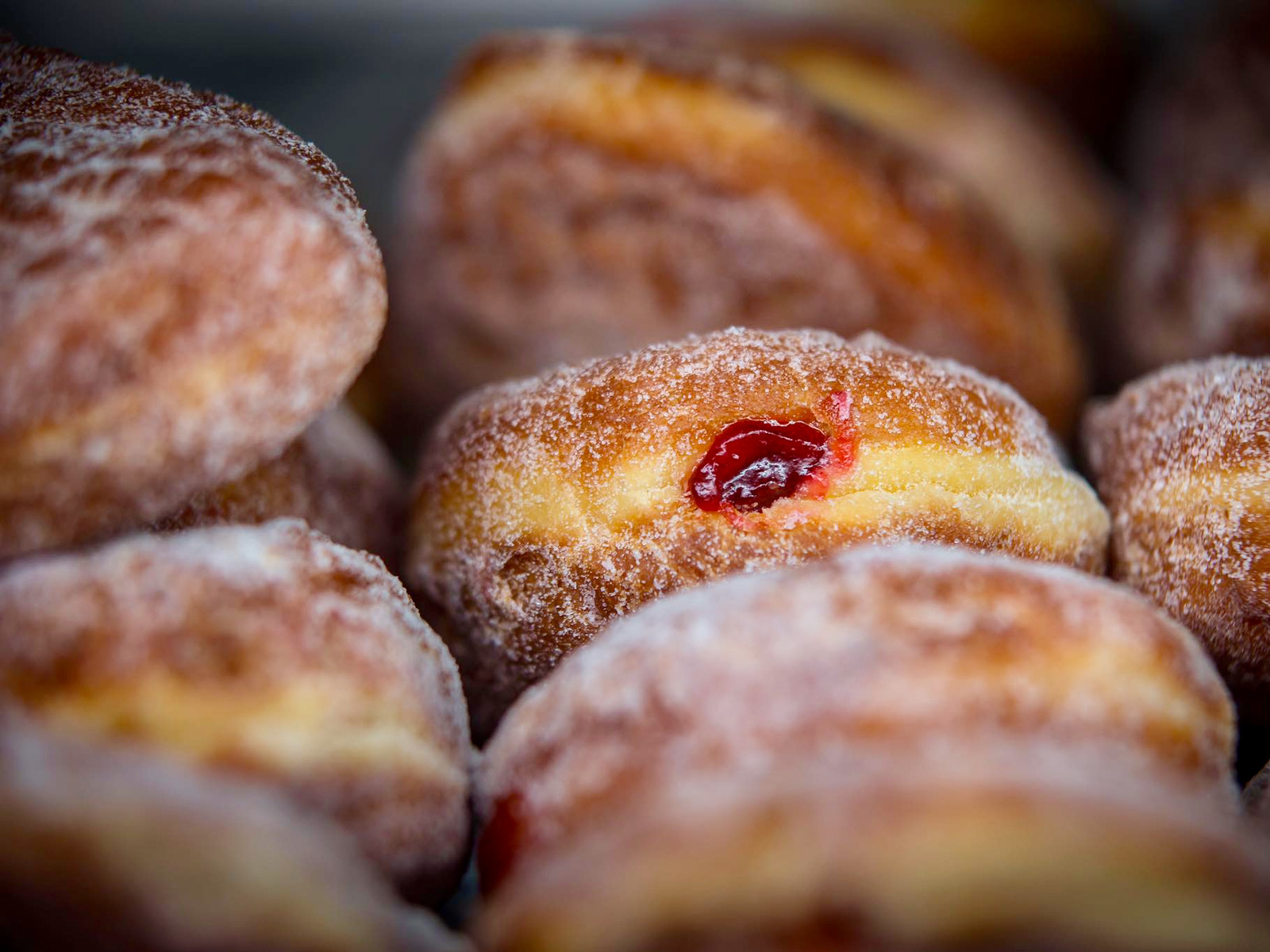 6901 W. North Ave., (414) 258-5282
crankyals.com
[Read more]
The folks at Cranky's aren't really cranky, although they will get cranky if you mistake a regular old bismarck (jelly doughnut) for a paczek. This year, they'll have raspberry, prune, Bavarian cream, apricot and blueberry lemon. Paczki are $2.95 each or $30 per assorted dozen (does not include prune). Pre-orders are recommended and can be placed online starting Friday, Feb. 3 for pick-up on Feb. 21; deadline for all orders is Sunday, Feb. 19. Cranky's will be open (strictly for paczki pick-up) from 6 a.m. to 1 p.m. on Fat Tuesday.
4. Donut Monster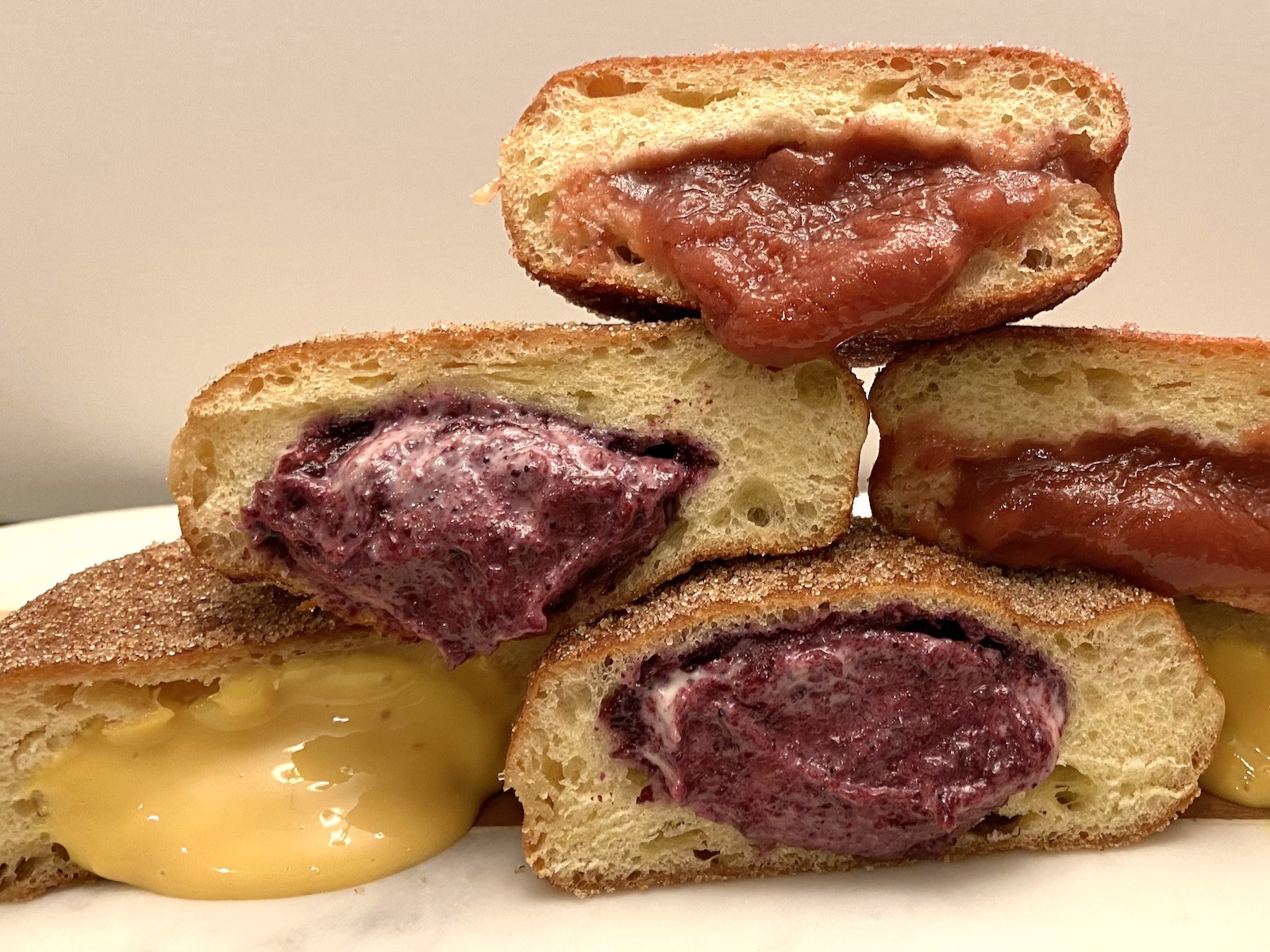 5169 N Elkhart Ave., Whitefish Bay
Donutmonstermke.com
[Read more]
Donut monster will be rolling out three flavors of paczki for pre-order and pick-up at their Whitefish Bay location ONLY. Fillings include strawberry, blueberry and chocolate cream. Paczki must be pre-ordered online and are available in packs of six for $20 or by the dozen for $38. Pick-up for all orders will take place at Donut Monster in Whitefish Bay on Tuesday, Feb. 21 from 7 a.m. to 11 a.m.
5. Grebe's Bakery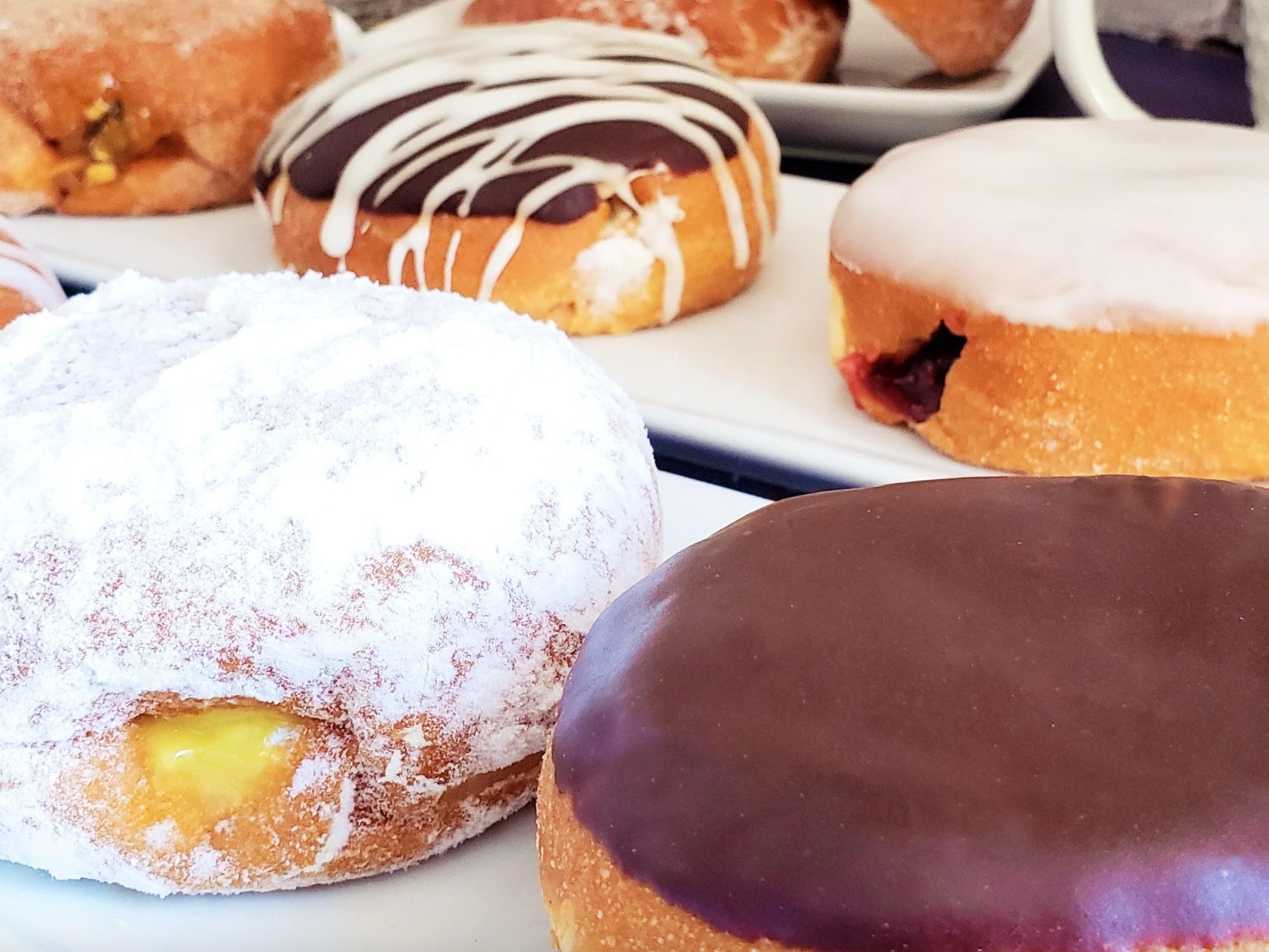 5132 W. Lincoln Ave., (414) 543-7000
grebesbakery.com
[Read more]
Grebe's has the goods every year, and this year will be no exception. Flavors will include cinnamon sugar coated apple, chocolate-iced buttercream, chocolate-iced custard, white-iced raspberry, sugar-coated raspberry, glazed blueberry, glazed sweet cheese, powdered sugar lemon and glazed prune. Pricing is $2.25 each; $13.50 for a half dozen; or $25 per baker's dozen.
IMPORTANT CHANGES for 2023: Customers can pick up paczki at Grebe's bakery Feb. 15 through Feb. 20 between 5 a.m. and 3 p.m.
The deadline to pre-order paczki is Saturday, Feb. 18. All pre-ordered paczki for Fat Tuesday can be ordered online will be available for pick-up at Ope! Brewing Co., 6751 W. National Ave. in West Allis, on Fat Tuesday (Feb. 21) between 5 a.m. and 3 p.m.
For those who'd like an early taste of Grebe's paczki, Grebe's will be hosting "Pardi Gras" a Fat Tuesday kick-off party on Saturday, Feb. 18 from noon to 4 p.m. at Ope Brewing Co. Pre-orders are open online for Grebe's/OPE! Pardi Gras Packs, which include six Grebe's paczki (your choice of fillings) plus one 4-pack of beer, featuring OPE! Brewing's Fat Tuesday-exclusive Raspberry Vanilla Sourry & Ermahgerd.
6. Kurt Schulz Deli
8752 N. Deerwood Dr., Brown Deer, (414) 354-1004
kurtschulzdeli.com
Delicious paczki are waiting at this North Side deli, which will be offering the traditional filled doughnut in flavors including cheese, raspberry, lemon, prune and cinnamon raisin. Paczek are $2 each or $22 per dozen. Preorders are highly recommended and can be made by phone through Saturday, Feb. 18 with pick up on Feb. 21.
7. La Tarte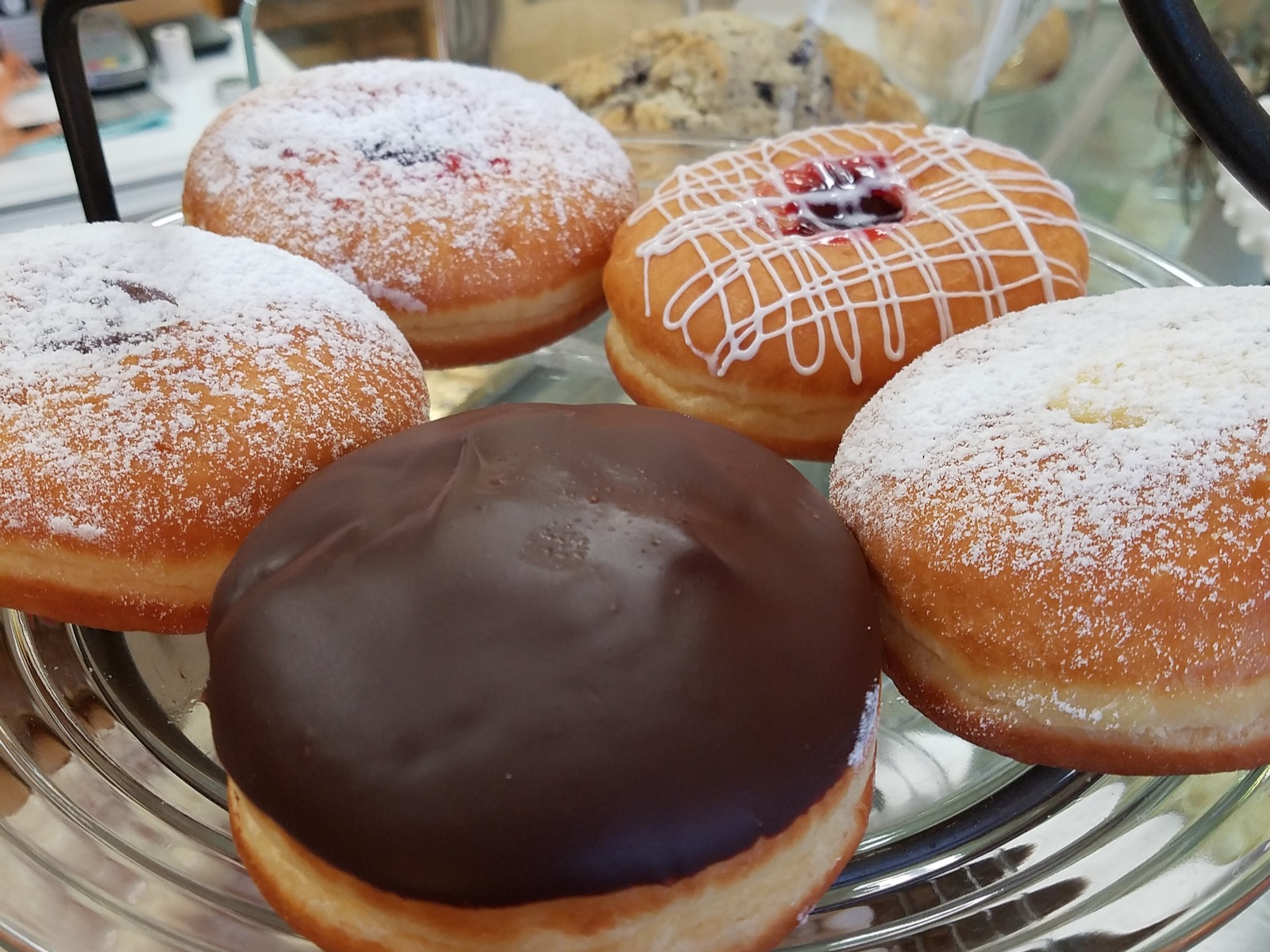 6742 W. Wells St., Wauwatosa, (414) 456-0995
latarte.com
La Tarte offers a lovely selection of paczki in flavors including custard dipped in chocolate, cherry with icing and raspberry, apple and lemon custard dusted in powdered sugar. A limited number of traditional prune filled paczki are also available. Pricing is $1.85 each or six for $9.75. Preorders are highly recommended and can be placed by calling the bakery. Pick-up is available beginning Feb. 21 (through Fat Tuesday).
8. Lakeside Bakery
1100 E. Oklahoma Ave., (414) 486-7747
lakesidebakerymke.com
[Read more]
Lakeside Bakery (formerly Canfora Bakery) offers a nice selection of delicious paczki in flavors including raspberry, lemon, apple, prune, custard and blueberry for $1.50 each or $18 per dozen. Place pre-orders by phone for pick-up on Fat Tuesday.
9. Le Reve
7610 Harwood Ave., (414) 778-3333
lerevecafe.com
[Read more]
Le Reve will be baking up their delicious housemade paczki in flavors like passion fruit, sweet cheese and raspberry for $2.75 each. The treats will be available for pre-order only with pick-up at Troquet, 1409 N. Wauwatosa Ave. on Feb. 21. Deadline is Feb. 11. Order yours online. Quantities are limited.
10. National Bakery & Deli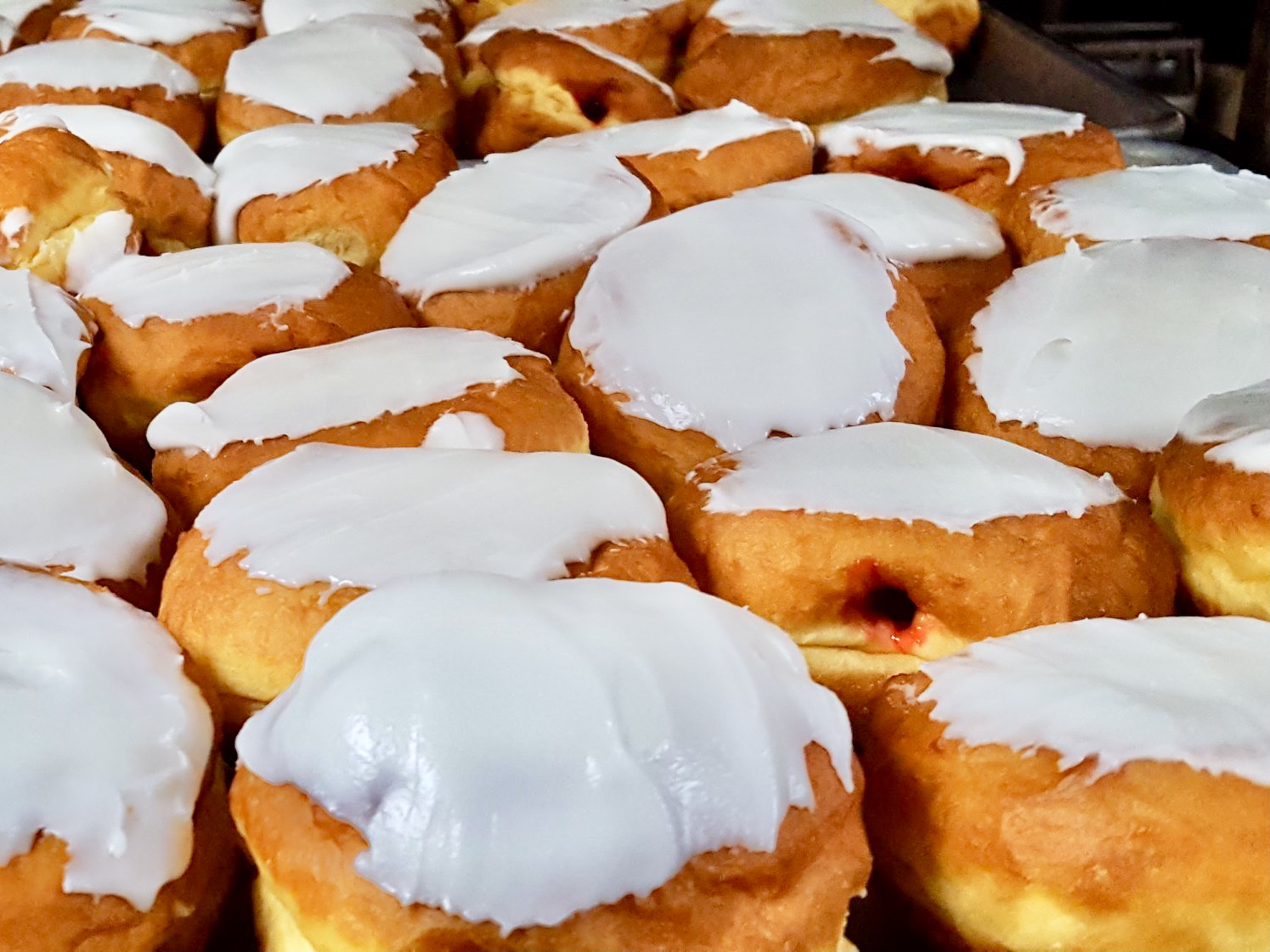 3200 S. 16th St., (414) 672-1620
13820 W. Greenfield Ave., Brookfield (262) 827-4097
5637 Broad St., Greendale (414) 423-4620
nationalbakery.com
[Read more]
National Bakery locations will be offering traditional paczki (made with a butter based dough) in prune, raspberry or raisin. All locations will have paczki available on Fat Tuesday for $16.50 per dozen; but pre-orders are recommended and can be made online (or by phone) for pick-up as early as Feb. 20. Guests are asked to place their orders at least one week ahead of time.
11. Old World Polish Deli
7630 W. Grange Ave., Greendale, (414) 855-0470
[Read more]
You can't get more traditional than the paczki from the Old World Polish Deli. They come in flavors including prune, raspberry and rosehip for $1.50 each. Pre-ordering by phone is highly recommended.
12. Polish Center of Wisconsin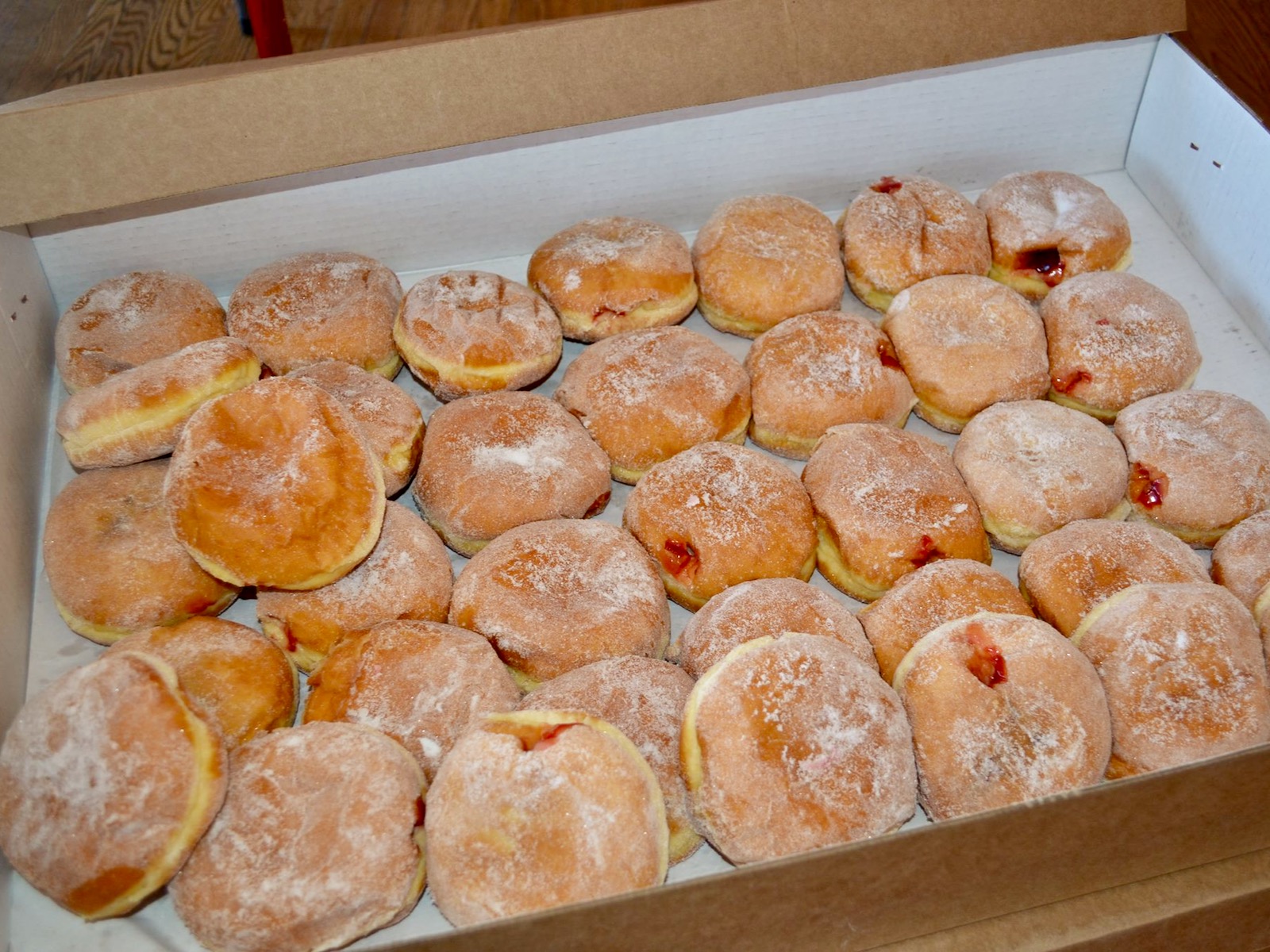 6941 S. 68th St., Franklin, (414) 529-2140
polishcenterofwisconsin.org
[Read more]
This year, The Polish Center will be offering paczki from Peter Sciortino's Bakery for pre-order ONLY. Orders must be placed online or by phone (credit card only) and paid-in-full by Feb. 14. All orders must be picked up at the Center on Tuesday, Feb. 21 between 6 a.m. and 11 a.m. Paczki are available in pre-packaged dozens for $18 each. Assorted flavors include raspberry (white icing), custard (chocolate icing), blueberry (glazed), apple (cinnamon sugar), lemon (powdered sugar) and prune (glazed).
13. Stephen's Breads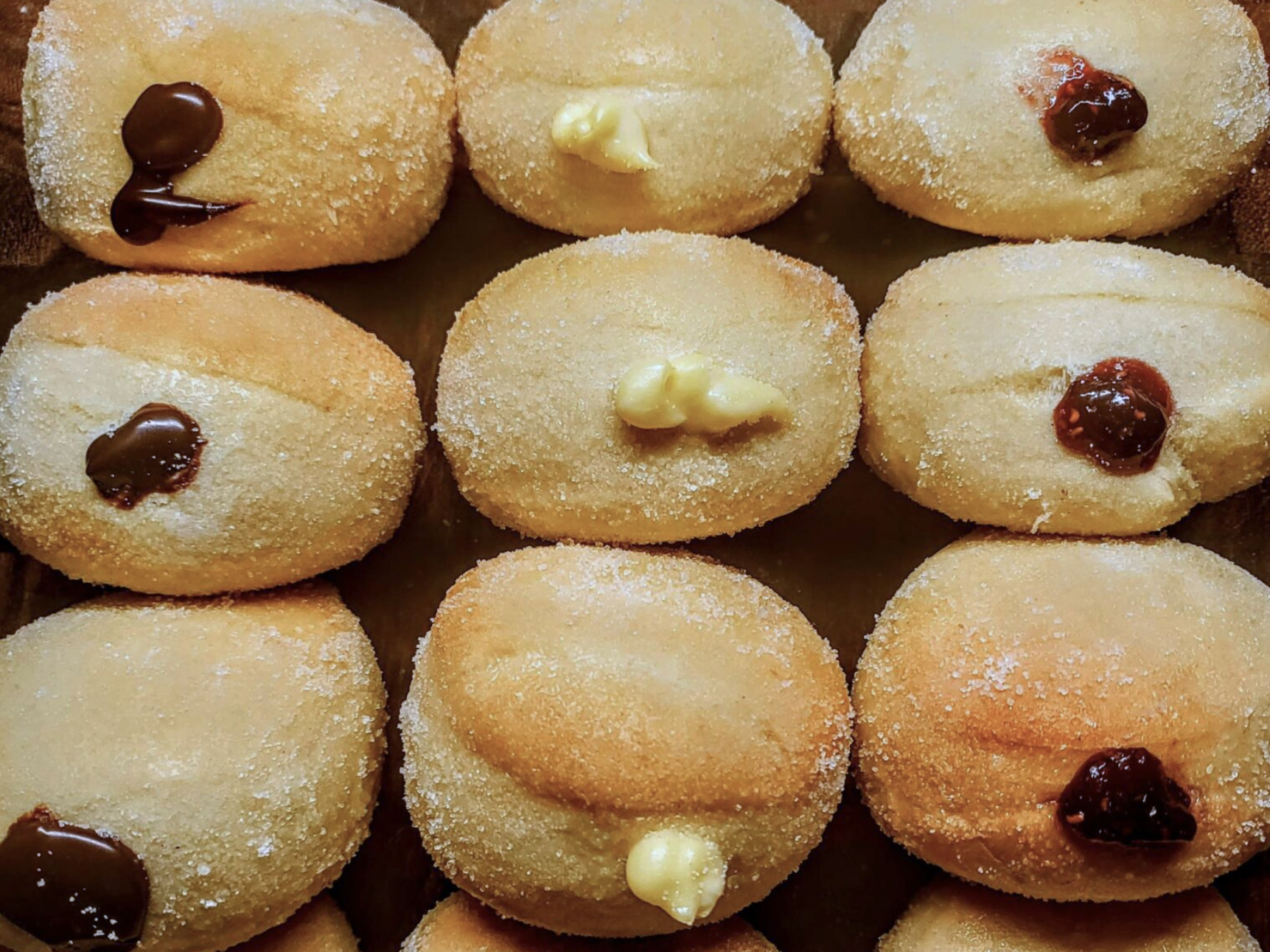 stephensbreads.com
(414) 436-1828
Stephen's Breads will be offering sugar coated paczki made with local wheat and ingredients. Fillings include raspberry preserves, chocolate ganache and vanilla pastry cream. Paczki are available in packs of four ($10), six (assorted for $15) or by the dozen (assorted for $30). Pre-orders are recommended and can be placed onlinewith pick-up on Feb. 20 at MobCraft, 505 S. 5th St., on Feb. 20 from 5 to 8 p.m. Paczki and king cakes will also be available for purchase during the MobCraft pop-up. Delivery is also available for the morning of Feb. 21.
Stephen's paczki (and king cakes) will also be available for home delivery through Milwaukee Farmers United or Market Wagon.
14. Sweet Perfections Bake Shop
1501 Paramount Dr., Suite C, Waukesha, (262) 446-2253
sweetperfections.com
If you're looking for something a bit different, Sweet Perfections Bake Shop offers up "top shelf paczki" in flavors like Bailey's Cherry Bombshell, Brandy Old Fashioned Sweet, Kahlua'n Mudslide, Raspberry Vodka Shooter, Rumchata Crunch and Spiced Bananas Foster ($3.85 each). Traditional flavors – including Bavarian cream, prune and raspberry ($2.50 each or four for $10) are also available.
Pre-orders will be accepted online or by phone through Monday, Feb. 13 at midnight and are highly recommended. Pick-up for pre-orders will be available on Monday, Feb. 20 and on Fat Tuesday, Feb. 21. Customers are also invited to beat the crowds and get their paczki fix early; paczki will be available in-store beginning Friday, Feb. 17.
15. Wioletta's Polish Market
3955 S. Howell Ave., (414) 226-5986
facebook.com/WiolettasPolishMarket
[Read more]
Among just a few spots where you can get paczki all year round is Wioletta's Polish Market. But, pre-ordering for Paczki Day will give you access to all 14 of their flavors including prune, raspberry, hazelnut, tiramisu, raspberry mousse, poppyseed, cherry, apricot, rose, Bavarian cream, cream cheese, and strawberry and cream cheese. They are available in packs of four or six with pricing ranging $12 to $20. Pre-orders can be placed online through Feb. 9 for pick-up on Feb. 21 from 8 a.m. to 6 p.m.
Lori is an avid cook whose accrual of condiments and spices is rivaled only by her cookbook collection. Her passion for the culinary industry was birthed while balancing A&W root beer mugs as a teenage carhop, fed by insatiable curiosity and fueled by the people whose stories entwine with each and every dish. She's had the privilege of chronicling these tales via numerous media, including OnMilwaukee and in her book "Milwaukee Food." Her work has garnered journalism awards from entities including the Milwaukee Press Club.
When she's not eating, photographing food, writing or recording the FoodCrush podcast, you'll find Lori seeking out adventures with her husband Paul, traveling, cooking, reading, learning, snuggling with her cats and looking for ways to make a difference.