This article was updated at 9:58 p.m. and 10:52 p.m. as more information became available.
This afternoon, a Milwaukee resident was driving south on Farwell Avenue past Affiliated Medical Services, 1728 N. Farwell Ave. Most days, there are anti-choice protestors standing in front of the building with signs and images condemning the practice of abortion, which is a service provided by this clinic.
Today, however, one of the protestors wore a white Ku Klux Klan hat and robe while standing in front of the clinic holding a sign reading "Heroes work here."
The implications of this message seem to conflict with the usual anti-abortion directives on the signs of protestors who frequently stand in front of the clinic. But according to the statement by the clinic, the sign was created to deceive patients into thinking the clinic is racist and intentionally deter them from the clinic.
The clinic made a statement via their Facebook page on Saturday evening.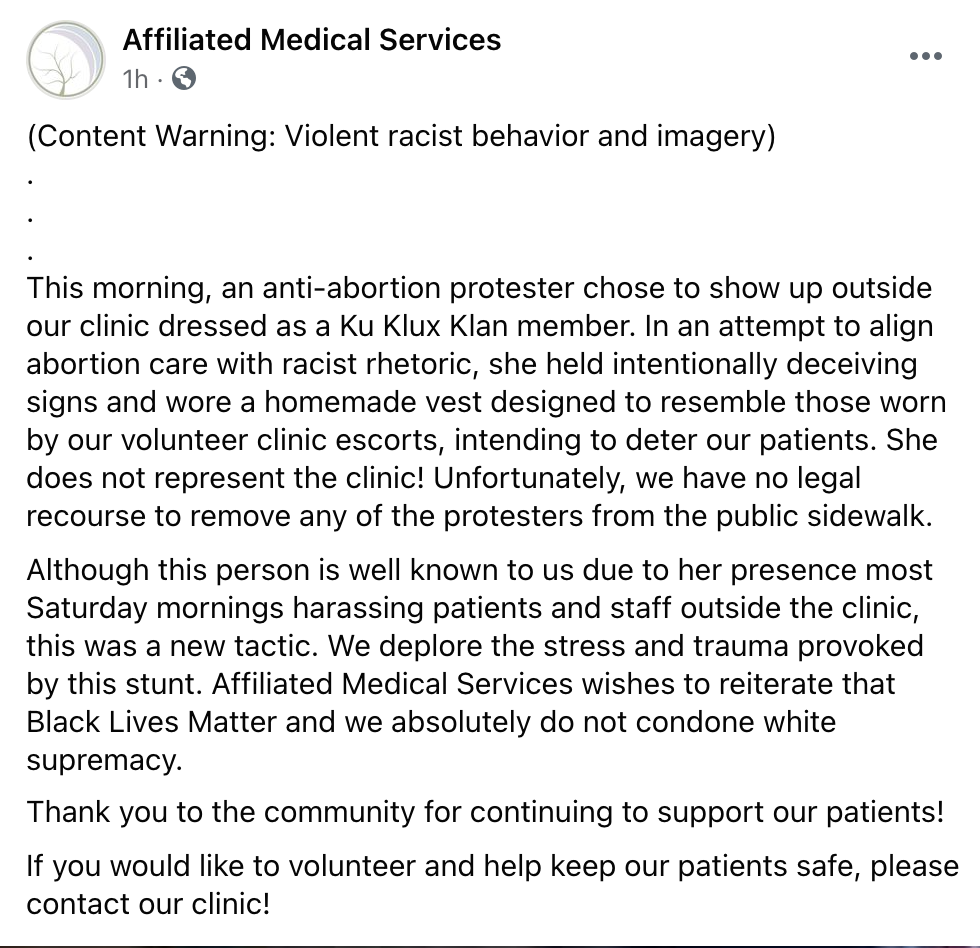 Or perhaps the sign is celebrating if black and brown women have an abortion, fewer POC are born into the world.
According to the website MKE Police Record, which monitors and stores all official Milwaukee Police Department calls, the MPD received a call for police presence at the same address as the clinic at 2:20 p.m.
OnMilwaukee called the MPD's Open Records Office, but because it was after business hours received a recorded message. OnMilwaukee also reached out to Affiliated Medical Services, but it too was closed for the weekend.
So much more needs to be said – loudly and clearly and immediately. This is atrocious, next-level hatred that we as a city cannot allow ourselves to be desensitized to.
At this point, even though we don't know the protestor's reasoning behind the costume, wearing a KKK hood and robe in public can never be normalized. Violent, racist hate speech, real or grotesquely twisted, should never be tolerated in any city and I refuse to accept this as my Milwaukee.
Photo from Affiliated Medical Services Facebook page.
Molly Snyder grew up on Milwaukee's East Side and today, she lives in the Walker's Point neighborhood with her partner and two sons.
As a full time senior writer, editorial manager and self-described experience junkie, Molly has written thousands of articles about Milwaukee (and a few about New Orleans, Detroit, Indianapolis, Boston and various vacation spots in Wisconsin) that range in subject from where to get the best cup of coffee to an in-depth profile on the survivors of the iconic Norman apartment building that burned down in the '90s.
She also once got a colonic just to report on it, but that's enough on that.
Always told she had a "radio voice," Molly found herself as a regular contributor on FM102, 97WMYX and 1130WISN with her childhood radio favorite, Gene Mueller.
Molly's poetry, essays and articles appeared in many publications including USA Today, The Writer, The Sun Magazine and more. She has a collection of poetry, "Topless," and is slowly writing a memoir.
In 2009, Molly won a Milwaukee Press Club Award. She served as the Narrator / writer-in-residence at the Pfister Hotel from 2013-2014. She is also a story slam-winning storyteller who has performed with The Moth, Ex Fabula and Risk!
When she's not writing, interviewing or mom-ing, Molly teaches tarot card classes, gardens, sits in bars drinking Miller products and dreams of being in a punk band again.