This article was updated at 9:58 p.m. and 10:52 p.m. as more information became available.
This afternoon, a Milwaukee resident was driving south on Farwell Avenue past Affiliated Medical Services, 1728 N. Farwell Ave. Most days, there are anti-choice protestors standing in front of the building with signs and images condemning the practice of abortion, which is a service provided by this clinic.
Today, however, one of the protestors wore a white Ku Klux Klan hat and robe while standing in front of the clinic holding a sign reading "Heroes work here."
The implications of this message seem to conflict with the usual anti-abortion directives on the signs of protestors who frequently stand in front of the clinic. But according to the statement by the clinic, the sign was created to deceive patients into thinking the clinic is racist and intentionally deter them from the clinic.
The clinic made a statement via their Facebook page on Saturday evening.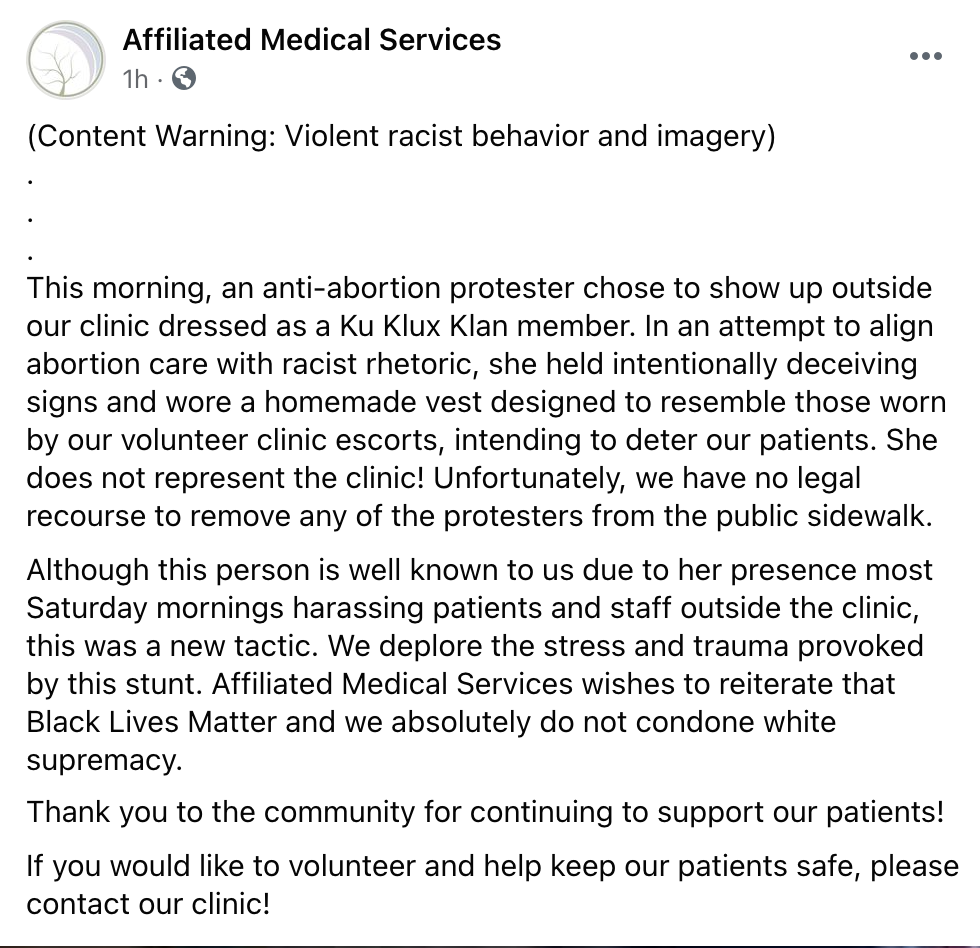 Or perhaps the sign is celebrating if black and brown women have an abortion, fewer POC are born into the world.
According to the website MKE Police Record, which monitors and stores all official Milwaukee Police Department calls, the MPD received a call for police presence at the same address as the clinic at 2:20 p.m.
OnMilwaukee called the MPD's Open Records Office, but because it was after business hours received a recorded message. OnMilwaukee also reached out to Affiliated Medical Services, but it too was closed for the weekend.
So much more needs to be said – loudly and clearly and immediately. This is atrocious, next-level hatred that we as a city cannot allow ourselves to be desensitized to.
At this point, even though we don't know the protestor's reasoning behind the costume, wearing a KKK hood and robe in public can never be normalized. Violent, racist hate speech, real or grotesquely twisted, should never be tolerated in any city and I refuse to accept this as my Milwaukee.
Photo from Affiliated Medical Services Facebook page.

Molly Snyder started writing and publishing her work at the age 10, when her community newspaper printed her poem, "The Unicorn." Since then, she's expanded beyond the subject of mythical creatures and written in many different mediums but, nearest and dearest to her heart, thousands of articles for OnMilwaukee.

Molly is a regular contributor to FOX6 News and numerous radio stations as well as the co-host of "Dandelions: A Podcast For Women." She's received five Milwaukee Press Club Awards, served as the Pfister Narrator and is the Wisconsin State Fair's Celebrity Cream Puff Eating Champion of 2019.