There are a multitude of reasons to visit Lazy Susan, a Bay View spot offering up eclectic dishes that run the gamut from thoughtfully executed vegetarian fare to creative wild game and internationally inspired fare like vindaloo, gnudi and pad Thai.
But a new Thursday night offering, "Korean Fried Chicken," featuring whole or half chickens along with inspired side dishes, might just be one of the best reasons to pay a visit to the restaurant at 2378 S. Howell Ave. And here are some of the reasons why.
1. Holy cow, that chicken is good.
In my world, great fried chicken has a moist, tender interior and an impeccably crunchy exterior. It's also infused with a healthy amount of flavor. Lazy Susan's KFC meets all criteria. The Korean spice brined chicken is flavorful and pleasantly salty with a rice-flour based coating that stays crunchy to the very last wing.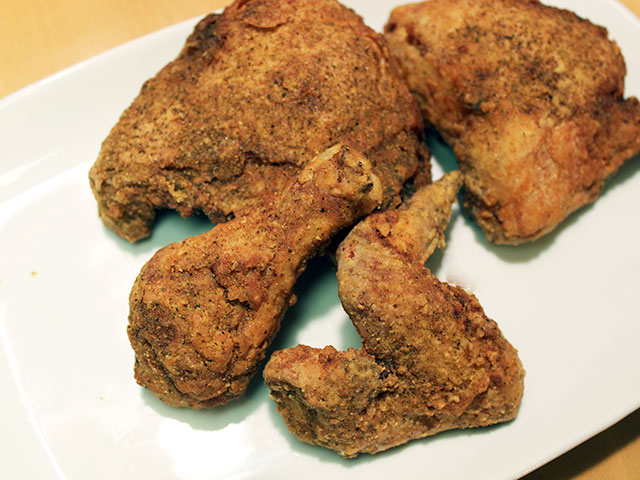 2. The green beans will blow your mind. And numb your tongue.
If you're not familiar with the flavor profile of Szechuan pepper – which has a peppery, floral, sometimes lemony flavor – you'll get familiar exceedingly fast when you try out Dixon's Szechuan pepper green beans. The Chinese spice, also known as Chinese coriander, not only has a unique flavor, it's also a sensory experience. The peppercorns (which are not actually peppercorns at all, but the husks from a prickly ash shrub) offer up a unique tingling and numbing effect to both your lips and tongue when eaten.
3. Spam, spam, spam.
As if the rich creamy deliciousness of mac & cheese wasn't already enough, Lazy Susan's features appreciable chunks of house-made "spam." Sure, it's a lot more work to make spam than to simply purchase it in a can, but Chef Dixon is cool that way. And her version of the spiced ham product is pretty darned delicious.
4. The kimchi is amazing.
Tangy and spicy and crisp ... the kimchi served up on KFC night is all of these things. It's fermented flavor is the perfect foil for the richness of the chicken. And it's delicious eaten with (or without) the accompanying sticky rice or alongside those mouth-numbing green beans. Of course, you'll also want to try both of the dipping sauces as well – one is a variation on hot honey mustard, and the other is a bit like sweet and spicy gochujang. Both are delicious drizzled over every last crispy chicken bite.
5. There are sake specials too.
Nothing goes better with Korean fried chicken than a bit of bubbly – unless, of course, it's sake. And every Thursday at Lazy Susan, you can try a different type of sake for just $25 a bottle. Choose from Dewatsuru Sakura Emaki, a medium to full bodied rose sake made from heirloom purple rice; Manabito Kimoto Junmai, a full bodied traditional sake; and LaChamte Sweet Sake, a sparkling sake that cuts through the richness of fried chicken like a breeze.
6. The whole shebang is gluten free.
Maybe you care. Or maybe you don't. But, you'd probably never guess that the entire Korean fried chicken feast was gluten free unless someone tipped you off – which I'm doing right now. There's no wheat to be found in any part of the chicken or its corresponding sides (even the mac & cheese is free of gluten). And that's a happy thing for anyone who's been missing their fried chicken fix after giving up gluten.
Get yours
Korean Fried Chicken (KFC) Night takes place every Thursday at Lazy Susan. Diners can choose from a half or whole fried chicken ($30 or $60). Price includes all sides, including macaroni and cheese, green beans, sticky rice, kimchee and dipping sauces. Chicken is first-come, first serve. Call 414-988-7086 to make a reservation, ensuring you won't miss out. Chicken dinners are available for both dine-in and carry-out.
Lori Fredrich (Lo) is an eater, writer, wonderer, bon vivante, traveler, cook, gardener and girlwonder. Born and raised in the Milwaukee area, she has tried to leave many times, but seems to be drawn to this quirky city that smells of beer and alewives.
Some might say that she is a little obsessed with food. Lo would say she is A LOT obsessed with food. After all, she has been cooking, eating and enjoying food for decades and has no plans to retire anytime soon.
Lo's recipes and writing have been featured in a variety of publications including GO: Airtran Inflight Magazine, Cheese Connoisseur, Cooking Light, Edible Milwaukee, Milwaukee Magazine and the Milwaukee Journal Sentinel, as well as on the blog Go Bold with Butter, the web site Wisconsin Cheese Talk, and in the quarterly online magazine Grate. Pair. Share.