The Milwaukee Ballet will step out oh-so-gracefully into the spotlight starting this week, opening its latest season on Thursday, Nov. 2, with the return of "La Bohème," Giacomo Puccini's iconic opera tale of colorful creatives in Paris falling into love and fighting off loss (not to mention their landlords), originally adapted in 2012 by artistic director Michael Pink. It's a classic tale – but by no means dusty, thanks to Pink, orchestra conductor Andrews Sill and their team of immaculately talented dancers, turning the opera's beautifully sung story into magnificent movement.
Need more proof? Here's four reasons why you need to live la vie Boheme with the Milwaukee Ballet this weekend.
1. "La Bohème," sans singing?
As the opening act gets underway, you might notice something missing from this classic opera adaptation: any opera singing. Where are the booming voices and shattered glasses? Heresy! Even Sill was nervous early on about taking on the task of adapting Puccini's iconic songs sans any singing.
"The scariest thing right at the beginning was to decide, if we got rid of the voices, is this going to not sound like 'Bohème' anymore," Sill recalled. "If the music still doesn't sound great and compelling, people are going to say, 'Oh my god, Sill just killed it; he just ruined it.' If I take the voices out, am I going to ruin the whole thing?"
Luckily, early in the adaptation process, Sill remembered a record from his childhood called "Puccini Without Words," pulling off the exact trick he and Pink were trying to do with "La Bohème" with other parts of Puccini operas. Sill managed to get a hold of a CD reissue of the old LP and heard that the music still had Puccini's original power – even without the powerful voices to help with the heavy lifting.
"It was still a little bit scary to think that, OK, it works on an LP with excerpts but will it work over a whole evening," Sill said. "But then I got to work, and I could see that it was still going to be compelling musically."
After almost a year and a half of tinkering with Puccini's score, sitting down with Pink to figure out what small pieces could be trimmed (mostly recitatives, which involve mostly singing, almost speaking, over very little music) while still retaining the story's flow and power, the Ballet's "La Bohème" had its score – and its fresh approach to telling this centuries old story, using this music's opened-up freedom of movement no longer restrained by the singers' limitations.
"Even if you're not sure if you love ballet, the music is so beautiful that they'll come to the theater, they'll listen to the music, they'll enjoy that and they'll see the story told in a brand new way," Sill said.
2. Changing times …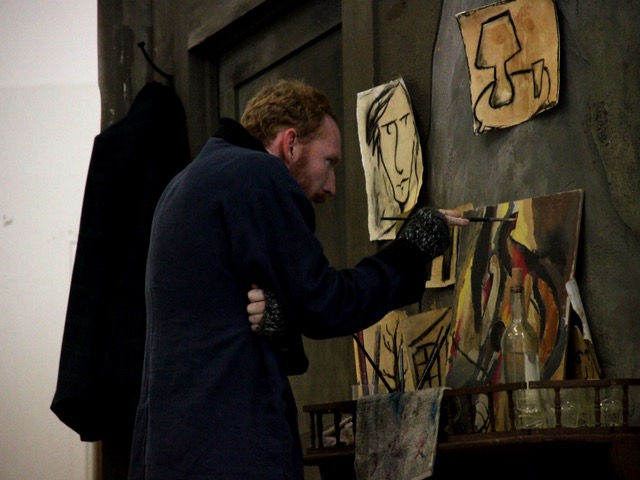 Subtracting the singing isn't the only way the Ballet's "La Bohème" breaks the original's mold, as this particular production heads back to the future.
Back when it first premiered in Milwaukee in 2012, Pink moved the time period of the show up, from Paris during the 1850s to a century later during the post-WWII 1950s. Five years later, the Ballet's latest performance returns to the story, but stays in that new era, still finding new layers to the relationships and new advantages to the modernized tale.
"My hope was transporting the action to the 1950s would invite the audience to engage with the characters and their stories in a new way," Pink explained. "From a logistics point of view, moving the story to the 1950s also allowed us to create costumes that would be less cumbersome to dance in. This also gave our costume designer, Paul Daigle, an exciting new palette to work with."
3. … yet still timeless
The times may have changed both literally on the stage as well as off of it since the ballet's original Milwaukee engagement in 2012 – and definitely since the opera's premiere just before the turn of the century in 1896 – but the story of "La Bohème" stays as relevant and poignant as ever. There's a reason why, centuries after its first performance, everything from "Rent" to "Moulin Rouge" to even "The Simpsons" continues to return to this tale of Bohemian artists falling in and out of love for inspiration.
'The themes of 'La Bohème' are still universal, especially love and loss," Pink noted. "Also, I think the notion of the starving artist has been romanticized in our culture, and audiences connect with this story about artists sacrificing to create beauty."
"It's beautiful to see it in a particular time period, but you understand that the characters and emotions are so real and human that it really could be any of us at any time," added Sill.
4. A brilliant ballet for beginners
There's a good chance that, when you think of the Milwaukee Ballet – especially under Pink's endlessly creative eye – you picture big, bold, bombastic productions. Pink goes for broke with his visual ideas, bringing a truly cinematic sensibility to classic stories like "Dracula" and last year's season-opening take on Snow White, "Mirror Mirror," all while still firm foot in the characters and the gorgeous storytelling power of movement.
So one might imagine that a Pink production based on arguably the most grandiose of all the arts – opera – would be a blockbuster blowing the roof off of the Marcus Center before the end of act one.
Not so fast.
In its original 2012 debut, our review of the Ballet's "La Bohème" described it as "chic, simple and clean" – and five years later, those fresh attitributes remain. The set is relatively small and simple, just a few rotating pieces – perfect and fitting for a story about artists struggling in poverty.
It's also fittingly light on its feet for a melodramatic opera tale of life and death; the opening acts especially feature plenty of fun bits of clever physical storytelling – a landlord's quickly inebriated visit is a treat, drunkenness conveyed hilariously and breathlessly in dance – and sweet, growing romance. A later town scene just moments later is literally filled to the edge of the stage with bright characters – each seemingly with their own tale to tell – and beautiful movement, creating a world around our characters without overwhelming them.
In many ways, "La Bohème" makes a solid introduction to ballet – and to a classic opera – Pink's uniquely creative eye putting a clean, crisp spotlight on character and storytelling – with the power of divine music and dance binding them together.
As much as it is a gigantic cliché to say that one has always had a passion for film, Matt Mueller has always had a passion for film. Whether it was bringing in the latest movie reviews for his first grade show-and-tell or writing film reviews for the St. Norbert College Times as a high school student, Matt is way too obsessed with movies for his own good.
When he's not writing about the latest blockbuster or talking much too glowingly about "Piranha 3D," Matt can probably be found watching literally any sport (minus cricket) or working at - get this - a local movie theater. Or watching a movie. Yeah, he's probably watching a movie.