Explore the best Milwaukee has to offer with VISIT Milwaukee and OnMilwaukee this summer by "Urban Exploring." We'll be sharing parks to hike, walls to climb, rivers to paddle, trails to bike and so much more. Be a tourist in your own town and experience it with us!
Until recently, the last time I was in Lake Geneva was when I was about 3 years old, and I swam in the lake in my "big girl" underpants. During my visit this past weekend, I refrained from taking a dip in my skivvies and still managed to have a really good time.
One of the most appealing aspects of Lake Geneva – a resort town about 50 miles southwest of Milwaukee – is the drive. Not only is it under an hour, but the second half of the trek stretches through lush, gorgeous scenery comparable to the Driftless Area with hills, rolling bluffs and quaint farm houses.
"Lake Geneva, only an hour drive from Milwaukee, is a popular vacation destination for families, friends and couples," says Darien Schaefer, president & CEO of VISIT Lake Geneva.
Within minutes of arriving in Lake Geneva, a town with an annual population of about 7,000, as well as thousands of tourists from Chicago and Milwaukee, we found ourselves – not surprisingly – on a boat docked in Geneva Lake. The Lake Geneva Cruise Line offers a variety of tours every day on one of their numerous vessels. We were aboard the Geneva with a dozen or so other people and co-captains Jerry Mortier and Pete Petersen.
"I drive in circles for a living," says Mortier.
While driving in circles, Mortier tells a plethora of interesting historical stories and facts about the lake and the ridiculously rich folks who have lived on the shore in their stunning vacation mansions. We were shocked by the number of famous entrepreneurs who lived in Lake Geneva, including the billionaire Wrigley family who owned Wrigley's gum, the Chicago Cubs, Wrigley Field, The Wrigley Building in downtown Chicago and most of Catalina Island off the coast of Southern California.
We also learned from Mortier that Lake Geneva is the only place in the country where mail is delivered by "mail jumpers" on a boat. Jumpers are primarily teenagers who hop off the boat onto a dock, put the incoming mail in a mailbox, grab the outgoing mail and jump back onto the boat, which never stops moving.
Thanks to sunny, 75-degree weather, the 90-minute cruise was refreshing, relaxing and a great way to get up close and personal with the extremely clean and sparkly glacier-made, spring-fed lake. It was also the perfect way to kick off our visit.
After the tour, we walked around the downtown area, which is a typical fudge-and-moccasins Wisconsin vacation spot. We did the usual things: bought a postcard, ate ice cream from Kilwin's Chocolates (dessert first!), flipped through albums at Black Circle Records, checked out the biker gear at the Harley-Davidson store (there are a lot of motorcyclists in Lake Geneva) and marveled at a shop called Root Beer Revelry that only sells root beer.
Downtown Lake Geneva has a host of vintage business signs that are in good shape and work as a fun historic visual.
We stopped for lunch at the Egg Harbor Cafe, a friendly diner filled with chicken art that ranges from paintings to ceramics. We sampled their delicious signature strawberry orange juice and ordered a salad, chili, eggs benedict (someone had to order eggs) and a really fresh turkey club sandwich.
We were then off to perhaps the highpoint of our trip: a performance at the Tristan Crist Magic Theatre. Prior to the show, I wasn't particularly jazzed about seeing a magic show – how many times can one see a woman get sawed in half? – but I was completely dazzled by Crist's skills.
Because the theater is extremely small – it only seats 40 people – the acts are performed in full view and very close to the audience. Crist includes famous magician history and personal stories in his act, which make it a unique experience, but nothing is more attention-grabbing than his tricks.
I was once levitated by magician David Seebach when I worked as his assistant for one day as part of the OnMilwaukee "Shift Switch" series, and, through the experience, I learned the secrets to some of the tricks. However, that still didn't help me decipher how Crist performed his.
One of the most impressive tricks featured Crist and a table – a simple circle-top "bar table" with one pole/leg to hold it up and no tablecloth. On the table sat two cardboard tubes, one shot glass and a bottle of wine. Every time he put one of the tubes over the shot glass, it switched to a bottle of wine, until he had 10 bottles of wine on the table.
Seriously, where did those bottles come from? There was nowhere for them to "hide." It was one of the simplest and most perplexing tricks I have ever seen, and it was performed just feet away from me.
"After the show, I will tell you how every trick is done," Crist said during the show, before following up with "not really."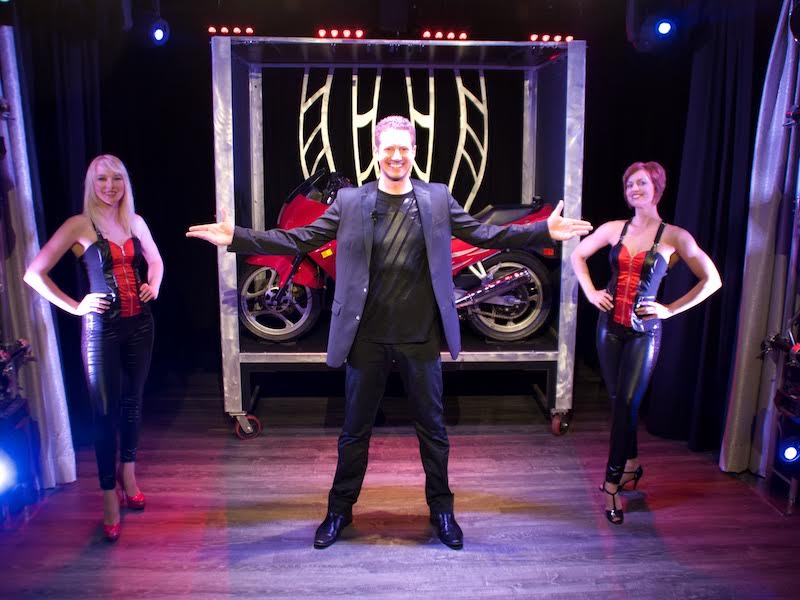 The Abbey Resort, where we stayed the night, was a magical experience, as well, but in a different way. Overlooking Geneva Lake in the town of Fontana, The Abbey, which was built in 1963, has the world's tallest wooden A-frame.
In 2005, the Abbey Resort underwent a $40 million renovation project that resulted in new rooms, restaurants, meeting rooms, three pools and a spa.
The lobby of the Abbey feels like an enormous, upscale, rustic living room with wood-beamed ceilings, an abundance of natural light and a huge fireplace. Our room, which to our amusement was number 2468 (who do we appreciate?), was extremely clean, had two very comfortable queen-sized beds and best of all, featured a patio overlooking the harbor.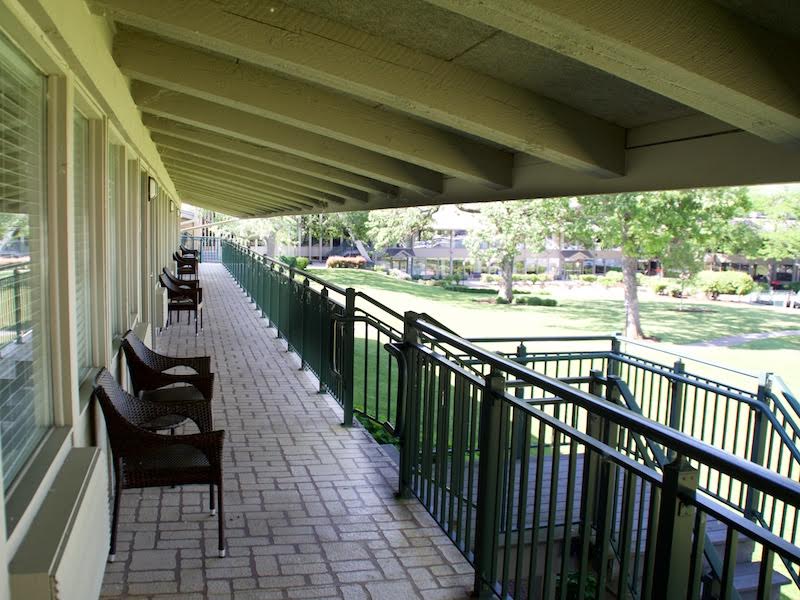 We also appreciated bathroom features like strong water pressure, an oversized shower head and Aveda products.
During our visit, we lounged at the outdoor pool, took a walk around the beautifully landscaped grounds and had drinks on the deck. The Abbey also has an arcade, live entertainment and many onsite activities from crafts to movies to outdoor fires.
We ate dinner in the restaurant, 240 West, which is – like the rest of the resort – a tranquil setting with beautiful, panoramic views of the harbor. The decor is warm and artistic, with a stone fireplace, mod light fixtures and comfortable seating.
The menu is classic American food and the farm-to-table meals are affordable – $12 to $36 – with options like steak and Chilean sea bass. We started with an order of calamari – of which we are amateur connoisseurs – and were very pleased to find it wasn't too rubbery, lightly breaded and seasoned to give it a little zip. The appetizer came with a tasty Creole remoulade and horseradish ginger marmalade for dipping.
We also ordered the New York Strip, a Black Angus burger, Spotted Cow bacon mac 'n' cheese and "jumbo diver" scallops. The scallops were the standout item in our array of eats and were some of the softest, most flavorful scallops we've tasted. They came on a bed of delicious, moist wild rice and topped with pesto.
The steak was grilled to a perfect medium rare and tasted very "grilled" which, luckily, my son really liked. It also came with a warm baked potato and truffle butter. The Spotted Cow bacon mac 'n' cheese was one of the most adventuresome items on the menu and a genius mix of flavors. Lately, we've ordered way-too-cheesy mac and cheese, but the cheese proportions were right on with this dish. The burger was nothing unique and similar to others we've had, but still a solid menu item.
We finished the meal with a shared slice of lemon cake made topped with lemon cream frosting. The presentation was as appealing as the dessert itself, with fresh berries and an attractive drizzle.
We left extremely full and happy, but had to lie down and watch cable television for the rest of the night to digest our huge meal. The Abbey has HBO, movies on demand and free Wi-Fi, which we really appreciated.
The next day we stopped off at the original Simple Cafe, which is very similar to the one in Milwaukee. We were pleased to see the familiar lively colors including bright green chairs and quirky light fixtures made from vintage items such as cookie cutters, bowling pins, milk bottles, a metal lunch box and more.
We ordered the buttermilk pancakes, the eggs Benedict and took a risk with the daring Korean BBQ breakfast bowl. The savory breakfast bowl was very spicy – but luckily I enjoy that sort of thing – and featured a mix of braised pork shoulder, brown rice, mushrooms, broccoli, soybean sprouts, grilled red onions, tofu and zucchini topped with an over easy egg. I would definitely order it again, but possibly to share because I was unable to finish the entire meal.
My son said the pancakes came with the best syrup he'd ever tasted, so that's something, and the classic benedict was just that: poached eggs and Canadian bacon on an English muffin and topped with a creamy and peppery hollandaise. We had forgotten how delicious the Simple potatoes are: crispy on the outside, soft on the inside and well seasoned.
The Lake Geneva Simple Cafe also has a walk-in bakery next door and a nice-sized patio. We were lucky to be there on such a beautiful summery day, which contributed to our simply lovely breakfast.
Our final stop was at Lake Geneva Canopy Tours for a two-hour zip lining experience. Our guides, "Dan the Man" and "Sparkle," told us we had to pick names for the eco adventure, and so we settled on "Star," "Skipper," "Bear" and, for some unknown reason, "Dale." Then, we got on our gear, jumped in a jeep and headed toward our first, and easiest, zip line.
After about two minutes in the jeep, it started to sink in what was about to happen, and my annoying-but-robust acrophobic and claustrophobic side started to flair up. By the time we reached the first line, I wasn't even sure I could do it, so I asked if I could "pass" on any of the 16 obstacles – which were either zip lines or rope bridges – and both of the guides said conquering fears was part of the fun. Great.

Honestly, if my sons, Skipper and Dale, weren't with me, I might have decided zip lining 32 feet above ground at high speeds was not something I needed to cross off my bucket list. But because I have forced my kids to push beyond their comfort zones many times, I realized I was stuck in my own Mom Trap and had to do it. And so I did.
I can't say I loved the experience – at times, I did not even like it – but I felt safe overall, and the guides made the adventure a lot of fun by adding elements, including a turkey gobbling contest and plenty of encouraging words.
Most of the excursion takes place in 100 acres of tree-filled land and it is both a workout and a thrill ride. The final zip is the longest and the fastest, and I must admit when my feet touched down on the platform after completing it, I felt of rush of adrenaline and satisfaction. "I'm proud of you, mom," Skipper later told me.

Molly Snyder started writing and publishing her work at the age 10, when her community newspaper printed her poem, "The Unicorn." Since then, she's expanded beyond the subject of mythical creatures and written in many different mediums but, nearest and dearest to her heart, thousands of articles for OnMilwaukee.

Molly is a regular contributor to FOX6 News and numerous radio stations as well as the co-host of "Dandelions: A Podcast For Women." She's received five Milwaukee Press Club Awards, served as the Pfister Narrator and is the Wisconsin State Fair's Celebrity Cream Puff Eating Champion of 2019.