For Wisconsin sports fans this summer, there's a new way to enjoy two great tastes that taste great together.
In 2008, we were the first to tell you about Robinade, the "old school" lemonade from Hall of Fame Brewers legend Robin Yount. And last year, we shared the story about Leap Vodka from LeRoy Butler, the newest Packers player to be inducted – tomorrow – in the NFL Hall of Fame.
Now, the two Wisconsin icons have teamed up for a canned vodka lemonade drink called Leap N' Lemonade. As you might expect, it's pretty tasty.
"I knew it was a popular way to drink vodka these days, so it seemed like we lined up pretty well together," says Yount, who is in Milwaukee this weekend for a 1982 Brewers reunion. "It's fabulous."
It is indeed a crisp 6.7 percent ABV, gluten-free recipe that mashes together the passion products of two of the most popular Packers and Brewers of all-time.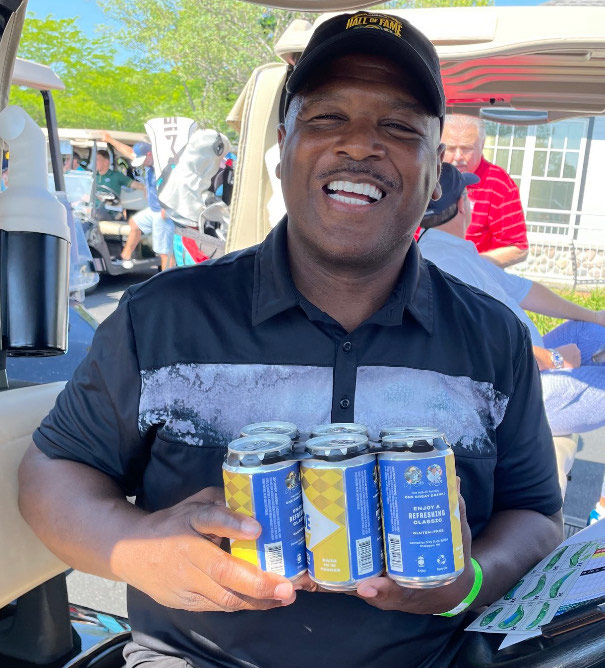 According to Steve Schulz, a partner in Butler's Leap Spirits, LLC, the collaboration came together quickly this year when he contacted Yount's partner, Tom Boehland of Citrus Systems.
Says Schulz, "We reached out to Robinade to see if it was something Robin and his team would be interested in, and they really liked the idea. From that point forward we have worked together to confirm the design and marketing concepts."
"Steve made it happen quickly," says Yount. "So I hope it takes off. We're a little late to the party for this summer, but I know how much people back in Wisconsin like to drink, so maybe it'll work year round."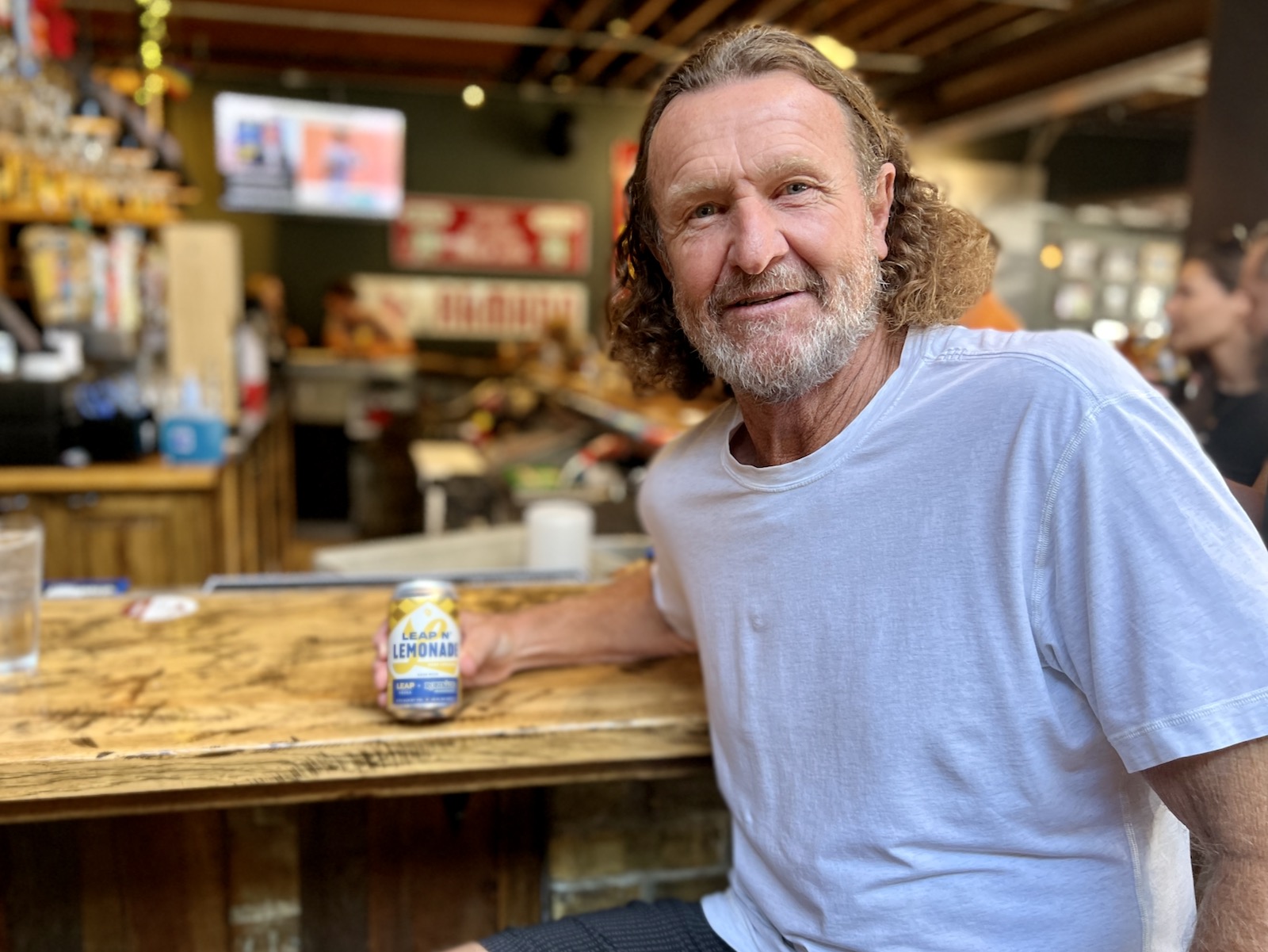 For Butler, who says he knew he wanted to expand his Leap Vodka product lines, he felt momentum when the got "the knock" from Canton.
"We started putting it together, and boy, when Hall of Fame happened, we started developing it at an alarming rate," says Butler. "There's nothing out there like it … two hall of famers come together to do something that's really good, just in time for my induction."
Butler is being inducted into the NFL Hall of Fame Saturday, while Yount entered Cooperstown in 1999. On that topic, Butler admits he has butterflies about the ceremony. "Well, I'm pretty measured, but when they called and told me I was going to be first, then I got a little nervous."
Yount, for his part, is a little farther removed from that honor, but he was on stage at Cooperstown this year, and still finds time to watch IndyCar racing (he was at Road America already this year) and ride his motorcycle – something he says he'll do forever.
Says Yount, "I tell my wife the day I can't ride anymore is the day to put me down. I get a whole bunch of enjoyment out of riding motorcycles and working on them, restoring them. It's an important part of my life."
He also gets back to Milwaukee often, even though he retired in 1993. The 66-year-old two-time MVP doesn't pick up a baseball much these days, but he does still have a personal services contract with the Brewers.
For Yount, the new cocktail is another way for the Brewers star to stay connected with fans of his since he came up as a rookie in 1974. Although in his typical, self-deprecating style – "the birds need somewhere to land," Yount says of his statue at American Family Field – he says, "I just enjoyed my time back there so much and was treated so well, that whenever I can get involved with something that I like the idea of, of course I'm going to do it, because I like Wisconsin."
Butler, 54, who lives in Milwaukee year round (Yount resides in Phoenix), says being local gives him the chance to personally market the new cocktail. Says Butler, "I can promote it. And Robin is such a great guy. He's my favorite Brewer, of course."
Yount says prior to this collaboration, he didn't know Butler well, but their paths have crossed via the Lakeshore Chinooks and other appearances. Yount says called Butler on Thursday to give his new business partner a pep talk for his Hall of Fame speech.
And anything that supports his favorite charity, the MACC Fund, is worth considering to him. All sales of Robinade's go to the children cancer charity, as do a portion of Leap N' Lemonade. Leap Vodka has supported Make-a-Wish, Friends of Autism and SMILES (Therapeutic Horseback Riding).
"It's a win-win if you ask me," says Yount.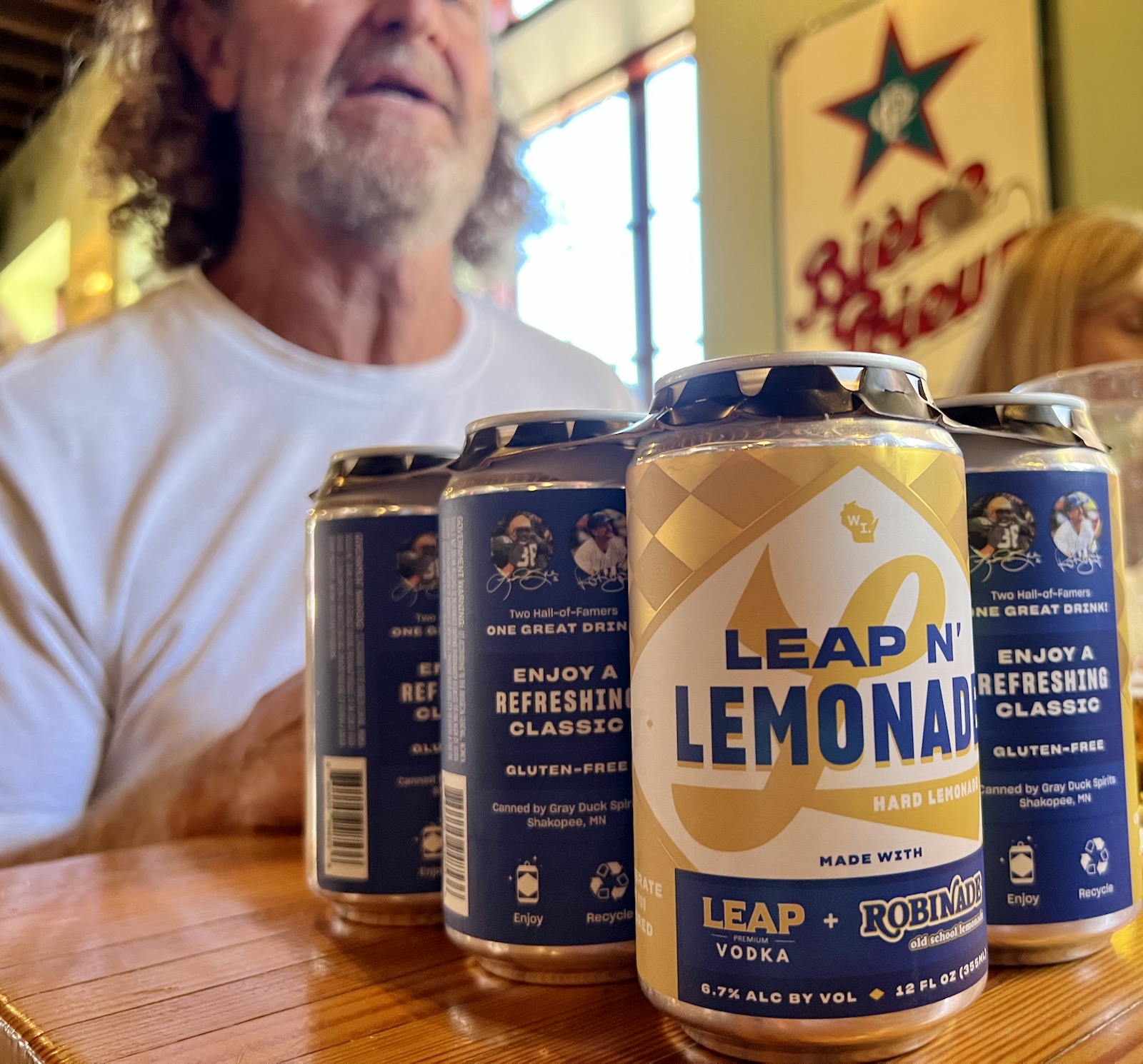 Schulz says sales are soaring since the two companies launched the drink in late June. "We are barely able to keep up with consumer demand," he says.
Butler, who notably doesn't drink alcohol ("Let me say, we can't claim that his partner is in the same boat," jokes Yount), is also pleased with the feedback he's getting. This author recently split a six-pack with friends, and even if you didn't know both Yount and Butler – two of the most fan-friendly guys to wear Brewers and Packers uniforms – were behind it, I'm happy to report that it's quite good; I found that it has a low acid content and is very easy drinking on a hot summer day.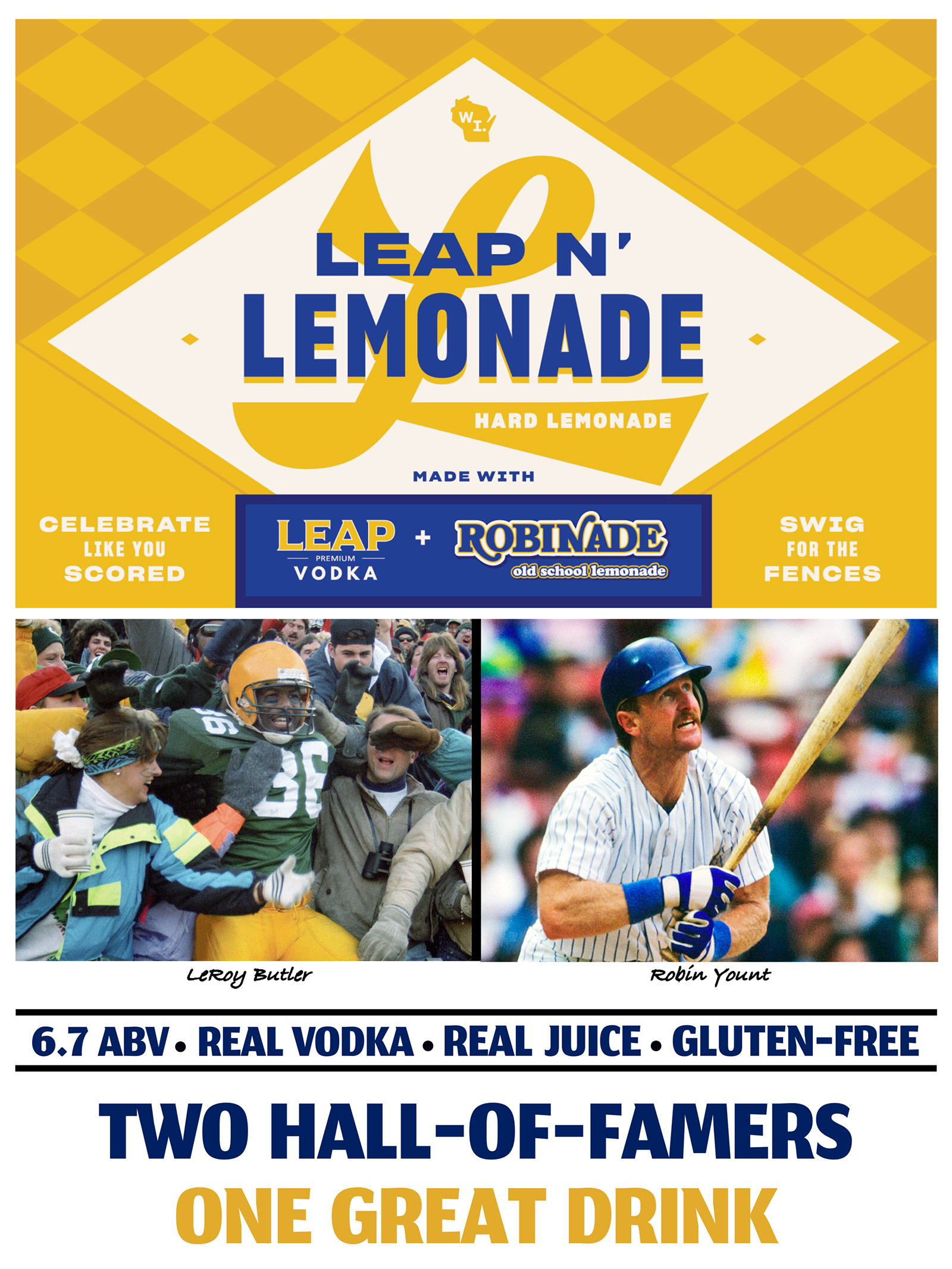 Schulz says Leap N' Lemonade can be found at many major grocery stores and liquor stores throughout the state. It is also sold at privately-owned stores, bars and restaurants. Leap Vodka, a Wisconsin-owned company, won a Gold Medal at the San Diego International Spirits Challenge and was named 2021 Wisconsin Vodka of the Year by the New York International Spirits Competition.
Andy is the president, publisher and founder of OnMilwaukee. He returned to Milwaukee in 1996 after living on the East Coast for nine years, where he wrote for The Dallas Morning News Washington Bureau and worked in the White House Office of Communications. He was also Associate Editor of The GW Hatchet, his college newspaper at The George Washington University.
Before launching OnMilwaukee.com in 1998 at age 23, he worked in public relations for two Milwaukee firms, most of the time daydreaming about starting his own publication.
Hobbies include running when he finds the time, fixing the rust on his '75 MGB, mowing the lawn at his cottage in the Northwoods, and making an annual pilgrimage to Phoenix for Brewers Spring Training.