Thirty-four years ago, Bob Weiss bought the 1894-built, four-story building that houses Shaker's Cigar Bar as well as a "haunted" (or maybe it is haunted?) boutique hotel.
For the first time since he purchased the structure, located at 422 S. 2nd St. in Walker's Point, Weiss was forced to close his business for nine weeks because of the mandatory shutdown due to COVID-19.
Weiss says he is of two minds about the situation.
"I have conflicting thoughts about this. It would have taken a year or more of Saturdays to get the work finished that we did on all four floors, but this was very hard on my staff, many of whom have been out of work," says Weiss.
Weiss and a team of craftspeople made the most of the downtime and did a major overhaul on the place both structurally and aesthetically. Upgrades include a new roof, new air conditioning system, refinished floors and furniture, a completely remodeled women's room, new paint, new lighting and the list goes on and on.
New sofa enhances a semi-private seating area.
Shaker's is particular appealing in the evening, but is certainly no slouch in the daylight.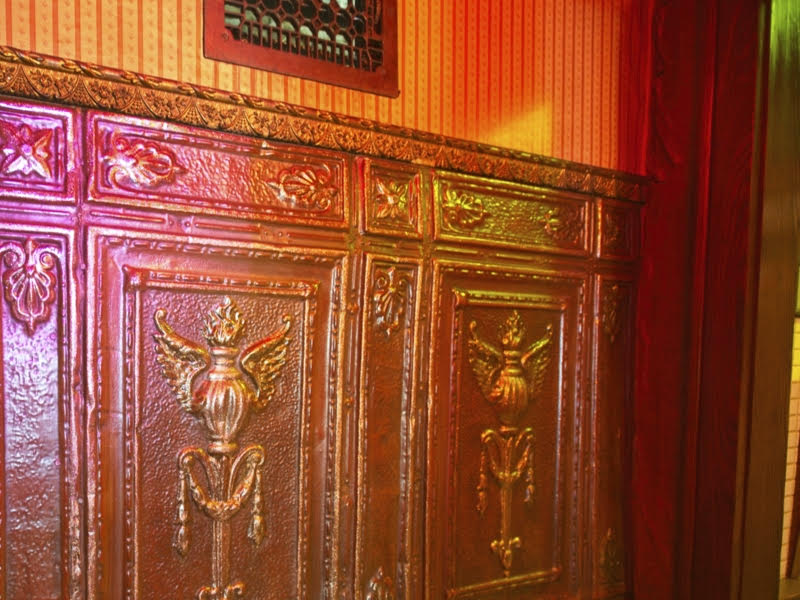 Incorporating fine design elements in the women's room foyer were a painstaking process.
Different light colors interact with different wall patterns, even in the women's room.
New merchandise area now separates two bar spaces and aids social distancing.
One of the grandest projects was the restoration of the opulent, grandiose back bar. With new lighting that exposes the ornate details of the bar and fresh filigree work by a Milwaukee Institute of Art & Design (MIAD) student, the bar looks more like a gorgeous Capone-era speakeasy than ever.
"It's particularly dynamic at night with the cigar smoke rising in this cavalcade of soft lighting," says Weiss. "It's got a sexy little look going on back here."
Shaker's is the only licensed cigar bar in the city of Milwaukee. Weiss says it was simply a matter of being in the right place at the right time.
The remodeled space is laid out differently to encourage social distancing, with the dining area now somewhat separate from the bar. There's also a new lounge area.
A total demolition of the penthouse is also underway.
The exterior of the building also got refurbished, with freshly painted marble lions and new lighting in the works to showcase the stunning sign on the south side of the building.
"That mural was a painstaking process that took nine months of painting," says Weiss.
As for the Shaker's ghosts, Weiss says they have been active during the shutdown and that he's had some "interesting experiences" in the past few weeks.
"All in all, this has been a busy time for us. We got a lot done. I wish it didn't impact my staff so heavily," says Weiss. "Personally, I would have preferred not to lose three months revenue, but based on everything that's going on in the world, I certainly understand the need for what happened."
Molly Snyder grew up on Milwaukee's East Side and today, she lives in the Walker's Point neighborhood with her partner and two sons.
As a full time senior writer, editorial manager and self-described experience junkie, Molly has written thousands of articles about Milwaukee (and a few about New Orleans, Detroit, Indianapolis, Boston and various vacation spots in Wisconsin) that range in subject from where to get the best cup of coffee to an in-depth profile on the survivors of the iconic Norman apartment building that burned down in the '90s.
She also once got a colonic just to report on it, but that's enough on that.
Always told she had a "radio voice," Molly found herself as a regular contributor on FM102, 97WMYX and 1130WISN with her childhood radio favorite, Gene Mueller.
Molly's poetry, essays and articles appeared in many publications including USA Today, The Writer, The Sun Magazine and more. She has a collection of poetry, "Topless," and is slowly writing a memoir.
In 2009, Molly won a Milwaukee Press Club Award. She served as the Narrator / writer-in-residence at the Pfister Hotel from 2013-2014. She is also a story slam-winning storyteller who has performed with The Moth, Ex Fabula and Risk!
When she's not writing, interviewing or mom-ing, Molly teaches tarot card classes, gardens, sits in bars drinking Miller products and dreams of being in a punk band again.