Check in early and stay late during OnMilwaukee's "Hotel Week" sponsored by VISIT Milwaukee. The next seven days will be packed with stories about historic area hotels, reviews, history, food and drink, staycations and more. Find out what it's like to be a tourist in this town (chocolate on your pillow not included).
Earlier this month, LODGE KOHLER, the new Green Bay hotel development by Kohler Co., celebrated a topping-off ceremony, marking the placement of the final exterior beam. At that point, the hotel, part of the new Titletown District, began taking reservations.
The Four-Diamond hotel is an anchor in the Titletown project and is the development's only hotel.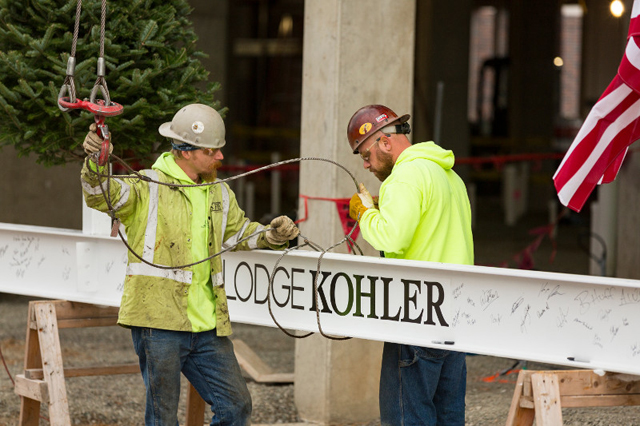 "We appreciate our construction team's tireless efforts and dedication to get us to this point as we drive toward a grand opening next July," said Christine Loose, group director lodging for Kohler Co., in a statement.
"While we take time to celebrate the progress and placement of the last exterior beam, the real exciting news for our future patrons is that starting today, guests can book a room and reserve their place among the first to experience LODGE KOHLER. And, we are also providing patrons the opportunity to view the guestrooms by releasing some design renderings."
Kohler has also released the first interior design renderings for the hotel, which aims to create "a rugged-yet-refined atmosphere.
"Guests will be embraced by a neutral color palette set against warm wood tones, bronze accents and patinaed finishes for a design inspired by Kohler's history of gracious living and craftsmanship," said Tim Andreas, director architecture & interior design for Kohler Co.
Wisconsin Department of Tourism Secretary Stephanie Klett was also at the topping off event in Green Bay on Nov. 2.
"It's been a thrill to get a first look at the progress of Lodge Kohler and the Titletown District today," Klett said. "This project will enhance the entire Green Bay experience, grow the local economy and give people more reasons to visit. We look forward to supporting this new development with our own promotional efforts."
The hotel is expected to open in July 2017 and room reservations are already being accepted for July-December 2017 online or by calling 888-4KOHLER (888-456-4537).
LODGE KOHLER has five room categories and mid-week rates start at $195 and Game Day rates starting at $463.
Visit LODGEKOHLER.com for more information.