Thanks to many dedicated people and businesses, Downtown is the heart of Milwaukee and the entire state of Wisconsin. This week, OnMilwaukee presents Milwaukee Downtown Week, sponsored, aptly, by Milwaukee Downtown, BID #21. For seven days, we will share stories, videos and photography profiling some of the neighborhood's best offerings and celebrating those who make it so great.
Milwaukee Downtown Employee Appreciation Week, by the way, runs July 31-Aug. 4.
Downtown Kitchen
777 E. Wisconsin Ave.
(414) 287-0303

Type of food: Burgers, subs and sandwiches, sushi, pizza, breakfast, custard, tacos ... pretty much anything and everything
Prices: Breakfast dishes run $2.50-6.95, while lunch dishes range around $3.75-$7 (save for The Quad, a four-patty burger that comes in at $11.95)
Vegetarian friendly? Yes, with veggie options available at almost every stand
Hours: Open Monday-Friday, 6:30-10 a.m. for breakfast, 11 a.m. to 2:30 p.m. for lunch and then open until 4 p.m. with grab-n-go options and Northpoint Custard
Why pick one place to grab a Downtown lunch on the cheap when you can pick pretty much five different places all at once?
That's the deal at Downtown Kitchen, the Bartolotta Restaurant Group's fabulous food court tucked away on the second floor in the U.S. Bank Center where you can grab anything from a Pizzeria Piccola pizza to a Northpoint Custard burger – plus the sweet dessert in the name – to ramen or pasta for wallet-pleasing prices. Seriously, I feared that this $7 Downtown lunch challenge was going to force me to scrape down to the bottom of an eatery's menu, but with Downtown Kitchen, finding a satisfying, filling lunch for less than a handful of dollars is no challenge at all.
Take, for instance, The "Q," a cheeseburger topped with barbecue sauce, a heap of sautéed onions and bacon – all for less than $6.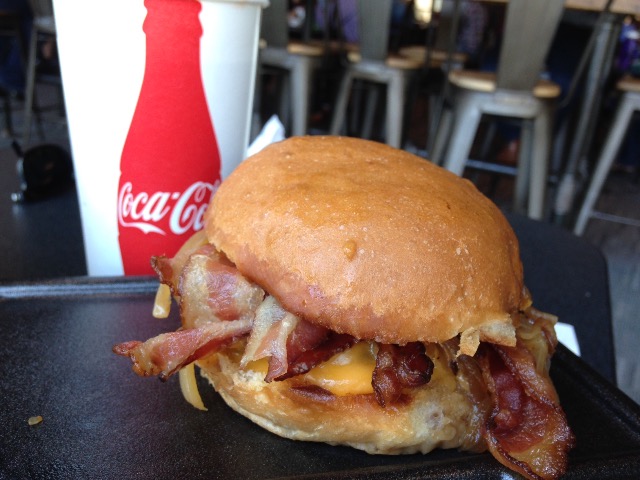 To quote the esteemed Jules Winnfield, "That is a tasty burger." The onions provide a pleasant sweetness, the bacon gives your palate that bonus addictive fatty, meaty flavor – with a little crispness to add to the texture – and the thick barbecue sauce brings it all together with that classic sweet and salty tang that you crave ... especially several hours into an already long and tiring day at the office, when a vending machine bag of Cheez-Its just won't do.
It's a lot of flavor and belly-filling meat for ... $5.75? Really? Ya'll must be crazy. You can add on fries and a drink to make a full meal out of the burger, but that'll take you over $7 (though the cashier told me that, if you bring your own cup into Downtown Kitchen, you get a discount on your drink, so just adding a drink to wash this tasty burger down might still creep under the $7 bar – or just over if you don't have some arbitrary dollar amount hanging over your lunch decisions).
If you're not in the mood for grilled meat patties, however, Downtown Kitchen has still got your back. Like I said, if you're craving it, the odds are good that it's at this sleek city cafeteria. There's pizza of all varieties – all under $7. There are regular subs and sandwiches – all under $7. There are build-your-own tacos – mostly under $7. Needing a sugar rush to get you through the day? Yep, under $7 too. And some of the daily specials from across each station and across the globe also land under $7 – or at least land just a little above.
So no matter your cuisine of choice, it's probably available for lunch and available for cheap at Downtown Kitchen – complete with a warmly designed cafeteria eating area to relax in for a bit or watch a Brewers afternoon game (though that might not be that relaxing these days). It may be one of the most low-key options among the Bartolotta Group's portfolio, but it's also one of the lowest priced – with a high reward.
As much as it is a gigantic cliché to say that one has always had a passion for film, Matt Mueller has always had a passion for film. Whether it was bringing in the latest movie reviews for his first grade show-and-tell or writing film reviews for the St. Norbert College Times as a high school student, Matt is way too obsessed with movies for his own good.
When he's not writing about the latest blockbuster or talking much too glowingly about "Piranha 3D," Matt can probably be found watching literally any sport (minus cricket) or working at - get this - a local movie theater. Or watching a movie. Yeah, he's probably watching a movie.