After 40 years of customers walking into Ma Fischer's restaurant, 2214 N. Farwell Ave., and asking the staff, "Where's Ma?" there is finally someone to point to.
Today, a 5-foot-8-inch statue of the former owner, Jackie Fischer – aka "Ma Fischer" – was erected right outside the popular East Side diner.
Peter Panos, who is the current owner of the restaurant, says his father bought the restaurant from Fischer in 1975. It was originally called "Fischer's Sandwich Shop" and Panos decided to keep the Fischer name because it was already established and people who knew Jackie were fond of her.
"She was a larger lady who always wore that waitressing uniform," says Panos.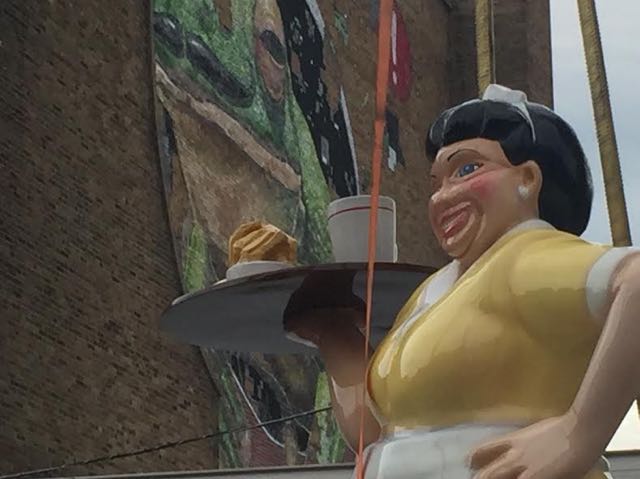 (PHOTO: Jeff Sherman)
Years ago, a rendering of Ma's image became the restaurant's logo, but Panos' kids encouraged him to take it a step further and create a statue, too. The statue arrived this morning via truck from northern Wisconsin, where it was made. Milwaukee-based Silly Monkey Animation Studios created the statue. It was designed by Brian Mennenoh and Tim Decker.
The statue will be covered for most of today while a crew brings in a new restaurant sign that will stand in the parking lot.
Panos says he plans to remodel the restaurant in early 2017.
"For now, we're just welcoming back Ma," he says.
(PHOTO: T. Decker)

Molly Snyder started writing and publishing her work at the age 10, when her community newspaper printed her poem, "The Unicorn." Since then, she's expanded beyond the subject of mythical creatures and written in many different mediums but, nearest and dearest to her heart, thousands of articles for OnMilwaukee.

Molly is a regular contributor to FOX6 News and numerous radio stations as well as the co-host of "Dandelions: A Podcast For Women." She's received five Milwaukee Press Club Awards, served as the Pfister Narrator and is the Wisconsin State Fair's Celebrity Cream Puff Eating Champion of 2019.