OnMilwaukee has partnered with Milwaukee Athletic Club to share some of our favorite #MACMoments. Considering joining for yourself and making your own? Click to learn more here!
According to the Mayo Health System, a massage isn't just about "treating" yourself – it's about utilizing it to reduce stress and relieve pain in the body.
Massage therapy can help conditions like anxiety, depression, sports injuries, insomnia and more. The physical benefits include improved circulation, decreased joint inflammation, and flexibility. Mental benefits include lower stress levels, more energy, improved mood, improved relaxation and increased feeling of wellness.
That's why I decided to explore the massage services at Milwaukee Athletic Club.
Earlier this year, I graduated from the University of Wisconsin-Milwaukee with a bachelor of arts in journalism and communication. I was thrilled to walk across the stage as a first-generation college graduate in my family. This was a significant moment in my life - the work it took to reach that point was far from easy.
Fortunately, I got to experience college before COVID-19 and get a taste of the typical college experience. However, when COVID-19 struck, things changed. I learned quickly how to adapt to change and made the best of the transition from in-person to online and slowly back to in-person classes. I also had two internships, a job, rent, bills and more to worry about.
During that time, I was also dealing with severe migraines, insomnia, anxiety, pain and soreness, muscle stiffness, low energy and brain fog. The stress I acquired took a toll on my body. After my last hospital visit for a stress-induced stomach ulcer, I decided I needed to do better for myself and control my stress levels.
When I signed up and became a new member of the Milwaukee Athletic Club, I was intrigued by their massage and spa services during my tour and wanted to sign up immediately. I had never gotten a massage before – I was intrigued, I wanted to relieve muscular and mental stress to gain some clarity.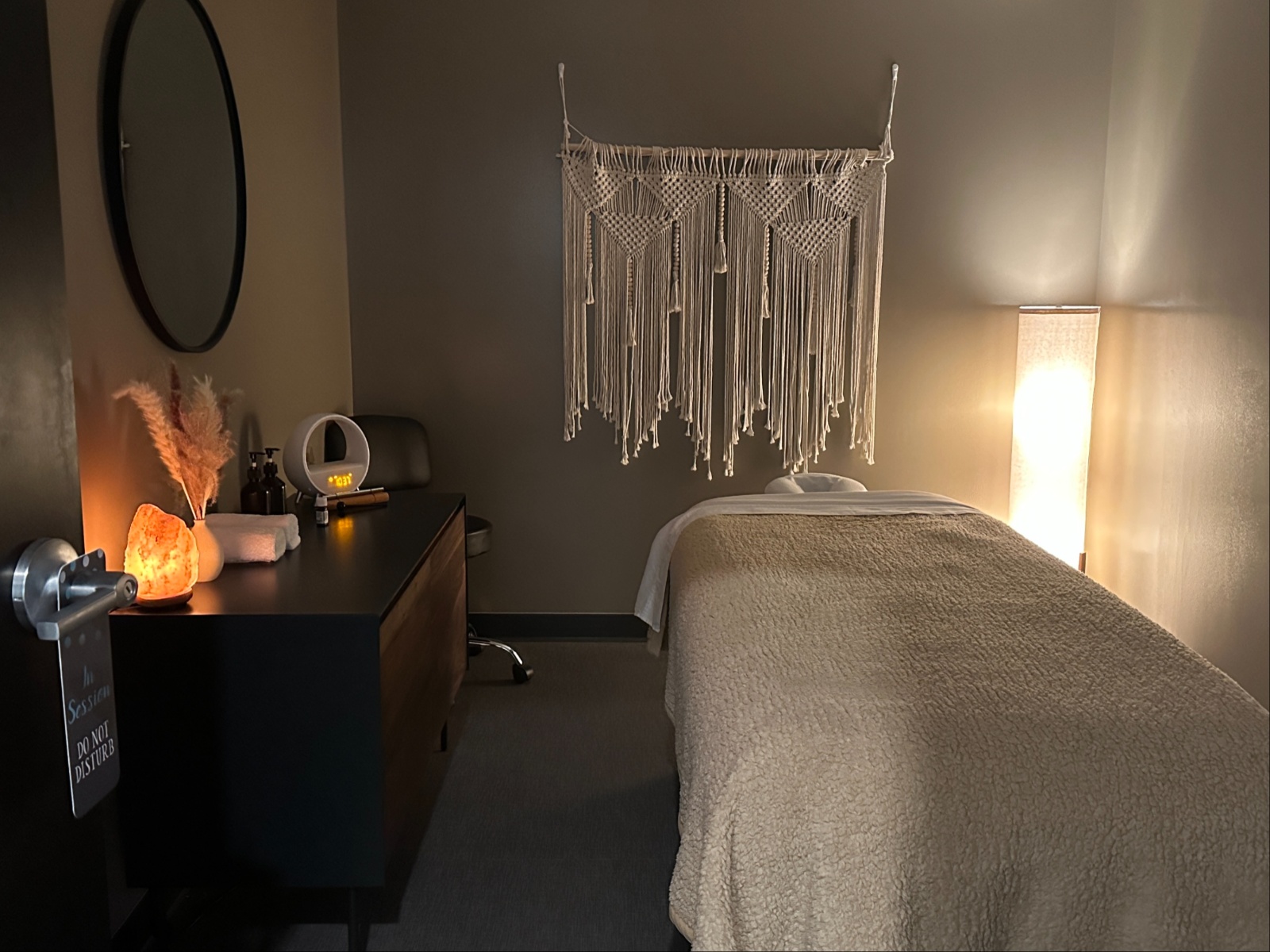 I went online through the Milwaukee Athletic Club and made a reservation with Fitness Director/Massage Therapist Kristen Uribe for a 60-minute massage.
On the day of the massage, I was very excited but I didn't know what to expect since it was my first time. Uribe welcomed me into the dimly lit massage therapy room with an open mind and willingness to guide me through my first massage.
I had a lot of questions for Uribe about each massage since the Milwaukee Athletic Club offers a few variations: Swedish, sports, deep tissue, hot stone and Thai massage.
"Most people know the Swedish massage; that's your typical relaxation massage," said Fitness Director/Massage Therapist Kristen Uribe. "There's reflexology, a massage of the feet that goes into pinpoints of the foot that are associated with organs in the body."
There is a hot stone massage using hot stones to warm up the body and allow heat to loosen up those muscles as you're also massaging. It's a combination of the Swedish and heating elements. Sports massage, which is great for people who are athletes or training for marathons.
Thai massage is the "lazy man's verison" of yoga. It's a little bit different than you're on the table, get undressed and oil massage. You're going to be in comfortable clothing, lying on a floor mat and there's somebody there who's assisting you through stretches."
I chose to go through with the Swedish massage; I thought it would be a great "starter" massage to understand the benefits of relaxation and stress relief. Uribe went into detail about Swedish massage and asked me questions about what I wanted to accomplish and areas that needed more attention.
"Massage is great for those first sessions in a space to come relax," said Uribe. "A lot of times people don't know how to unwind and relax. We end up having stress we often carry for years or weeks on end and it manifests and stays on our shoulders."
I mentioned to Uribe that I have been storing a lot of stress in my upper back, neck and shoulders. Uribe thoroughly listened to what I wanted to achieve - she gave me insight into how a massage would help ease those pain areas.
"It's a really good time to notice what it feels like to be able to take some time to rest and sit still, which is something we don't get to do very often," said Uribe.
Uribe gave me a few instructions before the massage began. She would leave the room so I could have some privacy to undress, get under the first sheet on the table and lay face down with my head resting on the face cradle.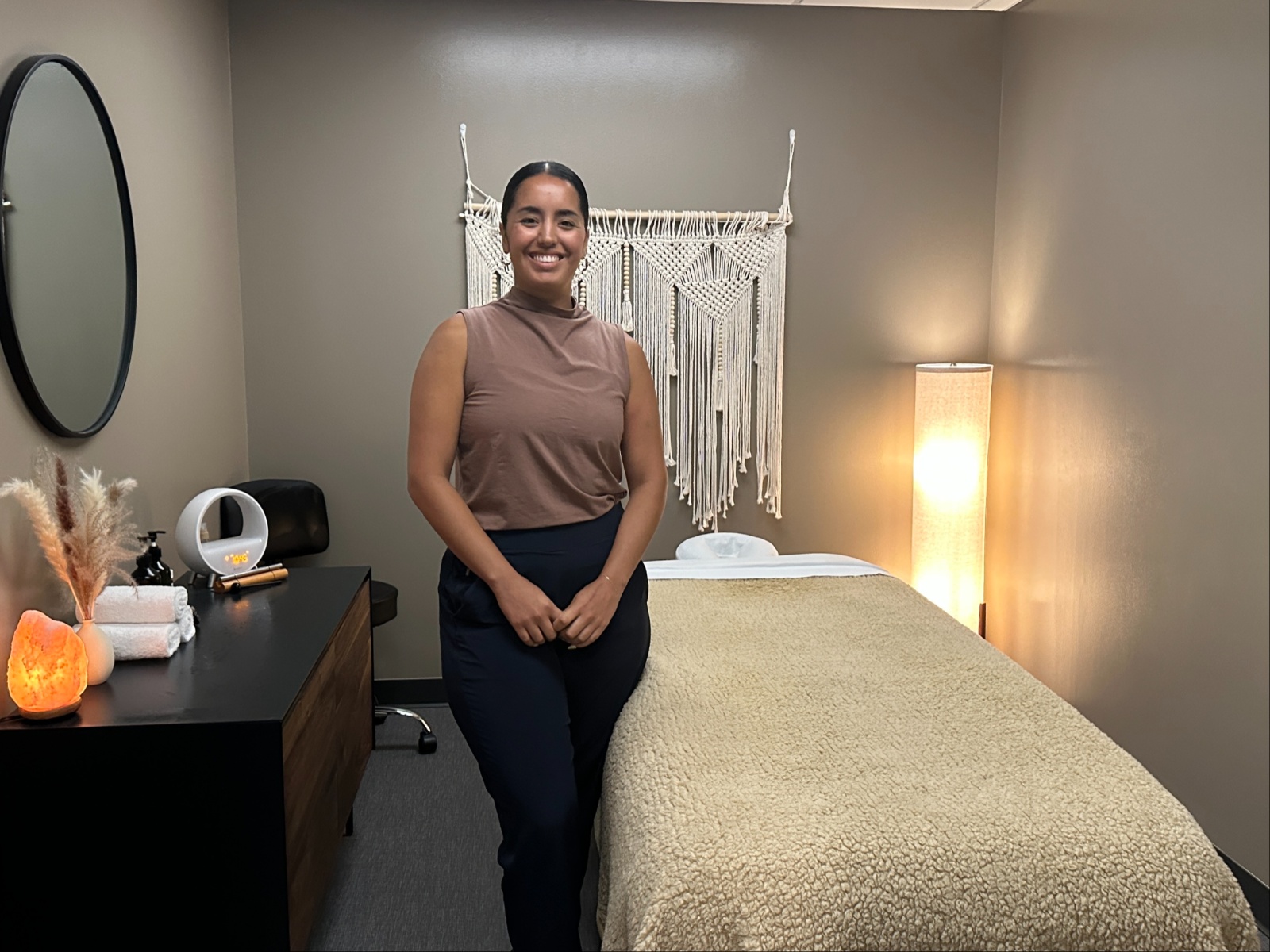 Once I completed those steps, Uribe returned to the room to begin the session. She turned on the essential oil diffuser - the smell of eucalyptus filled the room. I was instructed to take a deep breath in, hold and exhale three times to allow my body to relax.
I allowed my mind to come to calm - my body to melt into the table to help loosen my muscles before she began. Uribe communicated with me the entire time, walking me through the process. She started the massage using oil to warm up and soothe the muscles in my upper back and neck. Uribe used a circular and gliding technique to loosen the muscles and applied a medium amount of pressure.
"Any time you're doing a light effleurage motion which is a lot of gliding – instead of kneading with your knuckles – it's going to help with circulation," said Uribe. "Immediately after massages I always encourage clients to drink plenty of water; they'll notice they have that flush feeling."
Uribe's background as a certified yoga instructor and massage therapist shined through her passion and knowledge. She's focused on establishing the correct form of care for each client and providing an outlet to release tension and stress in the body.
"It starts back over a decade ago, I had gone into a yoga retreat training in Costa Rica and I enjoyed that process and was fortunate to have one of my teachers be a Thai Massage therapist," said Uribe. "I didn't want to leave Costa Rica, (so) I stayed a little longer and ended up learning Thai Massage and found that I was good at it. I also really enjoyed it.
After that, I wanted to pursue a massage; I even worked with some equestrian massage therapists for some time. It wasn't until about seven years ago that I went to school for massage therapy and really dedicated myself to that practice."
I could feel the difference throughout the massage - the muscles within my back started to relax. The tightness between my shoulder blades and around my neck dissipated - my muscles didn't feel as heavy. Uribe massaged my body front and back from my back, around my shoulders, neck, chest, head, arms, legs and feet.
For one moment, my mind and body collectively felt relaxed. It felt like a weight being lifted off of me. I felt so calm I sunk further into the table and almost fell asleep.
"In our age of constant alerts and things coming our way, it's a moment where you dedicate 30 minutes, 60 minutes or 90 minutes to just like sit with yourself to be still and enjoy the moment," said Uribe.
When the massage ended, Uribe instructed me to take three deep breaths in and out one last time. Uribe then explained she would leave the room to give me a moment of privacy to get up and change.
After this session, I walked out of the massage with a clear mind, a sense of relief from built-up tension and stress and I felt calm. I'm eager to sign up for another massage to condition my body toward relaxation - to take better care of myself and my stress levels.
I encourage you to find your state of relaxation. Sign up and become a member today. Head over to the MAC website and click on "MAC Massage," then reserve your spot.
Courtney Bondar is an adventurous Multimedia Journalist at OnMilwaukee, covering all things Milwaukee. Born and raised in Greendale, WI, Courtney has a deep-rooted connection to her hometown and a strong desire to explore and showcase the vibrant city of Milwaukee.
You can often find Courtney all over Milwaukee, attending exciting events - documenting her experiences on her Instagram stories. Her genuine enthusiasm for her work shines through in her posts - as she strives to capture the beauty of the city and shares it with her followers.
Courtney's passion for writing is evident in her engaging and heartfelt articles. While she covers a wide range of topics, she particularly enjoys delving into the intricacies of dating culture and the art of mixology. Her insightful and thought-provoking pieces offer a unique perspective on these subjects, captivating readers with her authenticity and wit.
After dedicating herself as an intern at OnMilwaukee, Courtney's hard work and dedication paid off when she earned her well-deserved diploma. Now, as OnMilwaukee's first full-time multimedia journalist, she is fully committed to continuing her journey - bringing her distinctive voice and storytelling skills to the forefront.