OnMilwaukee has partnered with Milwaukee Athletic Club to share some of our favorite #MACMoments. Considering joining for yourself and making your own? Click to learn more here!
According to the National Library of Medicine, "therapeutic yoga" can be achieved through practice with yoga postures to help "prevent, reduce or alleviate structural, physiological, emotional and spiritual pain, suffering or limitations." All of that, plus giving one the ability to stimulate the body to enhance overall wellbeing and quality of life.
After discovering all of that, given more than 20 group exercise classes to choose from at the Milwaukee Athletic Club, I selected power yoga to aid in my current fitness journey and to relax my mind.
Last Saturday, I attended my power yoga session at 10 a.m. with the MAC's new yoga instructor, Desiree Roberts. I walked into the class with a few expectations, since I've had experience with yoga in the past. Roberts guided our class – focused on breathwork and flow sequence while building strength and endurance – with ease and grace through a Modern Hatha Flow, with the intention to reconnect people with their breath.
"I learned this modern flow from Brian Kest," Roberts explained. "If we are talking about the original creators, their intention was to mimic the classic Indian styles, but there's a contemporary twist to it."
I spent that morning with the goal of finding relaxation while attempting new possibilities of flexibility, strength and endurance through Modern Hatha Flow.
"As we were doing it, I was trying to remind you to keep breathing or the intention that I offered was to remind you that your breath is there to support you and everything you do," Roberts explained.
Roberts made sure the class found a level of depth and challenge with "a twist" through each pose. We started with the mountain pose into a standing forward fold pose, moving to the downward facing dog pose, warrior 1 and warrior 2 pose, triangle pose, tree pose, cobra pose and ending with Savasana – aka the corpse pose, a relaxation pose.
"We're modern people, we can't do – well, we could I'm sure, but we couldn't do everything that they do with classical styles," Roberts said. "We're on our phones, and our necks are really sensitive now. We're always looking down on phones and laptops, so we might be more prone to injury if we're doing more classical movements because our bodies develop differently."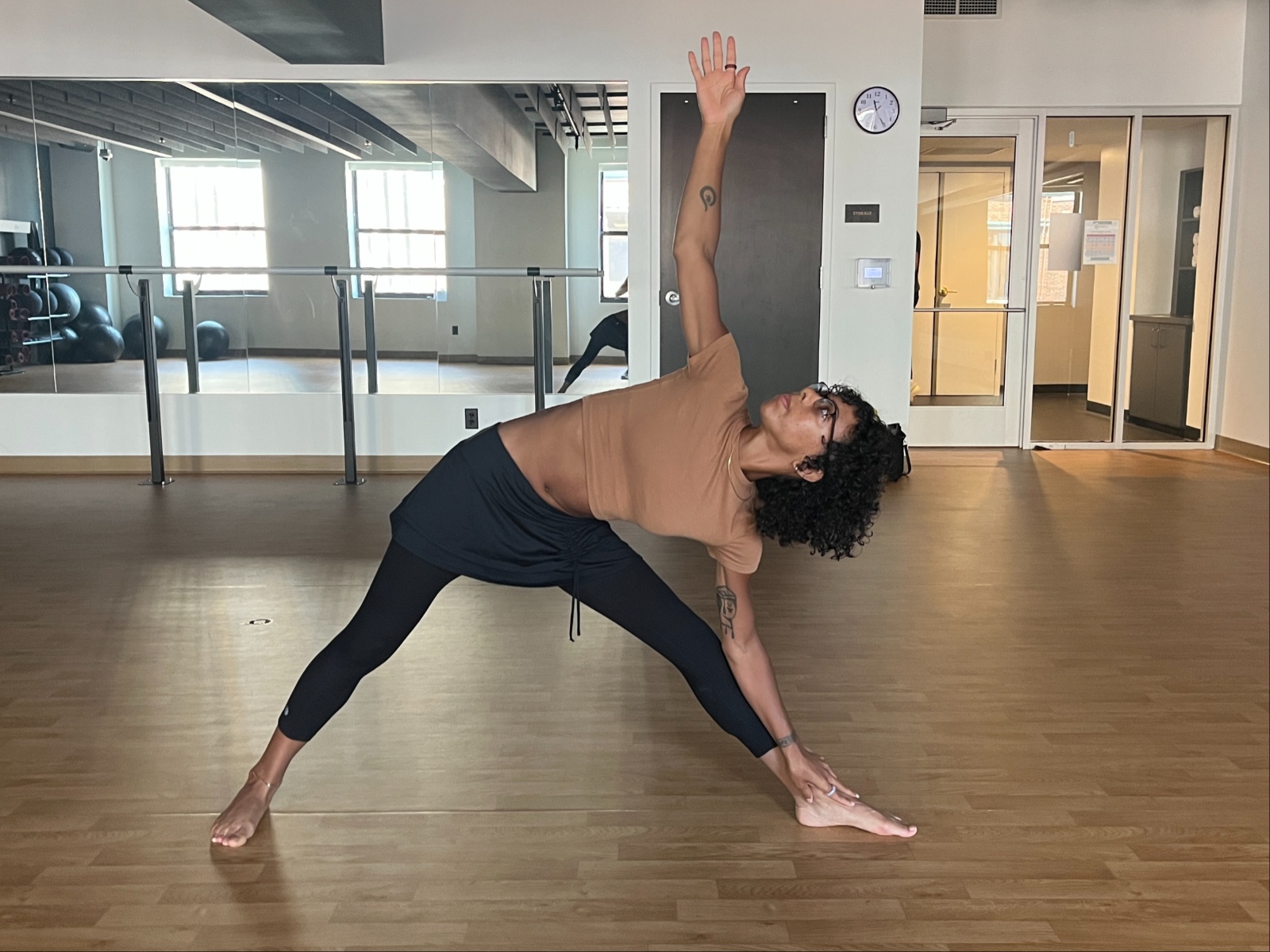 The goal was to focus on breathwork through each movement. Finding your "edge" was essential to challenge yourself in each pose.
"The intention is to reconnect with your breath so you can understand how you want to feel in your body," Roberts explained.
Whether you were a beginner or not, modifying a pose was highly encouraged to achieve an even deeper level of breath.
"For a beginner, just noticing your breath helps," Roberts said. "For somebody who's been doing it for a long time, it goes into the other spectrum of they could push themselves a little harder. For someone who's more experienced, they could start using things like visualization which helps them get deeper into their poses."
I found myself focusing on modifying poses to reach a state of connection throughout this process, listening to my body to push my breath toward other areas to relax. By the end, the power yoga session allowed me to open my eyes to a new perspective and access a new level of health awareness.
"I think sometimes, especially when you're talking about work or family life, we're thinking about relationships – relationships with our environment and to other people," Roberts said. "In the class, I try to incorporate the idea of cultivating powerful qualities like practicing love and kindness, extending that to people you know and the environments you're around."
I also felt challenged not only during the yoga poses, but through a segment near the end of the session where the focus shifted to core-strengthening exercises. It also enabled me to complement my current fitness journey, helped reduce stress and improve my current limitations.
"Yoga complements every other single thing you're probably doing when you're working out," Roberts said. "I have a kinesiology background, so when I think about the basic things we learn about what you can and should be doing for your body in the week, when you think about optimal health, you want to stretch seven days a week. You want to have mobility and flexibility; it's going to help you pick things up and play with your kids."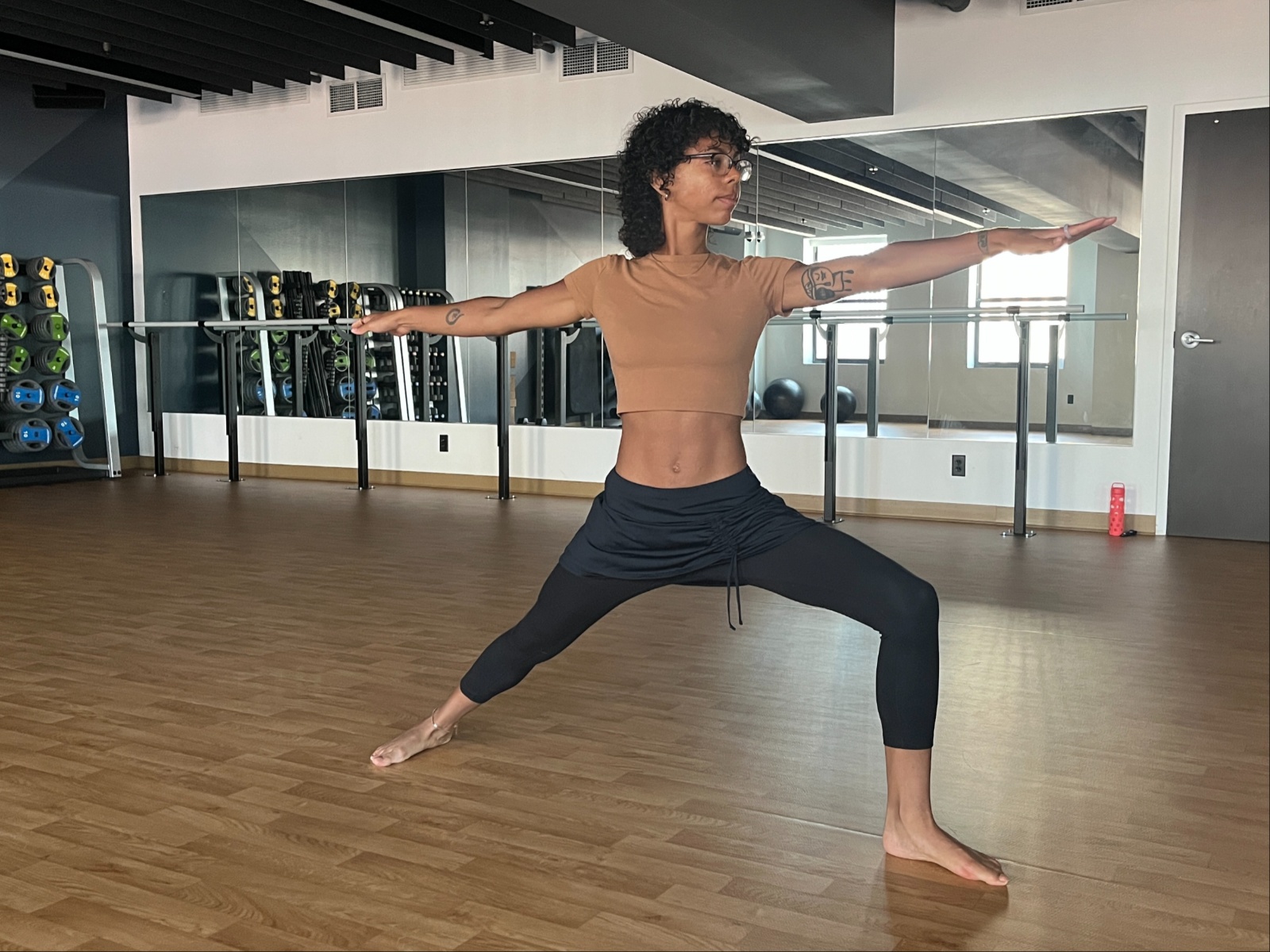 Roberts signaled the end of class with Savasana. At first, it looked easy to lie on the ground and "relax." However, there's no easy way to find complete relaxation in this pose unless you've been practicing for a while. To achieve this, your body must sink into the ground by releasing tension from each muscle while you focus on breathwork.
"I think the benefit I would like to be more intentional about is how you're feeling," Roberts said. "I think that's probably the best benefit. You probably feel better after the class like energetically and in your spirit because you're breathing more and you just like took a moment and you probably had moments of being in a flow state."
Indeed, after dedicating some time to the corpse pose, I could feel a shift in my energy and mindset. I left the class feeling more energetic and able to commit to my day compared to how I felt when I walked into class. I also felt that my mental clarity improve; I didn't feel stressed or bothered but calm and relaxed.
Sound good? Sign up and become a member today. Head over to the MAC website and click on athletics then select "group exercise" to reserve your spot.
Courtney Bondar is an adventurous Multimedia Journalist at OnMilwaukee, covering all things Milwaukee. Born and raised in Greendale, WI, Courtney has a deep-rooted connection to her hometown and a strong desire to explore and showcase the vibrant city of Milwaukee.
You can often find Courtney all over Milwaukee, attending exciting events - documenting her experiences on her Instagram stories. Her genuine enthusiasm for her work shines through in her posts - as she strives to capture the beauty of the city and shares it with her followers.
Courtney's passion for writing is evident in her engaging and heartfelt articles. While she covers a wide range of topics, she particularly enjoys delving into the intricacies of dating culture and the art of mixology. Her insightful and thought-provoking pieces offer a unique perspective on these subjects, captivating readers with her authenticity and wit.
After dedicating herself as an intern at OnMilwaukee, Courtney's hard work and dedication paid off when she earned her well-deserved diploma. Now, as OnMilwaukee's first full-time multimedia journalist, she is fully committed to continuing her journey - bringing her distinctive voice and storytelling skills to the forefront.